With the HORRIBLE recent transition to NXT 2.0, the Black and Gold brand that we all loved is well and truly DEAD. And so it seems that the cherry on the most beautiful wrestling cake, NXT TakeOver, is also no more. Recently they announced NXT: War Games… not NXT TakeOver: War Games… It was a subtle change to some, but to me another sign that times are changing… Now I adored pretty much every TakeOver event, some of them were among my favourite shows I've ever watched. So it feels appropriate to look back at them now, enjoy the nostalgia, and the excellence, and see some of the more familiar names get their big start… and as will sadly become a theme we'll be able to see just how great some of these performers WERE presented, and the dross they had to put out some years later…
---
NXT TakeOver (29/5/2014)
The first TakeOver in the early days of the brand becoming the next big thing… And the most memorable match saw the Queen of WWE get her first bit of championship success, as a young Charlotte defeated Natalya to win the NXT Women's title vacated by then Diva's Champion Paige. We also had two great matches with Tyler Breeze beating Sami Zayn to get the next shot at NXT Champion Adrian Neville, who retained his title against Tyson Kidd. And elsewhere… erm… we had the likes of Adam Rose, Camacho (who would later turn into Tanga Loa of Bullet Club and New Japan fame), The Ascension, Kalisto and El Local (Ricardo Rodriguez)… We had to start somewhere I guess…
NXT TakeOver: Fatal 4-Way (11/9/2014)
With 4 of the 6 matches on this show going under 10 minutes, and the other going just above that, as you can presume by the title of it, this TakeOver was all about the main event. And boy did they deliver… Probably the 4 best wrestlers in NXT at that time, in a match for the title, and it was GREAT. But as good as Breeze, Kidd and Zayn all were it was still Adrian Neville who continued his reign at the top of NXT.
NXT TakeOver: R Evolution (11/12/2014)
The most notable TakeOver so far saw two of the defining moments in the brand's history. Having won his first TakeOver match in the opener, Kevin Owens would reappear at the conclusion of the main event (where Sami Zayn defeated Neville to finally win the NXT Championship)… It was after that KO set an all to familiar precedent, by turning heel on his triumphant former friend…
NXT TakeOver: Rival (11/2/2015)
Although the headlines from this TakeOver were taken by Owens (who won the title from Zayn in the main event), reading this card on paper and the semi-main jumps out as most historic… We got a fatal 4 way between the 4 who would go on to be the Four Horsewomen of WWE, in which we saw Sasha Banks emerge as the new NXT Women's Champion beating Charlotte, Bayley and Becky.
NXT TakeOver: Unstoppable (20/5/2015)
For the first time, in what would become a theme of these TakeOver shows, we ended not with a match finish… but with a surprise… After the rematch between NXT Champion Kevin Owens and Sami Zayn ended in a no contest (Zayn injured his shoulder, but Owens continued with his beat down which then drew out NXT GM William Regal), Owens was then confronted by the debuting… SAMOA JOE!
NXT TakeOver: Brooklyn (22/8/2015)
The show that changed it all for NXT. Finally they moved away from Full Sail to the Barclays Centre in Brooklyn, New York. And for a big show to be truly remembered, it needs that one classic… and my OH MY did this show have it!!! Sure we had The Demo Finn Balor and Kevin Owens in a ladder match, and sure we had JUSHIN THUNDER LIGER… But we also had one of the all time great Women's matches, a match that really changed the game for women's wrestling… As Bayley claimed her place as the top female in NXT with a win over Sasha Banks for the NXT Women's title, as the former followed Charlotte and Becky to the main roster.
NXT TakeOver: Respect (7/10/2015)
Many talk about the Brooklyn match, but for me this 2 out of 3 falls match between Bayley and Sasha was even better! An absolute all-time classic that told a superb story, with the beloved babyface finally putting away the bastard heel. We also had a couple of notable happenings which would begin historic spells for NXT, with the TakeOver debut of Asuka, and Samoa Joe and NXT Champion Finn Balor winning the Dusty Rhodes Tag Team Classic.
NXT TakeOver: London (16/12/2015)
Another sign of the incredible growth and popularity of NXT was the first international TakeOver. And thus we had to have The Demon come out with a themed entrance, this time Finn Balor had a Jack The Ripper inspired entrance, in London of course… before he beat his former tag partner Samoa Joe in a great main event.
NXT TakeOver: Dallas (1/4/2016)
Genuinely, one of my all-time favourite TakeOvers. A tremendous opener with American Alpha beating The Revival, Asuka beginning her historic reign as NXT Women's Champion, a 'Texas Chainsaw Massacre' inspired Demon Balor beating a bloodied Samoa Joe to keep the NXT title… and of course… the WWE debut of a MEGAstar from Japan with an awe-inspiring entrance, and an all time classic match…
NXT TakeOver: The End (8/6/2016)
As the title of the show suggested, it really was the end… After shockingly losing the NXT title to Samoa Joe at an NXT live event, the title rematch took place here inside a steel cage… where we saw Finn Balor's final TakeOver match… for now…
NXT TakeOver: Brooklyn 2 (20/8/2016)
If the first Brooklyn TakeOver was historic, the second was maybe one that represented new beginnings for the brand… It featured Takeover debuts for Ember Moon and Bobby Roode, an NXT swansong for Bayley, and in the main event a phenomenal match ended with a new King of NXT being crowned to a thunderous ovation.
NXT TakeOver: Toronto (19/11/2016)
The first TakeOver Toronto was another very good show. And I could talk about the fun all-Canadian opener with Bobby Roode and Tye Dillinger, Asuka and the legendary Mickie James having a great match, or even the shocking main event finish with Samoa Joe winning back the NXT title… but for me this show will forever be remembered for one of the very finest tag team matches in company history… 2 out of 3 falls… The Revival finally losing their NXT Tag titles to a couple of familiar faces who would go on to define the entire brand of NXT…
NXT TakeOver: San Antonio (28/1/2017)
By the time NXT TakeOver rolled into San Antonio, Shinsuke Nakamura was once again NXT Champion… but not for long… And after we had seen the likes of Asuka and The Authors of Pain walk out of their matches as champions. this was the night NXT truly became… GLORIOUS! It was also this show where Seth Rollins made a surprise mid-show run in to try and call out Triple H, ahead of their eventual WrestleMania match some months down the line… "Show's Called TakeOver right!?"…
NXT TakeOver: Orlando (1/4/2017)
I LOVED this show!!! And sure I can talk about the TakeOver debut of Aleister Black, or the excellent matches between Asuka and Ember Moon, and the tag three way with AOP, DIY and The Revival… or even Bobby Roode retaining the NXT title against Shinsuke Nakamura… but I remember this show most of all for the familar face that appeared in the crowd, some weeks after I had watched him wrestle at an indie show in Nottingham… DREW MCINTYRE was in NXT!
NXT TakeOver: Chicago (20/5/2017)
It was around this time that NXT and TakeOver shows were really starting to get a reputation for being excellent shows, and this was no exception. Pete Dunne and Tyler Bate had a classic to really put NXT UK on the map, and following the main event of the show that saw AOP retain the NXT Tag Titles in a brutal ladder match against DIY, we had one of the most defining moments in TakeOver history, and one that would change NXT forever…
NXT TakeOver: Brooklyn 3 (19/8/2017)
For a long time this was my favourite TakeOver, and anyone who said it was the best one I certainly would not argue… a tremendous wrestling show top to bottom that had everything… whether it be Johnny Gargano failing to rid himself of the demons from his former tag partner's betrayal in his loss to Andrade 'Cien' Almas, SAnitY's NXT Tag title win being overshadowed by a post match attack by Bobby Fish and Kyle O'Reilly, Aleister Black and Hideo Itami kicking eachother to pieces, Asuka again beating Ember Moon in a match featuring one of my favourite ever nearfalls, and in our main event Drew McIntyre won the NXT Championship from Bobby Roode, but his celebrations were quickly cut short by another post match assault and a HUGE debut… BAY BAY!!!
NXT TakeOver: War Games (18/11/2017)
Yet another fucking GREAT TakeOver saw the debut of NXT's take on the War Games match featured previously in WCW, and a creation of the great Dusty Rhodes. In this we saw a strange 3 way War Games match with the Undisputed Era beating SAnitY and a mashed together team of AOP and Roderick Strong. Elsewhere we saw Ember Moon win the vacant NXT Women's Championship, after her long time foe Asuka ascended to the main roster, and in a pretty shocking result, and a very good match that was only hampered somewhat by Drew McIntyre's injury that sped up the finish and kept him out of action for many months after (in fact this would turn out to be Drew's final NXT match, as he returned to the ring on Raw not long after WrestleMania the next year)… but it all meant that we had a NEW NXT Champion…
NXT TakeOver: Philadelphia (21/1/2018)
Another great TakeOver show, with an absolutely incredible match in the main event. Johnny Gargano finally got his shot to banish his demons and win the NXT Championship… but came up short against Andrade 'Cien' Almas in a match of the year candidate. Elsewhere we had a brutal Extreme Rules match between Aleister Black and Adam Cole, and Ember Moon somehow escaping as still the NXT Women's Champion after a battle against Shayna Baszler. And again… we got a staple of these shows… as the closing graphic tricked us all… again… and HE was back!
NXT TakeOver: New Orleans (7/4/2018)
JESUS FUCKING CHRIST… WHAT AN UNREAL SHOW!!! On the eve of WrestleMania, NXT may well of stolen the weekend… Opening with a 5 star ladder match as Adam Cole was crowned the first ever NXT North American Champion, Shayna Baszler taking her position as the true Queen of NXT, Adam Cole pulling double duty as the Undisputed Era not only kept the NXT Tag Titles, but also added Roderick Strong to their ranks in an awesome moment. Aleister Black also became a new champion as he won the NXT title in a forgotten classic… Forgotten because everything on this GREAT show played second fiddle to the main event. An Unsanctioned Match that was well over a year in the making… Tommaso Ciampa entered to a chorus of boos, but with all his might and evil intentions he still could not keep Johnny Gargano down. One of the all time best matches in NXT to close one of their best ever shows.
NXT TakeOver: Chicago 2018 (16/6/2018)
Another great show with 4 good-very good matches, with another brutal Gargano-Ciampa gimmick match in the main event. This one though was way more violent and physical than the previous… and this time we didn't get our happy ending… in truly shocking fashion it was Tommaso Ciampa's time to end TakeOver as the winner, with a ddt on the exposed ring wood-floor… all with his hands in cuffs by the way… In the same city where he first turned on his former friend a year prior, Ciampa once again had his moment…
NXT TakeOver: Brooklyn 4 (18/8/2018)
Well, what a great birthday present for me this was! So many highlights with Ricochet beating Adam Cole in one of the matches of the year (featuring one of the ALL-TIME best spots), Kairi Sane (my favourite wrestler) winning the NXT Women's title, and in another brutal main event (this time with the NXT Championship on the line) Tommaso Ciampa again JUST got the better of Johnny Gargano, who now would begin going down a much darker path after once again failing to conquer his former DIY friend…
NXT TakeOver: War Games 2018 (17/11/2018)
Another epic show with something for everyone on it. The quickest match in NXT history saw Matt Riddle beat Kassius Ohno in SIX seconds of the impromptu opener, Shayna Baszler (who had won back her championship by now previously) won a great 2 out of 3 falls match against Kairi Sane to retain the NXT Women's title, Aleister Black avenged his mystery attack from the now heel Johnny Gargano, Tommaso Ciampa's reign as champion of NXT continued, and the second NXT War Games match saw the more traditional 4v4 concept match as the babyface team of Pete Dunne, Ricochet and the War Raiders defeated the Undisputed Era in a FORTY-SEVEN minute main event!
NXT TakeOver: Phoenix (26/1/2019)
2019 continued where 2018 left of with another epic TakeOver show. But as good as the other matches on the show were, really this show was part of the much longer and bigger story between Johnny Gargano and Tommaso Ciampa… No it was NOT over just yet!!! Gargano beat Ricochet to win the North American title, whilst Ciampa retained the NXT title in the main event against Aleister Black. And then after the show… the unthinkable happened… our former hero stood side by side with his mortal enemy… two former friends now ran NXT as heels, and we got an image that my friend Dan predicted we would see at the shows end… and he said this would happen before the show even started!
NXT TakeOver: New York (5/4/2019)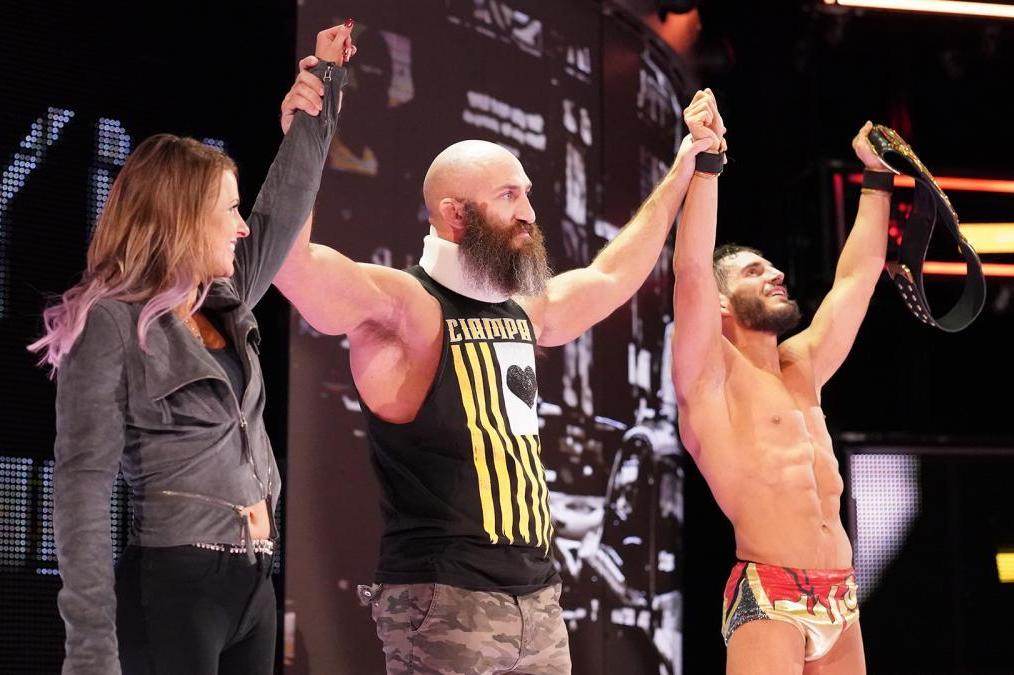 Not just the best TakeOver, but one of the best wrestling shows I've ever seen! An amazing opener with War Raiders beating Ricochet and Aleister Black in both of the later's NXT farewell, Walter winning the NXT UK title in a brutal fight with Pete Dunne, Shayna Baszler overcoming Bianca Belair, Io Shirai, and Kairi Sane, and in the main event… No not Tommaso Ciampa, who sadly had to forfeit the NXT Championship due to a serious injury, and the need for surgery… but we instead got Adam Cole facing off with Johnny Gargano in a 2 out of 3 falls match for the vacant title… and well, there's no other way to put this… we got the best match in NXT history! And as if the match, and Gargano's eventual triumph wasn't enough, we got a surprise return at the end of the show… but this time we got a happy ending, one that made the author of this blog shed a tear… still gets me emotional this image now…
NXT TakeOver: 25 (1/6/2019)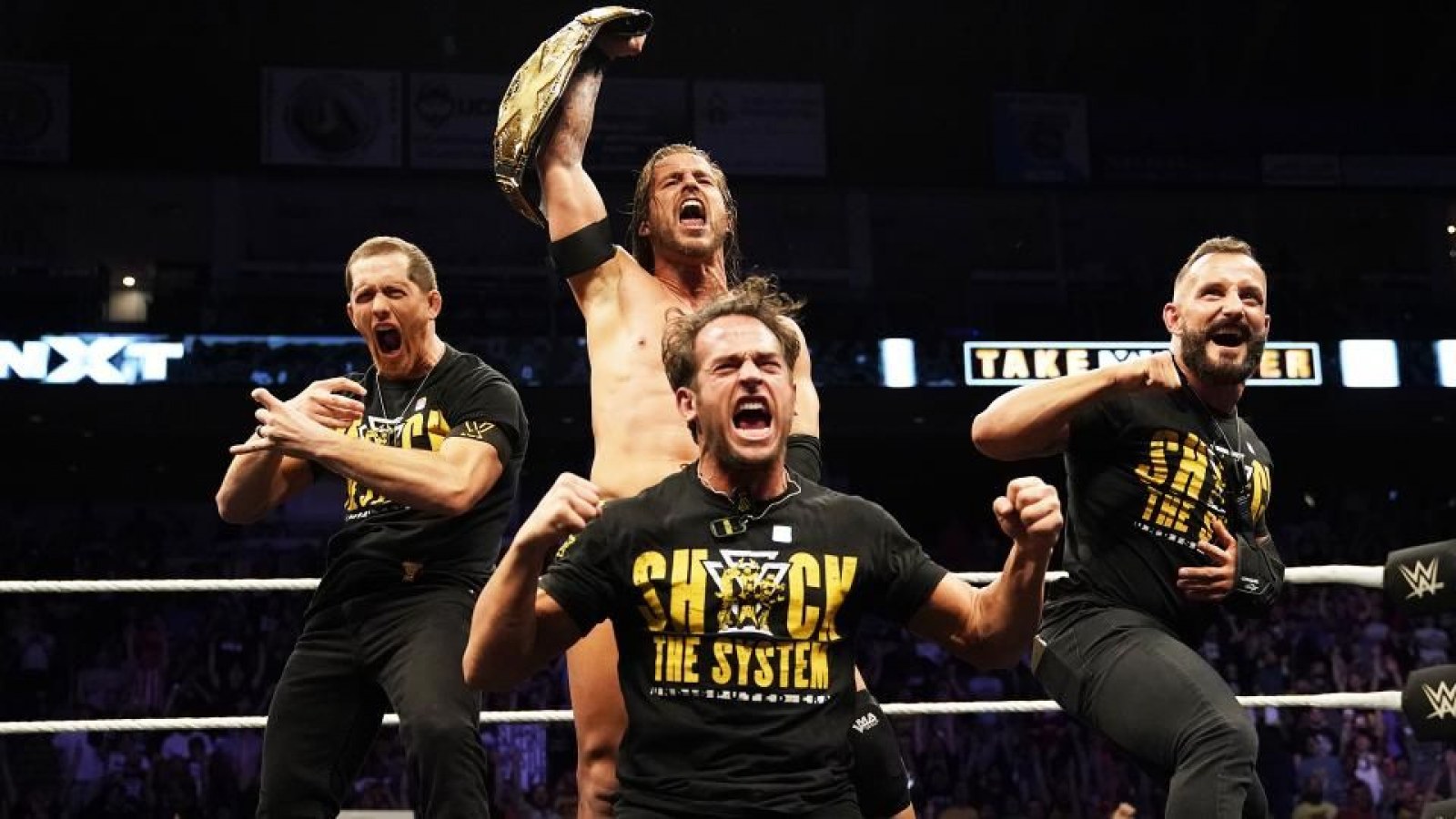 Sadly, or not if you're me, Gargano's reign wouldn't last for long… Another good show (highlights of which included the Street Profits winning the NXT Tag Tiltes) concluded with Adam Cole defeating the former champion in another match of the year candidate. Just over half an hour of absolute top quality professional wrestling… and the beginning of the Undisputed Era of NXT… BAY BAY!
NXT TakeOver: Toronto 2019 (10/8/2019)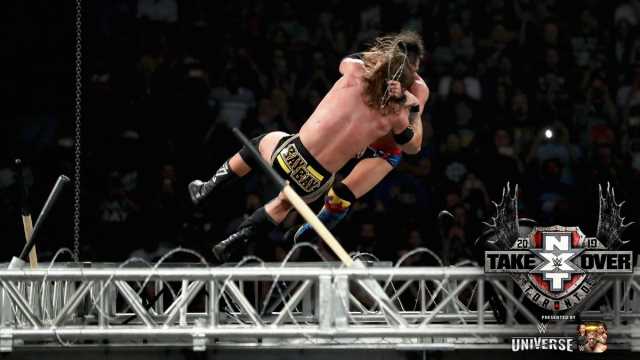 Another good TakeOver with another great card. But as good as the likes of Street Profits vs Undisputed Era and the newly heel Io Shirai vs Candice LeRae was, this show really was a one match show. Cole vs Gargano 3 was an insane 2 out of 3 falls match, with an extreme twist… Fall 1 was a singles match (which Cole won), fall 2 a street fight which Gargano won to take us to fall 3… a quite insane BARBED WIRE steel cage match… After a brutal 52 MINUTES Adam Cole retained the NXT Championship, and Johnny Gargano's quest to reclaim the NXT Title was over…
NXT TakeOver: War Games 2019 (23/11/2019)
The first TakeOver show after NXT went live, really showed how the brand had gone to another level once again. Top to bottom this show was excellent; a great first War Games match for the women saw Rhea Ripley lead her team to glory, Pete Dunne earned an NXT Title shot for Survivor Series the next night, Finn Balor made his TakeOver return beating Matt Riddle… and finally in a phenomenal men's War Games match, The Undisputed Era were on the losing end of a dream team of the recently returned Tommaso Ciampa, along with Keith Lee, Dominik Dijakovic and the surprise Team Ciampa member, KEVIN OWENS (which once again my mate Dan correctly predicted)!
NXT TakeOver: Portland (16/2/2019)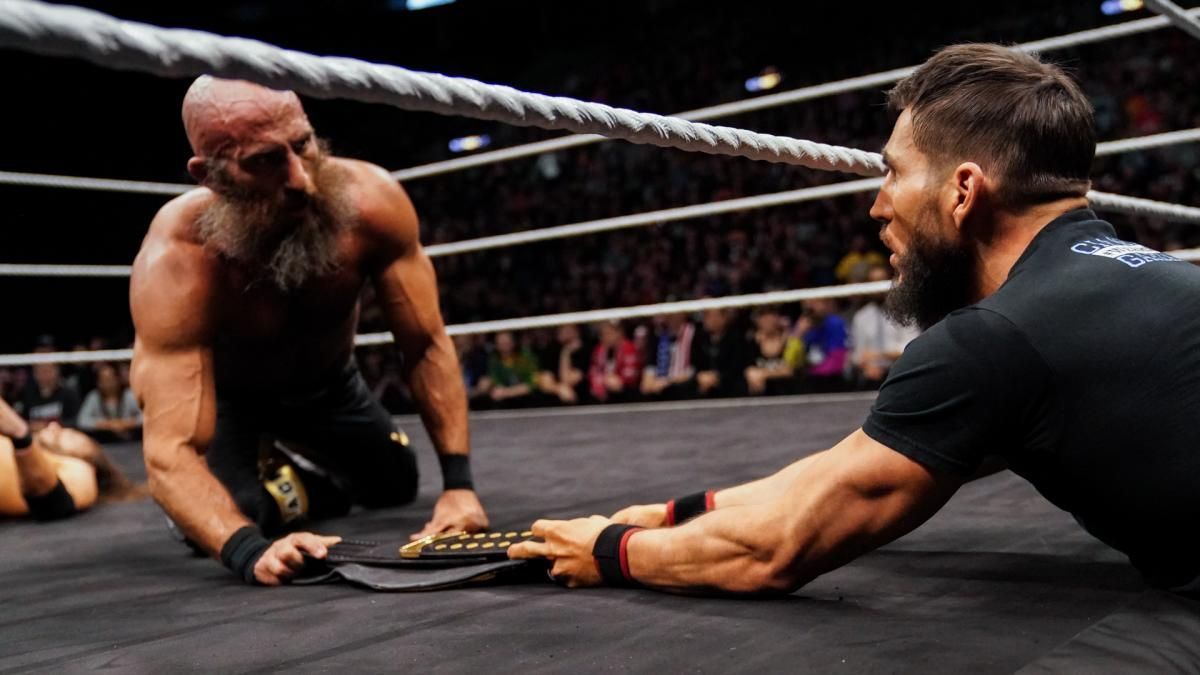 The final TakeOver before the pandemic changed the world forever, but boy did this show go out with a bang! Arguably the best TakeOver (in-ring wise) of the lot; Keith Lee vs Dominik Dijakovic, and Finn Balor vs Johnny Gargano were both classics, but neither were close to an incredible main event with Adam Cole retaining the NXT Championship against Tommaso Ciampa, thanks to a truly shocking assist… FROM JOHNNY GARGANO!!!
NXT TakeOver: In Your House (7/6/2020)
As NXT went indoors, this TakeOver had a very different feel, but that was to be expected sadly… We still got some good stuff mind, including Karrion Kross beginning his dominance of NXT with a decisive victory over Tommaso Ciampa, and in the main event Io Shirai won the NXT Women's Championship in a triple threat match by pinning Rhea Ripley as the Charlotte Flair experiment came to an end…
NXT TakeOver: 30 (22/8/2020)
Another good show, but a sign things were changing very quickly in NXT, and maybe the first sign NXT was no longer a priority for WWE… As not too long after he became the first man to hold both the NXT and North American titles simultaneously, Keith Lee lost the NXT title here, and the next night at SummerSlam was on his way to Raw… It was Karrion Kross who left this show as champion, but due to injury he too wasn't champion for long… We also got Damian Priest winning the vacant North American title in a great multi-man ladder match, and a match between Adam Cole and Pat McAfee that was WAY better than it had any right to be!
NXT TakeOver: 31 (4/10/2020)
Kind of a slower TakeOver in terms of blockbuster action, but still one that had some great wrestling. Shirai vs LeRae, Priest vs Gargano and Santos Escobar vs Swerve were all great, as was a very brutal main event with now NXT Champion Finn Balor retaining against Kyle O'Reilly, in a match that Balor suffered a legitimate injury such was the force of O'Reilly's attacks… This show also marked the beginning of NXT's time in the Capitol Wrestling Centre, which added to the dark and underground feel.
NXT TakeOver: War Games 2020 (6/12/2020)
Another solid War Games TakeOver, with 2 decent War Games matches sandwiching some good matches elsewhere… With the main event seeing The Undisputed Era claim a War Games win against Team McAfee.
NXT TakeOver: Vengeance Day (14/2/2021)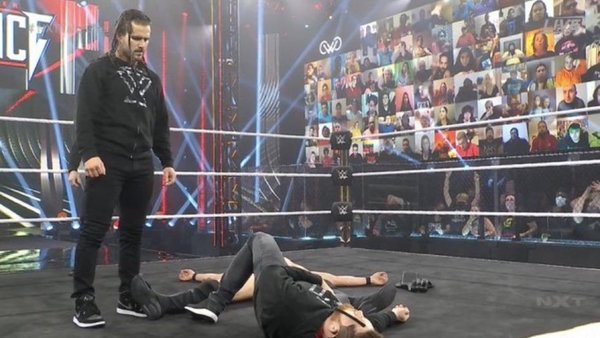 The year TakeOver died began with another solid 'rasslin card. As Dakota Kai & Raquel Gonzalez and then MSK won the women's and men's Dusty Classics respectively, Gargano retained his North American title against KUSHIDA, Io Shirai retained her Women's title and then Finn Balor defeated Pete Dunne to retain the NXT title in a match that was as good and hard-hitting a match as the participants in it would suggest. However the show would end in shocking fashion… as once Kyle O'Reilly and Roderick Strong had come out to make the save for Finn Balor after Pete Dunne's pals came to back him up… UE leader Adam Cole took exception to this… and the unthinkable split of NXT's most dominant faction began…
NXT TakeOver: Stand & Deliver (7&8/4/2021)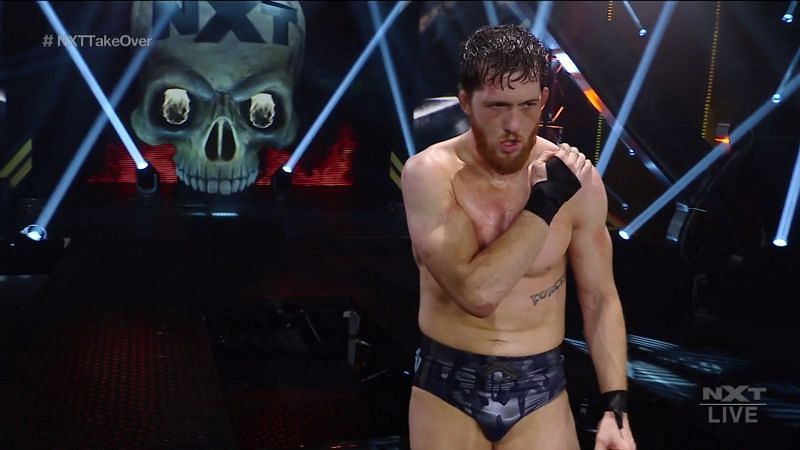 A first for a TakeOver in that it took place over two nights. But for me it was a triumph as a really enjoyed both, and it was nice to see more people be able to shine on the TakeOver stage. Night 1 saw a BANGER between Walter and Tommaso Ciampa and later Raquel Gonzalez winning the NXT Women's title from Io Shirai. Night 2 had a good undercard, but really was all about the final 2 matches… as Karrion Kross won back the NXT Championship he never lost, and in the main event Kyle O'Reilly won his showdown with former UE stablemate Adam Cole in a brutal unsanctioned match.
NXT TakeOver: In Your House (13/6/2021)
We went back inside for our penultimate TakeOver. But really this was a one match show… And although the tide had began to turn on the all-conquering Karrion Kross, he still had to go through a heck of a challenge to walk out with the NXT Championship after winning a 5 way match against Kyle O'Reilly, Adam Cole, Johnny Gargano, and Pete Dunne.
NXT TakeOver 36 (22/8/2021)
This was a really weird show, tinged with a lot of sadness for many who had loved what NXT had become. We all kind of knew this would be the last we would see of NXT as we knew it, with rumours of what would become the current NXT 2.0 rife… NXT was changing if we liked it or not… And so a lot of this show was predictable, we did get some highlights though with Ilija Dragunov ending the historic reign of Walter and NXT UK Champion in an ALL-TIME CLASSIC, Kyle O'Reilly came out on top in the conclusion of his rivalry with Adam Cole, and finally the recently returned SAMOA JOE sent Karrion Kross off for his spell on Raw (wonder how that will go for him), and bizzarely going in to the 'new era' of NXT, the veteran now was the first ever 3 time NXT Champion… not for long of course…
So like it or not, NXT TakeOvers are no more. But as the old saying goes… don't cry because it's over, smile because it happened. And whatever monstrosity NXT 2.0 is… NXT TakeOver will forever be remembered as the greatest collection of shows WWE ever produced, and to everyone who was a part of that… Triple H and his crew behind the scenes, Neville, Sami Zayn, Kevin Owens, Sasha Banks, Bayley, Finn Balor, Samoa Joe, Asuka, Shinsuke Nakamura, Bobby Roode, Ember Moon, Drew McIntyre, Andrade 'Cien' Almas, Shayna Baszler, Johnny Gargano, Tommaso Ciampa, Adam Cole, Kairi Sane, Keith Lee, Karrion Kross as well as the likes of Tom Phillips & Corey Graves, Mauro Ranallo, Percy Watson, Nigel McGuinness, Beth Phoenix, Vic Joseph & Wade Barrett… I can only say one thing…
Thank You!
Josh.