So after Full Gear, we are now in the era of COWBOY SHIT! It is a quite wonderful time where The Hangman is the champion of the world! But as those of us that have been blessed enough to see the story of Adam Page all the way… up to the point where is now the AEW Champion… But it's clear for a few reasons that this story still has places it will go and can go… And given the long term booking shown from Tony Khan already, including in the story of The Hangman, I have no doubt that the story of who next becomes the company's champion will be another for the ages… So just WHO could that be? Well, here I will take a look at the CURRENT 10 best options to eventually dethrone Our heroic Cowboy… Now I am by no means saying I think or would want the reign of Adam Page to end anytime soon, but of course it must end at some point… Given the tremendous way in which AEW builds up it's characters I believe there are a number of realistic options of who could be the next man to hold the richest prize in AEW… So here now is my list of the 10 best possibilities on who could be the 5th and next AEW Champion!
---
10. Eddie Kingston
Some will say he already had his shot at being the top guy, and others will say the fact this man was cheered even against CM PUNK, all means that Eddie Kingston being the man to dethrone Adam Page is unlikely to happen… But I think he has already shown at times in AEW that should he need to, he can play an asshole VERY well. Just imagine the promos Kingston would cut if he was up against, and then beat the beloved Hangman… Imagine how upfront and in-your-face he would be as the world champion. I think the idea of a heel Eddie Kingston turning up his already-high intensity to 11 and beating down Adam Page, if nothing else, is intriguing to me…
9. Andrade 'El Idolo'
Although he had a rocky start to his time with AEW, Andrade had picked up some steam now following some classics against PAC, and their involvement with the Cody-Malakai feud. Anyone, like me, who saw his run as NXT Champion will tell you he is a tremendous wrestler, capable of playing the arrogant, cocky heel role to perfection. And give him the right story and motivation and I could definitely see him as a rival for the Hangman.
8. Miro
He came in as Kip Sabian's 'best man'… but he's very much his own man nowadays. Since dubbing himself as God's favourite champion during his dominant run as TNT Champion, Miro has been on an absolute tear. An despite two recent high profile losses to Sammy Guevara and Bryan Danielson, I don't think either have hampered the run of Miro too much. His promos each time make him come across as the menacing monster that 'Rusev' never quite was. Miro could be a top heel champion in any era for me, I for one wouldn't be too upset if he was once again 'God's Favourite Champion' in the future.
7. Bryan Danielson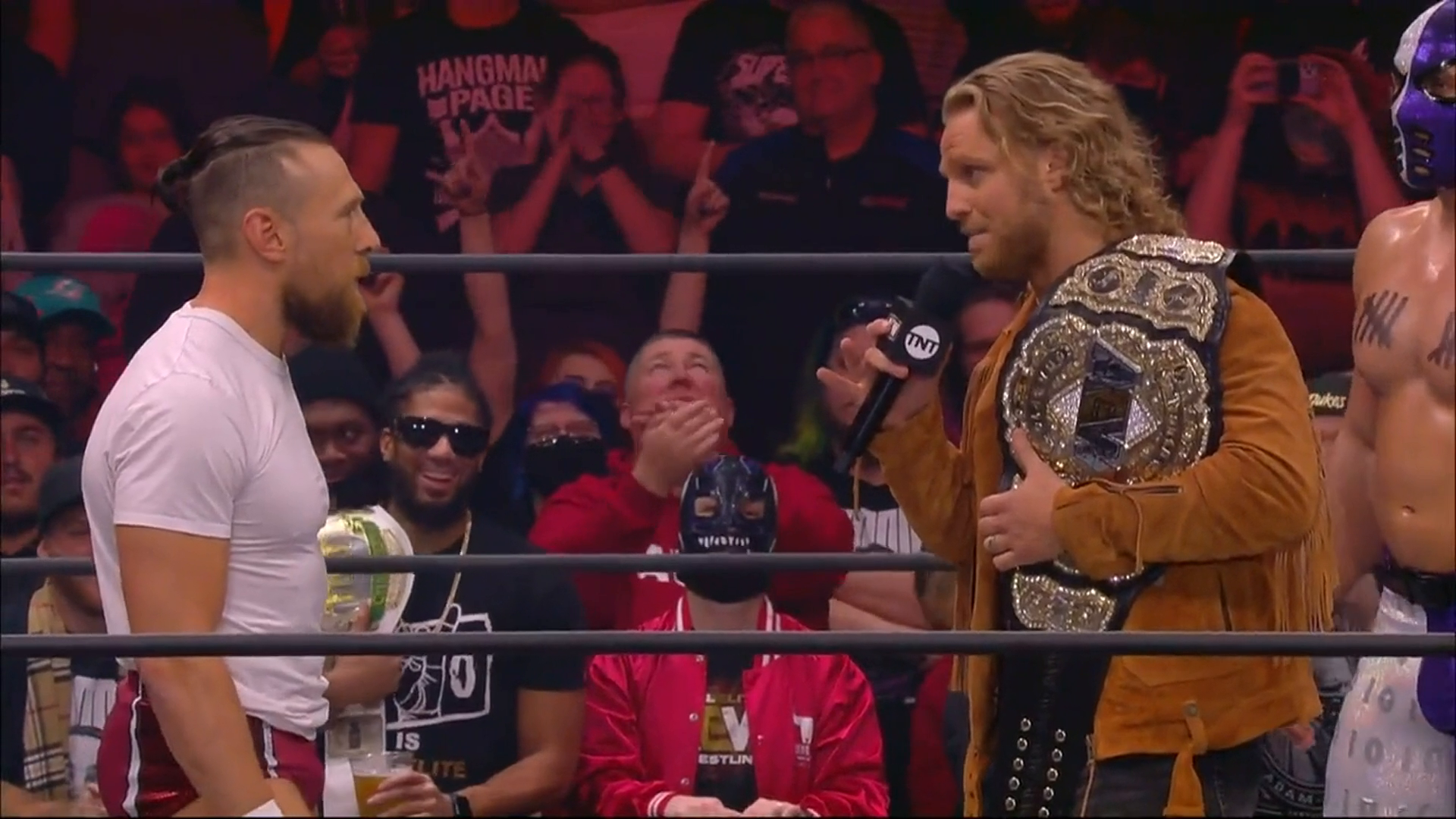 The current number one contender, and by proxy the most likely to be the next champion. I don't think he will be, but this newly found aggression and attitude both in and out the ring make him a formidable threat to anyone. He was already one of the outstanding wrestlers on the planet, but now he really will, happily, kick someone's fucking head in!
6. PAC
I'm just SUCH a big fan of PAC. He really is a BASTARD, and despite kind of being positioned as a babyface right now, it wouldn't take too much at all to make him a top heel once again. And given his history with Adam Page, that goes right back to the very, very beginning of AEW… seeing these two go at it for the World title would be something else… and we really do need a PAC world title run before it's all said and done.
5. Jon Moxley
It felt very much like to me, and it's been pretty much eluded to by sources since, that Jon Moxley was scheduled to win the recent contender's tournament, and be the first challenger to The Hangman. It wasn't to be at this time… but I wouldn't rule it out in the future, it was of course Mox that Page was battling against before he eventually climbed the ladder to get his title shot in the first place, and much like PAC you would say it wouldn't take too much at all to flick that switch and gift the world a crazed, heel Jon Moxley. It may be tricky to get him legitimate heel heat given his recent battle, but I've no doubt if you gave Moxley a mic, he could make us all hate him soon enough… and then he could always just beat the shit out of a top babyface upon his return, and we'd be off to the races right away…
4. Malakai Black
Honestly can't express my joy as to how AEW have booked Malakai Black since he joined the company. Even from his entrance he just comes across as a BIG deal. He's having great matches all over the place, and that spinning heel kick has kept being protected which is promising. And even his loss to Cody Rhodes was well explained within the story, and again it wouldn't take too much to push him to the top of those AEW rankings. I would predict within the next year, Malakai Black will be a champion in AEW in some form…
3. CM Punk
I feel like the CM Punk heel turn is inevitable at this stage… There's still plenty of matches and rivalries for him to have as a fan's favourite, but my god I think he would be an even better heel in 2021 than he was a decade or so ago… As someone who came to AEW to fight and help the younger talent, it would be great to see him against the likes of Jungle Boy and Sammy Guevara but as a heel… and just imagine those promos… And surely it's too tempting not to utilise the straight edge CM Punk against the beer-loving Hangman… How the wider wrestling fandom would react if CM Punk became AEW World Champion is one thing, but just think of the stars he could make, and what it would do for the man who eventually took that title from him…
2. Adam Cole
Way too many reasons as to why I think this would be so good… But firstly just imagine, by the time Kenny Omega returns from his injury-led absence he comes back to find Adam Cole not only having taken his place as the 'leader' of The Elite… but also holding the championship that he carried for so long… I don't think you need the world title to tell that story, but it would be cool right? Aside from that I think anyone who saw any of his work as champion in NXT and even before that in ROH know how well Adam Cole carries the ship of his company as World Champion… I for one wouldn't mind seeing it again… but as great as Adam Cole is, I think there's just one who would be an even better choice to dethrone The Hangman…
1- MJF
Tony Khan recently said he had mapped out right from the start who his first 4 world champions were… and I'd be willing to be if you had asked him at the time to pick his best bet for his 5th, he'd of given you the name of Maxwell Jacob Friedman. He is EVERYTHING a heel should be and then some, the most outstanding character maybe in all of wrestling, such is his commitment to being absolutely despised. I cannot think of anyone who even comes close to being as good a candidate as MJF to beat Adam Page for the gold, you saw how MJF milked when he beat Cody, when he beat Chris Jericho, when he recently beat Darby Allin… Can you even imagine how he'd be if he became the world champion???…
…
Oh and as a sidenote… I'll even give you my pick right now to be the 6th champion of All Elite Wrestling… and maybe one day, I'll tell you more about it…
Josh.