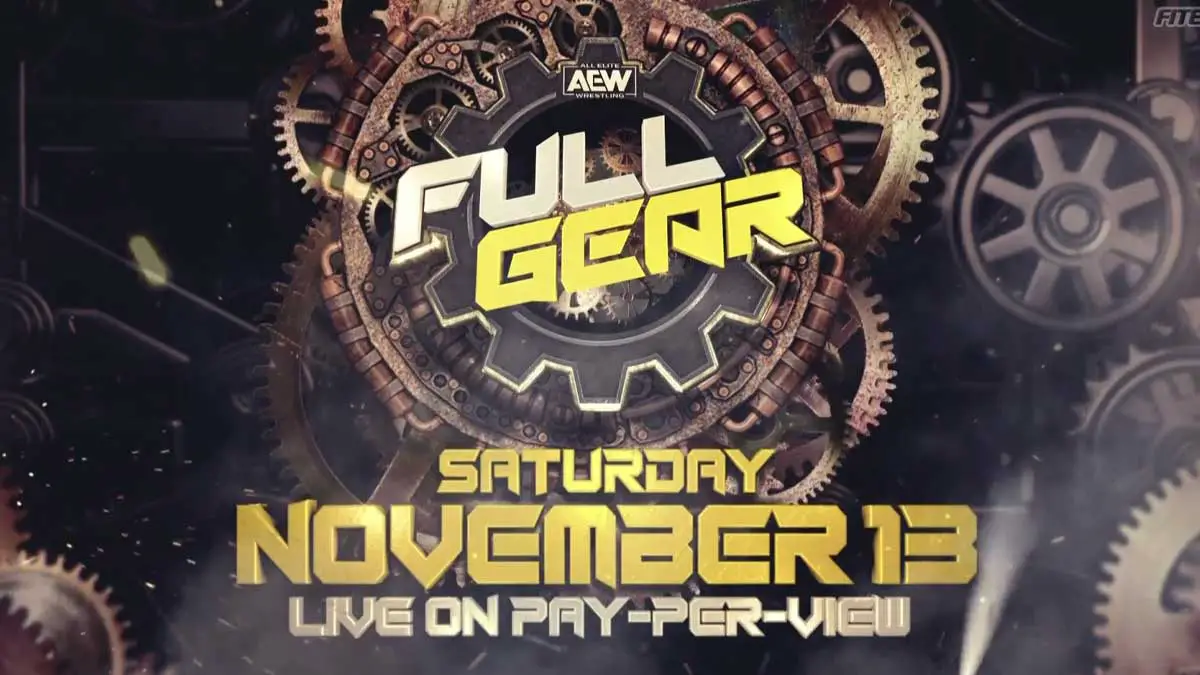 It seems like we say this every time they put on a PPV… But this really does feel like the biggest show in the history of All Elite Wrestling… so lets see how they do shall we? …
The usual Buy – In format saw a series of video packages highlighting the matches on the main PPV card, before we had our one live match… Only this time we had a little extra…
Tony Schiavone was in the ring to interview Dante Martin in his home town… He asked him about Team Taz's offer to join them the previous night on Rampage… Before he could answer Max Caster and Anthony Bowens of The Acclaimed came down… The did their usual rap gimmick including one line that said "Lio Rush can't handle this kind of environment, he's about to go on his 15th retirement" – that popped me good. Anyway, Dante showed his usual extraordinary athleticism as he declined The Acclaimed's offer to join them instead. Fun little bit to get the hometowner over.
Hikaru Shida & Thunder Rosa defeated Nyla Rose (with Vickie Guerrero) & Jamie Hayter
This was fine. The babyface team was very over with the crowd, Rose played her role great here… she suplexed both the babyfaces at one point, whilst also taking a heck of a beating not long after… Shida hit a crossbody from the middle rope to the outside onto Nyla, and Thunder Rosa hit a crossbody onto Hayter… Serena Deeb (who was sat in the crowd) distracted Shida, and this allowed for Vickie Guerrero to target Shida's knee… Hayter then hit a suplex, and Nyla hit a Frog Splash (which was cool on the anniversary of Eddie Guerrero's passing), but Thunder Rosa broke up the pinfall. Nyla went for the win but Shida rolled through and got the win.
***1/2
Tony Schiavone interviewed Orange Cassidy and Best Friends… On Dynamite next week is a tag match with Butcher and The Blade taking on Orange and a partner of his choosing… And given they are now members of CHAOS, Cassidy said he would use 'Ask Jeeves' to see who was in CHAOS… and one of those will be his partner… so lets see then… If only New Japan had a show in the US this weekend, meaning a few people would be free for Wednesday… Hmm…
---
MJF defeated Darby Allin
This was SO GOOD! MJF was booed by the crowd, and Darby had another cool mini-film before he came out… with Sting! The crowd was so with this match all the way, and both men responded in kind. Surprisingly the crowd was 50/50 with duelling chants at times, the wrestling here was super good, with a Tombstone Piledriver from MJF to Allin on the apron the highlight. Sting then cameback out to run off potential interference from Shawn Spears and Wardlow, but this distraction gave MJF the time to retrieve the Dynamite Diamond Ring from in his wrestling shorts, punch Darby with it, then use a Headlock Takeover (which factors in to a long time story between these two, where Darby once beat MJF with the 'basic' move on the indies some time ago)… And MJF got the win. One of MJF's best matches for me, a GREAT opener for the main card.
****3/4
The Lucha Bros (Penta & Fenix) (C) with Alex Abrahantes defeated FTR (Dax Harwood & Cash Wheeler) with Tully Blanchard to retain the AEW World Tag Team Championship
This was a very good match let down slightly by a confusing finish. FTR played old-school asshole heels with their usual excellence, and you can't not like The Lucha Bros. The in-ring stuff was as good as you'd expect, with a few shenanigans thrown in. At one point Tully tripped up Penta, and this allowed for Dax to hit the 3 amigos to him, which naturally the crowd HATED… but Penta cameback and countered the 3rd one and hit 3 amigos of his own, and Fenix hit an excellent Eddie-Frog Splash for a close nearfall. Then came the finish, and I've had to go back to make sure I got all this… Cash came back in the ring wearing one of the silly masks they've been wearing recently (to mock the Lucha Bros and the Luchador culture, given they are now AAA tag champions too), and Wheeler tried to get a pin with his feet on the ropes, but he was caught by the referee. Then The Lucha Bros hit their piledriver-finish on Wheeler and got the pin…BUT… Wheeler wasn't the legal man this time, and so the champions retain by pinning the illegal man… This isn't the end of this feud, given they're rematching for the AAA titles at Triplemania soon, but this finish was odd… although I have eternal faith in this company to make everything make sense eventually.
****
Bryan Danielson defeated Miro in the final of the World Title Eliminator Tournament
The video before this match was really good. The match itself was a great mix and technical wrestling and striking. Danielson's standard of matches with a range of opponents since he came to AEW is becoming absurd now, not that Miro isn't tremendous in his own right… Finish of this match was really good too, Danielson fought out away from Miro's grasp with elbows and strikes… and then one spinning ddt off the ropes followed by the gullotine got him the win. This plays in to the story told from his previous matches that Miro has a week neck, which is great continuity. What Miro does next after two big losses recently will be interesting… as for Danielson he's the new number one contender for the championship.
****1/2
Jurrasic Express (Jungle Boy & Luchasaurus) & Christian Cage defeated The Super Kliq (Adam Cole & The Young Bucks (Matt & Nick Jackson)) in a Falls Count Anywhere match
The Bucks used ridiculous purple dye for their facial hair. The babyfaces wore jeans, your surefire sign this is a street fight. Cole's face was covered in blood at one stage, we had a couple of big table spots, a great spot where the three heels did a BTE trigger with thumbtack-covered knee pads, but the highlight of a super-entertaining match was Luchasaurus hitting a shooting star press, which left Jungle Boy and everyone else who saw it gobsmacked. The cool finish saw Jungle Boy hit the conchairto on Matt Jackson for the win. This was just a real crazy and wild brawl, but really good fun to watch.
****1/2
PAC & Cody Rhodes (with Arn Anderson) defeated Andrade El Idolo (with Jose) & Malakai Black
Cody is SO clearly AEW's John Cena… The odd-couple dynamic from both teams in this match made for a really interesting match, but the wrestling was really good as well as you'd expect from these 4. We had a great spot the crowd loved where Arn got wound up by Jose, and then got his 'glock' out and beat him up and chased him from ringside… For the finish Andrade went for a figure 4, but Cody countered and got his own… PAC got the tag and hit a 450 for a nearfall. After he went to go after Black on the outside but he pulled Rhodes in the way… After Cody hit a suplex to Black on the floor, and Malakai kicked him over the barricade, taking both men out. Meanwhile Andrade went for his finish, but PAC hit a suplex into the turnbuckle… then hit a poisioned rana and the Black Arrow for the win. This was good stuff all round.
****
Dr. Britt Baker DMD (C) (with Rebel & Jamie Hayter) defeated Tay Conti to retain the AEW Women's Championship
Tay's kicks were something else! She might be the most improved wrestler on the planet in the last year… amazing what you can achieve when you leave 'developmental'… This match was fine, the story was Britt couldn't get the Lockjaw in as Conti kept maneuvering out of it with her Ju Jitsu skills, and she got a couple of nearfalls along the way… but for the finish we again got Hayter and Rebel trying to interfere, which really was starting to take me out of Baker's matches because it's EVERY SINGLE TIME… BUT… Conti took them both out, and went for the win… Conti reversed another Lockjaw attempt into a cradle pin, but Britt reversed that into her own cradle and got the win.
***3/4
CM Punk defeated Eddie Kingston
This was a real personal feud going in, and the match reflected that… this was a FIGHT! Punk had UFC-style shorts, and right as the match started Kingston hit a big spinning backfist that took Punk down… From here it was a proper fight, with the crowd unsure of who they wanted to win at different points. Punk even got some boos at one stage, and he kind of indulged them by hitting some JOHN CENA moves and teased a 5 knuckle shuffle, but he just gave Kingston the bid instead. Crowd booed that, but cheered when he did the 3 amigos. For the finish both guys missed moves and seemed exhausted, Punk got elbows and knees and then hit a second GTS for the win. He tried to go for a handshake after the match, but Eddie didn't shake it. Crowd were lively for this, but went back and forth on who they were behind which made it interesting. Good match though.
****
The Inner Circle (Chris Jericho, Sammy Guevara, Santana, Ortiz & Jake Hager) defeated Scorpio Sky & Ethan Page & American Top Team (Junior dos Santos, Andrei Arlovski & Dan Lambert) in a Minneapolis Street Fight
This went longer than it needed to, but they did a good job still. I thought both Junior Dos Santos and Andre Arlovski did their roles really well, Dos Santos got in it with Jericho towards the beginning and hit a powerslam and a standing moonsault for a nearfall! Apparently all the weapons around ringside were from Minneapolis… OK then… It was another wild brawl type match, but not of the level of the earlier 6 man match… but nonetheless it was fun to see. We had a fun moment where Ethan Page got into it with Jake Hager's wife who was at ringside in the crowd… sat next to her was a man called Baron Von Rasch, a AWA and Minneapolis wrestling legend who was introduced to the crowd before this match… he put a Khali-style claw on Page and the crowd ate it up. The finish was the exact finish they should've done… Dan Lambert was alone in the ring with Jericho, and after Dos Santos stopped him hitting a Lionsault allowing Lambert to get a nearfall… Jericho then used a kendo stick and a stapler to attack Lambert, and he finished him off with a Frog Splash in tribute to his good friend Eddie Guerrero. Jericho was very emotional as Inner Circle celebrated their win. This was fun.
****
Among the matches announced for Wednesday's Dynamite was The Butcher and The Blade vs Orange Cassidy… and New Japan Pro Wrestling's TOMOHIRO ISHII!!! HOLY, FUCKING, SHIIIIIIIIITTTTTTTT!!!
Tony Schiavone was on the stage, where he introduced AEW's newest signing Jay Lethal. He immediately challenged Sammy Guevara, who came out to accept, and the two will have a match for the TNT title.
"Hangman" Adam Page defeated Kenny Omega (C) with Don Callis to win the AEW World Championship
This was everything we hoped it would be… and then some…
There was an awesome video played before Hangman came out. Omega was booed which hasn't always been the case before big matches since his turn… As you'd expect this was such a well laid out and well wrestled match. The pacing was excellent and the crowd loved every second of it. I've not quite seen a crowd want a babyface to win this badly before in an AEW match, this was another level.
They had a exchange of strikes early, with Kenny getting an advantage after Don Callis tripped Page up… and then he choked Page when Omega distracted the ref… Hangman fought-back, but soon Omega rammed Page's back into the barricade and then the ring apron. Hangman hit a big suplex on the floor, and got a nearfall after but Omega thumped him in the eye and now he took charge again. Callis again attacked Page, and Kenny thought about the buckshot lariat… and Page tried to comeback but soon got hit with a big rana and then Omega's Terminator Dive, a signature of his big matches from his days in Japan. They went back and forth some more, with Page hitting a crazy moonsault from the top rope to the outside, this got a big "COWBOY SHIT" chant. They had a series of nearfalls for both during the next part, and as Omega was raining down punches he bit away at Hangman's forehead, soon after Page punched Omega when he was on the top rope and then he bit at his head. Soon after, Omega rolled outside, and Page came off the top of the actual ringpost and hit Omega which sent them both through a nearby table. Page eventually got Omega back in the ring and tried the buckshot lariat, but Omega dropped out the way of it… Page went for a V-trigger but Kenny ducked, Page tried a pop-up powerbomb, and again tried for his finish but Omega instead grabbed the ref so he took it instead. This was when Don Callis tried to hit Page with the title belt, but Page took him down. Omega then tried for a belt shot but Page ducked it and hit a Dead Eye… he had Omega pinned, but Aubrey Edwards sprinted out and only managed to get a 2 count for The Hangman… they went back and forth some more, and when both men were down the Young Bucks came out, still selling from their match earlier… eventually Omega hit a V-trigger as Page went for a buckshot, he then tried the One-Winged angel but Page countered into one of his own and got a VERY close nearfall. The finish of the match was so fucking awesome, and if like me you've followed this whole story of Page from the beginning the little bits they did hear meant the world… so Page goes for a buckshot lariat to the back of Omega's head… Nick Jackson was looking on and could've stopped it, but hesitated and didn't… Page went to the other side, Matt Jackson was looking on at Page and could've stopped him… but instead he looked at Page… and nodded… it was time… Adam Page hit the buckshot lariat, and pinned Kenny Omega. 1,2,3. Dark Order all came out and joined with the celebrations, the show closing with them all in the ring, and the hero of the hour being hoisted up high. A tremendous way to end an exceptional show.
This match was (MINIMUM) in the top 3 matches from AEW this year, and one of the best matches in company history.
*****
I don't really have anything more I can say about, from an in-ring point of view definitely, one of the best shows I've ever seen…
Those of you who read my blog on Hangman I did last week, know how much this story has meant to me. I was very emotional and so beyond happy that we got the happy ending… and this is only the beginning of it.
All hail The Hangman. Long live the era of Cowboy CHAMPION shit!
Josh.