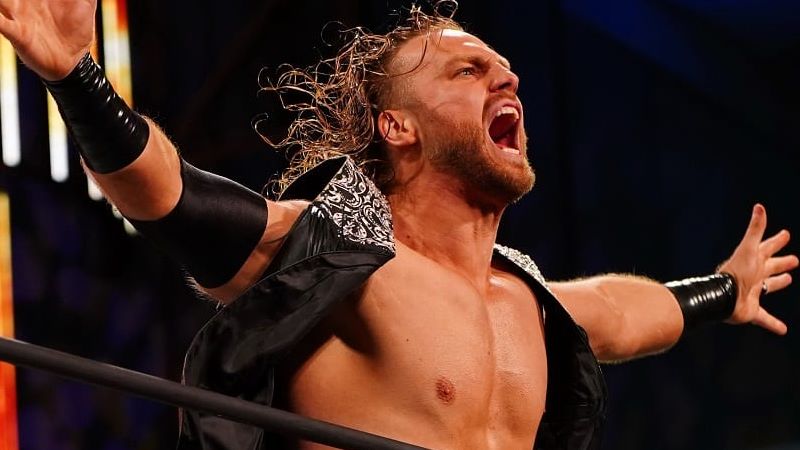 At it's finest, as my friends at Wrestling Should Be Fun will tell you, wrestling is the story of the good guys finally beating the bad guys. And when we finally get that moment of overwhelming joy, there really is nothing quite like it. When Hogan beat Andre, when 'the boyhood dream' came true, when the 'Austin Era' began, the miracle on Bourbon Street became a reality, when The Man came around, when Kofi finally did it… some of the best feel good moments the business has seen. Moments which people will be talking about forever, all built on long term stories and characters, all with a babyface at the forefront who went through the shit, got back up, kept fighting, and eventually scored the biggest win of them all. And we all absolutely LOVED them for it… On Saturday Night, All Elite Wrestling could well be about to add it's own babyface legend to the all-time list… AEW Full Gear 2021, the night we see some serious COWBOY SHIT!!!
I'll tell you another thing the examples I've listed had in common… relatability. The Hangman doesn't have a gimmick really, his gimmick is he likes a beer, but he's a good guy and doesn't stand for people who are dicks. He'll do good for people who do good for him, and he stands up for what is right. He's been through his struggles, his own self doubt and worries about his mental capacity to win 'the big one… but he's taken his time to learn and grow. And now he's ready. Now he's ready to go, he's fired up, he's motivated, and now he has the chance to prove his haters wrong. The show his once 'friends' that he's more than just 'A guy' he's 'THE guy'! And if you can't relate to any of that in some capacity in your own life, I don't know what to tell you…
So, for the few of you who don't know, let me run you through the story of The Hangman in AEW…
From legit day 1 of the company, Adam Page stated a desire to be the world champion. No messing about, right off the bat he told the world he wanted to be the world champion. And even injured, he earned the right to compete again Chris Jericho to crown the first ever AEW World Champion. Everyone who was everyone said it wasn't Hangman's time, me included. We all felt that All Elite Wrestling needed a big name like Jericho to carry the world title in the company's early days, the logic being the bigger name leading the ship would help the company draw attention and grow. Adam Page was well aware he was the underdog, in kayfabe and reality. But he believed… we weren't quite with him yet…
It wasn't Page's time… yet…
So from here, Page kind of last his way a little. You ever been after your ultimate success, not quite made it, and suddenly you lose your way because you've no focus, no pathway… no direction… Yeah, me too…
Page decided it was time for him to leave The Elite group of his then friends Kenny Omega, The Young Bucks, and Cody Rhodes. He needed to go out on his own to find himself… and (in kayfabe) he found his way to a bottle… I know this storyline was very much a joke and tongue-in-cheek, but again it's a very real story that I'm sure many watching have been through or been affected by in some way. Again Page is RELATABLE. But again, much like in reality, the world works in mysterious ways, and sometimes opportunity's come when they are least expected…
At this point, with Page having settled his feud with PAC, he found himself teamed with fellow Elite member Kenny Omega in a tournament to decide the new number one contenders for the AEW Tag titles. Both men predominantly singles competitors, both men polar opposites, yet both fantastic at what they do. And as often is the case, opposites attracted…
But of course, when you are the champions, everyone will come for you, The Best of The Best. And when you talk about tag teams, and GREAT ones… you can't look much further than… Fellow Elite members The Young Bucks… and what came about was the an amazing feud between… 'friends'… the beginning of the end of The Elite…
And one of THE best matches in company history.
(Following report from my AEW Revolution PPV blog: https://nobodyisready.com/2021/04/23/the-best-all-elite-wrestling-ppv-so-far-revolution-2020-review/ )
Hangman' Adam Page & Kenny Omega (C) defeated The Young Bucks (Matt & Nick Jackson) to retain the AEW World Tag Team Championship
The Young Bucks got a superstar entrance, with the money cannons and everything. Page and Omega (coming out separately to one another) got huge crowd pops, particularly Hangman. Once he came in to the ring Hangman went nose to nose with Matt Jackson, tension was very high. They also had some cool lights interspersed in the crowd that changed colour in line with the music and what was going on during the entrances. It was subtle to some but looked cool. Interestingly also The Bucks were booed a little during their intros. Page and Omega were both cheered. And then it was finally time. We had a real big fight feel. 'Cowboy Shit' chants came from the crowd as the match got underway.
We had fun wrestling exchanges early, but that changed when Matt and Page got in the ring and Page SPAT in Matt's face, before a brawl ensued. Nick and Kenny tried to stop the two from doing serious damage, but as the match went on it seemed the Young Bucks worked more and more like heels. Page even wanted to put Matt Jackson through a table that was set at ringside, but Kenny Omega reasoned with him not to. In terms of a proper move by move analysis of this match I didn't write one to be honest. This match was a proper joy to watch; move for move it was perfect, everything within the match on it's own made sense, and when you add in the huge backstory and build, it made for a classic. And it was just that. The crowd loved every minute of it, and above all else these 4 guys are GREAT professional wrestlers and each performed to their maximum here. Towards the end of the match (that went almost dead on 30 minutes) things went crazy in a good way; Kenny tried for a One Winged Angel off the middle rope (he had done the move against PAC on the previous Dynamite), but Nick Jackson countered into a poisonrana and Omega took a nasty looking bump. Speaking of nast looking bumps… Matt Jackson hit THREE consecutive nothern lights suplexes on Page up the entrance ramp (so imagine they flipped over three consecutive times, and Page took the bump over and over and over). As if that wasn't bad enough for the Hangman, The Bucks then hit him with the Indytaker on the ramp. The crowd really didn't like that one (they were so behind Page during the whole match by the way). After that The Bucks went at Kenny… they hit double knees, but Omega kicked out at ONE!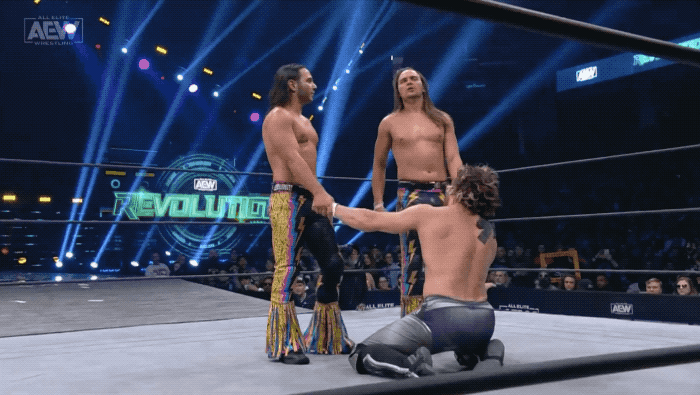 Then they both hit knees again and he kicked at 2…Matt Jackson in frustration tore the protective tape from Omega's shoulder. They then tried for the Meltzer Driver, but Hangman Page came back in to play and put Nick Jackson through the table that was ringside with a powerbomb. Page and Omega hit what became their tag finisher (a Buckshot Lariat/V-Trigger combo) on Matt Jackson, who kicked out at 2. Omega then tried for the One Winged Angel (a move that STILL has never ever been kicked out of) but his shoulder gave way, and this was where Hangman turned into Hulk Hogan peak Hulkamania and it was AWESOME… He tags in, HE hit the One Winged Angel on Matt… but Nick Jackson makes the save during the pin. And then Page with a Buckshot Lariat to Nick Jackson whilst he was on the apron, and then sprung right into the ring and hit the same to Nick. And that got the 1,2,3. This match was awesome but Hangman Adam Page (who still now in 2021 I feel like is set to long term get THE big moment for the title) was the crowd favourite and really the MVP of this incredible match.
After the match it appeared that Omega made peace with Matt and Nick, but Page seemed not willing to do so. We had a super cool tease of Page hitting the Buckshot Lariat to Kenny, as he was stood on the apron looking menacingly towards Kenny, but as Omega turned around Page paused, and then held the ropes open for his tag partner to step through, and the crowd cheered as they left together. Page also got a beer from the crowd as he walked up the ramp. This was a fun tease, and the right call for it NOT to happen as I feel like Chicago would've rioted if their hero turned here.
This was one of the ALL TIME great Tag Team matches, and possibly the best match in the history of AEW.
*****
But… All good things must come to an end… as the long running tensions within The Elite continued, Page and Omega would lose the tag titles to FTR in September of 2020. And soon after Page and Omega split and Page was OUT of The Elite.
Ever been shunned by people you thought were friends or those you cared about, just because you stayed true to yourself and didn't just go with the flow? Yeah, me too…
From here Page and Omega went their own way as singles competitors once again. And they would find themselves in a singles tournament with the winner eventually facing Jon Moxley for the AEW title. And as Page battled his way past Colt Cabana and Wardlow, Kenny Omega took personally the constant jibes from people asking where the 'old Omega from New Japan' was… A newly found aggression saw him squash Sonny Kiss and then beat Penta… and so we had Omega vs Page at Full Gear 2020…
Again though… Page came up short. He still wasn't ready… Omega was still better than him. And Omega even told him as much after… From here Omega went on to prove how good he was, and did what Page never could… Ever seen someone lie and cheat to get something you bust your ass trying to get? Yep, I'm with you…
As 2021 began, and Page's former friends ran AEW with all the gold as the top heels… The Hangman would soon be connected to another faction… Although, he was reluctant at first to trust another group of people, having been let down before by people he trusted. And yes, I too have trust issues to new people that mean well, purely based on past experiences…
The Dark Order were looking to change their ways, in light of the passing of their leader Brodie Lee. They now wanted to spread their message, but for good, and so looked to recruit The Hangman and help him find his way again… Early 2021 was when The Dark Order first made a move for Page… We are currently in November 2021 as the story approaches its peak… and that's just THIS portion of the story…
At the Revolution PPV in March 2021, Page defeated Matt Hardy… The Dark Order chose to standby The Hangman, and they came to join the celebrations. Page had found friends again, that he could trust and they could trust him. Not friends he expected, but friends he needed…
Now he had his new friends behind him, and his self belief back, Page went again for his ultimate prize. By now though Omega had decided that Page was beneath him, out of fear? Or mockery? … But it wasn't just Page who believed it was his time, so did The Dark Order… and so did WE the fans.
And so it was set, one of the biggest matches in AEW Dynamite history. The Dark Order and Adam Page vs The Elite and The Good Brothers. 5 vs 5 elimination style. Page and his crew win, he gets his shot at Omega and Evil Uno and Stu Grayson get their shot at The Young Bucks, who by now were tag champions. But if The Elite team won, not titles shots for anyone on the other team. It really was ALL on the line… and so we got an epic… but firstly, watch two of the best entrances of all time… and a heck of a Goosebumps video package about our new Hero…
But… it didn't quite go to plan, or as ANY of us expected… The Elite WON! No title shots for Dark Order. No title shot for Page…
And so… Hangman eventually went away (in reality he was on maternity leave)… And the once solid Dark order began in-fighting and going off the rails themselves as a team. Bickering became the normal for the group, once united with a common goal, now split in two and with members contemplating leaving full stop and being missing for weeks…
But once again, our hero was not to be denied. Again The Cowboy went away, dusted himself down, and came back to fight.
On the October 6th AEW Dynamite, over 2 months since he was last denied his shot at Omega, The Hangman returned, re-focused and ready to finally claim what was his…
LISTEN to this pop. Time for some COWBOY SHIT!!!
Confirmed. 100% HIS. Hangman finally had his shot at Omega, his shot at the world title, his shot at redemption.
And he said as much himself, he was ready. He believed, WE believed.
Below is one of the finest babyface promos I've seen for a LONG TIME!
Saturday night. AEW Full Gear 2021. One year after Omega beat Page to get his shot at the title he now holds, the same two men will now close the show for the richest prize in the game. But they really aren't the same two men are they? Omega remains one of the best wrestlers alive, now an asshole who cares only for himself and his world title. Adam Page remains a great wrestler, but now one with a grit and undeniable desire and determination. Stone Cold Steve Austin was more than ready to release a can of whup-ass on Shawn Michaels at WrestleMania, Hulk Hogan was ready to have Hulkamania run wild on Andre The Giant at WrestleMania 3, and now… Adam Page is READY to let some COWBOY SHIT on Kenny Omega.
I don't often say this about AEW, but I truly hope they go for it this time. I don't think they can do anything else. It really does feel like it's Hangman's time. A story that has been ongoing since Day 1 of the company, I now feel like it's at it's peak. I've not seen this much love and support for a babyface since AEW started. For sure Adam Page would be the least recognizable name to be AEW World Champion yet, Chris Jericho, Moxley and Omega all have been world champion elsewhere on bigger stages. But for those of us who've been with AEW since day 1, there really couldn't be a better champion for us all to believe in that The Hangman. Like Daniel Bryan, Kofi Kingston, and even Becky Lynch before, Adam Page winning the world title at Full Gear really would feel like a win for us all. I can't think of a more relatable story in wrestling that than of Adam Page in his time with AEW.
And remember this:
"What is it that makes a cowboy? It's not the boots or the buckle, its not the chaps, its not the jeans, its not the lasso or the cattle, not the horse or the saddle, you might think they're all long gone, but you don't need a hat to be a cowboy. A cowboy isn't too busy to lend a hand to a partner, not too proud to take one either, and when they get knocked in the dirt, bloodied and trampled, a cowboy dusts themselves off, and gets back up. And they'll stand by their partners and challenge those who have it all. And they'll keep ridin', 'til they find their peace."
Good luck Hangman, we are all with you.
Josh.