Well… I'm trapped in COVID jail! So to take up the time I've decided to write reviews of my favourite set of films ever made… so if you like Batman… please read on… My apologies for the lack of a full and proper introduction, but I'm kind of ill as I write this, so please excuse me. Anyway here's my full analysis, review and ranking of each film, Batman and it's Villain. Enjoy, I know I will.
Batman (1989)
Michael Keaton puts in a solid showing as Batman, and equalled in performance level to him is the iconic Jack Nicholson playing the iconic role of The Joker. Particular shout out to two lines in the film that popped me good: Jack's (pre-Joker transformation) response to his mistress saying "you look fine" … 'I didn't ask' was a gem… and of course "You Wanna Get Nuts? Come on, let's get nuts". Solid Batman film with the most solid of stories, but had the slightly edgy/wacky elements that Batman is famous for. I liked this film as it shows how Jack Napier became The Joker, and the elements behind the man who became the monster. The side-story of reporter Alexander Knox and photojournalist Vicki Vale investigating the whole existence of "The Batman" was also super fun, and of course Bruce Wayne becoming and being Batman, and how all 3 sub-stories eventually intertwine was tremendous.
The foreshadowing was particularly great when Napier's criminal boss says to him "you are my number 1… guy" (when sending him on a task that takes him to a chemical factory… the task that's actually just a cover up to have Napier Killed for sleeping with Mob Boss Carl Grissom's woman)… later in the movie a fully formed Joker uses the same line when talking to his second in command also… Grissom uses corrupt police lieutenant Max Eckhardt to arrange the hit on Nappier, which of course leads to him falling in acid and becoming the most famous of Batman Villains, after a brawl with the mysterious Batman himself. Napier is presumed dead, as The Batman makes his exit from The Police. As for Napier… well, he would return somewhat… different…
As Bruce Wayne is… entertaining… Vicki Vale… A newly transformed and much more psychotic Napier (via assistance from a backstreet plastic surgeon) goes on a rampage, killing Grissom and eventually killing some of his associates and taking charge of his mob empire. Joker instructs his own "number 1… guy" to follow Knox and find out what he knows about the mysterious Batman, who Joker sees as his main obstacle now. Vicki Vale later tries follow Bruce Wayne, having become intrigued by his mysterious and vague nature. She follows him to a spot in downtown Gotham where he lays a pair of red roses, at the spot his parents were killed by a mugger in front of him many years prior.
Wayne and Vale are both then witness to the killing of more of Grissom's former associates, led by The Joker and his men. Joker uses this attack and murder as his "big reveal" to Gotham. It is here that Bruce Wayne and The Joker first come face to face. This all comes on the eve of a huge street festival set to take place in the city, and again it appears that the mysterious Batman may be taking The Joker's much desired attention. It was made very clear at this stage a showdown between the two characters was inevitable. Wayne's butler Alfred sets about helping him find out as much information as possible on Napier and what he may have planned. It then appears that Joker had requested photos of those looking in to The Batman, and upon seeing these he falls weak at the sight of Miss Vale. He then proceeds with his plans and scheming to destroy Gotham… after he encourages production of…something… in a factory, we cut to the story of the mysterious deaths of a number of beauty queens, which is revealed via a news report. The lady reading the news then begins to laugh hysterically, before collapsing to her death. The Joker then takes over the tv airwaves with a very bizarre and novel advert for his Joker-branded… products…
Meanwhile Bruce Wayne discovers all about Jack Napier and the grand plan of The Joker, who it turns out wants to use "Smylex" (the name of this chemical that leaves those who inhale it to… die laughing…) to terrorise Gotham City. It appears that this mystery substance has already been placed in various products that civilians use regularly, yet nobody knows where or what they are in. Lives continue to be claimed and even the news readers show after have developed spots and a more ragged-looking appearance as a result of unknown exposure to the deadly "Smylex".
Later… The Joker further acts on his growing affection for Vicki Vale, and in time lures her to the Gotham Art museum… he does this by pretending to be Bruce Wayne, and as she is running mate she phones Wayne Manor to alert that she will be late. When Alfred relays this message to Bruce it becomes clear that Vale is about the be the butt of a very nasty… joke…
Vale takes her seat at the museum, at a table she believes has been reserved for her by Bruce. But a rather long time after, a gift is given to her… she opens a small box to a gas mask… and a note telling her to put it on…and soon after a deadly gas begins to engulf the room and knock out everyone in it… Napier and his crew then enter, with a rather wacky and… well…
After Napier introduces himself and tries to impress Vale in his own unique way, and tries to get her to join him and take photos of his… work… he reveals to Vale that he has caused a facial disfigurement to his mistress… as more of his… art… Napier finally tries to find out what Vale knows about Batman, to which Vale denies any knowledge of, she soon tries to escape… before Batman arrives just in time to take her to safety.
Batman, after escorting his damsel away from danger in the iconic and original Batmobile, later shows Vale his research into the Smylex and The Joker… in return to letting her know all about him and the spite of the city, Batman takes the film of the photos that Vale had taken, whilst Batman was fighting off Joker's cronies. After this we next see Vale waking up the next day, and she soon tells of her evening adventures, suddenly Batman is front page news, as Vale gets word out about Joker's plan and how and what he has done. The citizens are told of which products to avoid, new ones are on the way… and have the people now taken to the mysterious winged super-bat. Has the Joker been foiled already??? Well, he certainly is now after the big bad bat…
Not long after that… Bruce Wayne (who is definitely a different person to Batman, as far as Vicky Vale knows), who has now fully fallen for the photojournalist, plans to reveal all to her… and goes round to her place to talk things over… Vale seems more upset about Bruce and his materials ways, not letting Wayne get a word in… And he's just about to reveal all… only for The Joker to interrupt. He goes on to use the famous line "Have you ever danced with the devil in the pale moonlight?", which was too used by the muggers who killed a young Bruce's parents. Joker shoots Wayne, who survives thanks to a serving tray (hidden under his shirt) taking the bullet instead. In fact… this whole scene is great… so take a watch for yourself…
We later see Knox tell Vale that he has discovered that Bruce did indeed see his parents be killed right in front of him, what that does to someone Knox questions… Later we see Joker again take over the airwaves, overshadowing the announcement of the postponement of the big upcoming Gotham gala… This time The Joker says that tries to appeal to the less well off in Gotham, saying that at midnight he will dumping 20 million in cash on the crowd of his own parade he plans on putting on. He also lays out a public challenge to Batman to reveal himself… Napier is of course is trying to get people to gather for other means, he's not just happy to literally throw money away… Bruce soon realises, upon watching this tv address, that it was indeed Napier who killed his parents… now it really was personal.
Alfred Pennyworth (Wayne's butler played superbly, in this and the following 3 Batman films, by Michael Gough) then leads Vicki Vale to the Batcave… and to Bruce and he reveals all. Alfred has been trying to encourage a relationship between Wayne and Vale, and it is then that she is told THE secret. Wayne tells Vale (played by Kim Basinger by the way) that he cannot concentrate on a relationship with her whilst The Joker is on the loose. He departs to try and stop the disaster that may lay ahead.
Batman goes on to use the Batmobile to destroy the factory that is producing this terror product. But The Joker is still on the loose, and his parade is about to begin. He uses a number of moving floats and platforms, and sure enough a huge crowd of people emerge to see it… and Joker's cronies begin to throw the cash into the crowds as promised… Money is everywhere and the crowds of people are loving it, until finally it is time… Vale and Knox arrive at the parade just as Batman is travelling in, by air… And then… Joker as he gives away his free money, and The Batman appearing to be a no show… until Joker spots him flying through the sky and instructs his men to put on their masks… One button later and one of the floats of the parade begins to unleash this deadly gas into the air, about to poison the people below… Vale in taking pictures of the parade spots that the gas is being released from below one of the balloons, but the disaster has already started…
Thankfully for Gotham, Batman soon flies in in his fighter-like jet, and is able to trap the balloons and take them far away from the Gotham people. He sends the balloons high into the sky, and the gas being released with them. Joker in frustration take with quite well actually… by shooting his "number one… guy" Bob.
Batman then returns to the scene to try and take out The Joker. But somehow Joker is the one who strikes first, shooting Batman's flying Bat down to the ground. The Batman is though nowhere to be seen in the wreckage… and this Joker takes Vale right to the top of Gotham City cathedral. Batman soon emerges and gives chase…
To conclude the movie, and to set up the next, Gotham City district attorney Harvey Dent reads a note left by Batman that says he will protect the city should crime strike again. The Police Commissioner Gordon (played by Pat Hingle, who like Gough also returns in all 4 of these original Batman films) unveils the famous "Bat Signal". The films ends with Alfred explaining to Vale that Mr Wayne will be a little late, with her adding she 'isn't surprised', and we see Batman looking across and seeing his signal projected across the city skyline.
Overall: 7/10
Batman: 7.5/10 – Michael Keaton (1)
Villain: 7.5/10 – The Joker (Jack Nicholson)
Batman Returns (1992)
If Batman could be described as wacky, the word is use to describe Batman Returns would be Dark. Another all star cast with Keaton being joined by Danny De Vito as The Penguin, Michelle Pfeiffer as Catwoman, and Christopher Walken as Max Schreck. I love this film for so many reasons, De Vito is SO great and very much portrays the dark and tortured soul of Oswald Cobblepot, a complex individual who is conflicted between wanting adulation and power. Special mention also to the soundtrack of this film, it perfectly suits the tone of the movie and the scene with Selina and Bruce dancing later in the film is unbelievable. Line of this film for me though… "Remember Max, you flush it, I flaunt it"… Tremendous.
The film begins with something I really liked… just like in the previous movie where they explained how Jack Napier became The Joker, this one begins with the very beginnings of the transformation of Oswald to Penguin… a background detail you don't often get from these type of films. We see Tucker and Esther Cobblepot, and it's Christmas Day, and to make things even more glorious is appears Mrs Cobblepot is giving birth in the other room… but all is not well, the doctor comes out and Mr Cobblepot runs in and we hear an almighty and haunting scream. Baby Cobblepot has been born deformed. But rather than love their new born unconditionally, the two new parents decided their child wouldn't sit well in their high society company, and so they keep their child in a CAGE, and then one night they take the baby in a pram and when the coast is clear they THROW the pram into a river and he drifts away into the sewers… and that's where he is discovered underneath the local Gotham City Zoo… by a family of penguins…
We then cut to 33 years later. There we see the local ice beauty princess performing the traditional lighting of the Gotham Christmas tree. And with local newspapers reporting of a mysterious sighting of a Penguin-Man living in the city's sewers, we get a glimpse of the creature himself watching on from below… We then meet Max Shreck, who is wanting to build a power plant to supply Gotham with energy, not that the mayor agrees… Later, Shreck's speech to announce the plans is interrupted by The Red Triangle Gang, a former circus group who have now grown to crime. Batman is of course not far away, as Bruce soon sees the bat-signal has been lit and he's been called upon. However, although he's able to make the gang retreat (including a brief moment where he saves a certain Selina Kyle from one of the members… and she takes with her the shocker he used to try and attack Batman with…remember that device for later…), at this point the gang have abducted Max Shreck… well I say abduct, Shreck ran away from the melee and stumbled into an underground passage which somehow ended with him right at the head of the table of his attempted captures… It is here we are introduced to the gang's leader…
By this point, we have been very much introduced to Shreck's secretary, Selina Kyle. She soon finds out that the actual idea for the power plant is to drain Gotham of it's power supply, which will mean by then Max is in control of the city and therefore can't be prosecuted. His answer to finding this out? Well… he pushes her out a window… and this… changes Selina…
Back to Cobblepot next, and his grand plan to make his big return to the world is to have one of his gang members take the mayor's baby during a speech he is giving, and below the sewers the gang member who took the baby fakes his dialogue to make it apparent that he's given the baby to The Penguin out of fear, presenting Penguin as a hero to the people who rescued the baby… not that they know he's the leader of the gang of course… Oswald emerges back up as a hero… From there, he asks to be allowed in to the Hall of records so he can find out about his real parents. He's doing this not only for that, but to try and present himself as a sympathetic character who's less of the monster he may look like. Bruce Wayne however is suspicious, and looks into his background and possible links to the Red Triangle Gang. He finds out that the former circus group has been shut down due to the disappearance of children during their performances, and one who went missing before being interrogated, who Bruce believes to be Cobblepot. We also see Penguin not only discover who he really is, but that his parents have since passed.
We later see Wayne meeting with Max Shreck, where he says he is against the proposed power-plant and makes the accusation that Oswald runs the Red Triangle gang… It's here Bruce meets Selina (who makes a surprising reappearance after Max said to Wayne she was "taking vacation"…) and the two hit it off right away… Shreck then tries to persuade Oswald to run for mayor, and through this he tries to get the people to turn on the current mayor by having his Gang wreak more havoc around the city. It is after this that two of the other big characters in the film have their first meeting, with neither realising who the other one REALLY is…
After Oswald officially announces his campaign to become to new Mayor of Gotham. Catwoman later meets up with The Penguin and agrees to join in a plot against Batman. Whilst Penguins gang will tamper with the Batmobile, Catwoman suggest they turn Batman in to what he hates… one of them…
Whilst the relationship between Bruce and Selina is thriving, the plan for Penguin and Catwoman to take down Batman gets underway. Firstly he abducts the Ice Princess of Gotham (a big star to the people), and tries to potentially frame Batman by leaving using one of Batman's throwing Bats to attack the Princess and leaving it behind for the police to find. This brings to an abrupt end a nice evening Bruce and Selina were having (where amongst other things, he was explaining how his ex Vicki had a… problem with his… duality…), as both make their excuses to one another having seen on the tv news about the kidnapping. With both unaware as to why the other has had to leave, both of course set upon their own… different… evening escapade…
We next see the gang try and do their own work to sabotage the Batmobile as the caped crusader goes about his rescue mission… and much as Batman tries to chase and rescue the Ice Princess from Catwoman and Oswald, it is Penguin who causes her to fall from the top of a building, unleashing a large group of bats as she falls to her death… but of course it is Batman who the people can see, and so they think it was he who pushed her. Whilst celebrating the events that have unfolded to disgrace Batman, Oswald tries to come on to Catwoman, but when she declines Penguin breaks off their partnership, and tries to kill her… but again she survives (Cats really do have all those lives it seems).
With Penguin's gang having sabotaged the Batmobile, by the time he returns to drive it, it's now a literal ticking time bomb. Penguin has overridden the controls, and so can speak through the car to Batman as he drives it. He uses a number of tricks from his control station to override the Batmobile's controls, and sends it on a rampage through the city. Eventually Batman it able to override Penguin's control over the car, enough for him to escape the police and return to the bat cave.
Oswald was always walking on the edge with his two lives, and soon it catches up with him… Bruce and Alfred use audio they had recorded of Cobblepot from during the previous chase of the Batmobile through Gotham…
Penguin vows revenge. He goes ahead with his plan to abduct and kill all the firstborn Sons in Gotham, as his parents wanted to do to him. And then we have one of my favourite scenes in all these films, where Bruce and Selina meet and realise what has really been happening with each of them…
Penguin soon makes his dramatic entrance, and reveals to everyone there his horrific plan. He wants to take Max's son Chip first, but Max reasons with Penguin to take him instead.
Batman soon after stops the gang from taking the children, before then going after Penguin… He has since set his own plan of destruction into place… We then get quite the showdown between Batman… and an army of Bomb-equipped penguins, whom are set by The Penguin to blow up Gotham…
Luckily… Batman, between himself and Alfred, jam the signals that were due to set the Penguins on their plan. And with the penguins now on their way back to the sewers, a final battle would ensue… (you'll realise I've included, and will continue to do so, a lot of clips from this film rather than typing stuff out… I just feels it needs to be seen because I think it's pretty great stuff, and I want to share it…)…
We then see Max Shreck try and make his escape… until Catwoman stops him…
Bruce finds Max's charred body, but Selina is nowhere to be seen… it is then Penguin re-emerges from the water, and he meets his end in what is actually quite a poignant and emotional scene…
The top comment on this YouTube clip sums it up beautifully: "This scene is so powerful. Penguin died mourned by the only living thing that ever loved him: his penguins".
With everything appearing to be as it should be in Gotham… we see Alfred driving Bruce home, when Wayne spots what he that was Catwoman's shadow in an alley, but when he gets out the car to try and go to her he finds only a small cat, who Bruce takes home with him. The film ends with the Bat-signal in the sky… and Catwoman looking on at it…
Great film. Some great performances, but Danny De Vito's is by far the finest of a good bunch.
Overall: 8.5/10
Batman: 8/10 – Michael Keaton (2)
Villain: 9/10 – The Penguin (Danny De Vito)
8/10 – Catwoman (Michelle Pfeiffer)
Batman Forever (1995)
The year of my birth also brought us possibly the Batman film I've watched more than any other. In fact there was a time when I was going to dress as Jim Carrey's Riddler for Halloween this year, such was the love I have for this performance. For me just as Danny De Vito's Penguin was the star of the last film, for me this was the Jim Carrey-Edward Nygma show. He plays the role of the lunatic, wacky scientist turned enigmatic supervillain to perfection. And sure Tommy Lee Jones is great too as Two Face, and… no as much as he was panned by many I didn't mind Val Kilmer as Batman in this. And I mean… Nicole Kidman is Nicole Kidman, so her mere presence in this film is enough for me to like. I will say this, much like the film that follows, is very different to the tone of Tim Burton's first two Batman films in that this was much more a classic superhero film, rather than looking at the darkside of things that Michael Keaton's Batman had to face up to.
The film begins with Batman suiting up and setting off in the new and improved Batmobile, before we cut to a chaotic scene outside a bank that Two Face and his gang of thugs is attempting to rob. He has one of the security guards held hostage, and it is up to Batman to save him… Batman soon arrives to be given the brief by Commissioner Gordon, and also briefly interacts with, and make a heck of an impression on, clinical psychologist Dr Chase Meridian (Nicole Kidman).
Batman soon enters the build to thwart the plot and the thugs… But soon walks right into a trap… as the security guard lays trapped, Batman walks into a giant safe (which is being carried through the sky by Two Face's helicopter…) the safe soon locks behind him, and begins to fill with boiling acid… luckily Batman cracks the safe and is able to send the safe and the security guard to safety… Still in pursuit of Two Face, he clings on to the chain that is still dangling from the helicopter, survives a crash through glass, and enters the helicopter to confront Two Face… the end result… Two face escapes using a parachute… and Batman is left to flee as the helicopter crashes… but still Two Face lives to fight another day too…
Next up we are introduced to Edward Nygma, an employee of Wayne Enterprises who tries to persuade Mr Wayne himself with an idea. Nygma proposes to Wayne that he has an invention that can beam TV directly into a person's brain. Bruce though sees the potential for mind manipulation in this, and so rejects the idea.
"You were supposed to understand… I'll make you understand"…
Bruce soon sees the bat-signal has been lit… but arrives to see it is Dr Meridian who has done so… a quite erotically dressed called him out to simply tell Batman about Two Face's coin…but also isn't backwards in coming forwards about her attraction to Batman himself… who's reply is "try fireman, they have left to take off"… she seems to be persistent… I particularly liked the line from Dr Meridian "or do I need tight vinyl and a whip"…
Edward Nygma is left infuriated by Bruce's rejection of his idea, and the crazed man then goes about killing his supervisor and making it look like a suicide (he launches his chair out a window after using him to practise his mind manipulation invention on, and then edits the CCTV footage to make it appear that the man in question simply ran out the window himself… oh and he created a fake suicide note just for good measure).
We here see (via a news report) how Two Face came to be, as a mob boss threw acid onto his face when he was still working as District Attorney Harvey Dent… despite Batman's best efforts to save him… it is then Bruce is told about the… "accident"… Nygma resigns from his position at Wayne Enterprises down to the stress caused by the "suicide" and then begins to secretly send Riddles addressed to Bruce… and his transformation begins…
Next we see Bruce Wayne (who we see throughout the film experiencing flashbacks to his childhood… all of which allude to how he became who he REALLY is today…) attending an appointment with Dr Meridian, regarding the riddles he has been sent… Bruce then takes Dr Meridian on a date to the circus… this is where she reveals to Bruce she has fallen for Batman… but the event is cut short when Two Face and his crew hijack the event, armed with a giant bomb that he threatens to detonate… unless Batman gives himself up… Bruce now of course has to act… In that time The Flying Graysons (the family of acrobats who had been the stars of the show up to that point in the circus act), come up with a plan to try and stop Two Face and the bomb, but just as Dick Grayson (the Youngest of the family), is able to take the bomb and launch it into nearby water… where it explodes underwater thus negating any possible damage it would've done… Dick returns to the circus ring to see the utter horror…
Eventually, the now orphaned Dick Grayson has nowhere to go, and so it is decided he must reside at Wayne Manor… He is though reluctant to stay, but Bruce soon persuades him to stay to fill up petrol for his bike, and shows him his huge car and bike collection in the process… and makes him an offer of one of his bikes to keep if he can repair it… Funny enough Dick is more willing to stay and recalls Alfred back with the dinner he was going to give to the dogs as Grayson was leaving…
We then see the first of Bruce's flashbacks… This time to his parents being killed and their funeral after…
Alfred then gives some words of encouragement to young Grayson… choosing to keep his circus outfit Dick wanted him to throw away, saying … "broken wings mend in time… one day Robin will fly again…, I promise …"
Later (after another battle between Batman and Two Face sees yet another attempt by the coin-wielding psychopath to rid Gotham of its savour end with the winged superhero escaping)… From here, and for a little while after maybe until the conclusion of the film… it's all about The Riddler for me… and it is then that a deadly alliance is formed…
From here Riddler and Two Face run riot around Gotham, robbing and committing crimes in order to gain the funds to finance Nygma's new company (in return for Riddler helping Two Face discover the identity of Batman) … and his planned Brainwave device… which he puts forward publicly as the future of TV… but in reality it is his way of literally draining the brain power of the people of Gotham for his own gain…
As Bruce sees the news of Riddler and Two Face's latest activities… the inquisitive young Dick Grayson begins to wonder what is behind the one locked door in Wayne Manor…
I'm not quite sure why… but this next set of clips I just LOVE… Jim Carrey's Riddler is my GUY…
When the coast is clear… Dick Grayson soon gains access through the one locked door of Wayne Manor… and sure enough he finds the batcave, much to Alfred's annoyance. We then see Dr Meridian gift Bruce one of her dream protection dolls, Bruce also sees how much Dr Meridian has been looking in to Batman… and just as he is about to explain that they are one and the same… Bruce calls a call from Alfred that Master Dick has taken the OTHER car…
Yep … Dick has stolen the Batmobile…
Later Edward Nygma hosts a high-end party as he launches his new Nygma Box… and after Bruce congratulates Edward on his success, he soon finds his way in to the trial set up at the party, which shows the box in action… Nygma claims it shows people's fantasies in holographic form as he shows from two examples to the adoring crowd… Soon enough Bruce (who again questions the possibility of mind manipulation possibilities) finds his way in to the box, and with help from one of Two Face's assistants, Bruce enters the box room and his visions recorded… more on that later… (There is also a line during this bit from Drew Barrymore's character, she plays one of Two Face's girls, where she says "oh, you can call me anything you want".. which even today still gets me…
The Party soon turns chaotic when Two Face crashes as the two villains attempt to lure in The Batman… who almost meets his end… almost… (the "why can't you just die" scene at the end of this next clip is TREMENDOUS by the way)
Bruce is furious with Dick for risking himself though, and furiously declines his proposal of a partnership. Alfred adds that young men with an eye for revenge need guidance… Bruce's mind though is with Chase, with Alfred suggesting he should let her decide if she wants Batman… or Bruce Wayne… Batman then goes to Dr Meridian, but it is there she explains to him she has fallen in love with someone else… or so she thinks he's someone else…
Two Face is inconsolable to hear that Batman survived… but overjoyed once Riddler shares with him the findings from Bruce Wayne's trip into the box… A bat was certainly on his mind…
Bruce is then seen decided he has chosen to end Batman, and he is no more. Master Grayson tries to plead with Bruce, with Bruce saying he should let go his vendetta for Two Face… Bruce says to Dick he is going to tell Chase everything… and so Dick takes his bike he was promised, along with his Robin outfit… and he leaves…
Whilst Chase and Bruce are having their evening together, Bruce has another flashback to his parents being shot, and a young Bruce is seen running through the rain… He struggles to tell Chase what is really bothering him, he explains how a young Bruce took the red book of his father's, and raced into the storm to try and run away from his pain, Where he then fell into a cave, and out of the darkness flew towards him… a bat… and in that moment he realised the figure in the dark was his destiny, that he would use to strike fear into the hearts of evil… and then… just as he is about to explain… and they kiss… Chase realises who he really is… and then…
Once awoken by Alfred, Bruce is told that Dr Meridian has been kidnapped, the batcave has been destroyed, Master Dick has ran away and there is another Riddle for them to solve… We next see that Riddler has indeed taken Dr Meridian… and uses his own mark to signal a call out to Batman…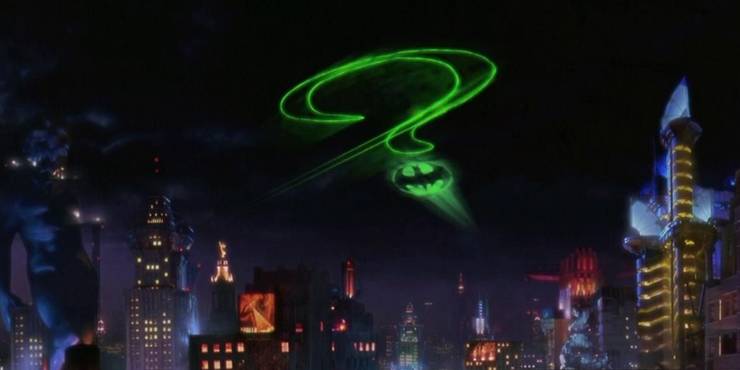 Between Bruce and Alfred, they deduce that The Riddler is in fact Edward Nygma, and he sets about a plan to rescue Chase and foil both of the villains… but he is offered another helping hand… and finally one of the most iconic superhero partnerships is brought to life in film…
Whatever people want to say about this film, the ending is phenomenal… so sit back and enjoy some GREAT scenes…
But what of Two Face? Well, Karma is a heck of a bitch isn't she…
And that's that… Batman and Robin would return soon enough, Val Kilmer though would not, but a fun film, not for everyone… but it will forever will be a favourite of mine as a film I grew up with. I'll always love it and no amount of negative reviews from elsewhere will EVER change that.
Overall: 8/10
Batman: 7.5/10 – Val Kilmer
Villain: 9/10 – The Riddler (Jim Carrey)
8.5/10 – Two Face (Tommy Lee Jones)
Supporting: 7.5/10 – Robin (Chris O'Donnell).
Batman and Robin (1997)
Oh boy… if ever a Batman film has divided opinion, it's this one! But… guess what? Yep… of course I grew up with this film also, and also I loved it then. Let's see what me as an adult thinks if it shall we?… Now, before we start I will admit… there's not many females on this planet I fancy more than Uma Thurman as Poison Ivy in this film. There's also not much that makes me laugh more than Arnold Schwarzenegger acting tough in films… so his iconic voice behind Mr Freeze in this film just entertains me so much. If Batman Forever was dark, Batman Returns was wacky, I think this film falls somewhere in the middle… and as for George Clooney… He's not great is he let's be honest (as a Batman)… but he's also not as terrible as many will have you think he is and as this films is… it's far from being terrible let me reassure you.
Batman (played on this occasion by George Clooney) and Robin now have to foil their latest adversary, Mr Freeze. Freeze has been on a series of Diamond heists with his gang of men. During one attempted robbery at the natural history museum, after Mr Freeze steals one very large diamond, he freezes Robin and so Batman is unable to chase after him. I'll put a few clips of this in as I think it's just kind of cool… I really like the way the film right off the back introduces who everyone is and what they do. Simple but effective…
Our heroes soon discover Freeze was once Dr. Victor Fries, a former scientist who was working on a cure for a rare disease his terminally-ill wife had called MacGregor's Syndrome. Whilst he conducted his research, he was able to keep his wife alive by freezing her in a cryogenic chamber… But during a lab experiment, Fries fell into a chamber of liquid gas, and as a result from then onwards he was unable to stay alive without wearing his cryogenic suit (which is powered by diamonds) or being in extreme low temperatures.
Meanwhile… at a Wayne Enterprises lab in Brazil, we see Dr. Pamela Isley who is working under the eccentric and frankly crazy Dr Jason Woodrue. Woodrue is working with a drug he has created called Venom, which he issued to turn average people into "super soldiers". Dr. Isley peaks in and sees Woodrue attempting to sell his secret drug, and the promise of an army of his pumped-up soldiers, to various world leaders… He even offers a demonstration to show the Venom in action… and later her witnessing this spells disaster for poor Pamela Isley…
(after the previous clip Woodrue pushes Isley into variously shelves of chemicals and toxins as they fall on, and presumably kill, her)
Although… Isley would be back, very very different…
We also get a glimpse at a softer side of our ice man…
Back in Gotham… Alfred is surprised by the arrival of his niece Barbara, who makes a visit and says she'll stay until she has to go back to school.
Later, we see Wayne Enterprises presenting their new telescope at the Gotham Observatory. It is during this that Dr. Isley approaches Bruce Wayne with a… unique… offer on how she can help alter the project to protect the environment. Wayne though declines… given her plan involves millions of people dying… He does though invite her to a charity ball Wayne Enterprises is holding later that night… and it is there we meet Pamela Isley in her full form…
Now when I say this is one of my all time favourite scenes, I mean it. This woman to me in this role is the most attractive human I've ever seen. And nobody will ever be able to change my mind on that… enjoy…
Dr. Freeze soon crashes the party…
We also begin to see that Barbara isn't as innocent as she seems… as Dick follows her and finds out that she has been taking part in illegal street races to try and get money to help her uncle Alfred… by this point it is clear that Alfred, who has been showing ill health throughout the film, has contracted the same disease Mr Freeze's wife has… This leads to quite the scene when Dick joins her in one of these deadly races… 10 points for anyone who spots the world famous rapper who has a cameo in this next clip…
As Barbara said, Alfred is indeed sick. And as Bruce was about to say, he is sadly dying…
Mr Freeze by this point is locked in Arkham Asylum, where he is met by a new ally…
We then get one of many quite touching scenes in this film, a theme that isn't really touched upon when people talk about this film… but of course it can't last long… as soon Our heroes have to go and save the day again. They find Nora Fries in her frozen state, but soon as Mr Freeze is attempting to reclaim his ice lair and top up his diamonds for his suit, Batman and Robin run into Ivy and Bane… but are let down as their ongoing tensions soon run them in to difficulty…
After Ivy kicks away the tube that is keeping Nora alive… she sets about her own twisted plan to use Freeze…
With Batman and Robin at each other's throats, Alfred in very bad health (a doctor diagnoses him with Macgregors Syndrome), Dick seems to be in love with Ivy, whereas Bruce tries to get him to understand it is all an evil plot. Barbara then sees to her sick Uncle's bed side, where he gives her a disc that he claims for is for his brother… when Barbara asks him what it is he says "it is a sacred trust of two good men I have the honour of calling son"… (I thought this bit was genius storytelling) Alfred says it is so his brother can take on his duties in his absence… Let's see what Barbara does with this disc shall we… (this was another scene I thought was genius too)…
By now it has become very clear that Ivy has used some of her love potion to make both men fall for her… however Bruce is ultimately more wise to this and tries to get Robin to trust him, and that this is all a trick from Ivy… he comes up with a plan, and asks his friend and partner to trust him… Ivy then invites Robin to her own lair… and later Batman and Robin are this time saved themselves by an unlikely source…
"You're about to become compost" is a heck of a line by the way… Anyway… The new team of THREE superheroes then go after Freeze, who is by now already embarking on his plan to Freeze the whole of Gotham. And whilst Batman goes after the Dr, Batgirl and Robin are left to fight off Bane…
After the heroes save Gotham from becoming eternally Frozen… Batman then tells the truth to Mr Freeze about what happened to his wife…
In return, Batman asks for help from the Dr…
So in the end a happy ending for everyone, well Pamela Isley aside maybe… but you can't help but enjoy this film, it really has everything a superhero film should have, regardless of what any critics may say otherwise. I smiled a lot during this film, and isn't that the whole point? FUN? …
Overall: 8/10
Batman: : 8/10 – George Clooney
Villain: 7.5/10 – Mr Freeze (Arnold Schwarzenegger)
7.5/10 – Poison Ivy (Uma Thurman)
Supporting: 7.5/10 – Robin (Chris O'Donnell – 2)
7/10 – Batgirl (Alicia Silverstone)
Batman Begins (2005)
We then fast forward nearly 10 years, and a complete different trilogy of Batman films. The great Christopher Nolan now went about telling the complete story of Batman… Beginning-Middle-End. And thus this film isn't as action packed or dramatic as the two that follows, but you needed this film to set up the next two. It's the worse of the three, but I'd change to least great, because alone this film was very good. Christian Bale … may well be THE best Batman of the lot…
We begin with the set up that underpins the entire Batman story… a young Bruce Wayne is seen falling down a well, and into a swarm of Bats… but this is just a flashback in a bad dream… in current day we see Bruce in a Bhutan Prison, where he gets into a huge brawl with multiple men… and wins… it is here he meets Henri Ducard (Liam Neeson), who recruits him to join the League of Shadows, a group of warriors led by Ra's al Ghul. It becomes apparent that Bruce has been spending time travelling the world, training himself in combat and gaining knowledge of the criminal world. Ducard gives Bruce a quest to complete, and if he is able to do so (take a rare blue flower to the top of a mountain but through many many long journeys in between) he will be able to join the League…
In another flashback, we see a young Bruce being reduced from the well by his father. But by now a fear of Bats has been developed, Bruce's dad tells him that the Bats only attacked him out of fear… After this we see he and his parents (whom it becomes clear where basically the architects and savours of Gotham, helping to build trains and infrastructure) attending the opera, where Bruce becomes frightened by a scene where the performers dress as… Bats. As a result Martha and Thomas Wayne choose to leave early. Outside they are confronted by a mugger named Joe Chill, and the skirmish ends with the mugger shooting and murdering Bruce's parents right in front of him. Bruce is of course raised from here by his butler Alfred (played in this trio of films by the legendary Michael Caine). We also see a key scene that will be called back upon towards the very end of film 3… so don't forget it…
We cut to more of Bruce's training next…
14 years on… Joe Chill is now up for parole, in exchange for him testifying against Mafia Boss Carmine Falcone. Bruce Wayne has since returned to Gotham for the hearing, but still clearly a frustrated and angry man… Even venting his anger towards Alfred, who tries his best to explain he still cares and won't ever give up on him. Bruce's friend Rachel drives Bruce to the hearing…
After this… he reveals to his friend Rachel (Katie Holmes), she berates Bruce for his plan…
Bruce then sets about confronting the face of evil, Carmine Falcone, himself… and the wheels begin to be placed into motion of our hero's true motives… quite the speech this by Falcone, if ever a superhero needed a motivational talk… this was the one…
Bruce then sets on his travels, learning about the ways of crime, doing so from the inside… Now having completed his training, Bruce finds out the League know of Gotham City, but see it as beyond help and intend on instead destroying it. Bruce also rejects the League's edict that it is necessary to Kill, and so he goes about destroying the group and everything within it…
Bruce then makes his return to Gotham, where he goes about his plan to live this double life, by day he would be Gotham's favourite son, but under the cover of darkness he would be a crime-fighting vigilante, intent on using what he has learnt to fight crime. Bruce also takes an interest in his family's company Wayne Enterprises. He finds out the company has since been taken public by a man named William Earle. From here though Bruce meets Lucius Fox (the great Morgan Freeman), who is a company archivist and was a friend of Bruce's father.
And so Bruce continues with his quest to put together… his suit… (again I adore the detail they go in in this film regarding the creation of Batman…, the attention to detail is exceptional)… get a load of THIS Batmobile by the way…
His first fight is against Falcone… and now… Bruce comes fully dressed for the occasion…
After Batman intercepts the drug shipment, he passes on the evidence to Rachel (and later makes friends with James Gordon too… more on him later…) and this is enough to have Falcone arrested. Whilst locked up Falcone sits with the crazed Dr Jonathan Crane, a psychologist who uses a… unique style of questioning… and is actually working with Falcone on behalf of… someone… Essentially Camine is being paid by Crane to supply him with his thugs. Crane uses his powers to declare Falcone's men insane so they are sparred jail, and instead sent to Crane's Arkham Asylum… Here we see Falcone get a taste of what Crane has to offer for himself…
Batman soon becomes aware of this secret drug… what not what it is being used for… soon though, he becomes a victim of it himself… (Honestly the sight of Alfred in tears as he's driving Batman to safety is horrifying to me).
Later as we again see Rachel (now in her role as a Gotham Assistant District Attorney) accuse Crane of corruption… but he then drugs Rachel… and so Batman has to save her, whilst founding out the shocking name behind Crane's mission…
But now of course, Batman must out run the police, give they are not yet aware he isn't the enemy…
Indeed as Crane said, Ra's al Ghul is NOT dead… and he would reveal himself and his plan to Bruce at his birthday party…
Batman (after Alfred's help in putting himself together again, just as Gotham is falling apart with the deadly poison now unleashed on the city) then goes after Ra's, but on his way finds time to rescue Rachel too… and thus he is set in a race against time… he must save the city in turmoil, and stop the microwave emitter that has been loaded onto Gotham's monorail system (where Ra's plans for it to be released directly into the city's central water source)… well he rescues Rachel… and also reveals to her…
So what then of Ra's?…
So after all that… Gotham is safe… for now…
Rachel as such falls for Bruce, but tells him she cannot be with him now, but only when Gotham no longer needs Batman, only then can they be together… Batman is now the public hero of Gotham, as also Bruce Wayne is back in charge of Wayne Enterprises having purchased the company his parents created. He fires Earle and replaces him with Lucius to run the day to day operations. Sergeant James Gordon (Gary Oldman) is made a Lieutenant for his work, and sets about creating a signal that can be lit whenever Batman is needed… he also tells Batman of what looks to be the next menace to the city (and my oh my is this but exciting!)…
So yes, very much a set up film, but as a stand-alone movie I'd say it was pretty solid in its own right.
Overall: 7.5/10
Batman: 8/10 – Christian Bale (1)
Villain: 7/10 – Scarecrow (Cillian Murphy)
7.5/10 – Ra's al Ghul (Liam Neeson)
The Dark Knight (2008)
I've mentioned about Danny De Vito and Jim Carrey arguably carrying ok Batman films as villains… but The Dark Knight is a GREAT film, maybe the best Batman film full stop… but see this as like when Lionel Messi or Michael Jordan were the GOAT among a team of stars. This is indeed a great film with an all time great performance by its main villain. And anyone who says he only won the Oscar because it was awarded posthumously, CLEARLY they've not watched this film. This film is well and truly the Heath Ledger show.
The film begins with a gang of criminals robbing a mob bank, but all is not what it seems… as they execute the plan, at each phase one of the gang kills the other, until eventually there is just one left… The Joker. And it is he who escapes the bank with all the money… Meanwhile we see that Gotham is now protected by a trio of crime fighters; Batman, Lieutenant Jim Gordon and new District Attorney Harvey Dent (Aaron Eckhart). Bruce quickly becomes impressed with Dent's ideas and publicly backs him… privately he hopes that with Dent protecting Gotham, it means that he can retire Batman and pursue a relationship with Rachel (continuing on from the end of the previous movie)… the issue with this is, Rachel (this time played by Maggie Gyllenhaal) and Harvey Dent are now an item… He's quite the character this Harvey Dent guy … a name for those eagle eyed Batman fans, you all know where this poor guy's future is heading…
We later see a meeting of mob bosses; Sal Marino, Gambol and the Chechen group. They hold a video call with their accountant Lau (whom also masquerades as a honest businessman attempting to work with Wayne Enterprises), who says he has hidden their collective funds to keep them safe whilst he himself has fled to Hong Kong. But of course they now have the problem of a Law Assisted Batman to contend with… enter a certain someone with an offer of help… let the genius of this all-time great acting performance commence…
Want another clip of Joker being The Joker? Sure, here you go:
So now it is up to Batman to travel to Hong Kong to find Lau. And with the help of Lucius Fox, who has travelled to see Lau as part of a Wayne Enterprises meeting, he eventually infiltrates and captures him. This allows for Dent to apprehend the ENTIRETY of the mob… so what now? All is well right? Well no. The Joker now makes this a straight fight between himself and Batman. He makes a chilling ultimatum to the city of Gotham, in exchange for the caped crusader…
And so it's time for the Bruce fundraiser for Dent… and so the chaos begins… Joker makes it clear his three targets are the police Commissioner, the judge who sent the mob down… and Dent… Soon after Joker murders Commissioner Loeb, and a the top Gotham Judge… Dent is next… And now it's time for more Heath Ledger excellence…
Batman saves Rachel, but Joker manages to get away… and it soon becomes clear that his next target… is the mayor of Gotham…
So indeed as the name tag suggested at the end of that clip, The Joker's next target is Rachel… Batman and Dent go about their ways of finding the joker…
As Bruce checks with Rachel about her previous promise regarding Batman no longer being a part of Bruce's life, to which she again says yes… and as Alfred tells Bruce that he must endure this period for the greater good… A press conference is arranged to reveal who Batman really is…
Dent is then taken into custody, whilst the Joker sets an attack on the convoy of cars that is now taking Dent down. This allows for the real Batman, and Gordon (who faked his death earlier to protect the mayor) to make the save and bring The Joker in to custody… As Jim Gordon is made the new commissioner, it soon emerges that both Harvey Dent and Rachel Dawes have gone missing… and next up ladies and gentlemen is one of THE all-time great scenes in any film I've seen. The acting here is next level stuff.
So the twist is Rachel is in one place, Dent in another, with both locations rigged with explosives… but their is another dark twist with truly horrific consequences…
And so Joker escapes, Gotham is in chaos again…
So Alfred makes a choice to protect Bruce, NOT to give him that note… and to let Bruce believe what Rachel had said before… Meanwhile… By now we have been introduced to Coleman Reese, an accountant for Wayne Enterprises. He has learnt of Batman's true identity and earlier in the film tried to blackmail Mr Fox for his silence. The Joker soon finds out about Reese's plan to go public with his secret, and as he doesn't want his own twisted plan to be ruined by this, he makes another sickening demand to the people of Gotham… That a hospital would be blown up unless Reese is killed within 60 minutes! And whilst every Hospital in Gotham is being evacuated, The Joker infiltrates one to get his meeting with Harvey Dent… face… TWO face…
So what next? … well… Dent seeks his revenge, driven to madness by Joker's words…
We then move on to one of the more powerful scenes of any movie… and we get there by The Joker rigging two ferries (as Gotham evacuates it's people due to the Joker's ongoing carnage) with explosives; one contains civilians, the other with prisoners… and yes… for you Wrestling fans reading this, the tall man at the end of the prisoner's boat scene is indeed ZEUS!
And so Batman once again must go after The Joker…
Joker, as you saw, goades about what he has turned Dent in to… Batman and Gordon fear that Dent's rampage (Dent has been killing people he holds "responsible" for Rachel's death) could become public knowledge… Now again, another genius bit of storytelling along these films from Christopher Nolan, and why it is absolutely vital that you watch all 3 of these films in order to get the full brilliance of the stories being told… This murderous rampage of Dent may seem like a secondary issue to The Joker in this film, but it's vitally important for the next film, as it essentially underpins the entire argument from the key villain… Anyway… Gordon and Batman soon find Two-Face… and the rest… yeah is a little dark…
So with Dent now dead, Gordon and Batman have a decision to make… do they tell Gotham that their golden hero turned to the dark side? Or do they use the Harvey Dent name as a beacon of hope? Well… with a couple of the most iconic lines in recent superhero film, Batman makes not quite the ultimate sacrifice (that comes… later…) but he does sacrifice the image of Batman to protect Dent and with it the hopes of Gotham…
"You either die a hero, or you live long enough to see yourself become the villain"
"Not the hero we deserved, but the hero we needed"
Truly iconic. Goosebumps is the only emotion I have at the end of this film. Genuinely, and no hyperbole from me needed, this isn't just the best Batman film ever made, not just (in my opinion) the best superhero film ever made, but one of the ALL TIME great movies.
Overall: 10/10
Batman: 8.5/10 – Christian Bale (2)
Villain: 10/10 – The Joker (Heath Ledger)
(Also… Two Face in this film I won't rank in my list. But credit to Aaron Eckhart for a fine job, same goes to Gary Oldman, Michael Caine and Maggie Gyllenhaal. All of whom are exceptional in their supporting roles in their own right.)
The Dark Knight Rises (2012)
A film I went to the Cinema to see, such was my hype for it. And it well and truly delivered. An amazing performance by Tom Hardy, Anne Hathaway rivalling Uma Thurman's Poison Ivy as THE sexiest women I've ever seen (in THAT Catwoman suit), and Christian Bale doing a stellar job in the lead role. This film could be argued to be better than Dark Knight, such is the standard… but we got a lot of sub stories in this film that were beautifully woven together at the end. The ending 20 minutes of this film, are beautifully spectacular. And if you ever needed an example of the ultimate hero… take a look at Batman at the end of this one making THE ultimate sacrifice for the greater good.
The main villain of this movie is Bane. And we soon get our introduction to the masked man… this time Tom Hardy plays a super intelligent version compared to the mindless thug of Batman & Robin…
We are 8 years on from the tragic events that saw the death of Harvey Dent… and now Gotham is free of organised crime in large part thanks to the 'Dent Act', a set of legislations put in place to help speed up criminal convictions designed to keep the streets of Gotham clean and safe. Commissioner Gordon has maintained publicly with the idea Batman was to blame for the crimes Dent committed… for now…
In this time; Bruce is now a recluse, with his company losing a lot of money… but he's about to get a lot more of a headache from one of his house maids… who goes by the name… Selina Kyle…
You noted Miss Tate and Mr Daggett during that clip right? Remember them. They'll both be important as the film goes on… anyway, next we get one of many quite heartfelt messages from Alfred to Bruce… (remember this one as the film ends also…)
Selina intends on selling Bruce's prints to John Daggett, who is a corporate rival of Wayne's… as she sits down to exchange the prints for her pay, it appears they intend to kill her… so she pulls a fast one… but what we also see is Daggett is working… for Bane!
With the police in pursuit of Daggett's henchman, they follow them into the sewers (where Bane has set up his base)… but soon Gordon is captured… and taken to Bane himself, who makes an interesting discovery that changes the entire course of Gotham's 'crime-free' city…
So as a young cop named John Blake (played brilliantly by Joseph Gordon-Levitt) rescues Gordon… and later he finds Bruce Wayne … oh and Blake knows THE secret… He tries to convince Bruce to bring back Batman to fight off the threat that this new villain poses to Gotham. As does a bed ridden Gordon, who Bruce visits (with a makeshift mask on of course)… Later Bruce goes in pursuit of his… house maid… whilst also running into another lady who would ply a key part in his future…
Erm… where was I? Before I was blindly intoxicated by Miranda Tate (Marion Cotillard), Bruce does indeed find Selina… And we get a little call back to a certain other scene involving Bruce Wayne and the future Catwoman…
Bruce then meets up with Mr Fox… to see what he has been … working on… since he has been gone…
So it looks like Bruce is preparing for a comeback… but Alfred has his reservations… enter Michael Caine being brilliant again…
Speaking of Bane… he moves ahead with his plan to corrupt Gotham, next going after the Stock Exchange… armed with a certain Billionaire's fingerprints…
If only there was someone who could help the police out… well… he's back…
Fancy a 2nd coming of the… partnership… between Our favourite Cat and Bat…
We then get quite the scene between Bruce and Alfred. And I must say AGAIN… Michael Caine is particularly excellent in this film…
Bruce though is comforted through his troubled times… with help from the new CEO of Wayne Enterprises… With his own finances waning, he convinces the board to back Miranda state and allow her to takeover the company…
Meanwhile… as Bane is busy KILLING Daggett, Mr Wayne and Miss Tate grow even closer still…
But now Batman must go after Bane, and with help from Catwoman (Bruce had gone to Selina saying Batman can offer her what she wants in exchange for her taking him to Bane)… and so she does lead him to Bane… but it is a trap… and for maybe the first time in any Batman film, we see our hero get his ass well and truly handed to him…
After this… Bruce is taken to an underground prison…
Back in Gotham, Bane takes full control; trapping the police in the sewers and destroying the bridges so that nobody can exit the city. And then begins his plan to destroy the city's body, and its soul… By now Bane has infiltrated Wayne Enterprises, and taken possession of the power source that we saw Bruce, Fox and Miranda talk about… although by now he has used the Dr he abducted to turn it into something quite different…
Bane then goes to Blackgage prison, where he reveals the truth about Harvey Dent… and let's loose the prisoners of Gotham…
Bruce is then told of the story of Ra's al Ghul's child and how they were raised in the prison…
With the motivation that his city is falling apart before his very eyes, Bruce sets on the impossible, and works all he can to try and escape the pit… at the third attempt… (I adore this scene)…
So what next for Selina? Will she stay and help Gotham? Or hide?…
We also see that Bane has set it up so that all the elite members of Gotham's are placed into a horrific court for their "crimes", the court is led by … Jonathan Crane…
Death by exile… what now for the GCPD officers… well…
And so the fight is ON… The cops vs the thugs… Batman vs Bane 2…
But what of Miranda Tate… well in wrestling we call it a heel turn, and this was one for the ages…
With Talia now having activated the bomb's detonator, Gordon manages to block the signal. But as Talia leaves to find the bomb, Bane prepares to finally kill Batman…
It appears Batman is chasing Talia and the bomb… but as we soon find out, it will not be as simple as it seems to disable it…
So although the bomb has been located, Talia is still able to remotely flood the bomb's reactor chamber before she meets her end, thus destroying it and ending any chance for the detonation to be stopped. And so All is lost… well, remember that ultimate sacrifice? Here is one of the most beautiful endings to any film I've seen… and yes I'll happily admit I was close to tears the first time I saw it… just as I am now watching this again…
With all the emotion you could possible have, the film isn't done quite yet. You feel sad when you see what Batman did, but what he left behind will make you adore him all the more…
Just… oh man… honestly I struggle to find words to do the end of this film justice. It's so beyond perfect. A great film with an unbelievably good ending. Credit to EVERYONE involved.
Overall: 9/10
Batman: 9/10 – Christian Bale (3)
Villain: 9/10 – Bane (Tom Hardy)
Supporting: 8/10 – Catwoman (Anne Hathaway)
And so brings to an end my reviews into 7 of my all time favourite films. This isolation has been at times one of the hardest times in my life, you don't know what you have until it's gone and my oh my have I missed going OUTSIDE. I don't know when you're reading this but Wednesday 3rd November is my freedom day, and putting together this blog has helped me massively keep it all together in the days I've been locked away.
Oh and for the record… here's the leaderboards based upon all 7 films…
Villains & Selected Main Supporting
Joker (Ledger)
Penguin (De Vito)
Bane (Hardy)
Riddler (Carrey)
Two Face (Lee Jones)
Catwoman (Pfeiffer)
Catwoman (Hathaway)
Joker (Nicholson)
Ra's (Neeson)
Robin (O'Donnell)
Ivy (Thurman)
Freeze (Arnie)
Scarecrow (Murphy)
Batgirl (Silverstone)
Batman
Christian Bale
Michael Keaton
George Clooney
Val Kilmer
Films
The Dark Knight
The Dark Knight Rises
Batman Returns
Batman Forever
Batman & Robin
Batman Begins
Batman
Batman is the best superhero bar none. 🙂
Josh.