On September 29th this year All Elite Wrestling's premier weekly show, Dynamite, will emanate from Rochester, New York. It is one of many shows that is a rescheduled show, having originally been set to take place during the pandemic. The show was originally dated for 18th March 2020, and was heavily rumoured to be the show where the FKA Luke Harper (in WWE) would debut for the company. And indeed it was the case… the leader of the Dark Order group, The Exalted One, was indeed revealed as Mr Brodie Lee. And later on in the same show we had the AEW debut of BROKEN Matt Hardy… but neither got the thunderous crowd reactions the Rochester fans would've given them, particularly Brodie in what was his hometown. Instead the Dynamite show took place in a near empty arena, with fans not present as a result of the pandemic. With AEW finally heading to Rochester… sadly we won't get to see its favourite son get the ovation he so richly deserved.
Jon Huber, Mr Brodie Lee, sadly passed away on December 26th 2020. He was just 41 years old.
I was such a big fan of Luke Harper. But the Brodie Lee that appeared in AEW was one of my favourite characters in wrestling I've seen for some time. So compelling, so exceptional in that role. I've rarely seen a performer execute a character so perfectly.
This is the story, and my tribute, to the All Elite Wrestling run of The Exalted One, the leader of the Dark Order, the late, and VERY great, Mr Brodie Lee.
---
After finally being granted his release from WWE on December 8th 2020, there was plenty of speculation about where Jon Huber's professional future would take him. But at long last, as previously mentioned, on the 18th March 2020 episode of AEW Dynamite (a show originally scheduled to be in Rochester, New York) we finally got the big reveal of the leader of the Dark Order faction, of which Evil Uno of the group had been repeatedly referring to as 'The Exalted One'.
Up to this point in AEW, the Dark Order had been… well they hadn't exactly been an overwhelming success. The gimmick wasn't getting all that over, Evil Uno and Stu Grayson at the front as the main tag team were fine without being superstars, and the likes of John Silver and Alex Reynolds as seconds again where just that, secondary… Dark Order had been given big spots before with big wins, and also a much talked about show-closing angle where they essentially took out the entire Elite faction. In the early days of the group it was just Uno and Grayson and a bunch of nameless guys in masks, known as their creepers. And well… here's what they did…
The main talking point after, aside from the fact a gimmick that was NOT over (case and point, the CRICKETS-like reaction form the crowd) was given a main event spot and they beat up the top babyface group at the time, was that one of these 'creepers' threw punches at Dustin Rhodes during the brawl, and clearly (and ON CAMERA) made absolutely ZERO contact with Rhodes. The gimmick as a whole looked dead in the water… they needed SOMETHING… And hope looked to be on the horizon when the idea of this 'Exalted One' came about. This would be the first AEW Dynamite of the 'pandemic era', and as such took place at Daily's Place Arena in Jacksonville, Florida with 0 fans in attendance. It was going to be a very unique show for sure, little did we know it would be one that would set up the next few months of programming for the company. The identity of the Exalted One would FINALLY be revealed… For months now he had been talked about, largely by Evil Uno, as this all-powerful… maybe you could even call him a "HIGHER POWER" (if you know, you know)… And then finally he was going to arrive. March 18th, to confront longtime enemy of the Dark Order Christopher Daniels and his SCU group, The Exalted One arrived… Would it be Matt Hardy? Would it be Lance Archer even? Speculation was rife… and we were not left disappointed…
The thing I found most notable form that was Evil Uno saying how the Exalted One would breathe new life into the Dark Order. My oh my he could not of been proven more right. I also very much loved how CD called out the failings of the Dark Order to this point. Now it was up to the Dark Order and the Exalted One to change things… And so they would do just that…
"You are not the first out of touch old man to not believe in me"… I'll let you figure that one out.
I can only imagine the beyond belief level pop this would've got if such has taken place in Rochester, New York. But as segments and debuts go, this was a home-run for me, under the extraordinarily difficult circumstances they faces, and at a time when we ALL needed to see some GOOD SHIT on our TVs.
And so what followed was, week after week, a GREAT vignette of Mr Brodie Lee telling us all what he intended to bring to AEW and to the Dark Order. The references and subtle winks and nods to… someone… were obvious… but nonetheless it was all GREAT stuff…
Yeah… The Boss man is not a happy man it seems… And he was not afraid to show his won just how serious he is…
Brodie Lee was going to change the entire course of the Dark Order. Legitimately it seemed liked this absolutely brilliant professional wrestler was going to DRAG this whole faction and get them over by force.
And he wasn't just coming in as a mouthpiece, or a big guy who can't back it up, people forgot I think that this guy could GO… He never really got too many chances in the later part of his WWE run to show off… But he was coming in here as a monster… He began in AEW with 3 quick and dominant wins against QT Marshall, Lee Johnson and Justin Law.
His fourth match came in what was maybe the biggest miss-match in AEW history…
After another dominant win (this time against 5 foot 2, 117 pound Marko Stunt), Mr. Brodie Lee set his sights on the richest prize of them all, and he and his Dark Order made his intentions known after the conclusion of AEW Champion Jon Moxley's match with Frankie Kazarian of SCU, a faction whom the Dark Order had been feuding with…
The Exalted One wanted Jon Moxley and the AEW World Championship. And just as he said they would under his leadership, what the Dark Order want they will take… After laying out Daniels and with the Dark Order swarming all of SCU (including Scorpio Sky who also came out to try and help Mox), after his challenge was accepted Mr. Brodie then STOLE the AEW world title belt!
The next week on Dynamite, we finally got the big grudge match between Mr. Brodie and Christopher Daniels. And sure CD got his stuff in, but it was mainly another relatively dominant win for Mr. Brodie.
The next week, Mr. Brodie Lee cut another great promo and then set the responsibility on Preston "10" Vance to take on Jon Moxley.
Mox did then get the win over 10… But then tried to bargain with Mr. Brodie… which went about as well as you'd expect…
And so it was ON for AEW Double Or Nothing 2020… Jon Moxley vs Mr. Brodie Lee for the AEW World Championship. Two men still undefeated in the company battling for the top prize… and my oh my was this a FIGHT!!!
Jon Moxley (C) defeated Mr. Brodie Lee to retain the AEW World Championship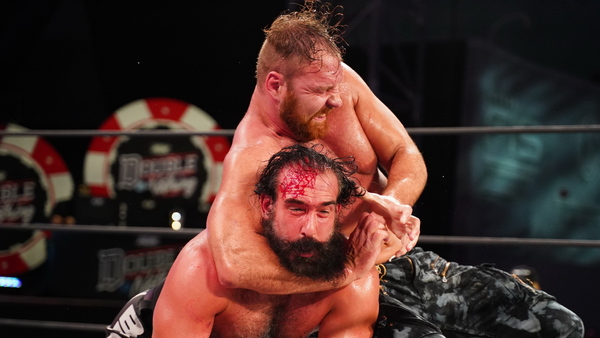 Brodie came to the ring with Mox's world title belt, my word what a visual that was… Given this was essentially an empty arena match, these two undefeated guys had not a wrestling match, but a FIGHT! Very aggressive strikes and offence from both right from the off, the referee was lenient enough to allow them to brawl a lot outside the ring. We even had Lee suplex Moxley onto the top of the ring announce table that had been leant against the guard rail which looked nasty. Back in the ring Brodie seemed the aggressor to begin, but Mox gave as good as he got. Moxley went outside again and seemed to set up the steel steps for something, but after Brodie got the advantage he then set Moxley up on the steps, and then looked to be going for a piledriver or even a slam, but Moxley flipped him over and Brodie went crashing through the nearby bell table. The brawling continued after, Mr. Brodie in the ring hit a big suplex only for Mox to counter with cradle cover for a nearfall. Back outside Mr. Brodie hit a dragon suplex into the wood set of cards that were nearby, with Lee then slamming Moxley into the wood cards. Mox tried to reverse Lee in the, but was countered with a big boot and a sit out powerbomb for a nearfall. A battered Moxley staggered to the ring entrance ramp area, as an increasingly frustrated Exalted One followed after him… Moxley threw what was described as a 'fiber glass poker chip' at Lee, but Brodie avoided the Paradigm Shift after and hit a kick to the mid-section of the champion… Mr. Brodie then signaled for a powerbomb and signaled towards the entrance ramp… And after a brief back and forth we got a quite amazing spot of Moxley hitting the Paradigm Shift to Lee that sent both men THREW the wood entrance ramp!!! Eventually the doctors and officials cleared as Moxley and Lee (with a heavy cut on his head) emerged… Brodie went for the big discuss clothesline as soon as he staggered back in to the ring, but Moxley ducked and hit the Paradigm Shift… BUT BRODIE KICKED OUT AT 1!!! But Moxley wasted no time in unleashing a series of hard strikes and elbows to the already busted open challenger, after biting followed knee strikes, then the big finisher… Brodie kicked out at 2… and then Moxley locked in the chokehold with the rear naked… and Lee's arms dropped and Moxley was declared the winner. Great finish that makes Moxley look strong, but also protects Brodie very well. I though this match was awesome and was everything it needed to be. It was executed and laid out perfectly given the story they told leading up to it and both of the men involved. Great stuff all round.
****1/2
After failing to capture the top prize, Mr. Brodie Lee and the Dark Order looked to instead increase their numbers… And after sending out an invitation to Colt Cabana, they looked to another person who they thought they could recruit and change their fortunes too. One that would add a whole new dimension to the group…
The following week, Colt Cabana (alongside Mr. Brodie Lee) scored what was a rare win for him in AEW in a tag match against Sonny Kiss and Joey Janela. And on Night 2 of Fyter Fest, Cabana again saw the benefits of his new allies help, this time in a 6 man tag against SCU…
Mr. Brodie continued with his recruitment drive for the Dark Order… This time with maybe his most ambitious potential recruit yet…
The next week on Dynamite, after Stu Grayson and Evil Uno of the Dark Order failed to win the AEW Tag titles from Page and Kenny Omega, Mr. Brodie decided he still was not done…
This culminated the next week on Dynamite in a huge 6v6 tag match to open the show. With the collective of 3 of the best tag teams in AEW (Omega and Page, the Bucks and FTR) taking on "9" , Grayson, Evil Uno, "5", Cabana and Brodie…
Among a huge number of top stars, it was Mr. Brodie who got the big win and the dominant performance. And as always in AEW, it was all for a purpose…
The next week on Dynamite, after then TNT Champion Cody had retained his title in a super-fun outing against Scorpio Sky, Mr. Brodie made his intentions clear…
And so it was set. For a special Saturday edition of AEW Dynamite; Cody defending the TNT title against Mr. Brodie Lee…
When I tell you I have watched the following YouTube clip maybe 30 times I am not lying. If ever you wanted a summary of Mr. Brodie Lee in AEW and just how GREAT he was, how much bigger he made everything feel, and how he dragged his stablemates up to the top with him, this was all that and more.
Mr. Brodie Lee. A champion. How it should be.
With Brodie as TNT Champion, and the Nightmare Family on it's knees, we next went to the All Out PPV where Matt Cardona, Scorpio Sky and The Natural Nightmares (Dustin Rhodes and QT Marshall) (with Allie and Brandi Rhodes) defeated The Dark Order (Brodie Lee, Colt Cabana, Evil Uno and Stu Grayson) (with Anna Jay). It wasn't a major match, just more one to get all these people on the card maybe, oh and of course it wasn't Lee who took the pin. In fact the finish, which saw Dustin pin Cabana, led to a TNT title opportunity and a chance at redemption on the next episode of Dynamite.
A solid effort by Dustin, but there was still no stopping Brodie.
2 weeks later, Mr. Brodie again had a defense of his title. This time in a complete contrast of styles, Lee beat Orange Cassidy…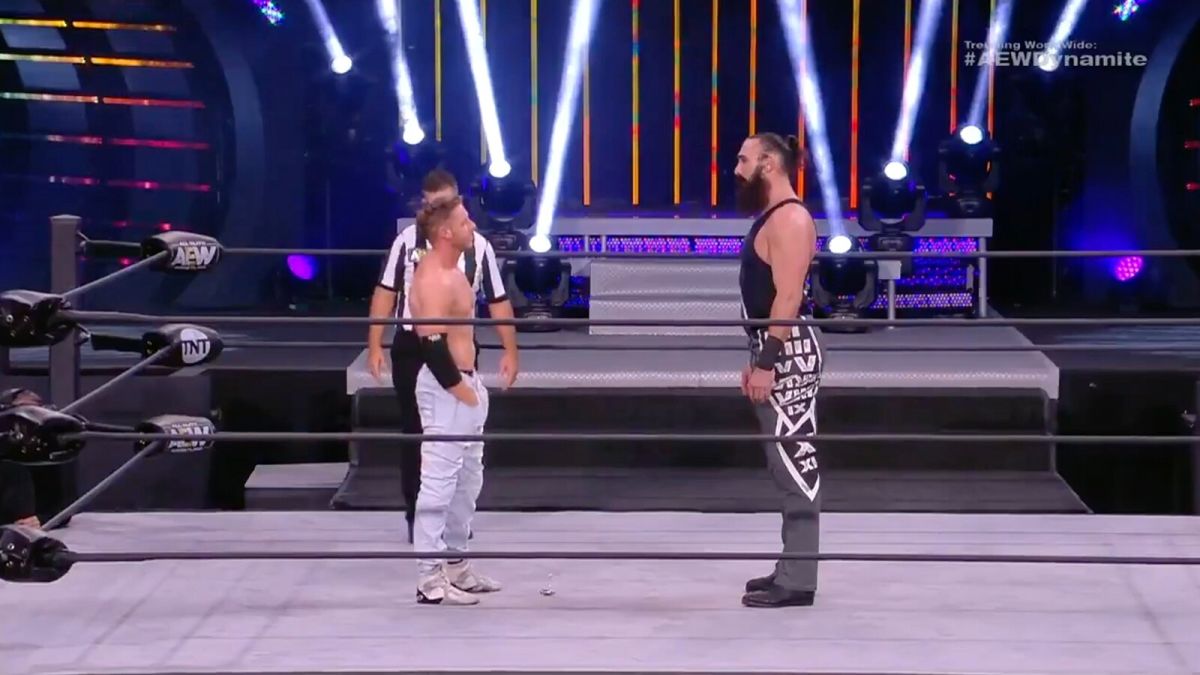 … but then it was a familiar face that kind of stole the headlines…
Mr. Brodie was NOT pleased… (I absolutely LOVE this promo by the way)…
Honestly as far as heel promos go, I thought this was AWESOME. And that really laid the foundations for THE match…
So after the chaotic scenes it was made official, set for the special episode of Dynamite the next week that celebrated 30 years of the career of Chris Jericho… Cody vs Mr. Brodie Lee for the TNT Championship in a DOG COLLAR MATCH.
I'll be honest and say I'm quite emotional typing this right now. I've not watched this match back since it first aired, and of course knowing that this would be Brodie's last really hits home. But I guess it's as good a tribute to the performer he was that his last match would be not only a huge main event match, but one that played out like it did. One that showed off just how great in his role he was. If you can go out of your way to watch it…
Cody defeated Mr. Brodie Lee (C) in a Dog Collar Match to win the TNT Championship
They had Greg Valentine in the crowd, having been one half of "the most famous dog collar match of all time" against Roddy Piper in 1993 which was a cool touch. Commentary noted that it took just 3 minutes 10 seconds for Brodie to beat Cody for the title. Lee had Silver and Anna Jay come out with him, Cody had Arn and Brandi and it was Silver who brought the dog collar and chain. Justin Roberts also announced the ringside doctor and Valentine in his pre match intros. They really did all the could to make this match seen absolutely massive! Eventually the ring cleared and the dog collar and chained were attached to each man, and we got underway. Brodie cut a brief promo beforehand saying this was what Cody asked for and now he will have to deal with him, also telling Arn to shut his mouth. After Cody used the chain to knock Silver (who was also busted open) off the apron, Brodie dominated after. Cody came back but could not take Brodie down, with Lee using the chain to yank Cody off the top to stop a springboard cutter. Lee tried to pull Cody to the outside using the chain, and Mr. Brodie beatdown Cody after. Mr. Brodie got a chair for Silver and instructed him to take a seat, Cody immediately dropkicked Silver and took him out again. Lee dragged Cody back in the ring using the chain, then tightened it before hitting a DDT onto the chain. Lee instructed Anna Jay to take Silver to the back, before he then used the chain to tear at the face of Cody, who was also busted open by this point. Arn tried to motivate Cody, but Lee backed him off and then continued to go at the bleeding face of Cody. Cody eventually got back into it using the chin to hit a low blow and then a Russian leg sweep. He tried to pump himself up, but Lee tried to retreat… Cody hit a Tope to send Mr. Brodie into the barricade, but Lee yanked Cody twice into the same barricade and then back over it. Lee moved the timekeeper's table, eventually with both men fighting on the apron, Cody somehow yanked Lee off the apron into a cutter which was a great spot. Lee was on the apron and very close to going through the table that was now next to it… Cody then hit a package piledriver through the table off the apron!!! Mr. Brodie now had a heavy cut on his head also. Cody went for the first pin but Lee kicked out at 2. Cody tried to pump himself up again, with Lee's face now completely covered in blood. Akin to near Roman Reigns Mania 34 main event level of blood. Brodie tried to crawl up, with Cody screaming at him to get up before hitting him time and time again with the chain, then a huge slam into the chain. Cody whipped Mr. Brodie with the chain over and over, then used the chain to punch Lee in the head over and over… Cody wrapped the chain around the ringpost trying to choke Lee, Mr. Brodie then tried to choke Cody over the ropes, before hitting a bossman slam for a nearfall. Mr. Brodie then threw a chair right at Arn Anderson, who then came into the ring to confront Lee… Alex Reynolds tried to run in, but got a signature Spinebuster from AA (that'll never get old) for his troubles… Lee then did take a shot at Arnderon, Cody got a roll up nearfall after… then really went in with strikes at Lee using the chain… Lee was now down from all the chain-assisted strikes. Cody used the chain to try and choke Mr. Brodie out, but he wouldn't give in… Cody went to the top and got a moonsault for another 2 count. After a kick from Mr. Brodie, Cody hit the Cross Rhodes but Lee kicked out at ONE, Cody looked demonic as he hooked Lee up… Mr. Brodie hit a couple of kicks and a huge powerbomb, but Cody kicked out at 2. Lee tried to get at Cody but he instead went face first into the ringpost… with Cody on the top Lee went after him and hit a huge superplex. Both men were down exhausted as the ref began his count… they exchanged strikes and slammed one another's head to the ring floor, eventually Lee hit a release dragon suplex, and went for the Discuss Lariat but Cody ducked and hit a great counter. He then wrapped the chain around the mouth and face of Mr. Brodie and hit strikes and elbows before hitting another Cross Rhodes… and Finally that was enough for the win. Brandi, Arn and Dustin got in the ring after to help up the new TNT Champion Cody. The members of the Dark Order looked on from ringside in disbelief. Cody cut a great babyface promo after, and they set up his next title match against Orange Cassidy with OC coming out to essentially make the challenge… This match was a great, big-time tv match that played out as brutal as it was built up to be. My personal favourite match of Mr. Brodie in AEW… it would of course take on more meaning in the months that followed than we could of ever known…
****3/4
From here Cody would go into his second reign as TNT Champion. The Dark Order would be without their leader on TV and would seem to be directionless going forward. We all kind of presumed Lee was being kept off TV for storyline reasons. But on December 27th 2020 it was sadly revealed that Jon Huber had in fact passed away. It was news that shook the entire wrestling world, and came as a shock to many. But it appeared that many around Huber knew he was not well, but to the credit of everyone the privacy was respected.
The Dynamite episode of December 30th would be a show dedicated to the life and memory of Mr. Brodie Lee. It would be a show of unique match ups featuring the members of the Dark Order, as well as a main event match featuring a team of Mr. Brodie's son, Brodie Jr. aka -1, favourite wrestlers teaming up. It was one of the most emotional wrestling shows we have all ever seen.
We had a number of matches and emotional tributes paid by various members of the AEW roster. All of which can be found in the following playlist from the AEW YouTube page. https://www.youtube.com/playlist?list=PLILTWWX_AIJQpybUJvxQpVb_HrhBp8EgY
The show itself opened with the entire AEW roster, as well as Lee's family and Tony Khan, stood at the top of the entrance ramp for a 10 bell salute, followed by a personal message from then AEW Champion Jon Moxley.
Our opening match had Matt Hardy and Private Party take on the unique combination of the Dark Order and another AEW act. The whole show in fact would feature a number of fan favourites team up with the Dark Order members. This time it was Colt Cobana teaming with the Young Bucks.
From the off it was very clear we would see a lot of tears and red eyes tonight, but this opener was a great example of the professionalism of this roster. They paid tribute to their friend in the best way possible, by doing what brought them all together.
Darby Allin was next to pay tribute to Brodie. He talked about how Brodie had no ego, and was here to elevate everyone.
The next match saw the team of Dark Order's Evil Uno and Stu Grayson team up with Lance Archer. Archer, in a tribute that certainly made me smile a lot, wore a familiar looking attire to fans of a certain Luke Harper…
The next video focused on Brodie and his love for his family. I don't have the words to do this justice.
Our next match was a very emotional one. We had Adam Page team up with Alex Reynolds and John Silver of the Dark Order. Silver was wearing gear inspired by Mr. Brodie, and was actually made for a skit that was intended to later be a part of BTE… This match was beautiful for a few reasons… but the ending sequence was just wonderful…
Big Red's run in, -1 getting his spot, Silver with the discuss clothesline finisher, Erik coming back out after with his sign… all of it… wonderful.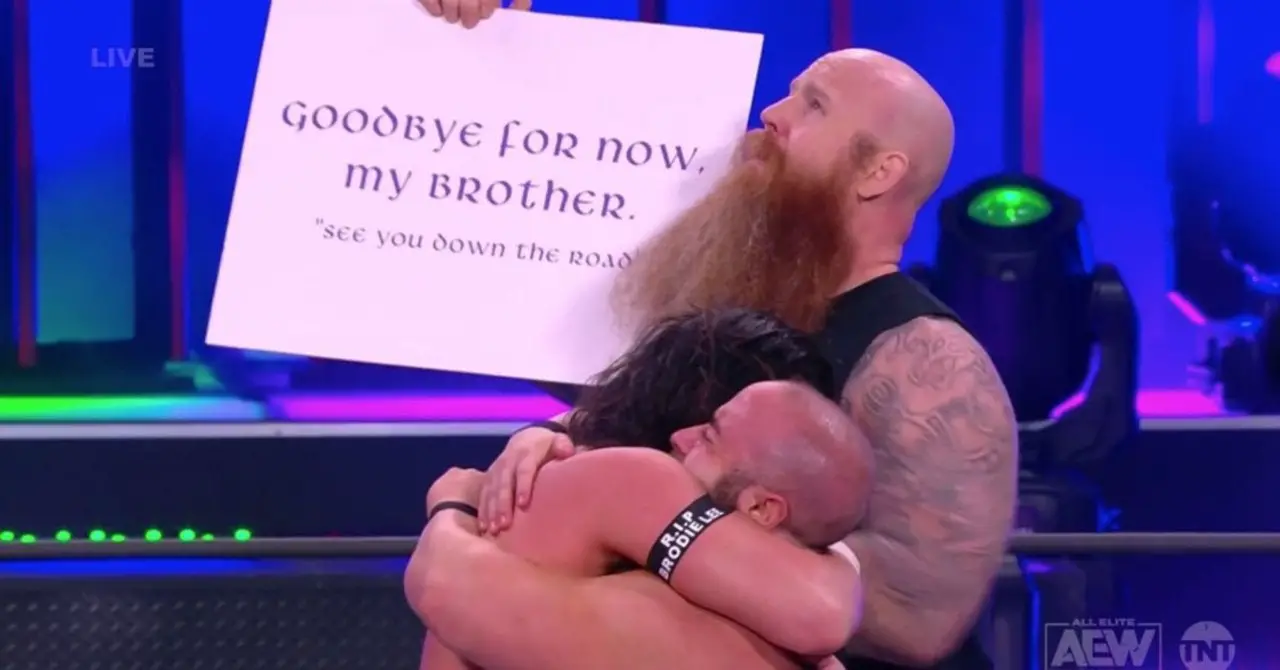 Eddie Kingston spoke next with some very thoughtful words. Followed by a match between Mr. Brodie's personal recruit into the Dark Order Anna Jay in a match teaming with Tay Conti.
Chris Jericho spoke next, and told a story about a time he and Brodie spent in Jeddah. He finished by promising that everyone would take care of his family.
The main event of the show was an awesome concept. Essentially Brodie Jr, who eventually would become well known as Negative 1, picked his three favourite AEW wrestlers; Cody, Orange Cassidy and 10 of the Dark Order, and they teamed up in a 6 man tag.
The show concluded with this:
I'll finish this blog with a video that gets me every time. And the first time I saw it I wept like a child. Please if you never watch the clips in my blogs, more than ever, I beg you to watch this absolutely beautiful video.
Thank You Brodie.