Well… this was an odd time wasn't it? Every now and then in pro-wrestling, often in the run up to a major event, we get a series of events and happenings that doesn't quite seem… normal… Immediately I think of the build to the 2019 Survivor Series when we had NXT guys add girls dominating those of Raw and SmackDown before they won the show… and then nothing much was said again after. And across the independent scene in the build to the start of AEW, lots of stuff happened that was… different… and most of it cool, but we knew it wouldn't happen again long term deep down. Well… let me take you back 15 years… When Vince McMahon decided to revive one of the most beloved 'underground' wrestling promotions in history, but under a WWE banner (first red flag right there…). After the HUGE success of the one off ECW One Night Stand PPV a year prior (which I also reviewed for my blog so go back and take a look at that), it was decided that they'd do another one here, but not just that… Off the back of the show's success and the sales of an ECW DVD released at the time, ECW was coming back. It would be it's own show alongside Raw and SmackDown, with its own roster and Championship. They would have a lighter schedule and run smaller arenas.
The initial creator and head guy at the old ECW Paul Heyman would be the on screen figure head for the brand. And in real terms creatively he would have a lot of say also, but of course everything that Heyman wanted for the 'new' ECW would have to be ratified by Vince (red flag 2). Of course as it was 2006 and it was WWE (a publicly traded company, and a family-friendly organization and product), so ECW would need to… well… there were a lot of things that ECW did that WWECW just wouldn't get away with (red flag 3).
Going in to the show there would be an official WWE Draft, but only for the new ECW brand. Paul Heyman would get to pick one superstar from Raw and one from SmackDown to come over and become a part of ECW. The Raw pick would be ECW original Rob Van Dam, who at that time was the holder of the Money in the Bank briefcase that he won at that year's WrestleMania. Van Dam announced going in to the event that he was cashing in his contract to get himself a match against John Cena for the WWE Championship to take place at the Hammerstein Ballroom at the ECW PPV. RVD added that when he won he would re-christen the title as the ECW Championship. We then had a brawl after between a number of ECW originals and the superstars of Raw who had come to defend Cena, leading to a Raw vs ECW TV special airing a few days prior to One Night Stand. On That show a match between Cena and Sabu ended when The Big Show came out to attack Cena, revealing himself as the newest addition to ECW (that famous ECW star BIG SHOW… red flag 4?)….
Another match set for the show had an interesting build… After their incredible Hardcore match at that year's WrestleMania the Hardcore legend Mick Foley seemed to form a bond with opponent Edge, and over the course of a few weeks Foley turned his back on ECW alumni Tommy Dreamer and long term associate Terry Funk. Foley as a heel was quite odd to see, but he was quite convincing in his bashing of ECW and the 'cheap, Mick Foley rip-offs'. Weeks of build led us to an extreme rules intergender 6 person match with Foley teaming with Edge and his girlfriend Lita against Funk, Dreamer and Dreamer's wife Beulah McGillicutty.
Elsewhere on the card we had Rey Mysterio (formerly of the original ECW for a time) defending the World Championship against ECW legend Sabu… A match that seemed doomed to fail as they're never putting the WWE World Title on SABU, and beating him on this show infront of this crowd even to a popular guy like Rey is surely never going to go down well… We did also have Kurt Angle (who was the SmackDown draft pick chosen to be a part of WWECW) against Randy Orton. Two great talents and I'm sure Angle will be popular, but a singles match on an ECFW show between two guys who never stepped foot in an original ECW ring… Hmmm… So it was all set up to be one… well it was going to be memorable that's for sure. As with ECW you didn't quite know what you were going to get… After the show the year prior the expectations were high… 2005 One Night Stand felt very much like an ECW show… but now WWE were doing THEIR version of ECW properly now, this was not a one off event, this was the start of a brand revived. I already can tell from odd things I know of the show that this one felt VERY different from the 2005 version, so let's see… So here we go then, wish me luck… Here is my thoughts on WWECW One Night Stand from the year 2006.
---
A packed out Hammerstein Ballroom opened the show with a load of "EC-DUB" chants.
Paul Heyman then came out to open the show properly.
We then had the PPV opener for real as Bodies played and Joey Styles on commentary welcome us to the rebirth of ECW.
Tazz came out with what sounded like dubbed over music (and loud ECdub chants) on the network version? He was also wearing a big baseball shirt. Lawler was heavily booed of course. He played a tremendous heel as the crowd chanted "YOU SUCK DICK"… Lawler slapped Joey Styles as he made his way to the ring.
Tazz defeated Jerry "The King" Lawler
Joey Styles came to the ring and tried to choke Lawler, but he got him off. Tazz then applied the submission and Lawler passed out. They went 25 seconds.
N/A
Joey Styles led into footage from the ECW vs Raw special. The big angle from that show was Big Show leaving Team WWE to join ECW. We also saw John Cena vs Sabu in an extreme rules match for the WWE title. That ended with a big brawl.
Tazz had by then come over to join Joey Styles on commentary.
Kurt Angle defeated Randy Orton
Naturally the WWE born and bred Randy Orton was not very well liked by the crowd. Orton has his signature pyro, which Styles and Tazz hated as they put over the anti-WWE/pro ECW stick. Orton had recently returned from kayfabe injury/irl suspension. The Wrestling Machine Kurt Angle here in his later days in WWE was AWESOME. Kurt was VERY over. The crowd chanted for Angle to "fuck him up".
Orton rolled out the ring and the fans called him a pussy. Kurt tried the submission but Orton desperately tried to get out of it, eventually crawling to the outside. This crowd were very very vocal in who they wanted to win… let's just say that… Again after Angle tried to wrestle Orton, and Randy would scramble and try to escape. Orton told the rabid crowd to shut the fuck up (bleeped of course)… Angle threw Orton over him to get him down, he was really taking him to school. The crowd loved it as Angle slapped away at Orton as he maintained the neck hold, … eventually Angle even let Orton try and get a neckhold in but Angle twice just kept mugging him off after. Man this character is cool. Things seemed to change after Angle collided shoulder first with the ringpost, and then Orton seemed to takeover with strikes… Until Angle just "dump tackled" him down… Orton got a back elbow after for a nearfall … the crowd called Orton a "knock off Cena" which was hilarious given he was always the number 2 guy of that era to Cena… Orton had a rest hold in, although Angle reversed it quickly… Kurt kept control and got a couple of nearfalls, Orton bit angle and then elbowed him to try and get out. The crowd told Orton that he swallows… Orton had a neckhold in and the crows chanted "BORING" loudly… Not going to lie but the crowd are starting to detract from this match a little for me (it's more about them than either Angle and definitely Orton at this stage)… Angle got out and tried a belly to belly but Orton countered twice … until he went into the corner and Angle got a German suplex. After a striking exchange Angle got a standing clothesline and a trio of German suplexes. He waited on Orton to get up but Orton countered the angle slam with an arm drag then got a great dropkick, and got a nearfall after. Angle got a belly to back suplex and took down the straps, he then got the Angle slam for a close 2 count. The crowd chanted for him to "break his ankle" and Angle got the ankle lock, only for Orton to send Kurt into the corner and get his signature neckbreaker for another close nearfall. Orton looked for the RKO… Angle went after him but got a back elbow, Orton went to the top rope, Angle went up after but got pushed down, Orton got a great crossbody but Angle rolled through for a nearfall. Then Orton took Angle down with a big clothesline. Orton waited… but Angle waited and countered, Orton then rolled him into a nearfall pin, Kurt then got a single leg takedown and rolled into the ankle lock for the win after Orton tapped. Crowd were very happy. Solid match.
***3/4
The F.B.I. (Little Guido and Tony Mamaluke) (with Big Guido) defeated Super Crazy and Tajiri
Super Crazy was very over.
The crowd were changing "where's my pizza?" Early in the match… Jesus… Tajiri running in and kicking and then quickly leaving the ring was hilarious. Match was good and the crowd seemed to have fun, I just can't pretend I cared too much about it personally. Tajiri was very over when he and Little Guido tagged in… They said mid match that Tazz had left SmackDown the previous week. …There was a Great handspring elbow spot from Tajiri. I also really liked the Double Tarantula spot as did the crowd. Big Guido later got in ring and was taken down with kicks by Crazy and Tajiri… Both members of FBI hit clotheslines and then combined to hit a double fisherman's buster on Tajiri for the win.
**
After the finish Big Show came out… and went face to face with Big Guido… Show kicked away everyone, side stepped a flying Super Crazy, hit a knee to Tajiri, super crazy was sent out of ring, Tony mamaluke was taken out , big guido was kicked out. Crowd cheered… ok then…
After Joey Styles and Tazz on commentary spoke to camera about the two world title matches tonight, and how Paul Heyman said both titles would be brought over to ECW and be "re-christened"… we heard the dulcet tones of one John Bradshaw Layfield.
Now… if you know the story of JBL from ECW One Night Stand the year prior, combined with the fact he's naturally a twat, you can imagine what the crowd thought of him… strap yourselves in for this promo…
The crowd chanted "You Suck Dick" as he spoke. The promo I thought myself was decent. It went as follows:
(PLEASE EXCUSE THE PICUTRE QUALITY. THE AUDIO IS UNEFFECTED WHICH IS THE MAIN THING)
Sabu vs Rey Mysterio (C) in an Extreme Rules match for the World Championship went to a No Contest
Sabu (carrying a chair) came out to a decent pop, he also had to turn around to do his pose facing the hard camera… Mysterio also had a chair with him and was booed a little (having ECW on his mask clearly not enough for these fans). The referee made both men put their chair down to ring the bell. And right there if ever something signified that this was WWECW and not Extreme Championship Wrestling it was the referee (wearing SmackDown colours) telling both guys to put down their steel chair, so that he could then ring the bell… oh boy… this match seemed doomed to fail from the start. The match itself was fine, both men tried a lot of spots assisted by a chair and both did various acrobatic moved, which the crowd appreciated. At one point after a pretty hard bump Sabu took, the ref put up the X with his arms to signal he was legit hurt. Before that we had a mad spot where Sabu literally threw a steel chair at Rey's head and it made the most almighty sound. The finish… oh man…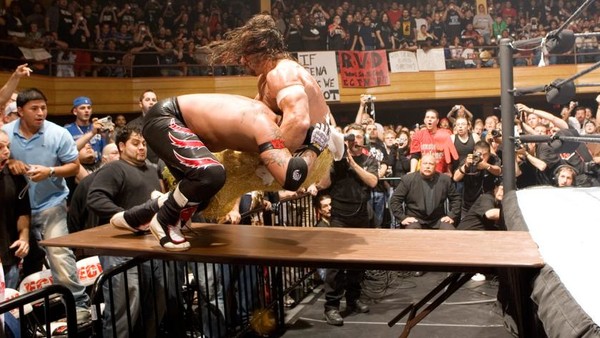 So… Rey was outside on a table, Sabu did a springboard DDT off the ropes to put Rey through the table he was on. Both men were in a heap outside the ring, Joey Styles on commentary did the big "OH MY GOD", the he crowd chanted "HOLY SHIT", and a load of officials and doctors came out to see to both guys. The doctor then called the match off and the bell was rung. Crowd hated it with lots of boos and "BULLSHIT". I can't say I blame them, non finishes in gimmick matches seriously pisses me off. This was about as WWE ECW as it gets. Fine match with a dog shit finish.
**3/4
We had a tremendous video promo for the supposed Mick Foley & Edge vs Terry Funk and Tommy Dreamer match.
It was very odd seeing this crowd boo Mick Foley. He had a black/busted eye, and took a mic and say a couple of great lines such as "I did sell out [in response to crowd chants]…I sold out Madison Square Garden" and also he wanted to praise the great former owner of ECW… "let's hear it for Stephanie McMahon… long live the alliance."… massive pop from me for that.
Edge and Lita came out next with the Hardcore title that Foley had given to himself and Edge as co-champions after their WrestleMania 22 match. Edge cut a promo slamming Paul Heyman and the ECW fans. Lita spoke after calling Tommy Dreamer the "innovator of Silence" and that when she sat on Tommy's face [she did so during a match between Edge and Dreamer helping Edge win]… she said in that he got more action than any of the fans get in a lifetime. And with the "skank" he hangs around with it's better action than he'll ever get also.
Dreamer, Funk and Beulah came out after. Beulah took the mic and said a line about trash coming out her mouth and her putting trash in it too. She said something about Lita liking threesomes they should make this tag match a 3v3 and include the two women.
Edge, Mick Foley and Lita defeated Beulah McGillicutty, Terry Funk and Tommy Dreamer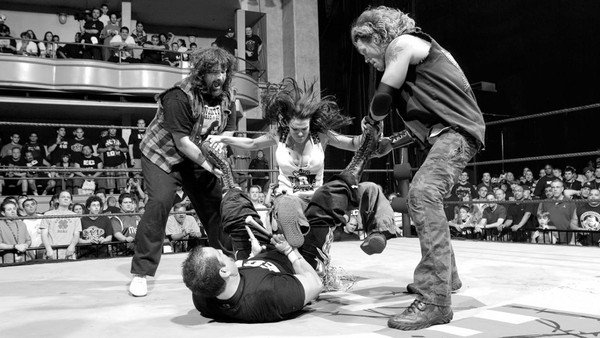 This match was beyond wild. Early on it was Dreamer and Edge brawling, and Foley & Funk. Edge later smashed Dreamer in the face with a ladder, and after Dreamer moved out the way of a spear and Edge went into the ladder. Once the ladder was set up Dreamer climbed it looking for an elbow, but Edge pushed the ladder down and Dreamer crashed and burned. Foley and Edge got a barbed wire covered wood board out, and dropped it onto Dreamer. Terry made them drop the barbed board onto both of them, mainly foley… … dreamer picks it up and placed it in the corner, they both tried to send Foley into it but he stopped them , took a load of punches, and then they smashed foley into it! Dreamer and Edge went at it on the outside, before Funk went after Edge again. Foley put the barbed wire board onto Funk, … Lita passed a load more barbed wire to foley, he wrapped it round his arm and waited for Funk behind dropping it onto Funk who was absolutely covered in blood now. Foley rakes away at Funks face with the wire , the doctor tried to check on Funk as the crowd booed, the docs took funk away who was an absolute MESS to be fair. Dreamer was left on his own… the crowd chanted for Sandman… Dreamer now took a barbed wire bat shot from Foley, and with Beulah looking on Foley and edge placed the bat on dreamers balls and then lita kicked it. Ouch. Foley got out mr socko who got booed maybe for the first time ever… but he went for Beulah instead which brought out a rage from dreamer but Edge soon took him down. Dreamer got the claw from a foley, then took a spear… but edge has another idea… he wanted Beulah… the three heels stalked her like a pack of Wolves, edge pulled her by the hair, simulated banging her from behind, as a wrapped up and bloodied Funk came through the crowd with a barbed wire piece of wood… dreamer gave low blows to edge and foley, Beulah chased after lita as foley took a shot from funk as did edge with his weapon. And then… my god… funk lit a flame … and the barbed wire bat was on FIRE… foley took it to the back and chest, and he went falling into the barbed wire board… edge smashed funk causing him to fall onto foley. Dreamer got a ddt to edge, and then tried to choke him with the barbed wire… lita kicked dreamer, and then Beulah went after her… crowd went mad for the cat fight… dreamer pulls Lita away and gave her the big move… only for edge to choke him down with the wire… as Beulah tended to dreamer, Edge gave her a spear and then pinned her by simulating having Sex with her… yeah…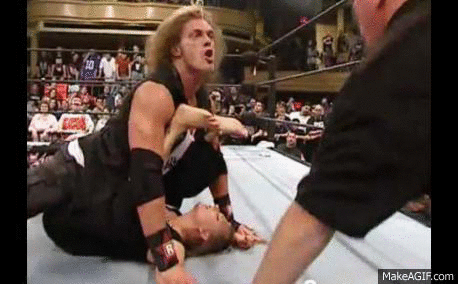 The heels win. Ofc they did. Cause WWE ofc…
Edge helped foley up from his heap after the win.
Can't pretend I'm a deathmatch fan… this was almost too much for me. I will credit everyone involved for sacrificing themselves for our entertainment.
Dreamer got a standing ovation as he carried Beulah out the ring.
***1/2
Cena pictures inside arena… GWs booed ofc
Rvd seen in the arena… he's ofc cheered
Balls Mahoney defeated Masato Tanaka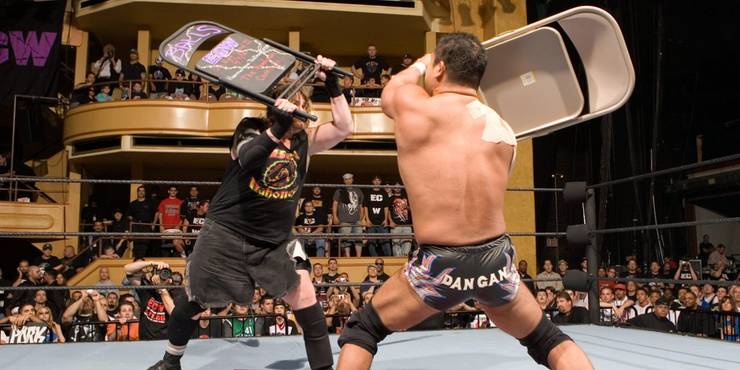 These two were former ECW tag champions. They had a basic 5 minute match and it was perfectly fine, we did need something to go between the last match and the main event and this was it. Tanaka was in an infamous match with Mike Awesome at the previous years one night stand. As I said this Mach was fairly basic, nothing bad mind you. The crowd LOVED chanting "BALLS" whenever Mahoney did a big move, or any move for that matter. They beeped put on the network Balls saying "oh shit" as he was weren't over the ropes and landed on the apron. Mahoney got a beer from the crowd and had a drink before shams hung the cup into hmTbaka , he got another beer and did the same (swig and then to the face). Tanaka got a water into balls' face, and tried to get a chair into him to but Balls aidetlsreped it and tanaka smashed himself with the chair. Balls went up high, Tabaka went after him and a big superplex followed. Tanaka went up high, balls went after him, and he got a super led of his own. Tanaka kicked out the pin at 2. Tanaka got a chair, Balls got his and they had a chair fight, Mahoney won. And got the 123.
*
And now … it was time for THE match…
As we were set for the main event we got a segment that… well I can't quite find the words to describe it, so I'll just include a clip as I'm honestly speechless. THIS right here sums up why WWE and ECW are just two different planets. (Not that THE ZOMBIE a few days later was any better…)…
And now… it really was time!!!
Rob Van Dam defeated John Cena (C) in an Extreme Rules match to win the WWE Championship
Tazz put over how this would be an environment John Cena can't deal with…
RVD came out to an obvious hero's welcome. He made effort to high five everyone in the front rows too.
Cena… well he wasn't quite as beloved…
To say this crowd was a little excited and hyped for this match would be putting it just a tad lightly…
They did a big zoom on the iconic crowd sign …
After Cena was introduced we of course had the iconic scene of Cena having his hat, then shirt thrown back to him by the crowd… the shirt came back again… then again… and again… and… again… Shout out to the guy who threw it back and gave Cena the double bird too… Cena got a couple of white plastic cups thrown towards him as RVD got right into his face and did the classic "Rob-Van-Dam" gestures, and Cena finally gave up on the shirt idea. Toilet paper was thrown towards the ring as the match FINALLY got underway with the bell being rung.
"fuck you Cena" they chanted. They locked up at last with Cena powering RVD into the corner, before hitting shots as the crowd booed. Cena hit a big suplex for a nearfall as the crowd tried to tell Cena he can't wrestle… Cena tried to smirk at the crowd… Cena then hit the first shoulder block, but soon took a kick from RVD to send him outside which the crowd liked a lot. I'm tired of talking about the crowd at this point so I'll just talk about the match, as they went nose to nose and exchanged strikes… RVD took advantage, but Cena hit a powerslam for a nearfall… he soon sent Van Dam to the outside. Cena went to the top and leapt down to Van Dam on the outside. Cena went after Van Dam with punches and rammed his head into a table, before holding up his WWE title belt to the array of the crowd. RVD got back into it with a moonsault press off the apron. Van Dam got a chair but Cena hit a hard lunch and sent RVD into the barricade, but responded with a punch as Cena sent RVD into the crowd. They fought into the crowd area and Cena moved a sign saying "fuck you cena" before hitting RVD. Brave of them to send John Cena into this crowd even with the ref and a security guy near them… they soon went back towards the ring, RVD got Cena with a spinning leg drop off the apron as Cena was laying on the crowd barricade. Back in the ring after, and RVD hit a sliding dropkick then a leg drop to Cena. RVD got a chair, and with Cena in the corner RVD dropkicked the chair to his face for a nearfall. Van Dam hit another leg drop then a rolling thunder onto the chair on Cena. Rob Van Dam crawled to a cover, but only got a 2. RVD dropped Cena then got the chair again and placed it on Cena, he went for the moonsault but Cena got the chair up before coming back with a ddt on the chair for a nearfall for Cena. Cena placed the chair in the corner before slingshotting RVD into it! Cena went for the pin after, but got a 2. Cena waited for RVD to get up, and for the backdrop, before setting the 5 knuckle shuffle, which he got. An FU looked to be coming next… but Van Dam fought out and then spun both feet at him for a headkick. Cena hit RVD and sent him to the corner but Van Dam got a strike back, and Cena then chucked RVD off the top for another nearfall. Eventually RVD tried to place Cena on the ring ropes, and he just fell to the outside… what that was meant to do I don't know, but anyway RVD dropkicked Cena to the floor after. Van Dam got a table, and got that into the ring… he leaned it in the corner, but Cena took him down and locked the STFU in…
RVD willed himself to the ropes… the ref counted him and pulled him off after (Cena) which… in an extreme rules match??? Ok… Cena argued with the ref and pushed him, the ref pushed back so JOHN CENA laid out the ref! RVD had gone to the top rope at this point but Cena soon struck him down, Cena went up to and hit a big superplex. Cena went out to get the steps after, and then hit RVD with them. This lively crowd weren't so happy now Cena was well on top. A SmackDown ref now came in and counted a nearfall for Cena (who looked to be reveling in his rare role as heel here). Cena looked in shock… he tried to FU RVD again, but FU'd him over the ropes… a man dressed in black then appeared in the ring wearing a motorbike helmet and this guy Speared Cena through the table in the corner… The guy unmasked as… EDGE!
It was hilarious to me how this same crowd who 30-40 minutes earlier HATED Edge for what he did his match now were chanting "thank you Edge" for helping RVD win the title…
Anyway after he took out the ref and left the scene, RVD hit a 5 star, then scrambled over to cover… but waited for the ref… out came PAUL HEYMAN who made the count. RVD WINS!
Crowd of course went ape shit, the ring announcer announced him as the new ECW Champion. Van Dam went into the crowd to celebrate …
After he came back to the ring, all the ECW roster came out to toast their new champion. Great stuff.
****1/4
Say what you want about WWE or even WWECW, but much like another show that I'll be covering involving John Cena in a few weeks, when it's a one match show and a crowd are DYING to see the main man lose, he ain't afraid to do the right thing. And I'm can't say that… others… (*cough cough* the man with 3 H's… *cough cough* a man with 2 H's… BROTHER) would do the same.
This was a solid show, not quite the wrestling purest ECW tribute as 05, may more a WWE show that was sadly a sign of things to come… but last years one night stand was about ECW… One night Stand 2006 was about 3 other letters…
R V D.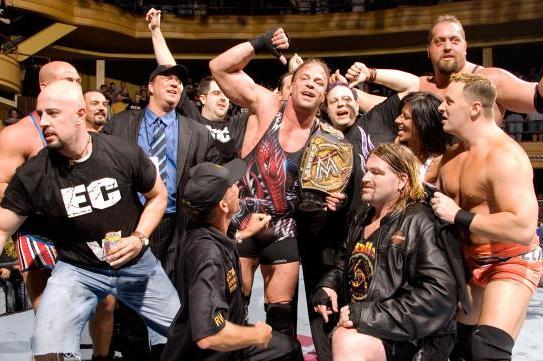 Josh.