When I think about this show, I can't quite believe it has taken me this long (this will be blog number 232) to talk about this show. Everyone that's a wrestling fan has their match, their wrestler, their moment, their PPV. There is a match on this show, and I'm sure you know which one I mean, and this match to me… is Everything. I've maybe watched it more than any other match in the history of wrestling, and it still gives me goosebumps even now. I will of course talk more about that when I get to that point in the show itself…
But going back to the event itself, King Of The Ring is of course the show where the King was once crowned. A tournament that I can maybe best describe as the Money in the Bank equivalent of it's day. Past winners include Steve Austin, Triple H, Brock Lesnar as it was a starting point to their superstardom. When looking at the names in the semi finals of the 1998 tournament, only 1 of them became a world champion in WWE. But of the others one is in the WWE Hall of Fame, another is in the halls of both the UFC and Impact Wrestling, and the other is in the hall of fame of the NWA… Not bad right? Elsewhere we have a show with your usual mix of attitude era characters, some you will remember, some you'll find utterly bizarre and some you wished you could forget.
Going in to the show, the match that this show will forever be remembered for wasn't even the main event. When you read it on paper you may get why… the main event was Kane, who was less than a year into his run and was this indestructible monster taking on the World Wrestling Federation champion Stone Cold Steve Austin (who we of course now know as one of the biggest stars in the history of the business, but at this time he was only just beginning his first run as champion). With Mr McMahon running the show the stipulations for this much anticipated title matched was set as first blood (tough on Austin given his opponent wears a mask and covers most his body with his wrestling attire), and also Kane himself said those famous words "If I don't win the title, I will.. set myself on Fire!" … Yep… Oh and there was a certain match in a certain structure that took place just before that huge title match… that happened too… So as this show was so incredibly top heavy I'll talk briefly about the undercard of the show first (and this whole show was very decent so I fully recommend watching it), and then I'll talk about the unforgettable end part of this pay per view. So… FINALLY… Here are my thoughts on WWF's King Of The ring PPV from 1998.
---
To open the show we had a video package on our two headline matches. The GOAT duo of Jim Ross and Jerry Lawler were on commentary for the show. And the equally legendary Howard Finkel is the ring announcer.
The Headbangers (Mosh and Thrasher) and Taka Michinoku defeated Kaientai (Funaki, Men's Teioh and Dick Togo)
Quick match but fun. Nothing wrong with it at all, but again not one people will remember. Finish came when Mosh and Thrasher threw Taka onto Funaki. He then hit a Michinoku Driver for the win.
*3/4
Sable came out next… ok then… She got a huge reaction as she always did from the crowd. Her job for the night was to introduce Mr McMahon. The stooges came out with him, as as they motioned for Sable to get out of the ring, Pat Patterson earnt himself a slap after patting Sable's backside…
Mr McMahon then cut a heel promo on the crowd. And talked up the possibility Kane winning later…
No idea why this segment needed to be in ring… maybe it was just to break the show up… maybe they didn't like backstage interviews at this time…
Ken Shamrock defeated Jeff Jarrett (with Tennessee Lee) in a King of the Ring semi-final
Shamrock was super over here. Another fairly quick one but Shamrock looked like superman, and credit to Double J who played his role well. Finish came when Shamrock countered and transitioned into the Ankle Lock and Jarrett tapped out right away. Crowd loved it when Shamrock won.
*3/4
The Rock defeated Dan Severn in a King of the Ring semi-final
Rock, still some months from his transition to main eventer, was over here even as a heel. Mark Henry and The Godfather came out with their Nation leader, but were quickly sent to the back, but for the finish D'Lo Brown (who Severn had previously injured) came out when the ref was distracted and frog splashed (with his chest protector on) Severn, allowing for The Rock to get the win.
**
Too Much (Brian Christopher and Scott Taylor) defeated Al Snow and Head – Special Guest Referee: Jerry Lawler
Yes this really happened… Lawler was hilarious as the over the top ref in favour of the heels. The finish was… I don't know if it was magnificent or horrific… as HEAD was legal, Brian Christopher got a bottle of HEAD & SHOULDERS and attached it to HEAD, and then got the pin… Head's SHOULDERS were then down and that was the pinfall.
I don't know what more to say…
*
X-Pac (with Chyna) defeated Owen Hart
Good solid match this, not a surprise given who was in it though. Finish came about when Vader came out to counter the threat of Mark Henry who tried to help Owen. Meanwhile Chyna, as the officials were busy trying to break up Henry and Vader, hit Owen Hart with a dtt and this allowed X-Pac to get the win.
***
Paul Bearer then waddled out to the ring… is this Raw? What is it with these promos in the ring on PPV?? Anyway he spoke about Undertaker beating him up in his home prior to this show (I think on the previous Raw), and spoke more of the same stuff he used to chat about how Kane would watch Taker on tv when he was a kid and want to be like him, and how bad Kane's childhood was and how proud he'd be later when Kane won the title…
This is something WWE/F do time and time again… they tell us something is going to happen to the point where we think they're making it far too obvious surely it won't happen… then it does anyway…
The New Age Outlaws (Billy Gunn and Road Dogg) (C) (with Chyna) defeated The New Midnight Express (Bodacious Bart and Bombastic Bob) (with Jim Cornette) to retain the WWF Tag Team Championship
Very standard tag match, but again nothing bad about it. Biggest pop of the match came when Chyna low blowed Cornette after he tried to interfere. The Outlaws got the win just after.
**1/4
Ken Shamrock defeated The Rock to win the King of the Ring
Really fun match here. Even against Rock there was still a decent level of support for Shamrock. Triple H and Chyna joined commentary before the match began. Tonne of nearfall towards the end, finish came when Rock argued with the ref after again not getting the win, which allowed for Shamrock to hook Rock's leg and get the Ankle Lock. Rock tapped to a big pop and you're 1998 King Of The Ring was crowned as Ken Shamrock!
***3/4
Eerily Jim Ross suggested we may need to call the Red Cross ahead of our next two matches.
If you're watching this show… strap yourselves in for history…
Mankind comes out carrying a steel chair, goes to get into the ring, but then comes out and throws his chair onto the Cell roof… and quickly ascends to the top of the Cell structure… The Phenom comes out next to a thunderous ovation. And he in turn accepts Foley's invitation to join him on top of the Cell…
The Undertaker defeated Mankind in a Hell in a Cell match
Foley pulls Taker up but is hit with punches, and now Taker is up with him the two brawl. Mankind hits Taker with the chair twice, the cell roof almost gave in as they walked across…
and then… it happened…
If there's an event more replayed in WWE or wrestling history than this one, aside from maybe Hogan slamming Andre, I'm yet to see it.
You've all heard the incredible commentary from Jim Ross time and time again, but my word he sold this so well. With Taker still on the cell roof, Terry Funk was the first to the scene of his fallen rival, then came a tonne of referees and doctors. Still all these years later this is indescribably every time. I cannot imagine how this was to witness at the time, when we hadn't seen anything close to this before. Mr McMahon and Commissioner Slaughter came out also to see to Foley, the concern for him seemed to be very much real. They then raised the cage in order to get the medical assistance and stretcher to Mankind, despite poor Undertaker still being on top of it. What he must be thinking in this moment I can't imagine… They began to stretcher Mankind towards the back… and then suddenly as we looked at Taker on the cell roof again…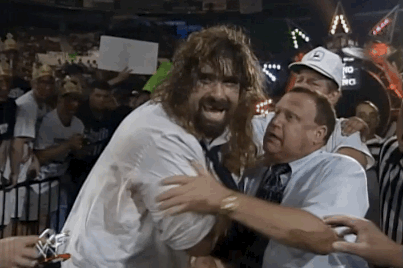 And this crowd went wild… it was not over… what happened next… more horror…
He went back up… and quickly went down again.
Now this one certainly WAS NOT planned. As I earlier referred to this Cell roof was not the strongest… so it gave way as Taker did the chokeslam… and for good measure the steel chair falls as well, smashing Foley in the face on the way down. This bump might be the nastiest in wrestling history.
'Good god, good god'
'That's it he's dead'
Goosebumps listening to Lawler and Ross on the call here…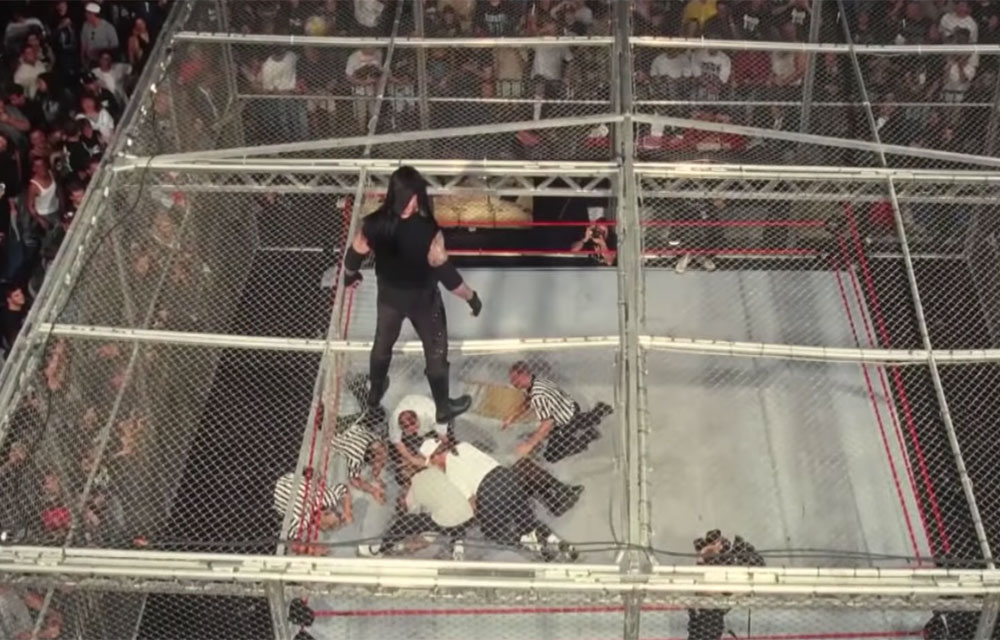 Taker climbs down through the break in the roof created, and lands flat on his already broken ankle (oh yeah, Undertaker came into this match with a very much hurt ankle, just for good measure).
Terry Funk and all the refs and officials were already in the ring at this point seeing to Mankind.
Funk was berating at Taker, and took a chokeslam for his troubles. I'm guessing he did this to try and buy Mick more time to somehow recover.
Mankind got up and took a punch from Taker. Taker went for Old school put got knocked down as Foley feel into the ropes. They locked the cell door… and then we got another legendary shot…
Mankind sent Taker into the cell wall, he then got the steps but couldn't lift them it seemed. Taker could though, and he did three times smash Foley with the steps. Undertaker his a few big punches to Mankind, before then going for a dive through the ropes but went into the Cell wall after Mankind moved out the way. Mankind rammed Taker into the cell wall a few times, as Taker was now busted open. Mankind raked Taker's face across the cell wall, and as Taker staggered up into the ring again, Mankind set up a chair and gave Taker a Piledriver onto it. This got him a nearfall, oh yes this was a wrestling match by the way. Mankind rained shots in, and then placed the chair onto Taker's face and hit a leg drop. Another 2 count. Mankind hit his form of DDT, and then… he rolls out the ring to get…
A bag of thumbtacks… Because that was needed after what we've seen already…
Mankind tried time and time again to knock Taker onto them, but eventually after an exchange Mankind got the Mandible Claw locked onto Taker… but just as it seemed Taker was fading, he suddenly shows life… and then…
Taker drops Mankind back first onto the tacs… My lord…
Foley had all these thumbtacks stuck in him… and then just for good measure Taker hits A CHOKESLAM TO Foley onto the tacks…
He then signaled it was the end and…
hit the Tombstone for the 1,2,3.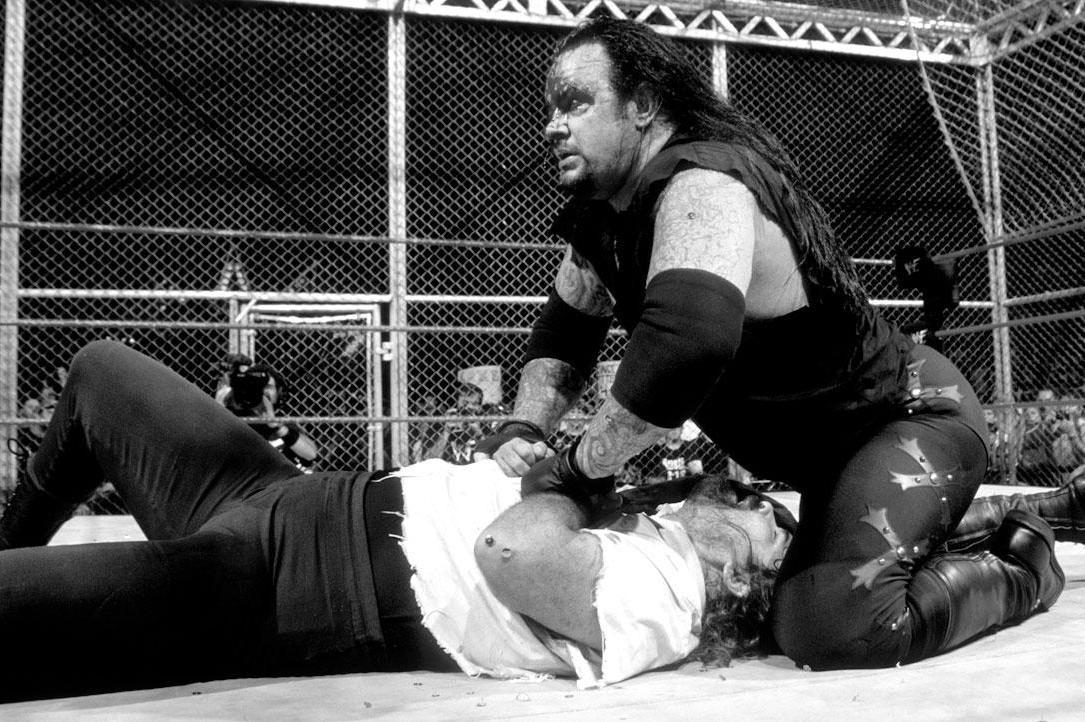 Jerry Lawler said on commentary "Mercifully, this is over".
And it was.
JR later added how these two men gave you their soul here tonight.
And they did.
I can't quantify my love for this match. For what Mick Foley did on this night can never be thanked enough. He and Taker changed wrestling forever. Both these men had Hall of fame careers without question, but on this night alone, particularly Mick Foley but they both cemented their legendary status. I will never ever ever not think of this match when I'm asked for my favourite ever and which match makes me feel things no other does whilst watching, and neither will wrestling history ever forget this match. The story of this match and its legend will outlive every single one of us. And that I think is the biggest compliment it could possibly have.
UNLIMITED
Incredibly of course, as history kind of forgets, that was NOT the end of the night… we still had another small matter to deal with…
They played a great promo video before the match which told the story of the build… Mr McMahon set up Kane vs Undertaker in a number 1 contender's match that Kane won. Austin would have to take on McMahon's hand-picked monster. And how Mankind and Undertaker also pictured in the Austin – Kane feud. And of course we had McMahon making the challenge for Kane that this would be a first blood match… and the infamous segment where Kane used his voice device to declare that he'd set himself alight if he didn't win the title. Austin of course was well up for the fight. This video made this match seem like the biggest match ever, but given what we'd just seen it was nearly impossible to be as close to as hyped as we maybe should've been.
To use a comparison from another world it was like when the mixed double final at Wimbledon takes place AFTER the men's singles final. Or how the 100 meters final isn't the last event of the Olympic Games.
There of course were Gasoline canisters at the ringside area, I presume to start the fire was Kane to lose…

Kane (with Paul Bearer) defeated Stone Cold Steve Austin (C) in a First Blood match to win the WWF Championship (If Kane lost he would've set himself on fire)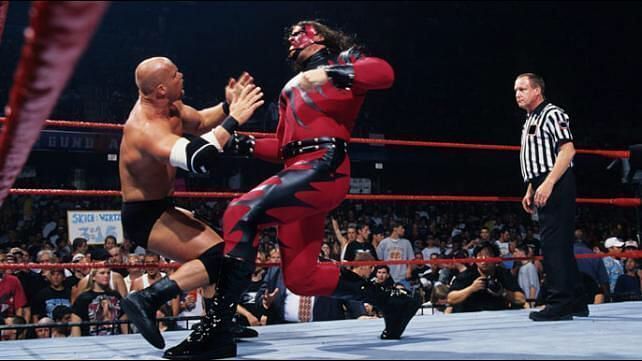 Austin was hugely popular with the crowd as always. He had his elbow heavily tapped after suffering a legit staph infection. And he immediately took the fight to Kane, but the monster got up again and again from belt shots and punches. Austin exposed the top turnbuckle and tried to use that, but Kane fought back. Kane was on top after this, with Austin only briefly getting moments of offense. Austin dragged Kane around ringside as they brawled… when the Hell in a Cell structure began to lower… As it did Kane dropped Auston on the crowd railing and then into the steps… Kane then tried to crush Austin beneath the cell after throwing him into the wall… but Austin got out in time. Kane launched Austin into the cell again, it had now fully lowered… so this was a first blood match inside Hell in a Cell. Stone Cold again was thrown into the wall by Kane, and then again into the steps… Austin did have blood from his back, but commentary did a good job covering that up by explaining that the ref had earlier said it would take a significant amount of blood loss to end the match. The cell was now raised again with Kane teetering on the cell, Austin eventually caused him to drop from it… They brawled up the entrance ramp with Steve Austin throwing Kane into each side of the crowd railings. Austin tried a piledriver but Kane dropped Austin on his back, as we got a shot of Mr McMahon who was high in the luxury box with Sable watching on. Kane rained down elbows to Austin, Austin tried for a suplex but Kane got the suplex on the rampway instead himself. Kane was in charge now, as he chucked Austin all over the place and launched a security railing at him after. They came back towards the ring next, with Paul Bearer alongside them… back in the ring Austin again tried to ram Kane's head into the turnbuckle, but still it didn't have the desired effect. Austin again tried to wear Kane down, as he rammed Kane's head all over the place at the ringside area, then hitting Kane in the head with a small fan. After though Kane sent Austin into the railing again and this took out the ref Earl Hebner also… back in the ring Kane came off the top with a big clothesline from the top rope. He then tried to send Austin's head into the exposed turnbuckle, and with Austin down Kane went up top again but Austin moved and then stomped away at Kane. Austin then stomped on Kane in the corner, and also rammed Kane's back of the head into the turnbuckle… and then… of ALL PEOPLE…
Mankind (chair in hand) comes into the ring… Austin then goes at him… as the Cell is lowered again. The finish of the match I absolutely adore as it plays into many things that were to come in the future…
So Austin gives Mankind a Stunner. Kane grabs Austin for a Chokeslam, but Austin counters into a Stunner to Kane. Austin goes outside to get a chair of his own… when who else shows up…
So we are left with Taker on one side, Austin on the other, Mankind the target of both in the middle, Mankind ducks, Taker swings his chair into Austin's and Austin goes down… but…
Everyone else is then taken out of play… Taker takes Kane out the ring, Taker then punches out Mankind, Taker tries to revive the referee, Kane by this point is back up and he takes Taker out with a chair shot… Austin then kicks away at Kane and takes him down with a clothesline off the top. He takes the chair from Kane and then smashes him across the face with it… but now the referee is up… he sees Austin and the bell is rung…
Kane, despite being flat out on his back after the chair shot from Austin, is announced as the NEW World Wrestling Federation Champion.
The Rattlesnake looks on in disbelief, and the PPV closes with a shot of a pleased Mr McMahon in his sky box…
****1/2
Now of course after this show, we had Raw the next night, where a rematch is set up as Austin's argument is that Undertaker busted Austin open and not Kane. Austin won the title back… but my word the significance of what took place on this night in wrestling history will never be diminished
But sadly for Kane, winning his first and only WWF/E Championship, the night won't be remembered for him. But for one moment that as I've said might be the most replayed and memorable in the history of the business.
Josh.