2021 will absolutely be remembered as one of the most… how can I accurately describe it? … One of the MOST BATSHIT-FUCKING-INSANE years in the history of professional wrestling. And this is for wrestling as a whole, but particularly for All Elite Wrestling. When they started up almost 2 years to this very day, their goal was to change the business and bring back people who had either lost their passion or completely fell away from being a wrestling fan… and my oh fucking MY have they done that and then some! And in 2021 they doubled down with some of the best matches, storylines, events and most unbelievable moments any of us have ever seen… One in particular stands out more than any (maybe EVER), but I will of course get to that later… For now lets begin my year in review of AEW in 2021 by looking back at some of the goings on in the company across each month of the year.
JANUARY
The year got underway with the now annual New Year's Dash special… and after a stellar AEW Championship match, with Kenny Omega retaining after a BANGER against Ray Fenix (I may mention this match again later), we had the first real foray through The Forbidden Door in AEW… as a couple of GOOD BROTHERS made their way to join the CLUB of the Elite…
FEBRUARY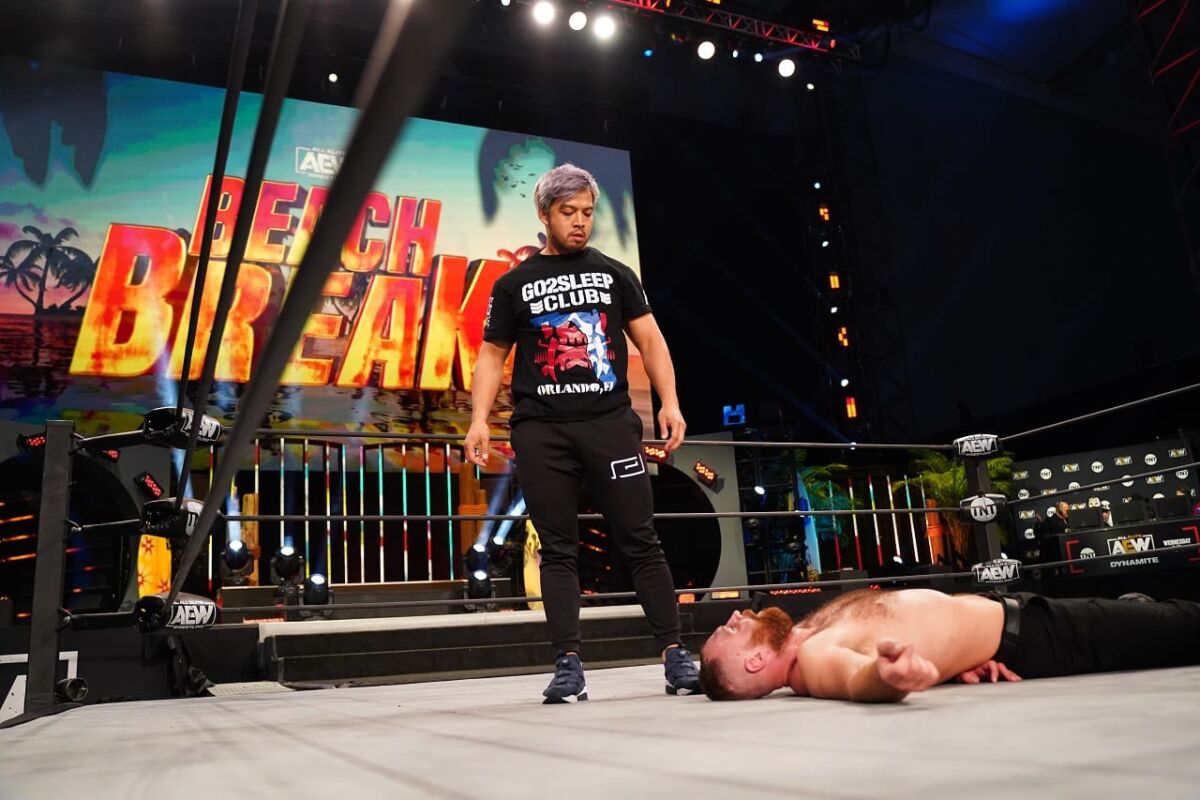 And as if an act coming from Impact into AEW wasn't big enough of a deal, what about the ultimate… something which has been spoken about as a dream and a possibility since the very beginning of AEW… but hurt feelings on both sides seemed to always stop any partnership from every materialising… but suddenly after a change in leadership on the other side, we then had New Japan Pro Wrestling's KENTA make a shocking arrival in AEW, to build up to an eventual and long-awaited IWGP United States title match with Jon Moxley.
MARCH

Perhaps for the first, and hopefully only, time in history we had an AEW PPV conclusion be roundly BOOED by the fans in attendance. And they've not had all thar many major mishaps or botches since they began, but this was an absolute fucking HOWLER! Of course I am talking about the main event of the Revolution PPV where we had Kenny Omega and Jon Moxley concluding their exceptional rivalry for the AEW title in an Exploding Barbed Wire Deathmatch… The big finish was of course supposed to be, erm, a big explosion (take a look on YouTube for what it SHOULD of looked like), instead we got a pretty underwhelming anti-climatic, glorified sparkler display… They tried to kayfabe explain it but it didn't wash, we all knew really…
APRIL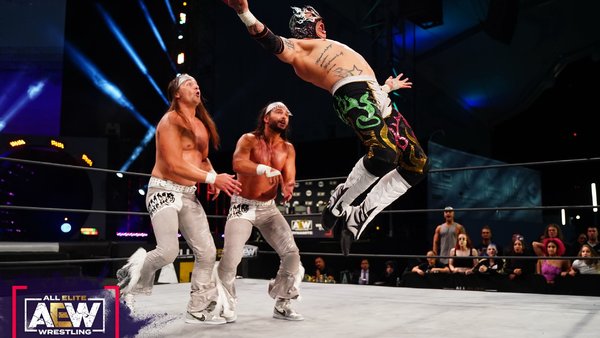 Off the back of one PPV, and with another around the corner, April saw us have some tremendous matches on the weekly Dynamite shows… from Darby Allin vs Jungle Boy as well as a fucking BANGER between the Young Bucks and Ray Fenix & PAC (a match very close to making it on my Match Of The Year list).
MAY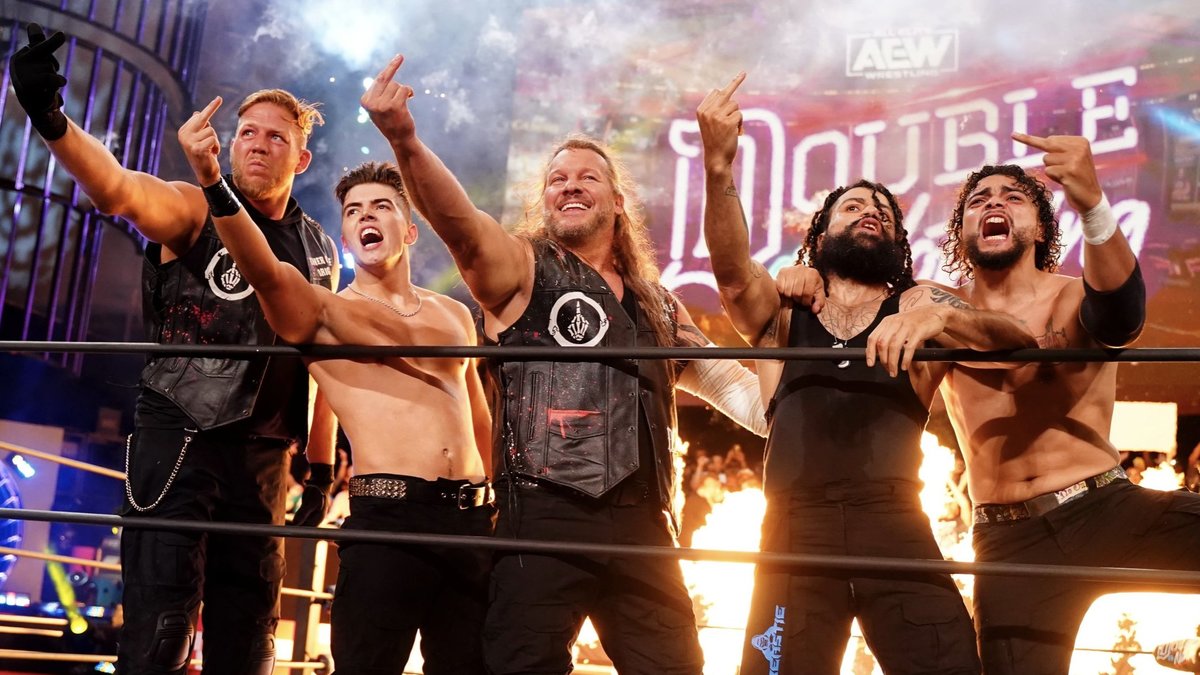 May felt like AEW was starting to really hit the ground running, but not quite full steam ahead just yet… Fans returned in time for the Double or Nothing PPV, but that wasn't before the first Blood And Guts match between The Inner Circle group and The Pinnacle. It was very much a brutal bloodbath that ended with MJF pushing Jericho off the cage… As for the Pay Per View it was quite the show featuring a tremendous crowd that saw Britt Baker finally get her moment, a huge pop for the Eddie Kingston/Jon Moxley entrance, a great three way for the AEW title, and the redemption match for The Inner Circle where Sammy Guevara led his team to a big feel-good win in the second Stadium Stampede match.
JUNE
June was where it really felt like AEW said goodbye to the 'Jacksonville era', as they got set to return to touring. We did though see a few more BANGERS with Kenny Omega beating Jungle Boy (after 'Jungle Jack Perry' had won the right to get a title shot with his battle royal win at Double Or Nothing), and also MJF beat Sammy Guevara in a match that felt like it could easily be a world title match in years to come.
JULY
July was indeed FULL STEAM AHEAD! And they've not looked back since!!! In their first night back on the road for the Road Rager special in Miami (among a series of highlights on a BRILLIANT Dynamite) was the shocking debut of MALAKAI Black! We also had the labours of Jericho which saw some unbelievable moments and matches as Jericho fought his way towards a match with MJF. And we also had what we THOUGHT would be the set up for the Hangman and Omega… but for now it was not meant to be…
AUGUST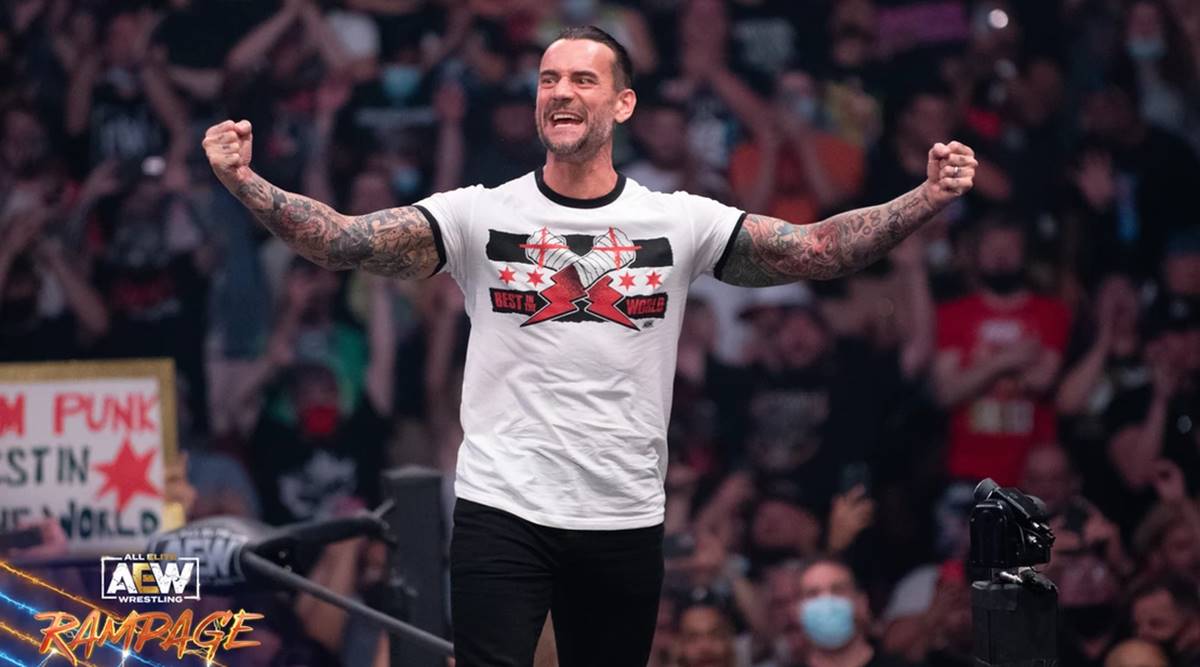 Even with the debut match of Malakai Black with his amazing SQUASH win over Cody Rhodes, the main news from AEW in August came from the beginning of their second TV show, Rampage on Friday nights. The first episode opened with Christian Cage winning the Impact title from Kenny Omega in a great match… but let's be honest… it was all about the second ever Rampage. The United Center, Chicago, 'The First Dance'… and you know the rest…
SEPTEMBER
I'll get straight to the point… All Out 2021. The best PPV in AEW history. CM Punk vs Darby Allin, The Bucks vs Lucha Bros in a CAGE, MINORU SUZUKI IN AEW, Ruby Soho debuting and winning her first AEW match… oh and after Kenny Omega retained the AEW title against Christian Cage… we had a couple MORE new arrivals to the ELITE company… and it was at this exact moment it really did hit me that AEW really was THE place to be in wrestling.
OCTOBER
We thought for a little while thar THE story in wrestling wasn't going to happen after all, and with the likes of Punk, Cole and Danielson coming in… would our heroic Cowboy be forgotten about? No. Absolutely not. This is AEW, and they make us fans happy here. We wanted The Hangman, and when he was ready to come back having been with his wife and their new born child, he returned. And he got what he deserved all along. Adam Page, after winning the Casino Ladder match would FINALLY get his shot one on one with Kenny Omega for the world title. And all felt right in the world again!
NOVEMBER
Well… he did it. To cap off another great AEW ppv (check out my full review blog if you can), Full Gear 2021 ended with the finish we ALL wanted. One of the best underdog-babyface does good storylines in wrestling HISTORY. Adam Page, AEW World Champion… and that is some good COWBOY SHIT!
DECEMBER
December capped off a heck of a year for AEW, but for a month with so many highlights (more that I'll mention later… one match in particular which I'm sure you can figure out)… The moment that touched me personally the most, given my past allegiances was the one above. Welcome Kyle. Welcome to where you belong!
MATCH OF THE YEAR
AEW has never been short of great matches, but in 2021 they've taken it to another level. Collectively the standard across the board has been phenomenal, but in terms of picking a top 10, let alone a winner, it was nearly impossible. So before you read my personal top 10 I'd like to point out this is purely my opinion, and if anyone else was to have any of the top 4 of mine as their personal number 1, I would not argue one bit. I would like to give an honourable mention to the match between Bryan Danielson and Nick Jackson, of which was in my top 10 up until Danielson and a certain Cowboy decided to do a fucking MADNESS… But without further ado here is my top 10 matches from AEW in the year 2021!
10. PAC vs Andrade 'El Idolo' (Rampage, 22/10)
The rematch between these two was somehow even better than their first encounter. Two of my absolute favourite wrestlers who I'd happily see wrestle 102 matches let alone a couple… And although the angle coming immediately after the finish here took the gloss off the match slightly, it was still an absolute BANGER!
9. Thunder Rosa vs Dr. Britt Baker, D.M.D – Unsanctioned Lights Out Match (Dynamite – St. Patrick's Day Slam, 17/3)
Can't recall ever seeing an all women's match quite like this one… sure we've seen them in Hell In A Cell and what not, but this was on another level. It really was the match that cemented just how big a star and how far Baker had come, and Rose showed exactly what she was about. This was as brutal as it was excellent.
8. PAC vs Orange Cassidy vs Kenny Omega (C) for the AEW World Championship (Double Or Nothing, 30/5)
I can't say I'm massive on three-way matches in wrestling usually, but this was tremendously entertaining. Three very different wrestler, but each got to show what they were all about and had their individual chances to shine. And despite Omega being the overwhelming favourite, they did such a good job at different points of making you genuinely believe that PAC or even Cassidy could walk out as World Champion.
7. MJF vs Darby Allin (Full Gear, 13/11)
On a match where the standard of wrestling was at such a high level, this and one other match stood out. Darby and MJF opened the main card, going just over 20 minutes and having a GREAT match! Only these two could make an engrossing story in a wrestling match over a HEADLOCK TAKEOVER, but these two did it. I've a feeling we'll be seeing them do this time and time again as AEW goes on, and I'd put money on them not opening but CLOSING shows in the not so distant future as well…
6. Bryan Danielson vs Minoru Suzuki (Rampage Buy In, 15/10)
As part of the head to head Rampage vs SmackDown night, Tony Khan had the genuis idea to not only put this DREAM match on the lead in, but tot put the match for FREE ON YOUTUBE (skip to 28.30 in the video above). And it was EVERYTHING we had hoped it would be! Striking and submission, technical wrestling for the ages by two legends of the art.
5. Ray Fenix vs Kenny Omega (C) for the AEW World Championship (Dynamite – Ney Year's Smash Night 1, 6/1)
The first Dynamite of the year closed with two of the very best. Ray Fenix, my god, I don't have words to describe some of the things this guy can do, so imagine him against the best wrestler alive… and unsurprisingly they put on a great match. Again the afters took away somewhat from the match but it still didn't take away from how great it was to me at least.
And this is where it gets difficult. Honestly on another day I could pick these next 4 matches in any order, they were all SO SO good! All 4 would be in the top 10 matches I've ever seen, so for them all to come in the same year from the same promotion is incredible!
4. Bryan Danielson vs Kenny Omega (C) for the AEW World Championship (Dynamite – Grand Slam, 22/9)
Opening the biggest Dynamite in history in front of over 20,000 at Arthur Ashe tennis stadium sounds like a heck of an ask right? Well… how about the debut match of The American Dragon in AEW, in a first time ever dream match, for the WORLD CHAMPIONSHIP? Expectations were high, and they met them and beyond. Although the fans booed the finish I think that was more because they wanted to see a winner, not because they didn't like the match. This was an AMAZING match and a privilege to watch.
3. "Hangman" Adam Page vs Kenny Omega (C) for the AEW World Championship (Full Gear, 13/11)
The opener of the PPV was great. The main event was out of this world! Usually you get a match have a great storyline, but the conclusion never lives up… this did! I was so focused on the story and the hope that Page would win the title, I didn't really think to how good the match would be. But this was an amazing performance by both men, Omega clearly hurting put on a performance for the ages, and couldn't of made Page look any better in doing the job if he tried. I also thought I'd just seen Hangman have the match of his life, which I'm sure we all did… until…
2. Bryan Danielson vs "Hangman" Adam Page (C) for the AEW World Championship (Dynamite – Winter Is Coming, 15/12)
So this opened the show, which of course Danielson vs Omega did so it wasn't unusual for AEW to put 'the main event' first… But little did we know they did it for the same reason this time around as well! I watched this match in bed the morning after, and said to myself I'd get up and ready for the day when it finished… and then it kept going, and going, and GOING! But NOT AT ALL was that a bad thing! This was a clinic! It was only really at around 45 minutes-ish I had a feeling they were going an hour, and honestly it was a masterpiece.
1- The Lucha Brothers (Penta El Zero M & Ray Fenix) vs The Young Bucks (Matt Jackson & Nick Jackson) (C) – Steel Cage Match for the AEW Tag Team Championship (All Out, 5/9)
If you would of told me at the start of the year that once again the AEW match of the year would be a tag, I'd of said NO CHANCE and that Page & Omega vs Bucks could never be topped. If You'd of told me said match would be under the constraints of a Cage, I'd of said you were off your tits! But well… These two pairs of brothers did it again! They somehow had a match better than all of their other classics down the years, and on the best PPV I've seen in a while they were the highlight. From the incredible Lucha Brothers entrance, to all the amazing moves and nearfalls, Matt Jackson and his Thumb-tacked shoe, the tearing at the Lucha Brothers' masks, Fenix flying off the cage, and then that HUGE pop for the finish that left even me (with the Young Bucks in my twitter and WhatsApp profile pics) was cheering for and punching the air in delight. And then after seeing Penta and his family topped it all off. This was by far the best cage match I've EVER seen, my AEW match of the year for 2021, and an ALL-TIME classic!
WRESTLER OF THE YEAR
I should point out that as I have done with similar lists for my WWE blogs in the past, I will stick with the rule here that although this list is entitled 'wrestler' of the year, in the interest of fairness I count those predominantly as tag teams as One entry, and the same goes for groups or factions in certain circumstances that make most sense. Given the number of names that have joined AEW across different points of the year, i have done my best to try and put this list together with the interest of fairness in mind. Although different names on this list may of not been active or even in AEW for certain periods in the year, they more than made the most of the time they were active for… so here is my top 20 list of performers across the year 2021 for All Elite Wrestling!
20. Chris Jericho
The Labours of Jericho and his continued leadership of the Inner Circle were the main marks of a fairly stellar year for the veteran.
19. FTR (Cash Wheeler & Dax Harwood)
An abundance of big matches against a tonne of big names, along with winning the AAA titles… dressed as frogs…
18. Cody Rhodes
What a fascinating year for the AEW version of 00s Triple H/John Cena, and 2022 with him now TNT Champion once again is going to be… interesting… Oh and I can't talk about Cody on AEW TV in 2021 without talking about his coach Arn Anderson, and his GLOCK (one of the best promos of the year by the way from The Enforcer, check it out when you can).
17. Eddie Kingston
A proper all-rounder has really proven what a valuable player he has been for AEW in 2021, from his teaming with Moxley to his feud and great match with CM Punk. Eddie Kingston is such a STAR!
16. Christian Cage & The Jurassic Express (Jungle Boy & Luchasaurus)
I've put Christian with this team in my list, as although he has had a solid run in AEW since he joined the company, I feel like since the battle royal where Jungle Boy last eliminated Cage to get the title shot, and then he joined the team and they became essentially a trio, I've LOVED everything they've done. And with the slow-burn to Christian turning on them already clearly underway, 2022 and the break-up is going to be spectacular and could be the making of our favourite Jungle man…
15. Adam Cole
A potential contender to be towards the very top of this list in 2022, but given he only debuted in September the impact he has made already has been unsurprising given his star-power, but also the matches he's had in his short time with the company have been consistently great. Lets see where the whole thing with him, reDRagon and the others in The Elite goes next year…
14. Darby Allin (with Sting)
I genuinely believe this man could well be THE face of AEW within a couple of years, he's just incredible. And Sting being by his side has made these two such a tremendous act, and the fantastic booking of Sting in AEW has benefited many people (Sting and us fans included), but I think more than anyone else, it's benefitted Darby Allin maybe more than anyone. 2022 for Darby Allin… the year he wins THE BIG ONE???
13. Orange Cassidy
He will forever divide opinion… but I ADORE Orange Cassidy! His match with PAC last year at the Revolution PPV was such a joy, and we've seen OC have matches of all sorts with Chris Jericho (AND WIN), a world title match on PPV, and more recently he's been a key part of the Best Friends matches with The Elite. 2022 I've no doubt Orange Cassidy will do what he always does, entertain.
12. Jon Moxley
He carried AEW on his back in 2020. In 2021 although not the tippy-top guy he more than played his part in a stellar year for the company. His encounters with Suzuki, his part in the casino ladder match, and although his year was cut short, when he is fit and healthy enough to do so, I already cannot wait to see Mox back in an AEW ring in 2022.
11. Malakai Black
One of the top comments on a YouTube video of his AMAZING theme music read "Years of a wasted sports entertainment career totally resurrected in one entrance and a 4 minute match. Both awesome and sad at the same time" and whilst I don't totally agree (his NXT run of his time in WWE at least was incredible), I will admit that Malakai Black after his first match was more over than Aleister Black ever was. And since then I think he's been great, sure a little iffy at times but given his character there's always chances that may happen. But I personally adore the man and the character, I have two of his AEW T shirts in fact. So yes I am a very proud member of the house of Black, and the leader I'm sure will have a great 2022… Maybe even a TNT title to his name before the year is out…
10. CM Punk
I'm not too sure many people would've predicted that the start of the CM Punk return would pan out as it has, but I mean that in a good way. The fact he wasn't immediately catapulted into a world title feud, the fact he's wrestled on Rampage, the fact he's wrestled people like Daniel Garcia and Powerhouse Hobbs I fucking LOVE! CM Punk has been such a joy since he came back, and his recent stuff with MJF and the alliance with Sting and Darby, one word, MAGIC! If he would've been in AEW since January he'd be even higher on this list.
9. Miro
2021 was simply the year that Miro was everything Rusev should've been. What an awesome reign he had as a dominant TNT Champion, and whilst since losing the title his next step is still unclear, I hope in 2022 he can look to become God's favourite champion once again…
8. Sammy Guevara
It could be said this was the year that Sammy Guevara, after previously being somewhat of an afterthought in the Inner Circle, a plucky loser who flew around and was a great cocky heel… but funny enough despite his 'Spanish God' moniker I really think he's found his groove as a babyface. It was a super cool way to do things when it was Sammy who got the pinfall to win the Stadium Stampede match at Double Or Nothing in May (given he was the one pinned in the previous year's edition and it was he who surrendered to bring an end to the Blood and Guts match… AND it was he who actually quit the group during MJF's time as a member of the Inner Circle). The redemption story was completed when he was the first man in AEW to defeat Miro as he won the TNT title… and although his reign didn't last too long, the moment itself was well deserved indeed.
7. The Lucha Brothers (Penta El Zero M & Rey Fenix)
PENTA SAYS these two individually could easily be champions, but together they are a quite incredible team. PENTA SAYS in 2021 The Lucha Brothers went from a good/great team to THE team and their masterpiece came at All Out in that cage. I've never seen a match from these two where I haven't been amazed at least once, I just enjoy what they do and their act so so much. If they don't lost those tag titles at any point in 2022 I can't say I'd be all that upset either.
6. MJF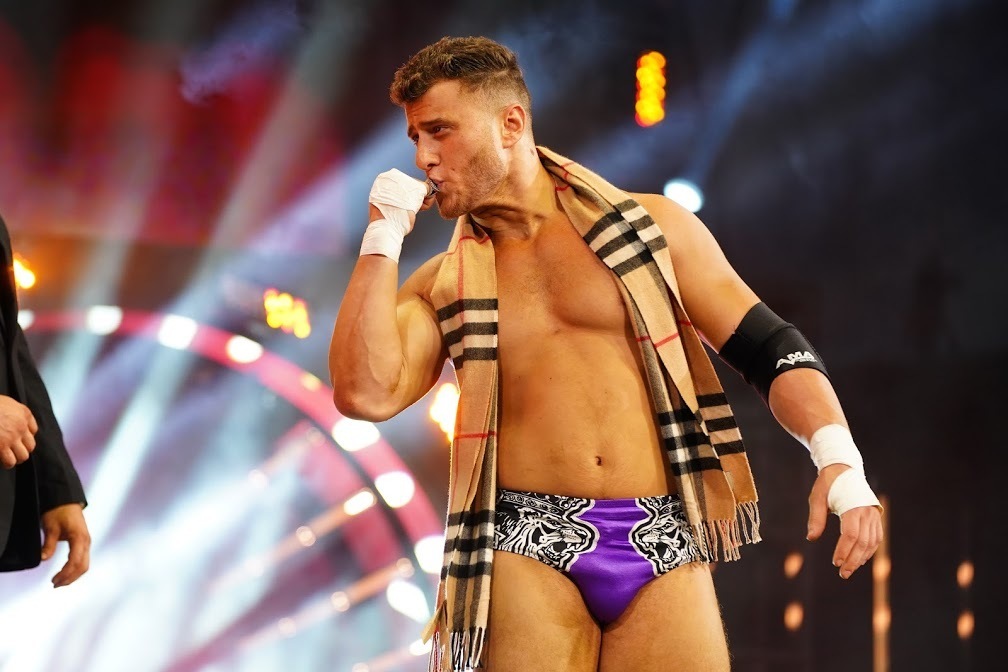 Another who could well be number 1 on this list in 12 months time… And if things go how I think they will he stands every chance. He always seems to be in a big storyline and 2021 has been no different with Chris Jericho, Darby Allin and CM Punk just some of the names to cross his path this past year. The thing I always worried about with MJF was he wasn't 'great' in-ring… he was very good, but not a top wrestler in my opinion. I really do think in 2021 he's really raised his game and his match with Darby Allin at Full Gear was the perfect example of that. And my oh my that Punk match is going to be ABSURD!
5. Dr. Britt Baker, D.M.D
With absolutely no real competition whatsoever, the WOMAN of the Year in AEW was undoubtedly the Dr. It seemed at the beginning of AEW that Britt Baker would indeed be the face of the women's division, but as a fighting babyface back in 2019 I don't think she was ready… in 2021 as a cocky heel she has come on leaps and bounds… Her incredible Lights Out match with Thunder Rosa, and her well deserved AEW Women's Championship win at Double Or Nothing were the two highlights of a GREAT year for Baker… again much like with the Lucha Brother's I wouldn't be all that upset if she's still holding her Championship when I write my blog reviewing AEW in 2022.
4. Bryan Danielson
In the history of wrestling, I would put up a strong argument that nobody has ever had as many 4-5 star matches in a 4 month period as The American Dragon has had since he became ALL ELITE in September. I think we all knew Danielson was a GREAT wrestler, but I think we are at a point now where we seriously need to be talking about him as one of THE very best professional wrestlers of ALL TIME! And that's before we even talk about his promo and character work as both a babyface chasing after Omega and The Elite, to his heel turn and chase of The Hangman and kicking the fucking heads in of The Dark Order. He's done SOOOOOO much in his short time in AEW already, so 2022 can only add to the legend of an ALL-TIME great.
3. "Hangman" Adam Page
As I said in my blog prior to Full Gear, Adam Page has been and IS in my opinion Professional Wrestling's best babyface. He's just everything you want your hero to be. And best of all, aside from not one but TWO of the best matches we've seen this year and EVER up to this point in AEW history… but best and most satisfying of all, he FINALLY made cowboy SHIT bring him some championship GOLD!
2. The Young Bucks (Matt Jackson & Nick Jackson)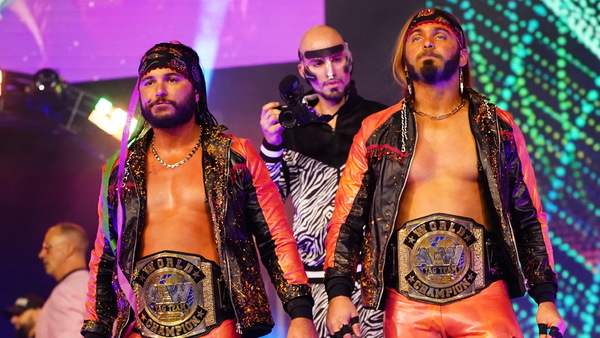 The best tag team in the world, the best tag team of this generation and of this decade, and one of the best tag teams of all-time, having had the best year of their careers… Yeah… not exactly a shock they find themselves so high on my list is it? But aside from a plethora of unbelievable matches, with one standout of course, but their unique and ridiculously over-the-top extravagance that has only got more and more in terms of loudness and volume as their heel run has gone on… All in all it has only enhanced them as characters and wrestlers, and I for one have loved every moment of it.
1- Kenny Omega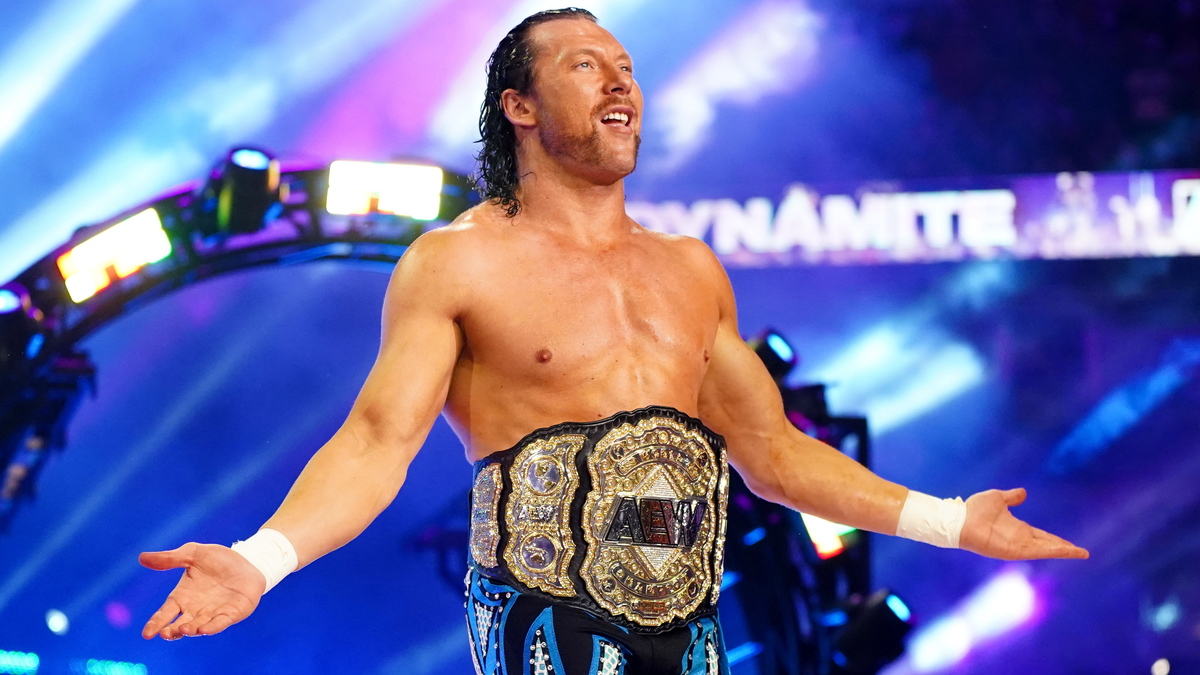 Much in the same way as his fellow Elite comrades, Kenny Omega (the best wrestler in the world) has not only had 2 of the matches of the year among a collection of good/great matches in 2021, but his amazing character work and promos throughout his world title reign have just been beautiful to watch. He for me has had the best title reign in AEW history to this point, a true WORLD champion in every way possible, and he of course was the perfect villain in-chief in the best storyline his company has ever told. Lets hope he gets his rest and recovery he needs during his time off, and when he comes back if his 2022 is even a little bit as good as his 2021 in AEW was, we are in for another year of classics and moments to remember. My 2021 AEW Wrestler of the Year, is without question, Kenny Omega.
5 FOR 2022
A bit of fun I liked to have in the past with my year in review blogs was to pick out some names that I thought would have big years ahead in WWE. I tried consciously to pick people who weren't quite at the top yet, but I thought would certainly have years to remember ahead. And given the changing nature of wrestling, my predictions had… erm… shall we say 'mixed' success-rates… Matt Riddle, Kacy Cantanzaro, Mustafa Ali, WALTER and Io Shirai I tipped at the end of 2018 to have big years in the following 12 months (not too bad I think), and a year after that I went with Ricochet, Damian Priest, Tegan Nox, Austin Theory and the tag team of Deonna Purrazzo and Chelsea Green… which… well 3 of those 6 no longer work for WWE, Ricochet is a nobody in WWE's eyes at least, Austin Theory is busy gazing lovingly into Vince McMahon's eyes… at least Damian Priest is somewhat of a big star there… But I digress… here's 5 names from AEW I've picked out to have big, break-out years in 2022.
HOOK
I feel like I'm going to be writing and talking A LOT about my new favourite wrestler in 2022. So I'll save my words for now and I'll just show you the above clip of his FIRST EVER match… Now you watch this and tell me this guy doesn't already look like a superstar!
Daniel Garcia
Daniel Garcia is TWENTY THREE YEARS OLD… and whilst he has worked a few different places before, he was really stepped up his game since coming to AEW. His recent partnership with the 2.0 tag team has only enhanced his character and star-power… and when he wrestles… my oh my he looks like a seasoned veteran! He has already had singles matches with CM Punk, Jon Moxley, Darby Allin and Eddie Kingston, and I think that he will prove to be another great example of how AEW slowly but surely push a young star to the top… Look at what they've done with the 'four pillars' already since AEW began… The future I think can only be bright for Garcia, lets see where his character goes in 2022…
Trent?
So having not long comeback after many months out injured, Trent returned looking JACKED… And given he's already teased a distain for his 'replacement' Wheeler Yuta, and just some of his mannerisms have already given me the idea of him as a heel. And now I can't get it out of my head. It would of course ruin the terrifically entertaining Best Friends with Chuck Taylor, and now Orange Cassidy and Kris Statlander, but I see a lot in Trent for him to be a potential singles star. But lets see… I think even without a heel turn he and that group will still have another good year continuously being entertaining as hell.
Darius Martin
You know of Dante Martin if you've watched AEW in 2021 right? Amazing high-flyer with huge potential to be a big star… Well he has a brother, and the two were a tag team in AEW before Darius was injured… but at some point in 2022 he's going to come back… and I can't say he's better than his brother, but after so long away who knows how he will return and what sort of impact he will make… Given Dante now has his thing going on with Lio Rush as a team of sorts, will the brothers pick up where they left off? Or will they go and each do their own thing? Only recently Tony Khan spoke about Dante in an interview, and he said that he had big plans for him and would love to team him back with his brother.. Given both are still in their early 20s the possibilities for the future are SO exciting!
Kip Sabian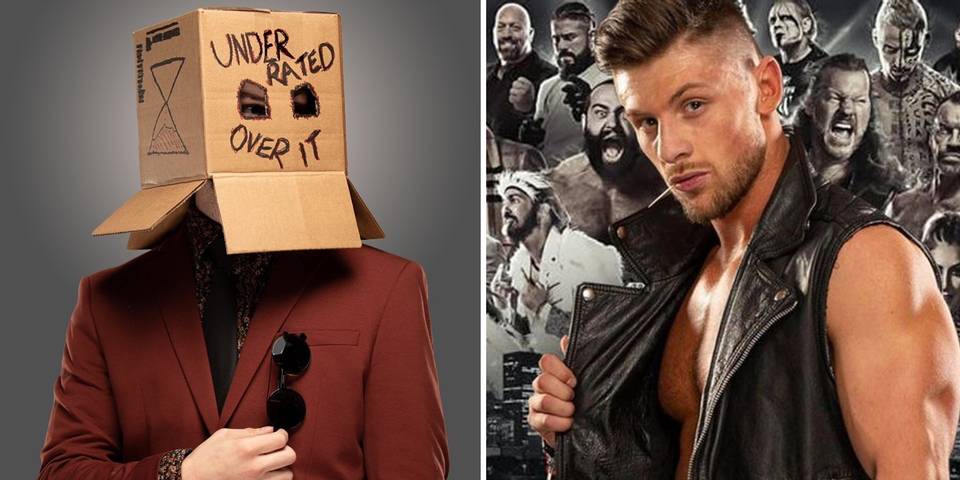 WHERE THE FUCK is Kip Sabian??? This out of all my picks is the biggest punt of the lot… Given we haven't seen him on TV AT ALL since his former Best Man Miro destroyed him… and many of you wont know, but he's kind of began a gimmick online where he plays up to the 'forgotten' and 'disregarded' brush some may now tarnish him with. I've even seen him wearing the paper bag over his head when signing autographs for fans outside of an arena before a show. And I'd really be interested to see if they explore this gimmick more and bring it to TV, but lets see. Kip was on TV a lot in the very early days of AEW, and they really played up to his relationship with his now wife Penelope Ford… So, it's a longshot, but I HOPE we see NORFOLK'S own (yes, really) Kip Sabian on AEW TV in 2022…
MOMENT OF THE YEAR
Wrestling for me is as much about the matches as it is about the storylines and the moments. And in AEW we've had so so many in 2021 that I and every other fan will never forget. Many I've already touched upon and many more I could mention still. But before and even more since fans and full arenas returned, AEW have taken it to another level and given many of us moments we will never forget. I'm sure you already know what will come top of this list, but let me firstly take you through the other moments in my top 10 list for the best moments of what has been a spellbinding year for AEW.
Honorable Mentions:
2 for me that transcended professional wrestling, and therefore I felt it unfair to include them on any ranking list. The JR one only happened last night as I type this, but it was everything I had hoped it would be, to see him get such a great ovation at the very start of the show warmed my heart. And the Dark Order one was beautifully done, when little Brodie threw the papers I nearly lost it I'll be honest…
Jim Ross' return after beating Skin Cancer
Amanda Huber and -1 help reunite the Dark Order
(Some more admin before I get on with the list… When I say 'moments' I do include under that umbrella entire segments as well, but I'll explain more on that as I go on…)
10. Darby Allin challenges the 'Best In The World'…
Moments after the announcement that the second episode of Rampage would not only be called 'The First Dance' (a play on the title of the Netflix docu-series on the famous Michael Jordan-led Chicago Bulls) but also that it would take place at the home of the Bulls (the United Center in CHICAGO… who could possibly sell-out a 1 hour show on a Friday night…), this very brief interview segment from Darby Allin gave us the clearest wink and a nod yet that HE was coming…
9. Sammy gets his moment
As I've said already, it really did cap off a great redemption story, and a sign of how far he has come in such a short space of time when Sammy Guevara ended the TNT title reign and undefeated streak of Miro in AEW. And I've a feeling it wont be the last time we see the 'Spanish God' win championship gold in AEW…
8. A Judas LIVE performance… with a twist…
So what or how would it effect Chris Jericho when (as a result of MJF's pre-match conditions) he couldn't have his beloved entrance song 'Judas' played as he made his way to the ring for their match? Well… MJF would of assumed that meant there would be NO judas at all… The fans in attendance however had other ideas… You can only imagine how it must of felt being Jericho during all of this? An amazing moment.
7. Dr. Britt Baker, C.H.A.M.P.I.O.N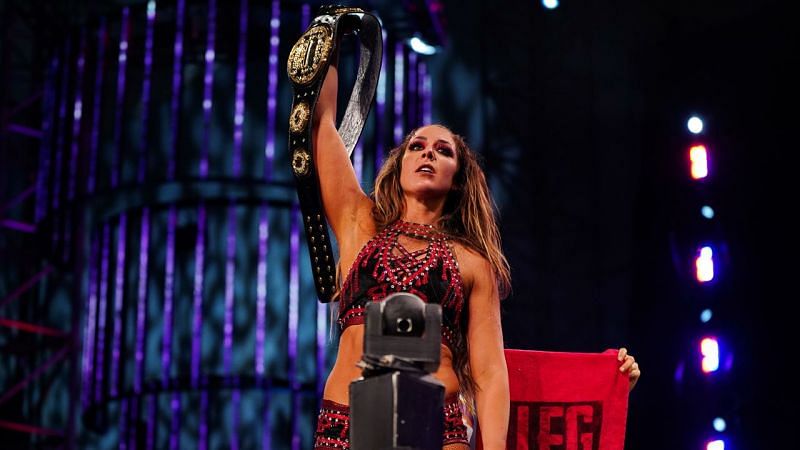 If you want example of a wrestling performer growing and finding themselves before our very eyes, I cannot think of many better examples than Britt Baker. So off the back of a tremendous winning streak and continuously great promos, at Double Or Nothing 2021 it was finally time for the Doctor to see the AEW Women's Championship NOW! And it came at the end of a really good match as well… and how cool was it to see her hug her biggest fan afterwards, her best friend… Tony Schiavone.
6. Christian CAGE in a RAGE on RAMPAGE
I can honestly say I DID see this one coming (I'll get the messages I sent to a friend of mine before this show saying as much… don't make me do it… I WILL DO IT)… ANYWAY… the debut episode of Rampage got underway with a preview of the upcoming PPV's main event, only this time the belt collector would put his Impact world title on the line… and because this isn't WWE, the hero champion didn't in fact beat the babyface ahead of the world title match, and so for the first time in well over a decade and after a pretty good match as well, a HUGE pop greeted the sight of Christian Cage as the new Impact/TNA World Champion!
5. AEW fades to BLACK
When was the last time (mainly because of the internet) we had a pro wrestling debut or return that genuinely caught everyone by surprise? Like there wasn't even a murmur or rumours of the impending arrival at all really beforehand? Well, thanks in large part to the stupidity and incompetence of… them… we got the absolute delight of this debut a whole 60 days earlier than we assumed we may get it, and to do it on the first show back on the road? *chef's kiss* … I could've easily put his debut entrance (cool as FUCK) or the actual match against Cody (incredibly shocking booking, genius in fact), but the actual debut… I did a little scream when I saw it I'll be honest…
4. The promo battle we were ALL waiting for…
Quite simply (and this, by the way is where that little bit about me including entire segments in this list too comes in to play)… this was one of the best promo segments I have EVER seen. All I can say is sit back, grab an alcoholic beverage, take a drink every time a line pops you, get hammered as a result as you enjoy two absolute MASTERS of the microphone at work.
3. YES YES YES… BAY BAY!!!
Hard to pick out a high point of the ending of the Full Gear PPV, so I'll just say that everything following the bell of the Omega/Christian match was maybe the best ending to a wrestling PPV I've seen for a while (let's discount the one where all 3 shield members held the WWE title within the same 5 minute period shall we?) … to debut one of those guys at the end of the show would've been spectacular, but to do them BOTH back to back, and the way they did it with Cole then joining the Elite and then Bryan coming out after that? Absolutely PERFECT booking. I can't say how many times I've gone back to watch this but it's well in to double figures at this point!
2. Champion SHIT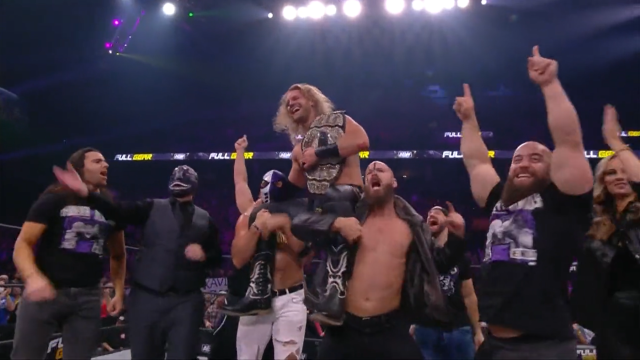 The perfect ending to the perfect example of long-term storytelling. I can't say enough good things about this, and in any other year it would've come top of this list by a mile, but of course you understand why it didn't. Nonetheless The Hangman finally conquering all his demons, and then getting to celebrate with his adopted family the Dark Order afterwards, was just so beautiful. Wrestling Should indeed Be Fun as my friends would say, and this was the best example of that. Give the people what they want, and they'll keep coming back for more. And AEW is great at that… which brings me to…
1- HE is back!!!
I've put the entrance and the promo in this because, well it was simply all our dreams coming true wasn't it? I can't quite remember anything in my entire time as a wrestling fan ever being built up as this moment was… and the fact that AEW did absolutely everything to promote this as the debut of CM Punk, but NEVER mentioned his name once, was so incredibly genius in hindsight. The numbers and business for the company that this show and moment did speak for themselves, but for me personally it's not just my wrestling moment of the year, but my wrestling moment of ALL-TIME. To finish my year in review of AEW in 2021, my moment of the year is of course, the return of CM Punk to professional wrestling.
I don't think I can understate what AEW has done for me personally as a fan, and for wrestling as a whole in 2021. Here's to the next 12 months ahead, and given the last year we've had WHO THE FUCK KNOWS what All Elite Wrestling in 2022 will look like! But I am very much excited for it and can't wait to see how it unfolds.
Happy New Year AEW. Here's to 2022, and THANK YOU!
Josh.