On Saturday 31st July, in the evening UK time, not for the first time and certainly not the last, WWE broke this wrestling fan's heart. It was announced that Windham Rotunda, or better known as Bray Wyatt and more recently The Fiend, had been released by the company. And thus the run of my favourite WWE superstar was over. A run with many ups and downs, and as a fan I was with him every step of the way. From the moment I first saw this character, as I was getting back into WWE in 2014/15, I was infatuated with it… I saw what I thought was a genius. A master of his craft at talking them into the building, a man who carried entire builds to WrestleMania feuds with names like John Cena and The Undertaker no less… I was in awe… He later turned into a monster, but to me he was the ultimate hero. So in this blog, in what will be my final WWE related blog for quite some time (I'll get onto that), I'm going to take a trip down memory lane and run through the highs and lows (there were plenty of both) of Bray Wyatt's WWE run, and give you some memories and my thoughts at the time along the way too.
This hit me so hard when this news broke, feel free to give my podcast episode on it (The NobodyIsReady Podcast Episode 8)… I was truly heartbroken. But that turned into two things that I will go into now, I'll talk about the foul company that rid me of my own real-life favourite monster later… for now let's take a look back at the story of Bray Wyatt…
The story of Bray Wyatt began where all recent WWE dreams begin, a true land of hope and opportunity… (before they are sent off like a lamb to eventually be slaughtered)… it began to properly take flight, in NXT.
After an initial run in FCW, the character of Bray Wyatt went over to the new WWE developmental territory of NXT. Sadly Wyatt not long after suffered a torn pectoral muscle, but was still a part of the TV show… In that time he created the Wyatt Family faction, bringing in Luke Harper and Erick Rowan. Harper and Rowan had one reign as NXT Tag Team Champions in that time, but not long after loosing the titles.. it was time for the Wyatt Family to take their message elsewhere…
Bray Wyatt presented himself and his family as a dark savior from the evil of the world. You can't helped but be intrigued by this guy surely? Well soon enough… The Wyatt Family made their presence known…
The thing I take most from that video is just how unique the whole presentation of The Wyatt Family was. And just listen to that pop when they came out. And that wasn't just anyone they went after first, that was KANE.
Soon after, at SummerSlam 2013, Kane would have to face off with Bray Wyatt… in a Ring Of Fire match!
After a feud with Kofi Kingston, culminating in a win at Battleground for Bray, The Wyatt Family moved on to CM Punk and Daniel Bryan, with this then turning in to a focus on solely Bryan. On the last Raw of 2013 Daniel Bryan took part in a gauntlet match against both Harper and Rowan in order for him to be able to face Bray Wyatt 1 on 1. The match ended in a DQ, with Harper and Rowan attacking Bryan after the match.. In shocking fashion a frustrated Bryan decided to finally give in and JOIN The Wyatt Family…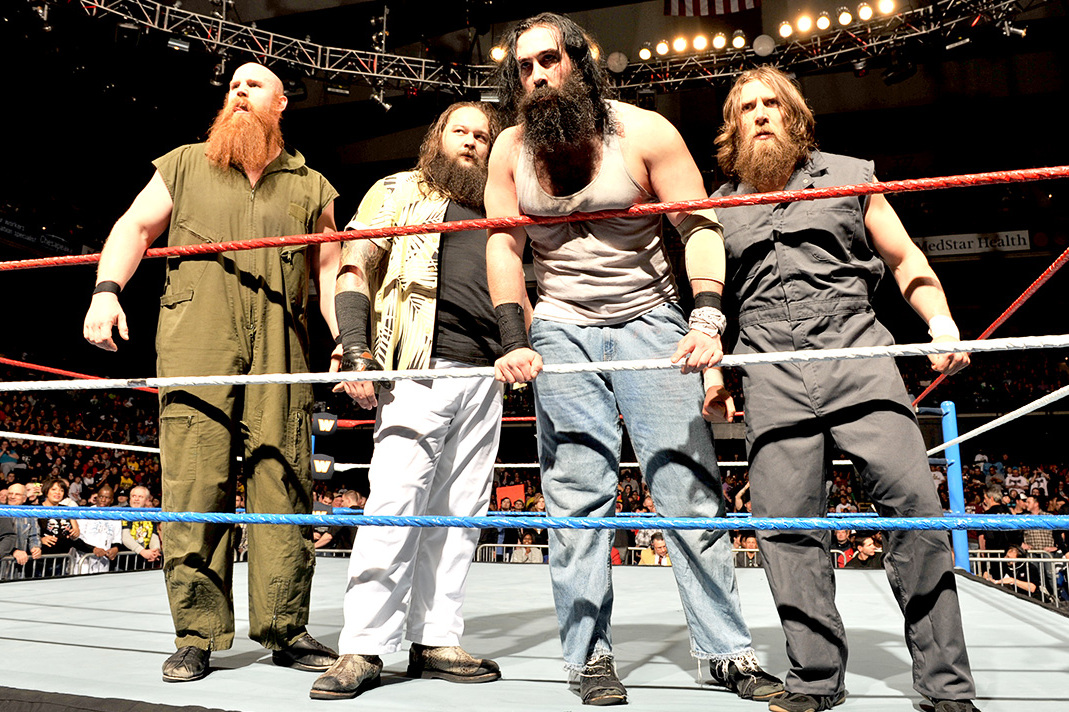 But still the Wyatt's couldn't achieve what they wanted… They suffered another loss in a cage match against The Usos… After that Bray wanted to take this out on Bryan, leading to one of the best babyface (re)turns of all time… LISTEN to this pop…
The feud would culminate at the 2014 Royal Rumble PPV… And in one of the finer Bray Wyatt matches of his WWE career, the two opened the PPV with a classic.
After a ****1/2 match, later that night The Wyatt's set their sights on their next target… JOHN CENA! After costing Cena his WWE world title match against then champion Randy Orton, a match was set for the January 27th Raw, with Wyatt, Harper and Rowan attacking the team of Daniel Bryan, Sheamus and John Cena during their qualifying match for the upcoming Elimination Chamber match against The Shield. This of course meant The Shield lost their title shot, leading to a 6 man tag match FOR THE AGES at the PPV…
The Wyatt's won a widely acclaimed match, and later in the night again they cost John Cena in the world title match. From there it was set… Bray Wyatt vs John Cena! Now, I could tell you about the story and the build to this match… Or I could just show you one of the best pre-match hype package WWE have ever made… This was exceptional…
Now… it was around this WrestleMania show that I myself once again got big into WWE as a fan. And with Bray Wyatt, I had my favourite. I thought he was so unique in every way, so talented, so different,. And here he was going up against the biggest name of them all. I was excited… A win for Wyatt in this match would signal a huge change of the guard… and could sky-rocket Bray Wyatt to the moon… Or not…
Cena didn't give in to the hate. He beat Bray Wyatt pretty much clean in the middle. This was Bray Wyatt's first pinfall loss on the main roster.
Despite what felt like a really big speed bump in the rise of Bray Wyatt, his feud with Cena continued after and towards Extreme Rules in a steel cage match… when Wyatt, in an attempt to show how he was claiming Cena's own fanbase, utilized the help of several of Cena's biggest supporters… in a way I'm not sure any of us ever thought we'd see…
Spellbinding isn't it? Like nothing we've ever seen before… At times this was Bray Wyatt, at his darkest and greatest.
And indeed… at Extreme Rules we got what SHOULD of happened at WrestleMania 30… A Bray Wyatt win. Sure with the help of one of one of his youngest new friends.. but it fit the story. And ANY Wyatt win over Cena I gladly accepted by any means…
But of course… as seems to become a pattern of his career in WWE, the fun only lasts so long for Bray Wyatt. Cena won the feud blow-off match at Payback the next month in a Last Man Standing match. From there Wyatt was a part of the ladder match at Money In The Bank for the vacant world title, of course he didn't win. His next major feud seemed like a bit of a fever dream in hindsight… who knows we may see it again in the future… but Wyatt lost the first, won the second at SummerSlam that year and then won a steel cage match on the September 8th episode of Raw that year… Whatever happened to Wyatt's opponent I'll never know…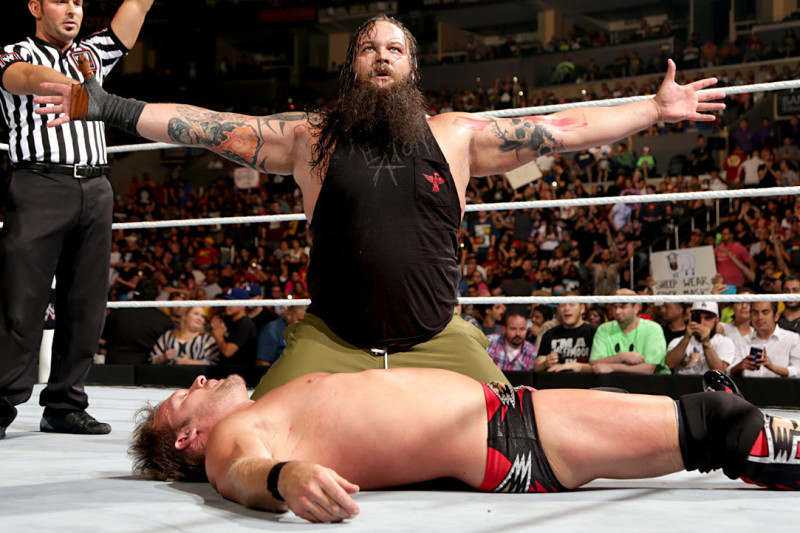 In was after this we had our first parting of the ways of the Wyatt Family… as Bray would set Rowan and Harper free…
Why they booked this I don't know? Who it benefitted I don't know… but yeah… noticing a pattern yet?…
Wyatt made his return in the main event of Hell in a Cell in October 2014, coming out of the mist and smoke to attack Dean Ambrose (who?). The next few months saw Wyatt try and 'fix' Ambrose, and the two had matches at Survivor Series, TLC and then finally on the Raw's of December 22 2014, and January 5th 2015… For once, it was Bray Wyatt who came out on top… an underrated feud between tow stars at the top of their game, just before they would both become breakout megastars… Within the next two years both would be WWE Champion…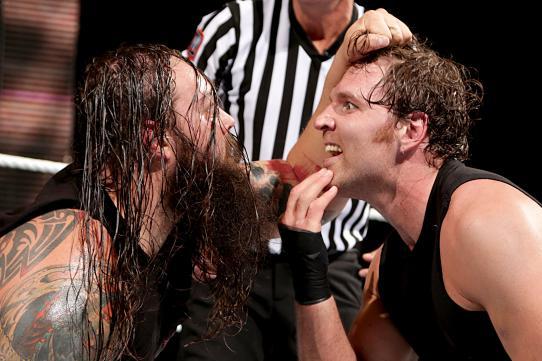 From there, after an impressive near 47 minute appearance in the Royal Rumble match of 2015, Wyatt began a series of vignettes, in which he called himself 'The New Face of fear'… At the Fastlane PPV just before WrestleMania, Wyatt made his intentions clear…
And all my wrestling Christmases came at once…
(EXCUSE THE DOUBLE SCREEN, WAS THE ONLY VERSION I COULD FIND ON YOUTUBE)
Want another brilliant Bray Wyatt match at WrestleMania pre-match hype package…
(Eddie Hearn voice) 'Oh go on then'
And so it was on… My favourite of today vs my favourite of all time. A year on from the impossible defeat, The Undertaker returned. Would Wyatt claim his place as the new face of fear? Well…
No.
Taker beat Bray in a match I thought at the time Taker looked old and slow in. In hindsight it was not too bad, but still… Why did Taker need to win this? A win here, much like a year prior against Cena, catapults Bray Wyatt into the top of the WWE… but not it was to be on the grandest stage of them all for him… again…
Later that year, in the summer months, Wyatt sought the allegiances of his former Wyatt family allies… At Money In The Bank during the ladder match of the same name, Wyatt cost Roman Reigns the match. From here Bray and Roman feuded across 4 PPVs:
Bray won the match with Roman at Battleground after help from Luke Harper.
Reigns would enlist the help of his former Shield brother Dean Ambrose for a tag match at SummerSlam. The Wyatt's took the loss, but the next night Bray showed he wasn't done with the pair, bringing in another MONSTER of destruction…
The Wyatt Family combined to defeat Ambrose, Reigns and Chris Jericho at Night Of Champions, before at Hell in a Cell the next month… Roman and Bray finally settled their feud…
It was something that Wyatt got the win here. Roman was well on his way to being THE guy, and would compete in the world title scene from here on out… But of course Bray needed to look good here, given his night was not over after this match…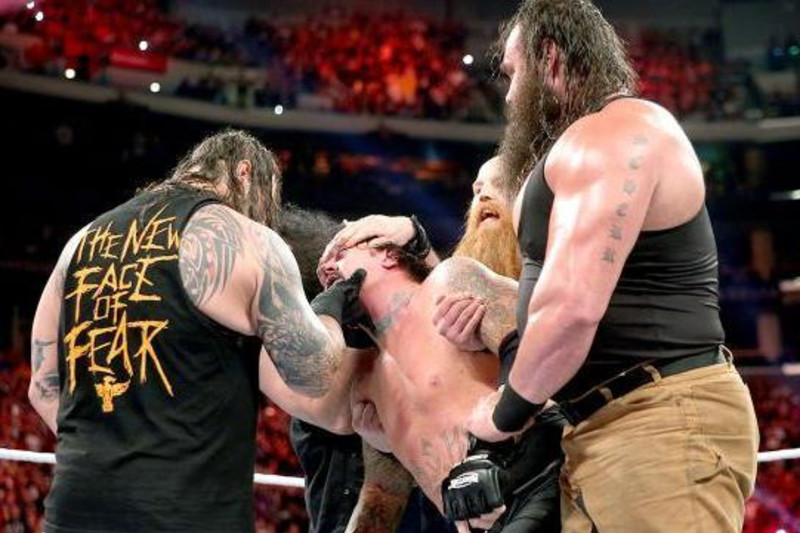 Following a brutal Hell in a Cell match with Brock Lesnar, the legendary Undertaker was taking a moment to take in the adulation of the crowd… when the Wyatt Family made their move. With the group now back to full strength, the four men viscously attacked The Phenom, before eerily carrying him away.
From here The Undertaker would get some back up in the form of his brother Kane. And whilst it was cool to see The Wyatt Family feud with The Brothers of Destruction, it was purely done to set up a match at that year's Survivor Series PPV that celebrated the 25th Anniversary of The Undertaker's WWE debut. In the match itself it ended up being Harper and Bray actively invovled, as both Strowman and Rowan were taken out with double chokeslams, and Taker and Kane would get the win following a Tombstone by Undertaker to Luke Harper.
After a brief feud with a team of ECW originals, which saw the Wyatt Family defeat the team of The Dudley Boys, Tommy Dreamer and Rhyno in an 8 man elimination tables match at the TLC pay per view, the next major Wyatt Family story (or so we thought) would be set up in the 2016 Royal Rumble match…
After Brock Lesnar entered the Royal Rumble match and cleared house, Bray Wyatt entered at number 27… and after a great faceoff… the rest of the family would target The Beast… and chaos would ensue…
This appeared to be setting up somewhat of a dream feud, with the combined forces of The Wyatt Family up against the all-conquering Lesnar… but it didn't quite turn out that way… At the Roadblock show just prior to WrestleMania 32, Lesnar was scheduled for a handicap match against both Bray and Luke Harper… the match itself ended up being Harper taking a beating and Wyatt stood aside for most of it. In actuality Bray had suffered a severe back injury that put him out of action, so after a big tease of something special and long term, we never got the big singles match we (Me included) craved… another what could of been for The Eater of Worlds… Lesnar would end up facing Dean Ambrose at WrestleMania in a very underwhelming bout, whereas Wyatt featured in a cool segment, but not one that helped put him or the Wyatt Family over in anyway, and certainly not poor Erick Rowan…
I did get this image though out of it… which for this Rock fan was a dream moment for sure…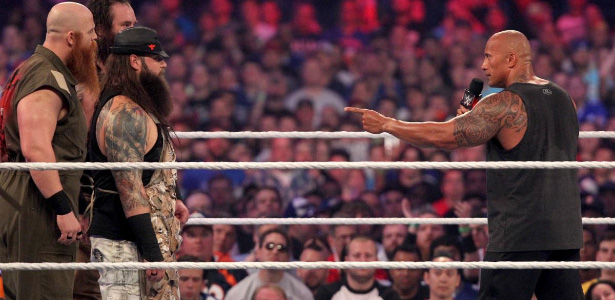 The months that followed WrestleMania 32 were very much up and down for Bray and The Wyatt Family… On the Raw after Mania they attacked the heel group The League of Nations, seemingly turning face. From here they aligned with former enemy Roman Reigns, but all this was cut short when Bray suffered an injury on a European tour that kept him out until mid June. Although out of this brief run we did get one of the more iconic Gifs in recent WWE history…
The Wyatt Family returned on the June 20th episode of Raw, where they set up a feud with another of WWE's major groups…
I hated this as a Bray fan. By default it appeared The Wyatt Family were now heels again given they were in a feud with The New Day, yet none of what New Day did here was very babyface at all… And listen to how the crowd responded when Wyatt asked if they missed him? It seemed people were now ready to cheer for Bray Wyatt, but they weren't allowed to again… From here the Wyatt Family and The New Day had a fairly short but fun feud that had moments such as New Day dressing up and mocking the Wyatt's, the cool ongoing story where Xavier Woods was scared and kind of drawn in by Bray and his powers, and the scene of New Day going to the Wyatt Compound to confront the Wyatt's. Although the last one of those was seen by many as WWE ripping off the recent Final Deletion stuff TNA were doing at the time… but this all culminated with a 6 man tag match at Battleground in July of 2016 which the Wyatt's won.
And after that… With Bray seemingly trapped in the mid card… was when it all changed… The 2016 Draft took place in July, and with Braun Strowman going to Raw and Rowan to SmackDown, the Wyatt Family of old was no more. Bray Wyatt would land on SmackDown… And it was now when he'd get more of a chance to shine, now out of the shadow of the likes of Roman Reigns and Brock Lesnar, The Era of Wyatt began to slowly take a hold on the blue brand of oppurtunity.
The 2016 Draft was one that changed the landscape of the company. It was seen as very much a changing of the guard, given that NXT's Finn Balor was drafted before the likes of John Cena, Brock Lesnar and Randy Orton. But also it gave many who were in the middle of the show when the rosters weren't split, a chance to now be top stars on their respective brands… The likes of Kevin Owens went on to be the world champion for an extended run on Raw, AJ Styles the same on SmackDown. But the brand extension was also a gamechanger in the career of Bray Wyatt. Now over on SmackDown Live, Bray's run got the shot in the arm it needed, and he quickly became one of the key and featured players on the show.
After splitting away from Erick Rowan, Wyatt set his sights on the "damaged" Randy Orton (who was fresh from a bloody loss to Brock Lesnar at SummerSlam), and this led to a match between the two at the SmackDown exclusive Backlash PPV.
After a real-life injury not long before the show, they ran an angle where Wyatt attacked Orton before the match took place. And so instead Wyatt made a challenge, which was answered by Kane. Wyatt then lost to Kane in a No Holds Barred match, after interference by Orton. Eventually we got the actual match between Bray and Randy at the No Mercy PPV the next month. In fact, as a result of a presidential debate taking place at the same time as the later part of the show, the WWE title match on the show went on FIRST, and this resulted in Wyatt vs Orton closing the show. Bray would end up having a helping hand in the match from a familiar face…
As a result of the distraction from the returning Luke Harper, Wyatt beat Orton, and he was really now off to the races.
But not long after this, Randy Orton would show once again why you can't trust a snake… and on the October 25th SmackDown, in a match between Kane and Bray Wyatt, Orton showed where his allegiances lay…
Randy Orton had joined The Wyatt Family.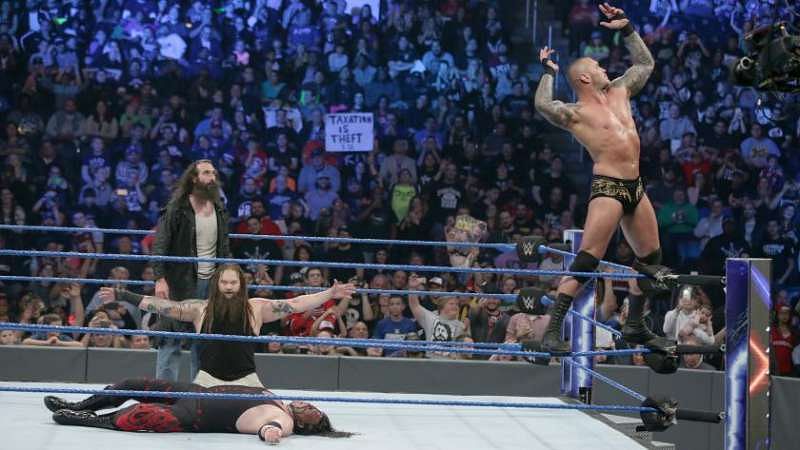 With the newly formed Wyatt Family trio thriving (although with an underlining tension between Harper and Orton) going in to Survivor Series, Bray and Randy were the remaining members of the victorious Team SmackDown in an outstanding 5v5 match (****3/4). From here they moved on to the SmackDown Tag Team Championship, and finally at the TLC ppv in December 2017 they got their moment with a win over inaugural champions Heath Slater & Rhyno.
This marked Bray Wyatt's first championship reign of his WWE Career.
The Wyatt Family would utilize the freebird rule as champions, and so the disfunctional team of Orton and Harper defended the titles on the December 27th edition of SmackDown Live…
As much as Bray Wyatt tried to keep the peace the chaos between Orton and Harper became too much, and going in to the 2017 Royal Rumble the two faced off on the go-home SmackDown…
And so with Wyatt watching on it was Orton who got the win… and after initially helping Harper to his feet, Bray hit him with a Sister Abigail as punishment.
The 2017 Royal Rumble match would prove to be a defining moment for this troublesome trio…
Bray Wyatt entered at 21. Orton followed at 23 and the two allies aligned… Luke Harper entered at 25 and it appeared all had been forgiven… Until…
Harper hit the discuss Clothesline to Bray and then attacked Orton. Before turning his attention to his former leader…
Of course Harper (after attempting a Sister Abigail to Bray) got an RKO for his troubles and was later eliminated form the match by The Undertaker. But Wyatt and Orton faired much better… in the end it came down to those two and Roman Reigns as the final 3… Wyatt was eliminated by Roman to the horror and LOUD boos of the San Antonio crowd… Who then roared even louder at the finish… Roman went to spear Orton, Orton popped up with an RKO, picked his spot, and clotheslined Reigns over the ropes. Randy Orton was going to WrestleMania.
Elimination Chamber the next month would also prove pivotal in the dark story of these three…
To finally settle their score, Randy Orton faced Luke Harper one on one…
It what was a great match (****) and what many saw as a breakout performance for Harper, Orton got the win… but what of Bray Wyatt… well… he had his eyes elsewhere… The main event of the PPV saw a chamber match for the WWE title… with newly crowned champion John Cena being challenged by AJ Styles, Baron Corbin, The Miz, Dean Ambrose and Bray. And well… it finally happened…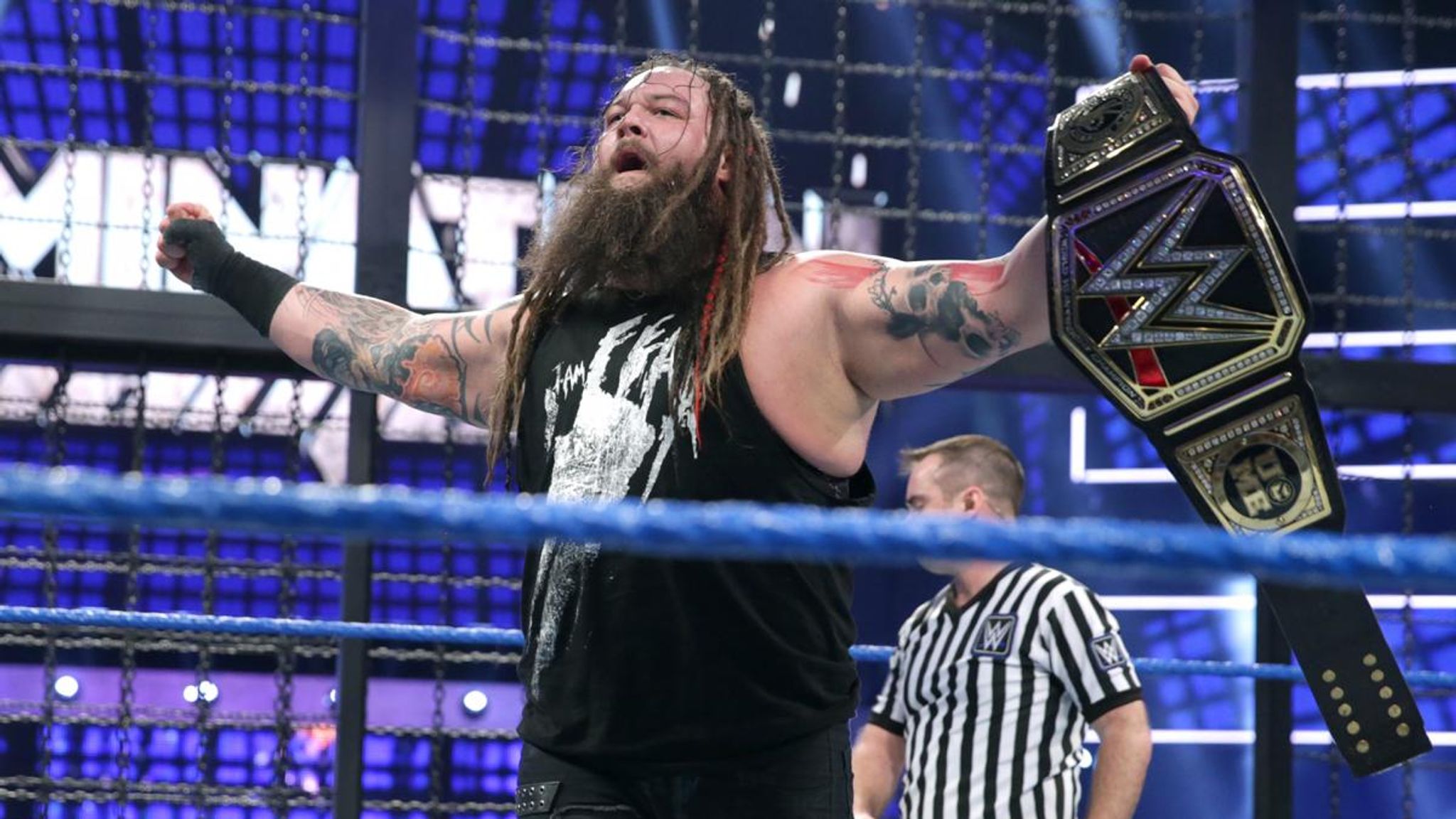 Orton would come out to face off with Wyatt from the top of the stage, we didn't know what this meant, but for now at least Bray Wyatt finally had the whole world in his hands. It was a moment for me I'll never forget, I was very close to tears, all my wrestling dreams had come true. After all these years of suffering and falling just short of the ultimate triumph… FINALLY on the last stop before… Bray Wyatt would head to WRESTLEMANIA as the WWE Champion…
Later that night Wyatt would defend the title against former champion Cena and AJ Styles in a triple threat match…
With Wyatt now the WWE Champion heading in to WrestleMania, the winner of the Royal Rumble Randy Orton was presented with a choice… fight against the man he follows, or give up his WrestleMania title match…
What followed over the next few weeks was one of the most convoluted, over-booked, at one point brilliant yet somehow by the end completely and utterly ruined, storylines we've seen…
To cut it short… Orton would pledge his allegiance to Wyatt and refuse to face him at WrestleMania. And at different points it looked like it could maybe be AJ Styles, maybe Luke Harper in that spot… But on the February 28th SmackDown… The Viper showed his true colours, and revealed his masterplan all along…
I actually loved this segment and reveal. It was the bollocks of the actual match, the booking of that and everything that followed between Orton and Bray that I hated. And we got the now iconic visual…
And so… Oh boy… on we went to WrestleMania 33… Randy Orton vs Bray Wyatt for the WWE Championship…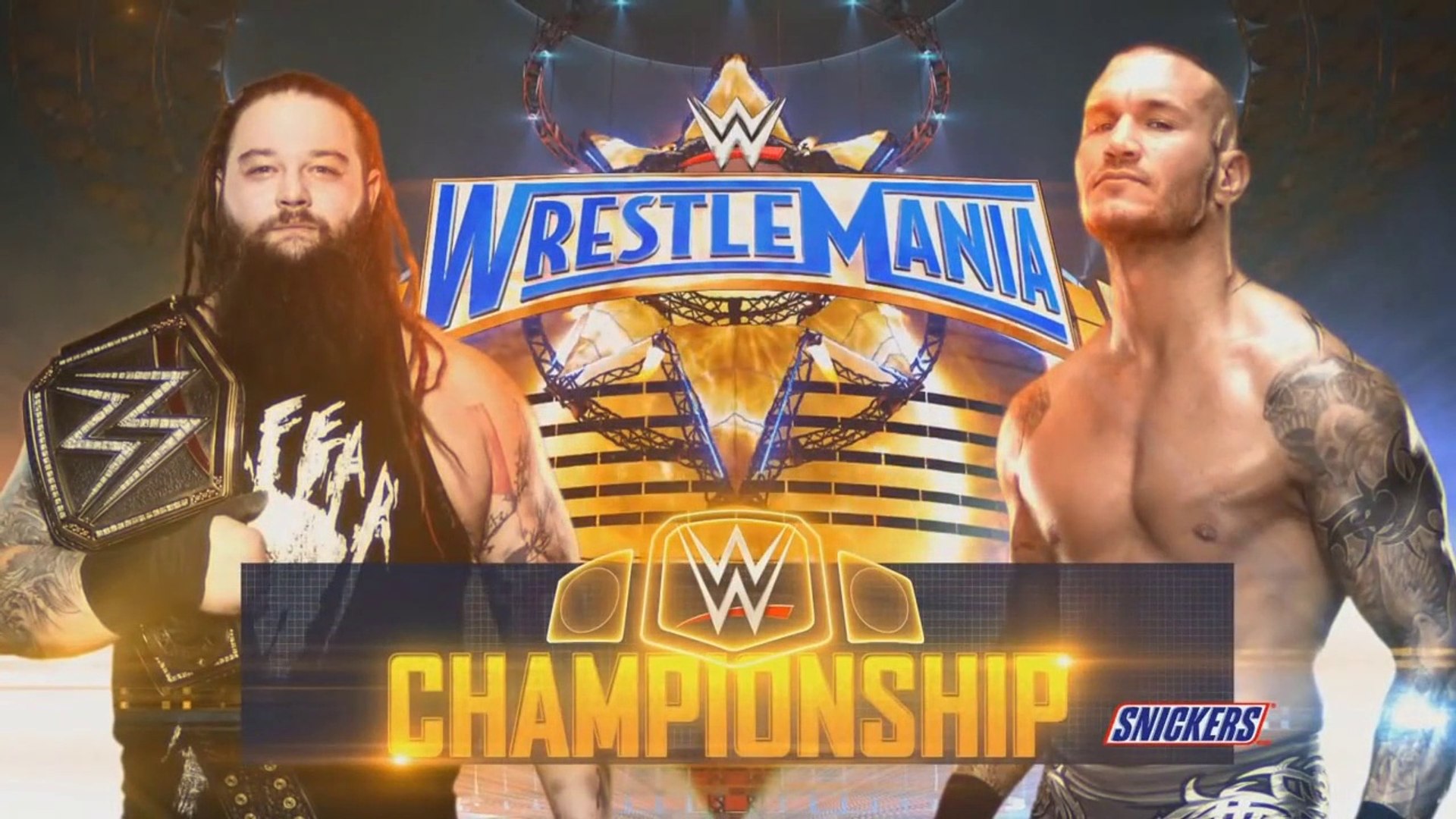 Now because it fills me with so much pain, I'm going to copy and paste my thoughts on this match from my review of WrestleMania 33 I did for a previous blog. As a Bray Wyatt fan I've never felt more pain watching a match of his (with one notable exception which OH BOY will I get too)…
Randy Orton defeated Bray Wyatt (C) to win the WWE Championship
This was the one where all the weird graphics of bugs and stuff appeared as part of Bray Wyatt's "powers" and then Randy beat him anyway… They had… a match… and at one stage Bray did his Spider Walk thing and then suddenly we cut to an aerial shot of the ring as maggots/footage of maggots appeared on the ring canvas and everyone was confused… then the lights came back on and the match carried on… then later Bray did it again and this time we had worms… then he did it a 3rd time and cockroaches appeared… then straight after Bray took his time with Randy and was smiling and then Orton hit the RKO and pinned him and won the title. You'll note I haven't said much about the wrestling, that's because A. it kinda sucked and the wrestling bits kind of just plodded along and then B. the graphics stuff REALLY overshadowed the match and even Tom Phillips on commentary noted "70,000 plus people have no idea what to make of this" … and he was not wrong. This was an ALL TIME terrible WWE Championship/WrestleMania/ANY WWE match fuck up.
DUD
After that disaster at WrestleMania, Bray Wyatt went back to being just… a guy… He was moved over to Raw in that year's Superstar Shake-up…
His rematch with Orton ended up NOT being for the title (and the less said about the AWFUL House of Horrors match the better), although Wyatt did beat Orton, with help from a certain Jinder Mahal…
At Extreme Rules in June that year, Wyatt was unsuccessfully part of a Fatal 5 way to crown the next challenger for the Universal Championship. After that Wyatt's next focus was Seth Rollins…
After a win over Rollins again on Raw, Wyatt moved next towards Finn Balor… And on the August 14th Raw just before SummerSlam, Finn was pushed to a point where he had no choice but to prepare to bring out his darker side…
And at SummerSlam… The Demon Cometh…
And well… now came what was a familiar pattern for Bray Wyatt over what became a miserable few months…
SummerSlam vs Demon Finn, he lost. No Mercy vs Finn Balor, he lost. Then Wyatt had to miss the TLC PPV where 'Sister Abigail' was due to face Pumpkin Balor… Oh yeah… this was a thing they were close to doing… and if this happens I don't know if The Fiend ever does because I think Bray is fired or he leaves… this was such utter garbage…
No, they didn't hire some indie wrestler woman, or some girl from NXT, or LIV FUCKING MORGAN MAYBE to be the infamous Sister Abigail character Bray Wyatt had always told us about… No THEY WERE GONNA STICK BRAY WYATT (A FORMER WWE CHAMPION, WHO HAS WRESTLEMANIA MATCHES AGAINST JOHN CENA AND THE UNDERTAKER ON HIS CV) IN A FUCKING WIG AND DRESS ON PAY PER FUCKING VIEW…
OH… AND WHILST WE ARE AT IT, WHY DON'T WE TAKE THE DEMON KING AND PAINT HIM UP LIKE A FUCKING PUMPKIN (AS WE ARE ALMOST AT HALLOWEEN ANYWAY)…
I have never wished injury or illness upon anyone and I never will… But an outcase of the mumps in WWE kept both Bray Wyatt, and Roman Reigns, off the TLC ppv and also the following WWE European tour (which meant I missed out on seeing both during the Raw TV taping in Manchester which I was gutted about)… But we got from that AJ Styles vs Demon Finn and the WWE in-ring return of Kurt Angle, so it wasn't all bad.
Bray returned in November on Raw and faced Jason Jordan… oh and he lost.
But then… finally a bit of light. As my hopes as a Bray Wyatt fan were at an all-time low, a bit of magic came about, and we got one of my personal DREAM feuds… and it was absolutely… WON-DER-FUL!!!
On the November 27th Raw Bray Wyatt faced Matt Hardy. This was a Matt who had become increasingly frustrated in recent weeks following a number of losses. Irked further by a loss to Wyatt here he led the DELETE chants of the fans as he sat screaming and moaning slouched in the corner of the ring… The next week Bray Wyatt asked who Matt Hardy really was… and Boy did he tell us as one of my top WWE dreams at the time FINALLY came true…
This began a very surreal, and at times bizarre feud between WOKEN Matt Hardy and The Eater of Worlds. Although I did find it fun as wacky as it was at times. After weeks of attacks and jousting back and forth, the WOKEN one finally made his presence known on the Christmas Day Raw.
Wyatt would make a similar run in of his own the week after on Hardy. Finally it was set up for the Raw 25 Years special that the two would finally face off in a match.
Both men entered The Royal Rumble match that year but eliminate done another simultaneously. At the next PPV Elimination Chamber Hardy beat Wyatt. And with them tied now at 1-1 they need to finish this… and so WOKEN Matt made the ULTIMATE challenge.
And so we were set… And now here it is. Sit back and enjoy this absolute Masterpiece, that was the MAIN EVENT of Raw that week by the way. WOKEN Matt Hardy vs Bray Wyatt in the Ultimate Deletion match.
From here, Wyatt wasn't seen again until WrestleMania 34 that April, when he reappeared in surprising circumstances
Talk about a WrestleMania moment, one I personally will always hold dear to my heart for sure.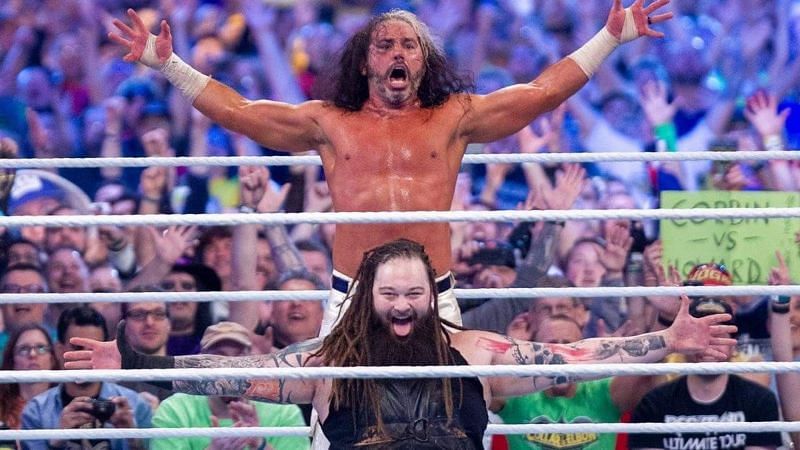 From here the two formed the most unlikely of alliances…
The newly formed 'Deleters of Worlds' tag team entered the tournament for the now vacant Raw Tag Team titles. They would end up beating Cesaro and Sheamus to win the titles.
Sadly, this didn't last all that long… they lost the titles in their first PPV defense and after losing the rematch it was time for Matt Hardy to take some time off to deal with a series of injuries. As a result the team quietly disbanded… Wyatt would not be seen on tv for a very long time afterwards… And when HE came back he definitely was not the same…
I did write a blog last year about the run of Bray Wyatt and The Fiend up to that point (entitled 30 Day Wrestling Challenge: Day One = Favourite Current Male Wrestler; https://nobodyisready.com/2020/04/11/30-day-wrestling-challenge-day-one-favourite-current-male-wrestler/ )… But I will do my best to summarize it all here again now for you. The run of The Fiend from April 2019 and the very first vignette, right up until WrestleMania this past April and his final match… It may well of been the most invested I was in a character's run in WWE history. I still can't believe it's over to be honest… I'm not sure until he appears in another promotion it'll really sink in for me The Fiend in WWE is no more…
I'm not sure anything in recent WWE history has captured the imagination like the Firefly Funhouse vignettes. From the very first one to the final one before The Fiend attacked Finn Balor… The 'original' Funhouse run was some of the absolute BEST shit that company has made for a long time for me. The ones that happened after all had their magic moments, but those first few were absolute magic. Below I'll talk about some of my favourite funhouse memories from those first few videos…
The very first one… so simple… so effective… This is exactly how you intrigue and excite and make people want to tune in next week to see what is next.
The first time we got a glimpse of… HIM... My god mine, and the rest of the wrestling world's, jaws DROPPED!!!
It wasn't just the quality and uniqueness of the clips I liked, it was the inside references and jokes and call backs to Bray Wyatt's past. Which I as a fan very much appreciated…
DO THE MUSCLE MAN DANCE… Now this… this was different for sure… My favourite part of this was the very very brief peek of darkness… Erase YOUR mind…
And finally… the final one before HE showed up in the flesh… I still get goosebumps watching this video…
And so it was time… HE made his first target known…
SummerSlam 2019. The debut of The Fiend. Time for revenge. I can't quite describe my emotions whilst watching this match… and particularly during the entrance of Wyatt…
The Fiend defeated Finn Balor
The match was what it was, and what it should have been, a glorified squash match designed to make The Fiend come across as exactly what he is intended to come across as, a monster. But it was all about the presentation of The Fiend here. Finn awaited his foe in the ring, and the opening to the Firefly Fun House vignettes played, before the words 'Let Me in' appeared, the lights went dark and then from the shadows emerged… him… a rock/electric guitar sound played before a remixed version of Bray Wyatt's previous theme song played as The Fiend made his way through the darkness. The camera work here was outstanding and really made it come across as something unique. It should also be noted The Fiend came to the ring holding a lantern that was dressed up with what appeared to be a severed head of Bray Wyatt in his previous form. The firefly's from the crowd were out in full force, and as The Fiend stood in the ring he got probably the loudest reaction of the whole show. At this point watching with my Yowie Wowie t shirt on, I was nearly in tears, and the match hadn't even started. Simply the most unbelievable entrance I've ever seen, it blew away all expectations I had. As I've said the match was essentially a squash. Finn showed some signs of life but Bray no-sold most of it and batted him down with ease at others, although at one stage a seemingly conflicted Fiend went for the Sister Abigail, but Finn got out of it and hit multiple slingblades, before a double dropkick sent The Fiend crashing into the corner. Finn then went up top looking for the Coupe de Grace but was caught as he came down by The Fiend with the Mandible Claw. After valiantly fighting Finn was done, and with the hold in The Fiend pinned Finn for the win. After the bell the lights went dark again, as The Fiend stood in the ring posing, they then went dark again as we heard the ominous Bray Wyatt laugh and then the eerie noise that had become signature of The Fiend attacks by this point, as the monster stood at the top of the entrance ramp and looked back at the destruction he had left. Before the lights went out and back on again and The Fiend was gone. As a beaten Finn was just coning round back in the ring, chants of "that was awesome" echoed around the arena. Yes, yes it was awesome indeed.
** (****** for the whole presentation of The Fiend)
After SummerSlam The Fiend spent some time acting as a dark shadow looming over Raw. Week after Week either in the Funhouse or in a surprise attack, Bray Wyatt reigned in terror…With an array of victims in his way…
Kurt Angle
Jerry Lawler
Kane
Mick Foley who was the first to be targeted by The Fiend. And it was from him he almost absorbed the mandible Claw as a finish. I LOVED this, was almost like a passing of the sword. Beautiful stuff.
So what now for The Fiend… Well in a rarity for WWE, they addressed online rumours on the TV show directly… And so the next move for Bray Wyatt became clear, in the lead up to the Universal Championship match between champion Seth Rollins and challenger Braun Strowman.
So after Seth Rollins had retained the Universal title against Braun Strowman at the Clash of Champions ppv… The Fiend struck…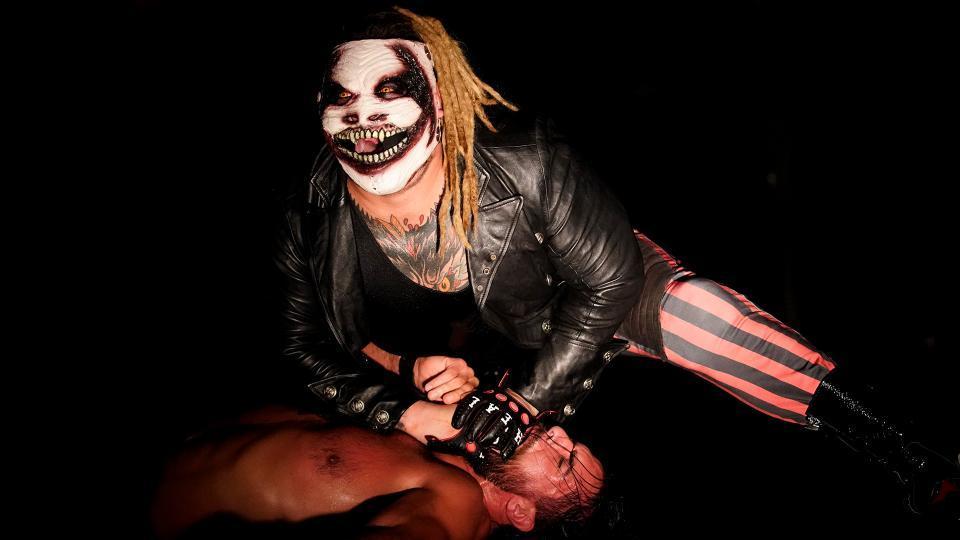 And that wasn't to say that Braun Strowman had dodged the eye of his former ally… as we saw the next night on Raw after Seth faced The Monster Among Men once again…
From here the pursuit and torment of Seth Rollins began in the lead up to Hell in a Cell…
And then… well… It was time for Hell in a Cell… Now those of you reading this will probably know my feelings on this match… I've now done both a podcast (https://open.spotify.com/episode/4zZJWJQLPXf0a42O4hkdxU?si=fSv6XSz7S2OdlNCF3H-lYg&dl_branch=1 ) and also a previous blog review on the match… and you could say I didn't like it…
Seth Rollins (C) defending the Universal Championship against 'The Fiend' Bray Wyatt ended… WHEN THE REF RANG THE BELL TO END THE MATCH AFTER ROLLINS USED A SLEDGEHAMMER FOR A NON FINISH IN A FUCKING HELL IN A CELL MATCH?!?!?!?!?!
For the whole match they had this red lighting in the whole arena, which was… interesting… Bray no sold everything Seth did for the whole match pretty much, and Seth sold like heck whenever The Fiend was on offence. Towards the end Seth used every weapon you could think of to try and keep The Fiend down, but he kept getting up. Rollins hit Curb Stomp after Curb Stomp and the crowd booed VERY LOUD. Rollins hit the Pedigree but Bray kicked out and the crowd cheered. Rollins hit a load more Stomps and the fans booed VERY LOUD. Bray was just laying on the floor motionless, Seth grabbed a chair and hit Bray in the face for a nearfall. Seth put a chair on Bray's face and used a ladder to smash the chair into his face, for another nearfall. Rollins went under the ring and got a toolbox and smashed Wyatt with that too. He then put everything on top of The Fiend and got a sledgehammer from under the ring. The referee begged Rollins not to use it and told him that wasn't who he was. Fuck off ref I thought, this is HELL IN A FUCKING CELL?!?! Rollins eventually did hit Bray with the hammer…
AND THE FUCKING REFEREE RANG THE FUCKING BELL!!! YOU CAN USE ALL THE WEAPONS THEY DID BEFORE: LADDERS, CHAIRS, TOOLBOX, A GIANT FUCKING MALLET THAT THE FIEND BOUGHT OUT (the one that Bray smashed the rabbit up with), YOU HAD THE WOMEN USING A CHAIN EARLIER, MANKIND USING THUMBTACKS 20 ODD YEARS AGO, CACTUS JACK PULLING OUT A BARBED WIRE BAT AND SETTING IT ON FIRE IN THE YEAR 2000… BUT THE REF FELT A SLEDGEHAMMER WAS ENOUGH FOR A DQ IN A HELL IN A CELL MATCH AFTER ALL THAT HAD HAPPENED BEFORE?!?! YOU FUCKING WHAT!?!?!?
The fans booed this loudly and chanted 'BULLSHIT' and 'AEW' as a load of medics and officials ran in to try and treat THE FUCKING FIEND as they raised the cell. Rollins stood over The Fiend and he suddenly sat up and put Seth in the mandible claw. He then gave Rollins a Sister Abigail on the exposed floor outside the ring. The fans chanted 'RESTART THE MATCH' (GOOD LUCK GETTING THESE MOTHERFUCKERS TO LISTEN TO THEIR FANS). They chanted 'AEW' again as Bray hit another Sister Abigail. The Fiend put the claw in again and blood came from the mouth of Seth. The show closed with the behind shot of The Fiend with the lights flashing (as was after the Balor match) and the lights went out as we heard Bray laughing as the show closed. The fans were booing very very loud.
WHY COULD HE NOT HAVE DONE THAT BEFORE WHEN THE MATCH WAS STILL GOING????????
WHY DID WE HAVE THE MAIN EVENT FOR THE UNIVERSAL CHAMPIONSHIP INSIDE HELL IN A CELL FOR THE SECOND FUCKING YEAR IN A FUCKING ROW END WITH NO FINISH?????????
This would've been insane but acceptable had you done ALL OF THIS, but NOT rung the bell and kept the match going and then as Seth stands over a lifeless Fiend he gets put in the claw again and match ends and Wyatt wins the title. That would've been great. Instead we got THIS UTTER FUCKING BULLSHIT.
This was WCW 2000 levels of idiocy booking. HORRIFIC beyond comprehension. A good match with a really unique and fascinating story utterly MURDERED, BRUTALIZED AND CASTRATED by an ABORTION of a finish. Seth looks stupid and weak as he used a GAZILLION FUCKING FINISHERS AND THEY DID FUCK ALL BECAUSE BRAY KEPT GETTING UP, THE FUCKING FIEND (the ONE the ONLY guy on both shows right now who the fans ADORE) looks like an idiot because he was dead and then when the bell rang and after that he got up and beat Seth up as if nothing had happened, and you utter FUCKING MORONS have absolutely KILLED Hell In A Cell FOREVER.
DUD
So after the literal HELL of their previous match, WWE looked to right the wrongs of The Fiend vs Seth Rollins. And although not in the setting, or more the country, I as a Bray Wyatt fan would've liked… The moment did come. I don't and never did feel The Fiend character, much like The Undertaker of the past, needed a world championship… However they booked themselves to the point where they simply HAD to put the belt on Bray Wyatt…
And so in the kingdom of Saudi Arabia, this Monster gave me the best Halloween present EVER!
After a quite remarkable title win, The Fiend and the Universal Championship went over to SmackDown… and with that a change was in order for Big Red…
So on a new show, and as it's champion it was wondered what next? And what we did get was a continuation of a theme of The Fiend's objective to go after those who had wronged Bray Wyatt… So we had another case of a dark reunion…
From here we got a number of attacks from The Fiend on Daniel Bryan, who wasn't a babyface at this point and was resisting the urge to unleash the YES movement once again. At Survivor Series Daniel Bryan, angry and fired up by the attacks, marched in to battle against the monster.
After retaining his title in the best match of The Fiend so far, Wyatt wasn't done with Bryan, and the attacks took a more sinister turn..
With Bryan now gone to whatever part of hell The Fiend dragged him to, Bray Wyatt himself focused his attentions on The Miz, who given his history with Daniel Bryan found himself involved in this twisted tale. It seemed to me as just a stop gap to get them to the Rumble and Bryan's return, but it added a sinister side to the Funhouse character. It wasn't the best but it was what it was… we went to the TLC PPV where Wyatt faced The Miz…
After beating Miz, Wyatt didn't have too long to bask in his win… As a much changed Bryan made an explosive return with an attack on Wyatt and a sharp new look…
So THE Daniel Bryan was BACK! Just as The Fiend took a personal hold on the Universal Championship belt (FYI if anyone wants my heart forever they will get me this belt)…
Given the intense nature of their feud, Daniel Bryan said the he wanted to hurt and get personal with The Fiend, so their match at the Royal Rumble was made into a STRAP match. And in making that match official we saw the true horror of The Fiend…
Now the run is over, I can say without a shadow of a doubt this next match was BY FAR the best match The Fiend ever had! Such is the genius of Daniel Bryan…
It seemed at this point we were destined for The Fiend vs Roman Reigns at WrestleMania. But, of course, plans change. I can't even write too much on it, it still does not sit right with me, but as I'm sure you all recall Goldberg came in to face The Fiend for the title in Saudi, because they wanted to do Goldberg vs Roman at Mania. And sure I can't say that isn't a HUGE mania worthy match, and of course it meant we could have what we got with The Fiend at Mania (which I did say was something I'd be ok with)… but… did they need to do The Fiend like that? No. Will I ever forgive them for it? No. Was The Fiend ever the same after? No not really.
On the SmackDown after, which I think was one of the final WWE shows pre-pandemic, The Fiend made the challenge to some jobber…
As we moved into the Pandemic era, the promos back and forth between John Cena and Bray Wyatt, especially given their history I fucking loved. Cena is the master, but their was a very forward nature to his promos on Wyatt. But such is the magnificence of Cena, it all served a purpose. The go home for Mania was the best of the bunch for me…
There was also a somewhat controversial 'shoot' promo by Cena that WWE even deleted from their social media platforms… But as I said Cena is a genius, and it all was for a purpose…
So on we went to the most unique WrestleMania of all time. And maybe the most unique match in the history of WrestleMania… And in John Cena went… to the Firefly FunHouse…
So that was something wasn't it? I personally thought it was a masterpiece. Of all the things I'll miss when I end my WWE Network subscription, I will miss my inability to watch this match whenever I want the most.
So after this… with WWE and the world in uncertain times… Wyatt returned to challenge another face from his past… and this one was now in possession of something HE wanted back…
Wyatt did his best to insight and torment Strowman, but Braun was resistant… going in to Money In The Bank Wyatt tried to make Braun an offer he couldn't refuse to come back home…
Braun though saw through it, and he beat Wyatt to retain his title. And Wyatt was gone for a short time after… Until he came back in yet another form to torment his black sheep with…
This led to one of the low lights of the run of The Fined… The 'Horror show at Extreme Rules' PPV was just that for most parts… a HORROR. The main event of which was a Wyatt Swamp fight, a cinematic match where Braun and Wyatt battled in various forms and settings with The Fiend coming out at the end victorious. The feud ramped up after that, with Strowman beginning to give in to the more dark temptations… And in what was a defining moment in the run of The Fiend, things got personal… Wyatt in his monster form hit Braun where it hurt…
Two weeks later after this, Bliss tried to speak to Braun to try and get him to 'wake up'. Strowman, wanting to show he had no weaknesses, instead Gorilla press slammed Bliss out of the ring. And from here we went towards SummerSlam for a final battle between The Fiend this time, and Strowman for the title… but now an extraordinary relationship had begun…
The Fiend and Strowman had a quite unbelievable brawl, and in the end we got a new Universal Champion…
But that wasn't the story… 'You'll Never See It Coming' was the show's tagline… and we really didn't…
The Payback PPV was just 7 days later, and it seemed a lay-up for the inevitable…
And indeed it was the case. The Fiend was a transitional champion. He was champion for 7 days…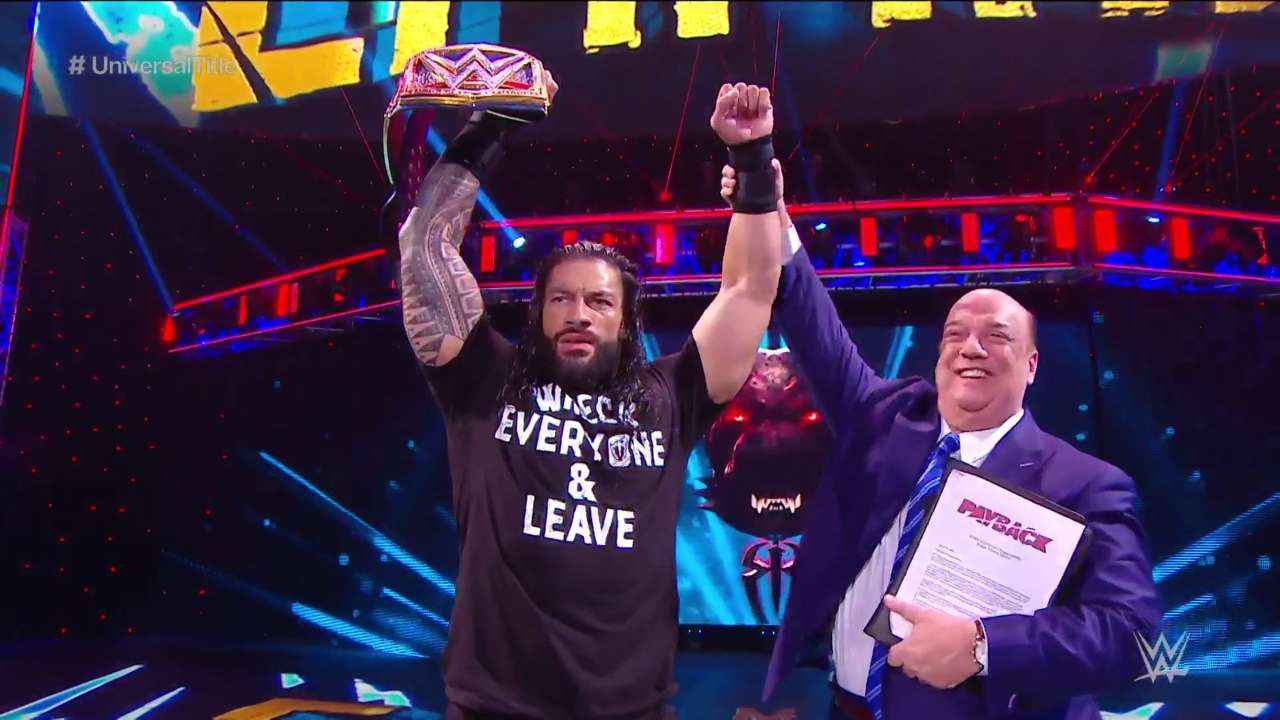 Even with Alexa Bliss now by his side, a teased feud with Roman was not to be, and soon they were both off to pastures new…
Now on Raw, the partnership between The Fiend and Alexa Bliss became fully fledged. Bliss became a completely different person, and a dark paring blossomed…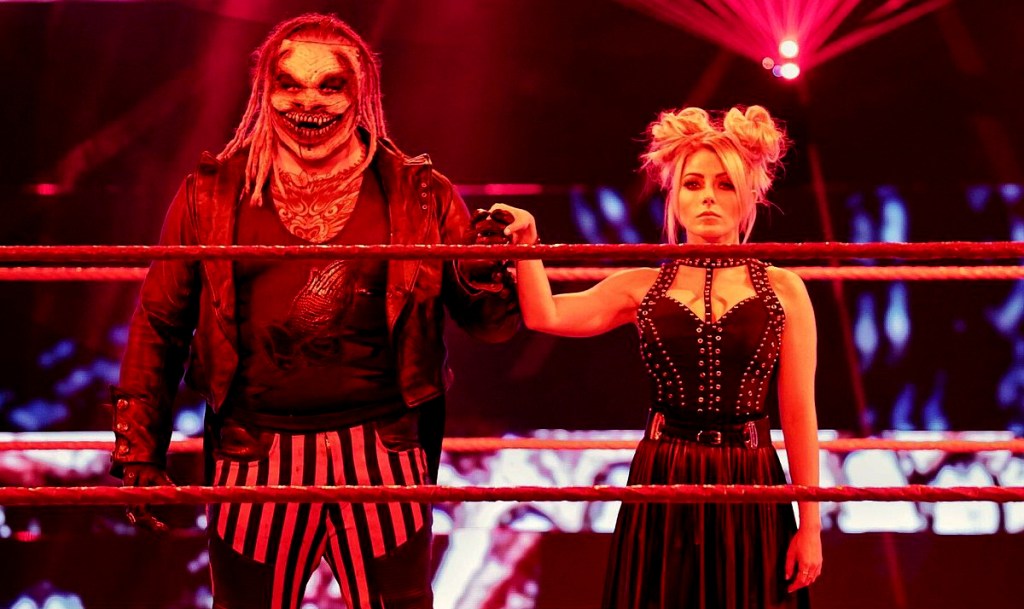 Towards the end of 2020, The Fiend teased getting in the middle of the WWE title feud between Drew McIntyre and Randy Orton… and going back to the original purpose of the character, it was his former foe Randy Orton who became the focus.
It would culminate at the TLC ppv… and we all know how that ended…
With The Fiend gone, the story carried on through Alexa Bliss. So much craziness went on between the two in those intermeddling months I wouldn't know where to start…
And so we went to Fastlane… Yes indeed we did get Randy Orton vs Alexa Bliss…
HE was back… and given what was around the corner, it could only go one place…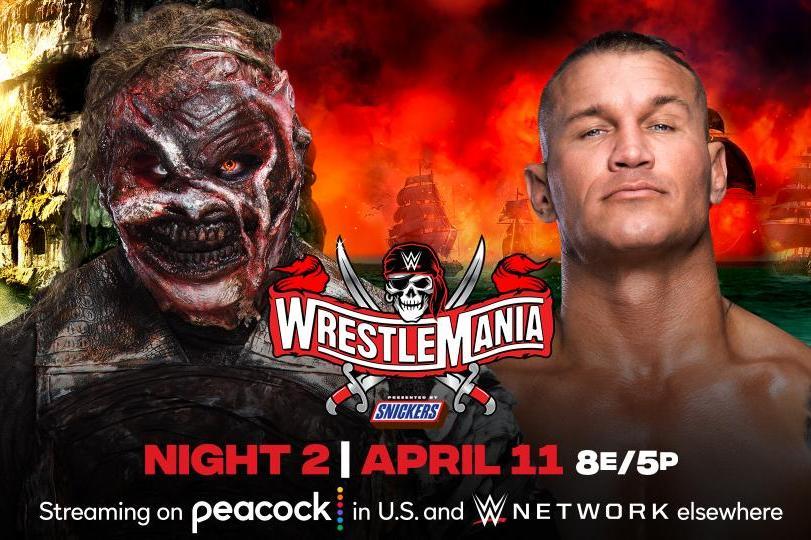 They opened night 2 of WrestleMania. As we anticipated, and after being denied it the year prior, we got a quite incredible entrance from The Fiend…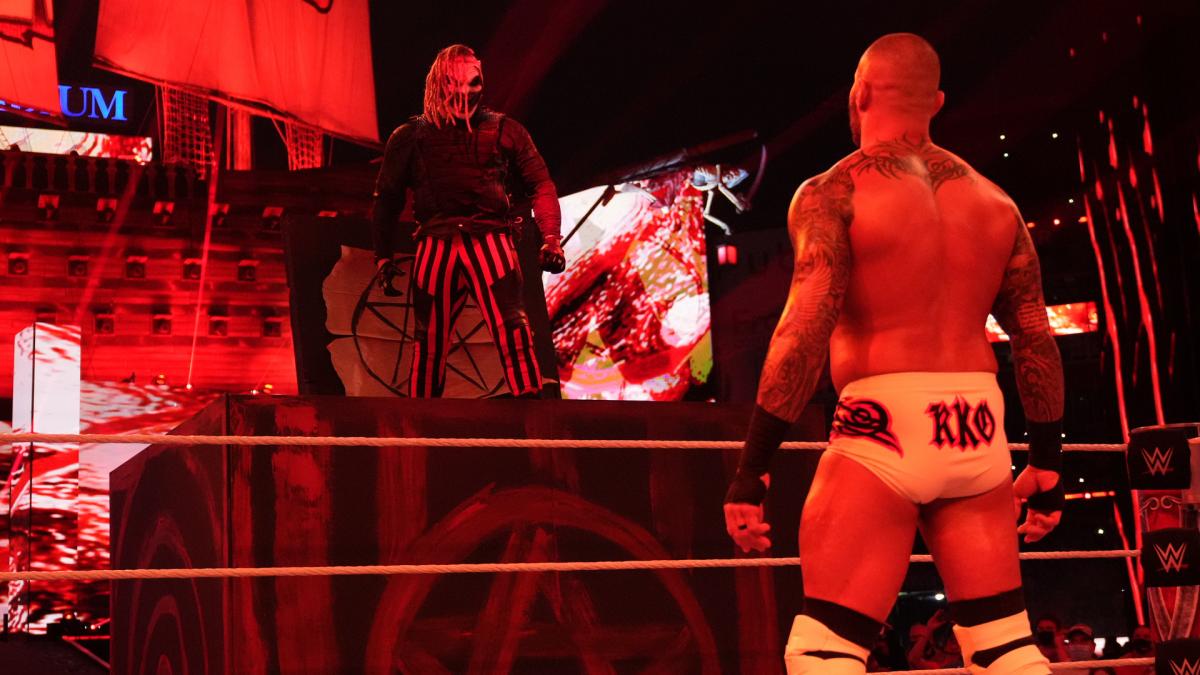 I'm sure you all recall, but after a match that went a few minutes and that The Fiend dominated… we got the turn…
One RKO and a confused Fiend later, and the match was over… Orton made a quick getaway… The Fiend looked up at Bliss seemingly in confusion… The lights went out, and when they came back on both Bliss and The Fiend were gone… The live crowd booed, more out of the fact we didn't get any sort of explanation and this all seemed very out of the blue… I for one was unhappy of course as a fan of The Fiend, but willing to let it play out so we at least got a story out of it afterwards…
Little did we know of course at the time, but this was the last time we would ever see The Fiend…
The next night on Raw, Alexa told us all that essentially she was done with The Fiend. That their alliance had served it's purpose and now she had gained all the dark powers from him that she needed. It was a very bullshit explanation and apparent end to the story by WWE… And that really odd and VERY abrupt ending only continued with Bray Wyatt's response to what had happened the night prior…
My god how eerie and ominous is the 'see ya' at the end of the vignette knowing what we know now?
This would end up being the final appearance on WWE TV for Bray Wyatt.
There was a huge amount of speculation over the next few months; some saying that Vince was unhappy with Wyatt's physique when he returned, some said Wyatt had some personal issues to deal with, he also became a father again in the time he was off, as well as losing one of his best friend's Jon Huber (Luke Harper/Brodie Lee) in December. But with WWE getting back on the road and heading towards SummerSlam , there was increased speculation that Wyatt would be back on TV soon. There was even a rumoured date of the August 9th Raw for his scheduled return… but of course it was not to be…
On July 31st 2021, my world as a wrestling fan was well and truly rocked. The unthinkable, my worst nightmare came true.
You can find my podcast reacting to the news immediately after it happened here:
It's also available on most other podcast platforms.
So now I guess we wonder what next? Well… It's hard to say because much like with Braun Strowman and his release I only ever saw Bray Wyatt in WWE… so I can't even imagine him anywhere else… But I know for sure wherever he goes my support will go with him.
And Maybe I should be grateful… This was the final nail I needed in the coffin, the one thing that would ultimately end my abusive relationship as a fan of WWE. After this weekend is over I will be unsubscribing from the WWE network, and doing a big review of where my wrestling fandom is at. Not just in terms of what I watch or follow, but also in what I cover in blog or podcast form… Maybe I'll do just AEW, with the likes of Impact and NJPW thrown in from time to time… who knows… I am DONE with WWE, I know that for sure.
But let me finish on a positive… The run of Bray Wyatt through all the ups and downs has hooked me emotionally more than any other character has ever done. Wrestling is one of the things in my life that is always there when I need it, and 'The Fiend' Bray Wyatt has been at the forefront of that.
Thank You Wyatt. I will be eternally grateful more than you will ever know.
See Ya!
Josh.