A one match show… on a gimmick-based PPV… where neither ladder match is the headline story. Sounds odd right? Well if that has made sense it was for this show, on one famous night in Chicago. At this time in 2011 we were still well in the era of John Cena as THE guy in WWE, but people were starting to want something different… The names in both Money In The Bank matches showed that WWE were trying different things at this time, and on top of that we had Christian (previously a pure tag team guy) facing perennial 'top guy' Randy Orton for the World title… But of course, nobody remembers this show for any of that. July 17th 2011 was about one match, and in particular one guy. One guy who proclaimed himself as 'the Voice of the Voiceless' and looked to be the one to go up against everything that he perceived to be wrong with WWE. Personified in these two roles or… different ways of thinking… On the side of WWE as the company man, trying to fight for Hustle, Loyalty and Respect was WWE Champion John Cena. And going against him was a man who made a sinister yet confident series of claims in the run up to the show… It was a time where the lines between reality and fiction were blurred an awful lot, and although the aftermath of this night maybe underwhelmed, the build to this show and this match demonstrated not only some of the best storytelling the company ever has put out, but was the time for a true genius and a sadly lost star of Professional Wrestling…
(APOLOGIES FOR THE LACK OF QUALITY, BUT THIS INTRO VIDEO FOR THE PPV IS WAY TOO GOOD TO LEAVE OUT)
So the stage was set for one of the most historic nights in company history… But did it deliver… Well, let me tell you how it went down with my review of WWE's Money In The Bank PPV from 2011.
---
Your commentary team for this show was Michael Cole, Jerry Lawler and Booker T. Tony Chimel and Justin Roberts split the ring announcing duties.
Daniel Bryan defeated Kane, Sin Cara, Wade Barrett, Sheamus, Justin Gabriel, Heath Slater & Cody Rhodes to win the SmackDown Money In The Bank ladder match
Surprisingly big pop for Sin Cara coming out first. Most others got lukewarm reactions at best, even Daniel Bryan who Michael Cole called a nerd when he came out.
I can't say the start of the match was spectacular, but I can say everyone worked very hard and took some heavy bumps. Booker T calling Daniel Bryan a superhero was hilarious. The crowd really appreciated the high flying of Sin Cara, Gabriel and Bryan. It was very even with nobody getting a real advantage on the rest, but it was really fun as it went on. Sin Cara with the Spanish fly on Bryan off the top got a deservingly big reaction, they really dropped the ball on that guy didn't they?… Tremendous few minutes of the match in the clip below…
The crowd were on fire during this match. They cheered Sheamus loudly after he obliterated Sin Cara. They stretched the luchador out after that. Kane, who had won the match the year prior, looked favourite after taking down Sheamus and later both Rhodes and Bryan, only for Barrett, Slater and Justin Gabriel to stop him form climbing up the ladder. Cody tried to take advantage of the opening they left, only to then be stopped himself. Daniel Bryan tried to sneak up after, but again the former Corre teammates all went at him together,… Wade Barrett then tried to layout a plan to Slater and Gabriel for them each to watch a side so that eh could then climb the ladder… but of course they both eventually pulled him down and then laid in strikes on him. Cody later pushed the ladder over with both Slater and Gabriel on it… The crowd really helped this match on, they cheered most people in it and made a decent match into a good one. We had a crazy spot where Bryan was on Sheamus' shoulders, then Kane came off the top rope to clothesline Bryan! Kane dished out a couple of chokeslams, before Bryan went after him and eventually countered a potential chokeslam into an armbar and then a ddt that sent Kane out the ring. Bryan and Slater went at it on the ladder, with Bryan taking a neckbreaker from Slater that sent them both off the ladder. It seemed this good crowd didn't want to see Slater win, as they booed poor Heath whenever he even got on a ladder. Sheamus took down almost everyone, and then finally made his way up the ladder, but it was Kane who put a stop to that, hitting a chokeslam that sent Sheamus bouncing off a ladder that had been stacked between the ring corner and the ladder that was up. A whole host of guys stopped Kane climbing after, with Rhodes and Barrett hitting big moves to keep the Big Red Machine down, before Gabriel hit a crazy 450 splash off a ladder that was on the top turnbuckle to Kane right below him. Wade Barrett soon after seemed to be the man in charge and made his climb, with Cody Rhodes dragging him down and taking him out the ring. Daniel Bryan climbed the ladder, Cody went after him but with both men on one side at the top of the ladder, Wade Barrett went up the other and we eventually had Bryan knock Rhodes then Barrett down, and Bryan grabbed the briefcase. Massive crowd pop. On a night all about one of the indie scenes legendary figures, another of those legends wins the opener. This was a fun match to begin the show, credit to all involved. They maybe did the best they could of done.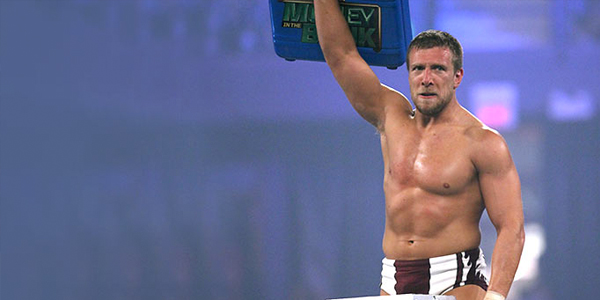 ***3/4
We were shown a shot from earlier tonight of Mr McMahon and John Laurinaitis arriving in a limo. With them also was someone commentary said was an Attorney for WWE. The idea being he was here to try and help them get CM Punk to, last minute, sign a new WWE contract tonight, and for Mr McMahon to avoid the embarrassment of Punk winning, leaving the company when his current contract expired at midnight, and taking the WWE Championship with him. We were told they were in a meeting with CM Punk 'right now'.
Kelly Kelly (with Eve Torres) (C) defeated Brie Bella (with Nikki Bella) to retain the WWE Divas Championship
This was horrible. I didn't need Jerry Lawler being… Jerry Lawler on commentary during this. And I didn't need the less able in-ring of the Bellas up against the epitome of everything wrong with the DIVA's division in this era. It went only 5 minutes or so thank god, wasn't much actual wrestling during this but more throws to the outside and throws back into the ring after, really poor-looking submissions, Kelly kelly's offence looked awful, Brie's was a tad better-looking… Crowd didn't care all that much… but this really wasn't a good era of women's WRESTLING in WWE… this boring, basic match from the women in 2021 would be absolutely panned. Kelly Kelly got the win after her K2 move, which was a form of leg drop. Nikki Bella said to her sister after "Look at her Brianna she doesn't even eat how can you not beat that?" which was… odd…
*
They billed our next match as the 'Battle of the Behemoths', and the pre-match video put over how destructive and monstrous both Henry and Big Show can be. It seemed from the video that Henry had repeatedly slammed and battered Big Show leading to this match, with all stemming from a Big Show attack on Henry that seemed to light a fire in the World's Strongest Man. With Big Show saying he lit the fire and he can put it out. Henry said that Stronger was better than Bigger. I'm underselling this video to be fair, it certainly made this match seem like a great battle of the monsters.
Mark Henry defeated Big Show
Henry got a decent pop when he first came out. The match went 6 minutes, but given it was two big guys and what was still to come on the show, maybe it was wise it was kept short. It was a proper big man match, but they both really went for it right from the off. It wasn't slow as you'd think it might be, these two giants gave it everything and every move and strike they did looked impactful. Big Show was on top at the start having took Henry outside he then took him down with a clothesline, but Henry kicked the steps into Big Show's knee. Mark Henry targeted the knee after, and kicked Big Show down for a 2 count. Henry slammed Show's leg down after, then used a single crab on the injured knee and leg… Big Show eventually got to the ropes to break the hold, and got himself a moment to recover after by kicking Henry away… Until Henry splashed Show in the corner, Show kicked away a second time then came off the second tope with a diving shoulder charge… but seemed to land on the hurt knee… Show called for the Chokeslam after, but Henry kicked at the knee and then hit a World's Strongest Slam, but only got a 2 count. The clip below tells you how Henry finished the job, and then didn't stop there…
I liked this for what it was.
**1/2
After Big Show was stretchered out following the post-match beating from Henry… we then had Mr McMahon and John Laurinaitis backstage. Vince said about how they'd been negotiating with Punk all week long and how it was almost surreal. Josh Matthews then came in and asked if they had worked out a deal with CM Punk, to which a very solemn McMahon said No. He called Punk the biggest ingrate he had ever dealt with, that he'd offered the most lucrative contract he had ever offered anyone and he turned it down. He said the CM Punk fans shouldn't blame him as he did everything he could to keep him on the roster. He was asked what Punk said and McMahon said Punk pointed at the door and told him to get out. McMahon said John Cena was the blame for all of this for wanting this match, and that if CM Punk leaves with the WWE Championship then god should have mercy on John Cena's soul. From the crowd reaction during this interview (as if it wasn't obvious), they cheered every mention of the possibility of Punk winning.
Alberto Del Rio defeated Alex Riley, Kofi Kingston, Jack Swagger, The Miz, R-Truth, Rey Mysterio & Evan Bourne to win the Raw Money In The Bank ladder match
I can't stand Alberto. I hate him with a passion. Horrible human-being, bang average pro wrestler and I've no idea how he has as many accolades as he had or how he was ever such a big character in WWE programming. So I really can't say I'm going to talk too much about this match. Feel free to check it out for yourself as it was a good match, maybe even better than the previous ladder match… but given who won the match… yeah I was checked out from the start I can't lie… Everyone armed themselves with a ladder to begin the match (and they said about how Truth was scared of heights… because of course he is…)… Heel Michael Cole was in love with The Miz, which was too much at times.
As I said the match was great fun, but I absolutely despise Alberto so I can't bring myself to talk too much about it, I'm not sorry. The finish came when Rey Mysterio and Alberto were both on top of ladders going after the briefcase, when Alberto tried to take Mysterio's mask off, and then he pushed Rey onto another ladder which went over and both feel to the ring floor. Alberto got himself together first and then climbed back up to grab the briefcase. Evan Bourne (who hit a shooting star press from on top of a ladder to everyone else in the match whilst on a ladder outside the ring) and Kofi Kingston deserve special praise for being the MVPs in this match, and also the crowd who were on fire during this one.
****
Next was a match that was part of one of the better feuds of this era…
Christian defeated Randy Orton (C) when Orton got himself Disqualified. As a result of the pre-match stipulation (that a title change could happen if Orton got DQ'd), Christian was crowned the new World Heavyweight Champion
Not a shock given it's RANDY ORTON and CHRISTIAN, but this was a very good match just like all the others these two had in this feud. Christian early on tried to bait Orton into using a chair, where he would then lose the title should he use it, but Randy chucked it away despite saying 'he'd love to'. Orton took out his anger on Christian with strikes and kicks, as the crowd seemed really in to the match (seemed some sections favored Christian mind). Orton later sent Christian into the steps, later back in the ring Christian took charge and got a couple of nearfalls, they exchanged strikes and Christian continued to get the heat on Orton. Randy got a roll up nearfall but soon got hit with a spinebuster, and Christian got a nearfall again… It seemed Christian was now the one getting frustrated, and he tried to set up the Killswitch, but soon Orton took both men to the outside with a clothesline over the ropes. Back in the ring Orton soon got another nearfall from a jackknife cover after Chrstian came off the top and it was countered, and it seemed to be a series of counters and counters so far… Orton got a great Dropkick for a nearfall, and Christian went up high again where the two exchange punches, eventually Orton was pushed off and Christian got a flying headbutt, but Randy kicked out at 2. Both tried their finisher, Orton his series of clotheslines, again tried an RKO but Christian got the Killswitch… but Randy kicked out at a very close 2 count. Chrsitian was now the one frustrated, and he looked to be setting for a Spear… but Orton moved and soon after hit a crazy looking neckbreaker type move for another close nearfall. Match was really getting hot now, crowd was on fire. Orton looked to set for the punt kick, but got a scoop slam… and off the back of that came the shocking finish, as you'll see in the video below…
I actually loved this match and the finish. Played in to the story so well. And at the end Christian again won the belt, and the crowd went wild. Usually this kind of finish is ASS, but this time it made so much sense.
Orton went ape shit on Christian after and destroyed him, hitting him with a monitor and then eventually putting him out with an RKO on the announce table, despite pleas from the officials and SmackDown GM Teddy Long. A still fuming Orton eventually left the ringside area, but decided he wasn't done yet as the crowd went berserk, he RKO'd him on to the announce table again and still looked livid as he screamed at Christian. He furiously marched up the ramp… and looked back on the chaos he had caused.
****1/4
Commentary spoke about the next PPV event, and asked if the WWE Championship would even be on that card, as now finally… it was time…
I always go on about pre-match hype videos, but this one below is THE best ever in my opinion. It's this or the My Way one for sure…
CM Punk defeated John Cena (C) to win the WWE Championship (as a result John Cena must be fired)
And after an incredible hype video, came one of the all-time great entrances…
Naturally when Cena came out it was thunderous Boos. There was no Cena playing to the crowd, he walked to the ring with a stoic look on his face, the title around his waist.. the crowd sign below showed the general mood of most in the crowd leading up to the match.
You can say whatever you want about John Cena, but contrary to what some believe he CAN indeed wrestle and wrestle he does very well. I'm going to say it right now, I think this is the best WWE main roster match of all time. It had absolutely EVERYTHING!
As tends to be the case in long John Cena matches they had a bit of a stalemate early on, hilariously Punk asked the crowd if it was he who they were chanting 'couldn't wrestle' but it was of course Cena. Cena then reversed a possible Anaconda vice into an armbar, and from there back on their feet they went into Cena getting a shoulder tackle, but again it was 50/50 stuff so far. Cena got a shoulder tackle but punk then got a hip toss and took Cena down to the delight of the crowd. Punk had a neck hold on Cena, Punk mocked Cena after and both tried for their finisher but couldn't get it. Punk hit kicks to Cena, and stomped on him in the corner, Cena after though hit a bulldog and got a nearfall. Booker T on commentary rightfully called this a chess match so far, Cena hit a hard clothesline for a nearfall and again went right back to a rest-hold after. Punk got a nearfall for himself, we had loud dueling 'let's go Cena' – 'Cena sucks' chants, another Punk nearfall, Cena after got a Fisherman's Suplex for another nearfall, he tried for an AA but punk got a ddt for the counter and a 2 count from the pin. CM Punk went right back in with a form of triangle neck hold, but Cena powered up until Punk threw Cena out the ring. CM Punk went after him and eventually had Cena draped over the apron and then came off the corner turnbuckle with a dropped knee to the back of Cena's neck. Another Punk 2 count followed… Punk went shoulder first into the corner post after Cena moved out the way, and after another exchange Punk again had Cena down in a hold… and eventually Punk came off the top with a crossbody for a nearfall, they played up to it on commentary as if Cena was hurt after in his knee, and Punk tried to suplex Cena over into the ring, but it was Cena who hit the move with a suplex to the floor below. John Cena dragged Punk back into the ring, but got a 2 count. Cena got a fisherman's suplex, and hit an elbow drop for another 2. He picked Punk up after and hit a slam, but again only got 2. They had a stiking exchange after with Cena's punches booed, and Punk's kicks and then punches loudly cheered, from here Cena caught Punk off the ropes in an abdominal stretch (which is a move I can't say I've seen Cena use that often, although he always pulls out unique moves in big matches),… Punk got out with a hip toss but then took each other down. Cena hit the running shoulder tackles and tried to drop Punk, but was counted and rolled up and CM Punk got a nearfall. Cena moved out the way of a knee to the corner and then did slam Punk to the floor, the crowd booed loudly as he set for a 5 knuckle shuffle, but cheered as Punk kicked Cena in the face and sent him outside. Punk then hit a dive through the ropes to Cena on the outside (crowd going wild all match by the way), CM Punk broke the referees count and then tossed Cena in, Punk went to the ropes and tried for a springboard crossbody but Cena moved, he again set for a 5 knuckle shuffle… and this time got it… then tried an AA but Punk landed on his feet, he then hit a series of kicks to takedown Cena and got a 2 count after. Punk picked Cena up for a GTS but got a gutwrench suplex for his troubles, but only a 2 count. Cena waited for Punk and then went for the AA, again Punk countered with a couple of hard knees right to Cena's jaw and then a bulldog… Punk hit a springboard strike, but Cena just about got out of the pin in time. Punk hit a number of kicks to Cena, who waited and picked his moment to lock in the STF… Punk tried and eventually reached the ropes to the delight of most of the crowd. Cena went after Punk, who responded with a hard kick to the head, and got another nearfall. Punk went to the top rope, and from there hit a crossbody but Cena caught him and tried an AA, Punk countered into a GTS, but Cena countered from that into another STF (tremendous exchange of moves there, and rightfully the crowd loved it)… After Punk tried for the ropes, Cena pulled him back to the middle of the ring… but Punk somehow countered into an Anaconda Vice! Crowd were losing their mind it was incredible… from here Cena soon powered up, and hit a huge AA… but only got a 2!!! Cena then went to the top rope in a rarity for him, although Punk just about caught him in a powerbomb for another nearfall. Punk tried to will himself back up and gee up the crowd as he signaled for the Go To Sleep… He got Cena up but Cena used the ropes to knock Punk down. John Cena again came off the top and got the leg drop to the back of Punk's neck, but again only a 2… Cena somewhat laughed such was his disbelief he couldn't get the job done… Cena took his time and waited for CM Punk… and finally he went for an AA and again got it… and again a 2 count (maybe the closest all match)… and again crowd went wild. Cena even argued with the ref about the call, which given it's JOHN CENA says it all… Cena got Punk up and in the corner got him to the top rope, both men looked exhausted and Cena seemed to try for a 2nd rope AA, but Punk fought out of it with elbows the the head of Cena, and Punk then took charge with a hurricanrana off the top. From here Punk hobbled at Cena in the corner and hit a running knee, then got him up for a GTS and got it but hit Cena in the ribs and from here Cena fell to the outside… Punk tried to go after him, but he himself was so exhausted… Punk somehow got Cena back in the ring… and this was when Mr McMahon and John Laurinaitis were shown at the top of the ramp… with everyone a little confused and looking on John Cena took advantage and got Punk in another STF… This was when McMahon instructed Laurinaitis to get the bell rung… another 'screwjob' looked to be happening… but it was CENA who stopped it by punching out Laurinaitis before he could get to the timekeeper's area to ring the bell. Cena spoke towards McMahon and told him it wasn't going to go down that way… and that was when Cena's own pride made Mr McMahon's nightmare and the dreams of Chicago come true… Cena rolls back into the ring, Punk pick's him up, GTS, 1… 2… 3! When I say this crowd went absolutely fucking wild I can't state that enough… Mr McMahon as you'll see in the clip below looked devastated. CM Punk had done it, and now in less than 2 hours he was leaving WWE with it's holy grail in hand.
This match was fucking incredible. I can't really put it any other way. So it deserves something I've now only done 3 times in over 230 blogs…
****** (yes, that's SIX)
McMahon, funny enough wasn't up for celebration, and soon called for Alberto to come out and cash in his briefcase… Put as the Mexican ran out Punk soon put a stop to McMahon's last ditch effort with a swift kick, and then realizing he had finally done it, Punk did exactly what he said he'd do…
Going through his loyal Chicago fans, CM Punk blew the WWE and it's chairman one last kiss goodbye…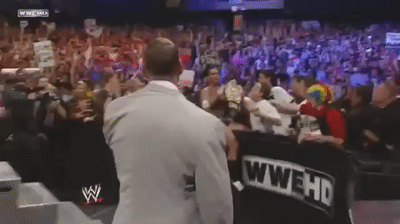 And we were left with the unthinkable… Now two things… we all know irl that CM Punk had actually signed his new WWE deal during this show and then of course came back two weeks later, the WWE version of the summer of Punk flopped, and we later got his legendary title run which was ended by The Rock of all people… and from there CM Punk in WWE was never really the same and he went down a path that eventually saw his walkout for real in January of 2014.
But I will say that if CM Punk is one of professional wrestling's true artists, then this night was his Mona Lisa. Overall this show was great, but when a match is a one match show and then that one match is everything this was it certainly doesn't do any harm. A good show with an unbelievably good and well done ending. And 10 years ago WWE proved they can do exceptionally cool shit when they went to… On this night everything related to CM Punk was what he said he was… The Best In The World.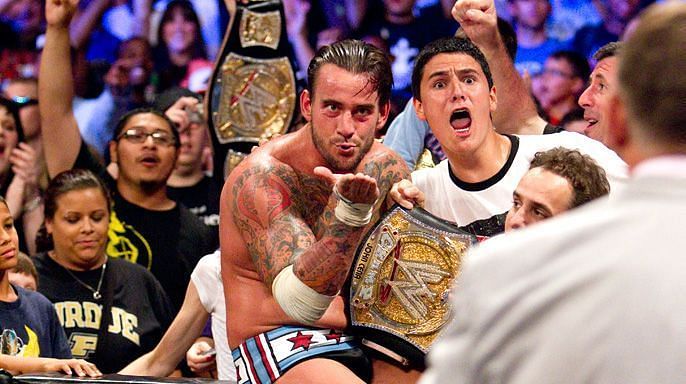 Josh.