I hadn't originally planned on doing anything about TakeOver… but given the number of fans they had in attendance both nights, it certainly felt as close to a "normal" TakeOver as possible right now. So with the show fully now in the books it would be unfair to miss them out… so here's my review of BOTH nights of NXT TakeOver: Stand And Deliver.
*SPOILER ALERT* … I FUCKING LOVED both nights!!!
---
Night 1
I didn't see most of the pre show on Night One. But in the one match they did have, Zoey Starks beat Toni Storm in what was a decent match. Interesting to me that had Starks go over the most established star, but in a good way though. It certainly will do more for Starks winning that it would've done Storm. Look out for a great pair of interviews conducted by a certain former NXT Champion, Samoa Joe.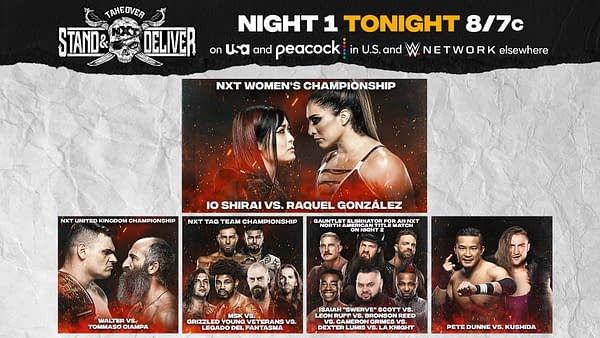 A few things I noticed right away: I LOVED the stage set up for the show with the big skull's head, I thought it looked cool as shit. Seeing and having a few hundred fans in the CWC really helped the show's general vibe and as a TakeOver crowd so often has done down the years, they more than played their part.
We then had Alice Cooper's guitarist and NXT regular Nita Strauss open the show with the national anthem.
Pete Dunne defeated Kushida
A great opener here, exactly the sort of match you'd expect these two to have, but in the best way. Pete Dunne showed his supreme array of techincal moves, with Kushida giving just as good as he got. I expected Pete to win this going in and he did, he seems to be really being protected as a big deal since he's turned more heel in NXT US and it's really cool to see. Kushida will be fine, he's good enough that this loss won't hurt him too much, whereas Dunne I feel has to be considered in the top end of heels in NXT right now. Great stuff to start the main show.
****
Bronson Reed defeated Isaiah "Swerve" Scott, Cameron Grimes, LA Knight, Dexter Lumis, and Leon Ruff in a Gauntlet Eliminator Match to earn an NXT North American Championship match on Night 2
This had the potential to be a little muddled as multi man matches can sometimes be, but credit to all involved but this was really fun stuff to watch. All the guys involved really brought their A game and the right guy won the match I felt. He was certainly the star of the match to me. Ruff came out but was jumped by Scott as he came out, the two have been feuding for a little bit with Scott having much more of an edge to him since he turned more heel. Eventually this led to Ruff (despite being the only guy in the match to actually hold the North American title before) being eliminated first by Swerve. Surprisingly Dexter Lumis went out next with LA Knight taking advantage of Lumis being focused on Cameron Grimes, who he had in his submission at the time, by rolling him up for the pin. Lumis has kind of had his thing with the entirety of The Way prior, so maybe he's had his time already, but there were many who thought Lumis might win here… Bronson Reed eliminated Knight not long after with a senton (Knight now with a couple of defeats already since coming to NXT… which is.. something). Cameron Grimes was next to go after his temporary alliance with Isaiah Scott fell apart… the two trying to work together to the down the bigger Bronson Reed, before both tried roll up with a handful of tights and it was Scott who got the 1,2,3 to leave himself and Reed as the final 2. After a heck of a final bit it was Reed who got the win with a huge powerbomb, and Alabama Driver and finally his signature Tsunami Splash (which coming from a huge guy is a sight to behold) for the win. Reed continues to shine in NXT, what an athlete he is. Sets up what should be a spectacular match with Gargano (SPOILER ALERT: it was).
****
We had another promo for the arrival of NXT's newest superstar. The FKA Taya Valkyrie of Impact Wrestling, someone who has been towards the top of my dream signees to WWE for some time, so I'm very much looking forward to seeing what she brings to the table. I'm not going to complain that she's coming to NXT (she'll be booked better here I'm sure), but she could be on Raw or SmackDown immediately in my opinion.
Then… it was TIME!!! Two of my absolute favourite wrestlers in the world. I was pumped for this one. It didn't disappoint.
Walter (C) defeated Tommaso Ciampa to retain the NXT United Kingdom Championship
My goodness, this was FUCKING GREAT! Notably from the off Ciampa was a man of his word, he had spoken in the build to this match that he had heard the talk that he was not the same Ciampa who dominated NXT in 2018 and into 2019. And he came out here with a freshly shaved head, and back without the longer tights he has been wearing recently. He looked like the Ciampa of old again, would he perform like him? Well, yes is the answer. Walter was Walter. We had an a great spot where he went for a typical huge chop on the outside but Ciampa moved and Walter chopped the announce table, and really left his mark. This seemed to hamper him a little as the match went on, and my word this match was so good. Both guys did their usual stuff, Ciampa had his best outing for some time and you only have to look at how red Walter's chest was after the match to know the level Ciampa brought the fight to the giant Austrian in this one. Walter might be the best heel champion in wrestling… his incredible look is blatant of course, but just how in his matches he somehow manages to make you think there's a chance he might just lose, every time he makes you wonder if the impossible could happen, and then he chops the shit out of someone and he wins and breaks our hearts. But this match was so great, Ciampa is well and truly back. Where he goes from here is a mystery, but lets hope he keeps this momentum going and whatever it is he does he does so as The Blackheart we all know and love. But yes this was back and forth, and joins the plethora of great Walter matches in what is now an over TWO YEAR run as champion… and it will go on and on for a while I hope. Tremendous stuff. Oh, and Walter won with a huge CHOP which I think a sledgehammer might of done less damage.
****3/4
MSK (Wes Lee and Nash Carter) defeated Grizzled Young Veterans (James Drake and Zack Gibson) and Legado Del Fantasma (Raul Mendoza and Joaquin Wilde) to win the vacant NXT Tag Team Championship
This was fought at a frenetic pace throughout but was thoroughly enjoyable to watch. 3 very solid, proper tag teams each with their own unique style, and multi team tag matches are often tricky but these 3 worked it really well. I was difficult to think of who the stars were because all 3 teams brought their A game. I would've been happy with any of these three teams getting the win, but it was nice for the feel good story to have the exciting MSK win the titles. They add that to their Dusty Rhodes Tag Team Classic victory a short time back, in what has been a phenomenal start to their WWE careers. But to the victors go the spoils, and I must say just how much a joy it is to watch Wes Lee perform. So unique in his style but he does everything so effortlessly. When bigger crowds are able to return this team are going to be one of the biggest babyface acts in the whole of NXT in my opinion. An emotional moment as well given that Nash Carter's father sadly passed away not long ago. Wonderful babyface win.
****1/2
We saw Bronson Reed interviewed after his win, and looking ahead to his challenge for the North American title to come…
We also saw Stephanie McMahon and one of NXT's newest additions to their women's roster Sarray sat watching the show. Sarray was one of the top female wrestlers in Japan before making her delayed move to America and NXT earlier this year.
It was then time for our Night 1 main event…
Raquel Gonzalez (with Dakota Kai) defeated Io Shirai (C) to win the NXT Women's Championship
They did a quite brilliant job of making this match feel like a HUGE deal. From the old school ring introductions, to the great pre-match video, both Gonzalez and Shirai came across as huge stars before the match had even started. And when they went at it they did indeed DELIVER! Gonzalez's rise has been gradual since her debut in this guise just over a year ago, and from there she has slowly but surely become THE woman in NXT. I had called her title win her to basically everyone I spoke to about this show going in, and it's much deserved in my opinion. As Triple H said to the selected media on the post TakeOver medial call, Raquel is simply the right woman at the right time to end what has been quite the reign from Shirai. An amazing run as champion that has seen her beat the likes of Rhea Ripley, Tegan Nox, Candice LeRae, the list goes on and on, and I echo the thoughts of one Shawn Michaels in that Shirai may well be the best female wrestler in the entire world. She showed as much in this match as the high flying but technical Shirai fought hard against the powerful yet athletic challenger. Dakota Kai came out with Gonzalez but then I think she went to the back and she didn't factor into the match at all, aside from one moment she went at Shirai but her influence on the result was . Which was wise I felt as this match didn't need interference. The spot of the match was no doubt when the fight went to the outside, and Shirai in typical fashion dived of the skull at the top of the entrance ramp onto Gonzalez below. Phenomenal stuff from a phenomenal performer. But eventually it was Gonzalez who got the win after not only kicking out from Shirai's signature moonsault, but she then followed up not long after with a big powerbomb to end a very good match.
****1/2
What now for Shirai I'm not sure about. It would seem an obvious possibility that she seeks pastures new in WWE, but then again there's so many talented females performers in NXT I've no doubt there's plenty that Shirai could do should she stick around. But for now, and to close Night 1 we congratulate and mark the start of the reign of Raquel Gonzalez. Who could or will stop her I've absolutely no idea, but I'd hope it be the start of a dominant and long title reign until the right babyface challenger comes along. Night 1 of TakeOver: Stand & Deliver… DELIVERED for sure. A GREAT show and maybe the best TakeOver show of the pandemic era.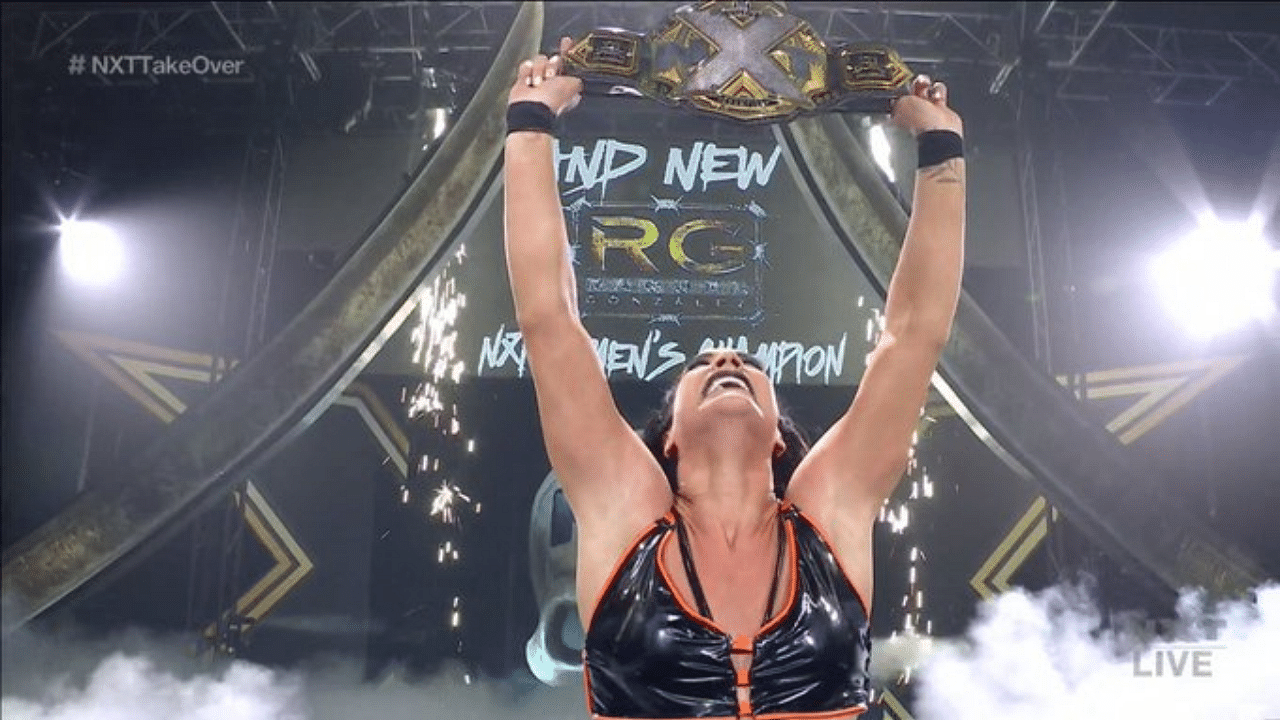 And we weren't done yet of course…
Night 2
I saw more of this pre show than I did night one. So I did see the match they had on here, with the oddball team of Killian Dain and Drake Maverick beating Breezango to become the next contenders for the tag titles. MSK vs them will certainly be a fun spectacle. We had more Samoa Joe sit down interviews as well, this time with former NXT rival Finn Balor and the champion's modern day challenger.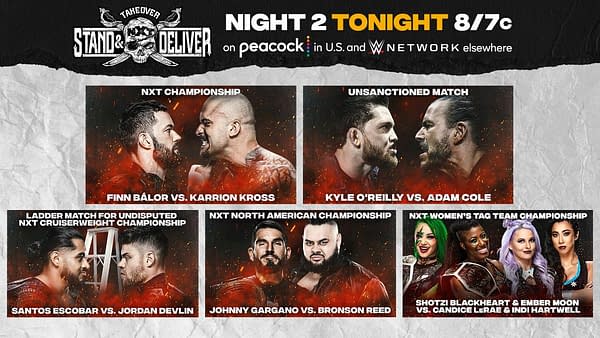 Our musical performance for Night 2 was NXT regular Poppy. I don't know what you think but I think she's cool as fuck. She did a great cover of Adam Ant's 'Stand and Deliver' and then did her own new song.
Santos Escobar (C) defeated Jordan Devlin (C) in a Ladder Match to become the Undisputed NXT Cruiserweight Champion
Santos Esobar is SUCH a star. It's a shame what has been a solid reign for Devlin has to end, but needs must. These two had a very solid and entertaining opener, wasn't just ladder high spots but the actual wrestling stuff they did too was great. A strange one given we had two heels here, but they had a good match and as I've said they had to do it. Devlin I'd presume now goes back to NXT UK and does his thing over there (hell of a spot at the end here with Devlin coming off the ladder and absolutely crashing into another ladder in the corner of the ring below, looked brutal), and Escobar continues what has been a heck of a run. He had a really cool moment after the match where his son joined him and his Legado Del Fantasma teammates as they celebrated the win with both belts. Good stuff.
****
The New NXT Tag Team Champions were interviewed backstage…
Ember Moon & Shotzi Blackheart (C) defeated The Way (Candice LeRae & Indi Hartwell) to retain the NXT Women's Tag Team Championship
Really good outing for all 4 of these women here. Shotzi and Ember came out together on Shotzi's tank and came across as a big deal. I actually had a small thought they might do a title change here, but I guess given the belts are still new, and that Ember and Shotzi really only just won them, them retaining made sense. The match was really good fun, Ember and Candice are sublime and Shotzi might be the most improved performer in the whole of NXT in the last year or so. But Indi Hartwell was right there with them all. Pretty big and a stacked women's division in NXT … so wonder who steps up next… Final word on this match; shout out to Ember Moon for doing the signature taunt then hit spot from Road Dogg, given his recent health issues. A cool touch.
***3/4
Olympic wrestler Gable Steveson was watching the show… might be worth remembering his name…
So after not the best start to the night for them, how would the other half of The Way get on… well… better was the answer.
Johnny Gargano (C) (with Austin Theory) defeated Bronson Reed to retain the NXT North American Championship
Again this was pretty much what I expected, but again that's definitely not a bad thing. Bronson Reed did himself no harm at all in defeat, showing again what an unbelievable athlete he is. There were many times during this I thought Reed might do it. And once again Johnny Gargano showed why he is, in my opinion, THE greatest NXT performer of all time. In-ring he's amazing, and his character work is something else. He was the perfect foil to Reed here. After a back and forth match it took 2 big ddts to get the win for Gargano.
****1/2
Ahead of the NXT title match we had a few notable viewers watching on from the crowd… hmm…
Karrion Kross (with Scarlett) defeated Finn Balor (C) to win the NXT Championship
I LOVED E-V-E-R-Y-T-H-I-N-G- about this match. The entrances made both guys seem like MEGAstars. Kross with his gladiator inspired gear…
Balor with the shots of his previous TakeOvers as he came out.
The match early seemed to be both guys trying to one up and out-do eachother, but when the pace picked up my word it was brilliant. They really looked like they wanted to hurt one another, there was even a point when Balor targeted Kross' midsection where i genuinely was worried Kross had an abdominal injury. Should mention also Finn had a red cross marked on his shoulder, the injury that led to him forfeiting the Universal title all those years ago. Kross hit all sorts of throws during this one, and after Balor continued to try and target the mid section with dropkicks and stomps, and even a Coupe de Grace, Karrion Kross finally got the win with a couple of hard , clubbing shots to the back of the head. And that was enough for the 1,2,3. All feels right again in the NXT world… The title he never was beaten for is once gain the property of Karrion Kross. And much like with Io last night prior we witness the end of a great title reign full of big matches and moments, so credit to Finn for that. But now the title is back around the waist of the monstrous and quite brilliant Karrion Kross. GOOD SHIT!
****3/4
And then it was time for the second of our co main events. And if you thought Kross vs Balor was physical and brutal, you haven't seen nothing yet…
Kyle O'Reilly defeated Adam Cole in an Unsanctioned Match
My goodness. Much in the same way I kind of had to watch the first Gargano vs Ciampa match back a second time to really appreciate it and how good it was, this was the same. I've now seen twice the full FORTY MINUTES that these two former friends turned bitter enemies absolutely brutalized eachother for. They used everything to do so too, from chairs to chains, and even Cole putting himself and O'Reilly though the entrance ramp flooring. An absolute WAR between these two that will live long in the memory. This had a real big fight feel, they even had the security guards in the ring surrounding and separating both guys right up until the bell rang. Both guys have new music so sadly the great Undisputed Era music is no more, and we got no Bobby Fish or Roderick Strong during this one either. But if Triple H's comments in the post show conference call are anything to by, Tuesday's NXT tv will have all the fallout. And I don't think these two are done just yet. But as I said an absolute WAR, PERHAPS it went too long, but I still thought it was a great great match. And if Gargano is the best performer in NXT history, Adam Cole maybe right behind him.
But interestingly tonight was Kyle O'Reilly's night. After a brawl began things, the match was focused around a chair after that, I think Cole even had one with the UE logo on. Cole smashed O'Reilly with a chair over his back, and not long after O'Reilly suplexed Cole onto the chair and then immediately put him in a leg lock. O'Reilly is SO good. After that Kyle O'Reilly found a big chain and tied it onto the ring rope, but Cole hit a neckbreaker onto the chain. Kyle though cameback as he wrapped the chain around his foot and kicked out at Adam Cole with it a few times. Cole eventually clotheslined O'Reilly with the chain in hand. In another part of the match O'Reilly used the chain for a submission but Cole hit him with a tire-iron he had got earlier from the outside. After a close nearfall form a superkick Cole was furious at not getting the win and so hit out at the referee. He then would hit the Panama Sunrise but with the ref down there was no pin or win. O'Reilly would roll out of the ring, Cole followed after him, and with O'Reilly locking in a standing gullotine, that's when Cole used the momentum to slam him through the nearby entrance stage. Great spot. Kyle tried absolutely everything to try and put Cole away, even Cole's own Last Shot wasn't enough. But it was a jumping knee off the top (whilst having a big chain wrapped around his leg for the extra impact) to Cole, whilst his neck was on a chair, was enough for the win. Cole was immediately placed on a stretcher with a tonne of officials and medical personnel in the ring to check on him as O'Reilly looked on. People might have differing views due to the length of the match, but I loved this. And with O'Reilly winning I guess he could be next to challenge Kross, but maybe Kross rematches Finn and O'Reilly goes again with Adam Cole and later down the line they do Kross vs O'Reilly for the title. MAYBE at a push, if Kross was to be Raw or SmackDown bound at any point, when arenas are full with fans again, given his rise as a singles star since the pandemic began, can you imagine the noise for a Kyle O'Reilly NXT championship win over the unbeatable Karrion Kross? There's something to think about… but that's then, and now we need to appreciate just how incredible the absolute battle between O'Reilly and Adam Cole was.
*****
Another great night to cap off a PHENOMENAL NXT TakeOver. As I said this felt like the closest thing we've seen during all this to the sort of TakeOver we all grew to adore. Maybe it was the few hundred more fans than they've been able to have previously, maybe it was just the time of year (Mania season) or the stakes of the matches on both nights. But this was a heck of a TakeOver. And with the Undisputed Era of NXT is well and truly over, the Era of NXT led by the likes of Karrion Kross, Raquel Gonzalez and Kyle O'Reilly has just begun. And I'm pumped to see where it goes.
Josh.