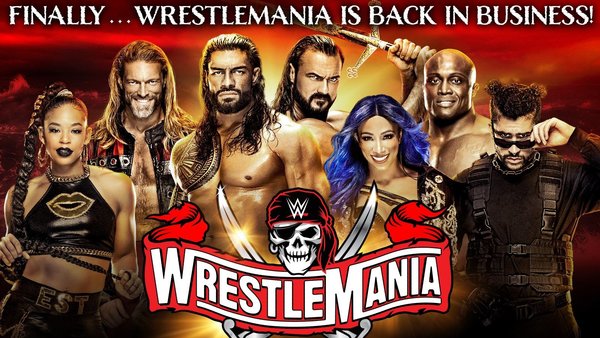 So here we are again… 12 months ago, on the Saturday morning with WrestleMania night one to come that evening… here I am, laying in this same bed. 12 months ago we were still coming to terms with what COVID was, and it seemed everyday the news got worse and worse. By then I'd been robbed of one of my loves in football, and it looked for a long time that we'd have WrestleMania taken from us too… in the end we got 'A WrestleMania' although it definitely wasn't a Mania like we are used to… but in 2021 we DO have WrestleMania as close to normal as we can. Things are looking up in terms of putting a handle on COVID, I'm not quite able to go to Huddersfield as I would like to enjoy the show with my friends, but I can say I had fun watching Mania at home last year, and looking at the card for both nights this year I have no doubt I'll have fun again.
As I said on the morning of Mania Night 1 last year I was in this same bed I am now, and after being in a real dark place for a few weeks prior (COVID taking things from me, still mending a broken heart the causes) it was wrestling once again that perked me up and helped me turn my mood around. This year I've again had a whole tonne going on in my life, but I've got a good handle on it all and mentally I'm in a fairly good place. I'm at a point where I am so excited for WrestleMania. Again for us all that love Pro-Wrestling I think seeing this show with fans back, and all the elements that we've come to know WrestleMania for are back, at least as close to 'normal' as we can currently get… SO… as I'm in a much better place than I was this time last year I'll keep the thoughts and deep feelings stuff to null now and let me get into my proper preview and predictions for WrestleMania 37 nights 1 and 2!!!
---
Night 1 (Saturday)
Drew McIntyre vs Bobby Lashley (C) (with MVP) for the WWE Championship
It's basically been announced prior, via combo of the official confirmation Belair vs Sasha will go on last and Drew saying over and over in interviews that he wants to be the first guy to come out infront of fans again, that this will open the show. And my logic is I don't think we want or need to see a 10-15 minute regular match… I'd have this be an absolute sprint. 5 minutes or so is all you need, big move after big move (Claymores, Spears, the lot) and just have these go at it with everything they have and the best weapons in their arsenal right from the off. They've done all they can on TV the last few weeks to make Lashley the clear heel (breaking up The Hurt Business, getting MVP and Lashley to hire Corbin to attack Drew last week) but I still don't think he'll be overtly booed. As for our boy Drew, whilst not quite as hot as this time last year I still think the time right for him to get the title back again here. Drew has been unbelievable during the last 12 months, he carried Raw in his back for most of the pandemic and he really does deserve it here. Should be hard hitting and brutal, could be great fun and excitement. Lets hope it lives up.
Lana & Naomi vs Natalya & Tamina vs Dana Brooke & Mandy Rose vs The Riott Squad (Ruby Riott & Liv Morgan) vs Carmella & Billie Kay in a Tag team Turmoil match for a WWE Women's Tag Team Championship match on Night 2
The women's tag division hasn't actually been on fire since we had the great Bayley – Sasha run over the summer, but here we have a few teams who are entertaining sure, but I'm not exactly expecting a classic here. And now we have ANOTHER team added after SmackDown, which admittedly anything with Billie Kay in is instantly better in my opinion, … I just worry this will be a clusterfuck. For me… I'd go with the story I though they were going with all along, and that's Lana getting her big moment and ultimate revenge on long term rival Nia Jax. Personally I'd love The Riott Squad to FINALLY get some shine, but WWE don't exactly have the best track record with the women's tag titles so I'm not hopeful… lets pray they surprise me here…
The New Day (Kofi Kingston & Xavier Woods) (C) vs AJ Styles & Omos for the Raw Tag Team Championship
This is clearly the Omos show isn't it? Given they've done nothing to tease Omos turning, it looks it'll be a showcase for him. And to be fair he couldn't have better people around him for it, it's always great to see The New Day on any card and the same goes for AJ Styles. But expect the 3 other guys to bump their asses off before big Omos gets his moments in the sun. New Raw tag champions here I'm almost certain, an impressive (hopefully) for Omos and also the completion of the grand slam for the great AJ Styles.
Shane McMahon vs Braun Strowman in a Steel Cage match
Again it feels like we know what's going to happen here: Shane is going to be the chicken shit heel and get launched all over the place by Braun, then he's going to show his 'super BEST IN THE WORLD' wrestling ability with awful punches and holds on THE MONSTER AMONG MEN and actual GIANT Braun Strowman, then some weird stuff will happen, Shane will go to escape and either jump voluntarily or Braun will cause him to fall off the top of the cage and then Braun will win and pose and roar. Can't say I'm buzzing for this one, can't say I have been about a Shane match for a few years now.
Cesaro vs Seth Rollins
I really hope they get time, I worry they wont. I guess I should be happy enough that these two unbelievable wrestlers have a singles match on a WrestleMania show , and I've no doubt at all whatever time they do get will be full of great wrestling. And the one thing I do want it Cesaro swinging Seth (ideally) 37 times… I can only hope… Would LOVE Cesaro to get the big win here, but either wont matter too much. Cesaro could certainly do with it more…
The Miz & John Morrison vs Bad Bunny & Damian Priest
Much like with Omos I feel it's fairly obvious this is set up to make Bad Bunny star. It's notable for me they've gone back to a tag match after originally advertising a singles between Miz and Bad Bunny. But in fairness it serves a few good purposes; Priest (a long time favourite of mien who I've watched grow and grow as a star since he came to WWE) gets to be in a featured match at WrestleMania and he's alongside a big star which can only be good for exposure for him. As for Bad Bunny, we hear he's been training for months at the PC, and he's been really good on TV each week with whatever he's had to do, so I'm hopeful this will be good fun. Miz and Morrison are about as reliable as you could get to do the job so this SHOULD be everything WWE want it to be.
Bianca Belair vs Sasha Banks (C) for the SmackDown Women's Championship
I'm just… I can't explain my joy at this going on last AS IT SHOULD. I could go on and on for my love for both these women as performers, but I will say how much I've loved watching and being proved right about the rise and rose of the EST. They have both done a great job in the build, and to be honest I'm really unsure as to which way they will have this go… but it would seem much more likely they have the babyface go over so purely based on that logic I'll predict that Bianca Belair will go all the way and win the title here. But above all else I'm just so so happy that this match is a thing in the spot it has on the show of shows. Good stuff.
Night 2 (Sunday)
Rhea Ripley vs Asuka (C) for the Raw Women's Championship
Given the obvious, large, Charlotte Flair shaped gap hanging over this match it feels like this was a match WWE never planned on booking, but I'm beyond happy they have done. Two of my absolute favourites for the title at WrestleMania, HAPPY DAYS! I think it's surely set up for Ripley to win the title given it's her main roster singles debut… the downside it it'll mean Asuka is now 0-4 at WrestleMania, but after ,any many years of having the chance taken away at the last moment we should just be happy the GREAT Asuka finally has her spot as a champion going in to WrestleMania. As for Ripley I can't really get excited about a possible Ripley title reign given Charlotte is surely just waiting in the wings..
Kevin Owens vs Sami Zayn (with Logan Paul)
An odd build to a match we have all wanted to see on a WrestleMania since the dawn of time. Long terms rivals turned friends turned rivals again Zayn and Owens will get their spot, and like with Cesaro and Rollins the night prior I just hope they get the time to do what they do best. The added element of Paul here isn't ideal, but as long as he doesn't have too much involvement during the match I'm all good. Again don't think it matters too much who wins, I just hope we get to see Logan take a stunner from Owens, ideally you'd have Logan turn his back on Zayn, Owens winning, KO and Logan celebrating and then Owens gives him the stunner to an even bigger pop. Fingers crossed.
[winners of Tag Team Turmoil on Night 1] vs Shayna Baszler & Nia Jax (C) with Reginald for the WWE Women's Tag Team Championship
I'm just so over it: I'm over with Nia and Shayna as champions, I'm over with Reginald, I'm over Baszler being anything but who she was in NXT and in her first few months on the main roster. I really don't care who wins the turmoil match the night before, as long as they become the new champions here I'm fine with it. And if we can get Shayna Baszler beating up Reginald as well that'd make my day.
Big E (C) vs Apollo Crews in a Nigerian Drum Fight for the Intercontinental Championship
Wow oh wow what a turnaround from both these incredible talents. From where they have been a year ago to now is remarkable. Big E has been brilliant as a singles star, and with Wale playing him out I can't to hear that Big E crowd pop given he's a Tampa guy as well. It's a shame in what seems to be his match stipulation that Crews kind of has to lose, but needs must, and if you want could always have Crews win the title after at some stage. But I'm looking forward to this so I'm hopeful it'll be good stuff.
Sheamus vs Riddle (C) for the United States Championship
Will this is a filler match if ever I've seen one… I don't know what's gone on with Riddle but they've took him into overdrive in the last few months and not in a good way to me. Matt Riddle in NXT was a super over and endearing babyface who could put on great matches, Riddle on Raw is an annoying prick… AND HE'S SUPPSOED TO BE A BABYFACE!!! Don't know and don't overtly care who wins, and I wouldn't be mad if Sheamus kicks his head off, which again give Riddle is supposed to be the babyface isn't good.
Randy Orton vs The Fiend (with Alexa Bliss)
If you're reading this you probably know of my love for The Fiend. So I won't go too much on that, and it's probably a lock Orton takes an L here, but I think this is all about the big showcase of the burnt up Fiend (can you even imagine what that entrance is going to be like). I'm not sure exactly how they will finally end this feud, I guess Orton or The Fiend and Bliss would have to go to SmackDown in reality after, but as much as it divides opinion… I personally refuse to listen to any criticism of The Fiend and everything related, and I (for once) DO NOT CARE OTHERWISE. I'm beyond excited for this.
Daniel Bryan vs Edge vs Roman Reigns (C) (with Paul Heyman) for the Universal Championship
What a brilliant build this match has had. All 3 have absolutely smashed it and each have more than stated their case for winning… who actually does? Honestly I've not a clue… but isn't that a GREAT thing? How many times have we seen big WWE matches where it feels like it's set up for x or y to happen, and its more about the moment than the result? I think it's a great thing that the result is really hard to call here and it will only add to the excitement during the match. Both Edge and Bryan have suggested it could be their swansong too, and Roman is this seemingly unstoppable force… All adds up to a big time WrestleMania main event. One which, like the rest of WrestleMania, I CANNOT WAIT for!!!
Josh.