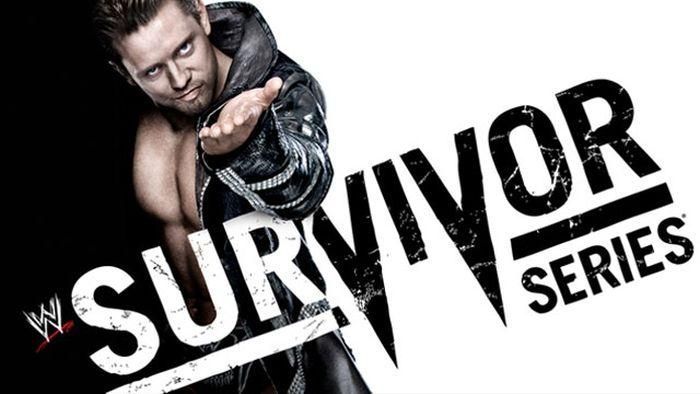 Well… if WrestleMania 30 (the show I did in my first blog of this 'Random Draw' series) was a GREAT show… then the show that I picked out as the 2nd of the series was… well it was not Great. If I had to summarise Survivor Series 2012 in one word I would say… dull… So let's just get this blog out the way and then I can get onto blog 3 of the series… anyway this show was only in my envelope of shows purely because I know what happens in the main event at the finish… so here we go, my review of the 26th edition of WWE's annual Thanksgiving tradition Survivor Series.
---
The show started with a video package on the history of Survivor Series before transitioning into this show, with a focus on; the KO Punch vs Brogue Kick (and how the big and deadly the finishers of both World Heavyweight Champion Big Show and Sheamus respectively, bare that in mind for later…), and also on if CM Punk's WWE Championship reign could get to a full year with it stood at 364 days before his defence tonight…
The show is in Indianapolis. Michael Cole, JBL and Jerry Lawler are your commentary team. Boy were they ever… those three men… my GOD on this show they came out with some of the most bizarre stuff… often I don't tend to notice commentary which I think isn't a bad thing. But this show was so dull at times it was hard not to miss some of the utter shite and just dumb dumb DUMB shit the three of them came out with. I'll be mentioning as I go just some of the stuff they came out with so stand by…
Ring Announcer Justin Roberts announced that our opening bout would be a "bonus" traditional 5v5 Survivor Series elimination match… WHAT… so to open one of the big 4 PPVs of the year we have a BONUS match!?!?! Is that not what the pre shows or the dark match is for???? My word…
Rey Mysterio & Sin Cara & Justin Gabriel & Tyson Kidd & Brodus Clay (with The Funkadactyls: Naomi & Cameron) defeated Tensai & Primo and Epico (with Rosa Mendes) & Prime Time Players (Titus O'Neil and Darren Young) in a traditional 5on5 Survivor Series Elimination Match
Brodus came out first and I already wanted to give up. Rey and Sin Cara had matching PINK gear. None of the heel team got any form of crowd reaction. When Tensai came out I said "oh fuck off" and Michael Cole just said "a huge man"… during the match Jerry Lawler said of Rosa Mendes "I'd follow her anywhere" in what wasn't even close to the worst thing commentary came out with during this show… Kidd and Primo started and looked good, but nobody in the crowd seemed to care. Gabriel came in and got a nearfall almost right away, Rey Mysterio soon after came in and got a decent pop, and apparently there was a 4v4 match on Raw that week between members of each of these teams (so you gave us almost this same match on free tv that week… ok… and now you've given us this as a "BONUS" on PAY PER VIEW… Gotcha…). Sin Cara and Primo did lots of acrobatic stuff and Sin Cara got a nearfall. Tensai came in and got heavy booed and chants of "ALBERT, ALBERT, ALBERT"… Titus also got booed coming in, Primo came in at some point too and I was already BORED… eventually Brodus Clay came in and cleared house and ran wild… he did get a decent reaction as he was doing this to be fair… eventually we got just Brodus and Tensai left. And Tensai then eliminated Brodus after hitting a back drop move (that Bray Wyatt used to do a whole lot)… Tensai not long after did the same move to JUSTIN GABRIEL and he kicked out at two… Brodus is billed over 300 pounds, Gabriel is basically a cruiserweight… and to double down and the dumbest of shit Tensai tried it again but Gabriel moved and then he pinned Tensai with a crucifix pin. FUCK OFF!!! Oh… oh… during all this shite JBL (after being asked what the markings on Tensai meant) said it was a Pizza menu from a place outside Tokyo… fuck off… anyway I was so done with this match so here's just the eliminations: Tyson Kidd eliminated Titus, Kidd eliminated Epico with a sharpshooter (because of course someone had to do a sharpshooter at a Survivor Series…), Rey eliminated Primo with a roll up off an arm drag, and Rey hit a splash to Darren Young to win it. And that was that. The babyfaces with FOUR survivors. This was alright but to open a PPV… NOPE!!! JBL said this was a "Great" start to survivor series… NOPE!!! And he then said how in the ring now was a former world champion and 3 future champions… NOPE!!!
(THE FOLLOWING LINK HAS A VIDEO OF THE END OF THE MATCH, COPY AND PASTE INTO YOUR BROWSER )
https://www.wwe.com/videos/team-clay-vs-team-tensai-survivor-series-2012
**1/4
Kaitlyn was backstage… and then attacked by a woman wearing a blonde wig (who turned out to be Aksana). Eve then came into show and faked concern for her challenger. Kaitlyn then pushed Eve down and faked Concern herself… right…
Eve Torres (C) defeated Kaitlyn to retain the Divas Championship
With Kaitlyn using the wig she ripped off Aksana to blind and take down Eve early on I was already getting serious Divas-era match vibes (NOT a good thing). Kaitlyn battered Eve early on, as she tried to escape from Kaitlyn. Kaitlyn smashed Eve's head into the announce table, Eve tried to escape again (via the crowd this time) but Kaitlyn brought her back. Kaitlyn again went at Eve ramming her head into the ground, Eve then hit two kicks to Kaitlyn (in what I believe was her first offence of the match), and then Eve was now ramming Kaitlyn's head into the ground. Eve got a nearfall, she slapped Kaitlyn twice, crowd was D-E-A-D, Eve choked Kaitlyn in the corner, and stood in the corner on the ropes doing a sort of Queen style wave to the crowd as they booed, Eve got a nearfall, and then she rolled over and her legs were wrapped around Kaitlyn's neck in a sort of figure 4 shape… this was when Michael Cole asked Jerry Lawler what he would call that hold?… King replied back 'hurtful… I would like to find out how much it hurts'… IM DONE… eventually Kaitlyn pushed Eve off the top and then off the apron, and back in the ring Eve begged for mercy before Kaitlyn hit a big slap and hit ragdolled Eve then a shoulder barge. Michael fucking Cole said that if Princess Kate survived the France affair maybe Eve can survive Kaitlyn (a french photographer had got topless pics of her via following her and William to a private retreat and tried to publish them)… JBL then said "god bless telephoto lense"… FUCK OFF… anyway Kaitlyn dropped Eve from a fireman's carry onto her knee and got a nearfall. Then after Eve pulled the ring apron skirt to trip Kaitlyn she then hit a neckbreaker for the 1,2,3. Eve (or "the veteran Eve" as Cole called her… Christ…) retains.
THIS WAS ASS!
1/2* (0.5)
Commentary suggested both teams in the actually pre-advertised 5v5 were dysfunctional. Cole lead into footage from the pre show where team leader Dolph Ziggler was with Alberto, Otunga, Barrett and Sandow. We also saw footage from the locker room of Team Foley. The scene saw Randy Orton sat in the background (he got a big pop), and then Daniel Bryan & Kane and also Miz and Kofi Kingston arguing. Mick Foley came in and shouted "ENOUGH" and gave a team talk. He eventually got them all to put their hands in and on 3 give him a "bang, bang" … which they all did, apart from Orton. Mick asked Randy "Randy you with us?"…. Orton stands up, looks at Foley and says "I hate you"… I DIED laughing. Randy Orton is THE BEST.
Antonio Cesaro (C) defeated R-Truth to retain the United States Championship
Cesaro cut an anti US promo on his way to the ring.
I'm so done with this show, and. I LOVE both these guys…
2 quick roll up nearfalls by R-Truth, really taking it to Antonio Cesaro until a headbutt and running shoulder block by the champion. He then took over with a series of hard strikes and then stretching Truth's body, the crowd chanted "USA" to try and will Truth back into it but after he almost got out of it Cesaro eventually had him in the corner and then hit a slam and a stomp for a nearfall. Cesaro was then squeezing Truth's chest on the ground, and then as the match went on we had more utter bullshit from commentary… I'm REALLY losing my shit with these fucking commentators on this show. I don't know if they've not had their medicine by my god they're intolerable at times!!! Jbl said how Cesaro was kicked out of his rugby league in Europe for being too aggressive. SECONDS later Cole says the EXACT SAME THING. Jbl calls him on it and Cole acts like nothing happened, and jbl moans how Cole also moments before called the all blacks South Africa (they're of course New Zealand)… jbl calls him a parrot and Cole just goes "now you know how it feels" as calm as you like… my god these guys are so fucking annoying… Cesaro was slamming Truth and kept hold of him via his chest, getting a 2 count eventually. Truth did get some strikes in and a roll up, but a Cesaro uppercut for a nearfall of his own. The crowd was DEAD as Cesaro had Truth grounded again, more USA chants fired Truth up and he soon hit a flying/spinning clothesline, Truth did his "what's up" and ran to Cesaro in the corner, and Truth dodges Cesaro again by dropping down onto a splits, and then getting a series of kicks for a 2 count. Truth for another nearfall with a suplex-like move, but he missed a scissor kick and got caught with a huge uppercut and then the Neutralizer and that was that. Cesaro got the pin to retain the US title. This was fine, but short as well (just under 7 minutes).
**3/4
Commentary spoke about The Rock, and how he'd be challenging for the WWE title at the Royal Rumble. They showed a tweet of his about the title match tonight, saying it doesn't matter who he faced he would be the next WWE Champion.
And he was right of course… but that's for another day…
We were then shown a recap of a Raw segment between AJ Lee and Vickie Guerrero (who had Dolph Ziggler with her). Vickie revealed some voice messages she had that AJ had sent to John Cena (I cba to recap it as it was trash, but AJ wanted some more of Cena put it that way). Cena then came out and eventually he and AJ took down Dolph.
So… on the PPV AJ Lee came out. She cut a promo (whilst getting that 'WHAT' treatment from the crowd), she said she had evidence of Vickie too… and talked about how Vickie had made her life hell with the Cena stuff… she says the best way to hide when you have a secret is to expose someone else and that's what Vickie has done… blah, blah, BLAH… why the fuck is this on a PAY PER VIEW?!?! Vickie then comes out, "what the hell are you doing?" She says… she got heavy boos, and was really screechy when she spoke to Lee. WHY IS THIS ON A PAY PER VIEW??? So after this complete waste of time AJ showed us her "evidence"… it was clearly mocked up and fake pictures of Vickie in various situations with Ricardo Rodrigues, Jim Ross and Brodus Clay… all of which AJ and commentary had a good old laugh at… I CANT BE ARSED… Aj said she wanted Vickie to feel as ridiculous as she has felt for the last few weeks. And THEN, as my friend said correctly when I recapped what was going on to him, my head well and truly WENT!!! TAMINA SNUKA comes out and jumps AJ (Lee had earlier reminded Vickie she'd be fired from her job running Raw if she touched her as would Lee from her job is she touched Vickie). Tamina hit a Samoan drop and then in 'homage' (apparently) to her father she hit a god AWFUL splash off the top rope. Vickie initially acted like she was angry at Tamina…
And then Vickie laughed. And that was that.
THIS WAS THE DRIZZLING SHITS!!! Why on earth this was on a pay per view, when it'd be a god awful segment on a Raw, I've NO idea…
Josh Matthews interviewed Paul Heyman backstage. He asked if CM Punk has anything left in his bag of tricks to beat John Cena and Ryback? Heyman asks Matthews if he can tell him what illegal tactics and tricks CM Punk has exploited in his 364 days as WWE Champion? Josh couldn't… this was great foreshadowing for what was to come later in the show… He went on to mention how Punk Is now 8th longest reigning wwe champion of all time. Heyman says whilst cena was busy chasing AJ, CM Punk was beating John Cena so many times even he has lost count. And whilst ryback was taking us back to the caveman era dragging his knuckles across the ring CM Punk was busy making history being first and only man to defeat ryback. He says punk is prepared to survive and thrive tonight, and that he is hands down the best of these three great competitors, and not only is he WWE champion but hands down the best in the world .This was GREAT. BY A MILE the best thing on this HORRIBLE show so far.
Sheamus defeated Big Show (C) by DQ in a match for the World Heavyweight Championship (no title change)
The hype video before this match, bare in mind the opening video for the show promoted this match as the KO Punch vs Brogue Kick and these two unstoppable moves… this video showed both guys kicking out of each other's finisher at the previous PPV… so… those moves you've built as unstoppable at the start of the show you're now showing both guys kicking out of them??? Right OK… I HATE THIS SHOW!!! This match was hard hitting of course, they exchanged strikes and Sheamus locked Show in the ring ropes and started clubbing away at him. Show then rolled out the ring to dodge a Brogue Kick. Sheamus then Knocked Show down on the outside, with Sheamus soon after coming off the top rope in the ring but getting caught with a mid-air spear from Big Show (which looked brutal to be fair). Sheamus was launched into the steps outside by Big Show, and in the ring Show hit a powerslam and then a headbutt, Sheamus tried to fightback but Show continued to take a methodical approach to further attack the Irishman. Show kept him grounded (Big Show apparently according to Cole signed an "iron-clad contract" earlier in the year that gave him license to do whatever he liked and he hasn't been the same since). Big show was on offence for quite some time and the crowd didn't like it at all, Sheamus tried to fight back but Show hit a kick and then came off the ropes and hit a big elbow drop for a nearfall. Big Show went back to squeezing Sheamus' shoulder, Sheamus hit some punches to try and get out of it but Show then hit a sideslam that got him a 2 count nearfall. Sheamus hit strikes back but got cut off again, Sheamus hit a kick and then jumped on Show's back for a sleeper hold, Show eventually got him off. Sheamus hit punches in the corner but then crashed into the corner post shoulder first, Show then trapped Sheamus in the corner and got a nearfall just after. Show then went for a VADER BOMB but Sheamus popped up and somehow managed to pull off an Electric Chair in a GREAT spot! It got a pop but wasn't enough to get the 3 count for Sheamus. With both men on their knees they exchanged strikes, Sheamus hit a knee then a flying clothesline to knock Big Show down. Sheamus really fired up, Big Show went for a choke slam but somehow Sheamus got out of it and hit an unbelievable white noise (when you think how HUGE Big Show is)… but Show kicked out! Sheamus set for the Brogue Kick, but Big Show moved the ref in the way. The ref was down for a while as officials and other refs came out to tend to him in the ring. But as this was happening and Sheamus was trying to be sure he was ok, Big Show came from behind him and hit the Knockout Punch… and that was the 1,2,3 with one of the other refs who came in the ring counting the pin and calling for the bell. Big show celebrates with the world title as one of the other refs is arguing with the ref who made the count. After they debated one of the other refs went to the ring announcer to explain the decision, and it was announced that in fact Big Show had been Disqualified and Sheamus was the winner, but of course no title change on a DQ. Show was fuming and he argued, and Sheamus soon after laid him out with a series of chair shots. Sheamus music played and he was pissed, Show begged for mercy but Sheamus hit him with the Brogue Kick before walking to the back as Show laid out on the ramp.
I don't quite get why Show was pissed. He retained the title either way, and I'm not sure why the fuck they had a false finish with Big Show retaining… to instead have another call be made… that also had Big Show retaining. Just seems really pointless to me. This was dumb as fuck. Alright match with a shite finish.
**3/4
Now… based upon line-up alone, this next match SHOULD be quite good… my GOD I hope so…
Team Ziggler (Alberto Del Rio, Damien Sandow, David Otunga, Dolph Ziggler and Wade Barrett) (with Ricardo Rodriguez) defeated Team Foley (Daniel Bryan, Kane, Kofi Kingston, The Miz and Randy Orton) (with Mick Foley) in a traditional 5on5 Survivor Series Elimination Match
(THE FOLLOWING LINK CONTAINS A VIDEO OF THE FULL MATCH. ALTHOUGH IT MAY OR NOT WORK)
Del Rio got his usual intro from Ricardo, which is a gimmick I kinda dig to be fair. They showed a clip of the horrid looking bump Cody Rhodes got on Main Event prior to this show that meant Otunga had to replace him. Ziggler was also Mr Money In The Bank at this time, so he carried the briefcase to the ring with him. Foley came out before his team, and really wasn't walking well. Team Hell No (Kane and Bryan), who were the tag champions as well, got a pretty big pop and there were lots of Yes chants from the crowd. Bryan of course replied with "NO" chants which was a great gimmick at that time, him and Kane as a team were so over! IC Champion Kofi Kingston was next (still in his Jamaica gimmick, despite being billed from Ghana, West Africa…), then Miz and finally Orton who naturally got a big reaction. I'm informed by the way that this match was originally Team Punk vs Team Foley, but then Punk was made to defend his WWE title so in came Ziggler to lead the team. That led to The Miz quitting the team, and then as a result of a fan vote he was voted into Team Foley as their final team member. Kofi and Otunga started. Commentary informed us that Otunga was 21-0 as a lawyer and JBL said he was 1-0 as a husband (they had a habit of reminding us all he was married to Jennifer Hudson EVERY FUCKING TIME he was on tv). Kofi started really impressively before Bryan tagged in, Sandow tagged in and quickly got a nearfall on Bryan. Bryan shouted "NO" as the crowd chanted "YES" and he hit his running kicks to the corner… here by the way… JBL said of Daniel Bryan that he was a vegan ("something else that nobody cares about, Tyson was a vegan til he bit Holyfield's ear off") and Jerry Lawler laugh… fuck sake… Anyway Sandow then rolled to the outside to signal he was done… but Kane went and got him back and soon Bryan tagged in Kane, he hit a chokeslam and that was it for Sandow. Kane and Bryan argued and pushed back and forth as Bryan refused the tag out, Kane thought about Chokeslamming Bryan… but this confusion allowed Ziggler to rush in and hit a ZigZag from behind. And then he pinned Kane and now he was out the match too. Orton and Miz argued also and then Orton came in and punched Ziggler, and then got a 2 count nearfall after a vertical suplex off the ropes. Kofi came in to go up against Dolph… and we saw a quite spectacular bump (that was a staple of their matches apparently). Bryan and Barrett came in, Bryan missed the corner kick as Barrett strikes, Wade drove Bryan into the ring apron, and got a 2 count. Otunga came in, and got a nearfall just as quickly as he was put into the YES lock and he tapped out. Del Rio came in and soon got a nearfall after a kick to Bryan, del Rio had a neck hold in, Bryan fought out, Del Rio got a back breaker, he then ran at Bryan in the corner but he moved and Del Rio flew to the outside over the ropes. Bryan then had the chance to tag in Kofi, and he ran on fire on Del Rio, he hit the Boom Drop and looked for Trouble In Paradise, but Ziggler caused a distraction… Kofi springboarded off the ropes with a crossbody and got a nearfall. Wade then came in, and he hit a tilt-the-world slam after the Ziggler distraction, he then hit the Bullhammer and got the 1,2,3 and Kofi was out and the crowd were sad. Randy Orton then came in, he hit a beautiful dropkick for a nearfall, then went back and forth, and not long after Randy put his hand out to Miz for a tag, but Miz didn't take it and Bryan tagged in much to Orton's annoyance. Bryan hit the 'NO' kicks and a missile dropkick for a nearfall. He hit more kicks, Wade hit a clothesline to send Bryan to the outside, del Rio came in and Bryan tried a Yes lock but Del Rio didn't let him get it in, and then hit an inziguiri kick in the corner and then slipped on his cross armbreaker and Bryan tapped out. The Miz now finally came into the match, and was all over Alberto, he then tags Orton, Orton does his classic stomps for a nearfall, del Rio got his own nearfall after snapping at Orton's arm, Ziggler came in and got a nearfall of his own… and AGAIN we got a ridiculous commentary comment; Cole and JBL mentioned about Del Rio's family and JBL said he had an "Uncle Psychedelico" and Lawler asked about Ricardo's relatives… his 'brothers Jose (Jos-A) and JosB… fuck me… ANYWAY… Orton and Miz seemed really fired and took it out on various members of the other team, eventually we had Miz take out Wade Barrett with a Skull Crushing Finale for the 123 and to eliminate him. Miz soon got a ddt on Del Rio for a nearfall just after, but Del Rio got a nearfall himself after a German with a bridge. Miz missed his clothesline to Del Rio in the corner, and then Alberto hit another step up Inziguiri to Miz in the corner and this got him the 1,2,3 and The Miz was now out. It was down to Orton on his own for Team Foley… and he seemed to be fighting a losing battle against Ziggler and Alberto until he got a great dropkick to Alberto. Orton got his classic scoop powerslam, and an inverted ddt to Ricardo, but this allowed Alberto to hit a kick for a nearfall. Foley then went at Ricardo also and the crowd went wild when he unleashed Mr Socko and the mandible claw. With Del Rio looking at Foley Randy tried to come and get the RKO but Ziggler accidentally hit Del Rio… Orton the launches Dolph away and then turns a cross armbreaker attempt by Del Rio into an RKO and gets the 1,2,3. Orton then set up for an RKO on a prone Ziggler and the crowd were eating it up… but then he changed course to instead go for his legendary Punt Kick… but Dolph shot up at the last minute and hit a super kick… 1,2…3!!! Dolph pinned Randy!!! Team Ziggler wins! Much to the crowd and my own surprise given Orton's amazing record at Survivor Series in the past…
This was a good, fun match. On this show it was very much needed. I'd probably rate it higher as a stand-alone but on this show it was hard to LOVE anything really the rest of the show to this point really had worn me down…
***1/2
Commentary practically repeated what they said about The Rock from earlier. Also now we had videos from fans giving their thoughts on who'd win the main event; first one said Punk, the second Ryback and the third had a father and his two children each of them backing one of the guys in the match.
The pre match hype video was good. But it really is all about can Punk retain rather than can Cena or Ryback win the title here… which tells me as a fan that Punk is winning right?…
CM Punk (C) (with Paul Heyman) defeated Ryback and John Cena to retain the WWE Championship
There was the classic mixed reaction for Cena, and weirdly it was Ryback who came out last as opposed to the WWE Champion… Punk early on played chicken shit heel trying to avoid any action, with both his opponents going after him. The crowd seemed more behind Punk than any of the three early, Ryback had his eyes raked by Punk as he want for him, and soon after with Punk sent outside it was down to Cena and Ryback in the ring. Chants of "GOLDBERG" (a staple of Ryback's run) can clearly be heard, and also chants of "let's go Cena, CM Punk" … so nothing nice for Ryback then… Cena hit his shoulder charge but couldn't get the AA as Ryback came in and cleared him out. Ryback then hit a series of kicks and then launches Cena over to the corner, Punk then hit kicks to Ryback but after a vertical suplex, Ryback then lifted Punk with a gorilla press into a fallaway slam. Cena hit a belly to belly for a 2 count nearfall, went right into a neck hold, but Punk came off the top onto both guys to break the hold, he then sends Cena outside, and then came off the top again to take down Ryback, and again off the top but this time Ryback catches him and drives Punk into the corner, although Punk then got the better of it but was still rolled up by Cena for another nearfall, Cena then tried an AA but Punk hit a ddt for a nearfall. Punk got a submission but Ryback lifted him up and hit a running powerslam, and Cena knocked Ryback down after but he just got right back up immediately as Cena was already thinking ahead, Cena was shocked. The two exchanged strikes, Cena got a running shoulder tackle but Punk then got Cena down and later sent him into the steps. Punk hit a springboard flying forearm off the ropes to take down Ryback, but Punk pushed him off at a 1 count. Punk hit a neckbreaker, and the crowd did the "feed me more" chants as Ryback powered up, he took Punk down with a backbody drop to the sound of more chants, he got the meathook clothesline and tried for the Shellshock, but Cena pulled Ryback's leg and got him into an STF. Punk broke this up coming off the top with an elbow, Punk signalled for the GTS but Cena got out of the attempt, the two exchanged strikes before Ryback took them down with a double clothesline and really fired up. He then launched CM Punk to the outside, and Cena before picking both guys up, although Punk and Cena fought it out… and then both of them decided it would be better to take out Ryback so they both laid strikes in on the bigger man. They both cleared one of the announce tables and hit a double suplex to Ryback to send him crashing through the announce table. With Punk and Cena in the ring it was John Cena who took charge with his classic shoulder tackles, the drop and then "you can't see me" into the 5 Knuckle Shuffle. Cena went for the AA but Punk turned it into a GTS… 1,2… but no 3 as Punk kicked out. Heyman and Punk fumed … and Cena hit an AA out of nowhere … but he also could only get a 2 count! There were chants for CM Punk, and he hit Cena with a number of kicks, and Cena tried to get the STF but Punk countered, he hit a high running knee to Cena in the corner, and tried for a running bulldog after but Cena got the STF locked in… Ryback though came back and pulled Cena out, hit Cena with a clothesline, loud chants of "FEED ME MORE"… he hit Punk with the meathook and the Shellshock… 1…2… Cena broke it up before the 3! Cena looked for an AA to Ryback but was counted with a Shellshock to Cena!!!
And then… the sole reason that this show was even a contender for me to watch…
(THE FOLLOWING LINK CONTAINS A VIDEO OF THE FINISH OF THE MATCH, COPY AND PASTE IT INTO YOUR BROWSER)
https://www.wwe.com/videos/the-shields-impactful-debut-survivor-series-2012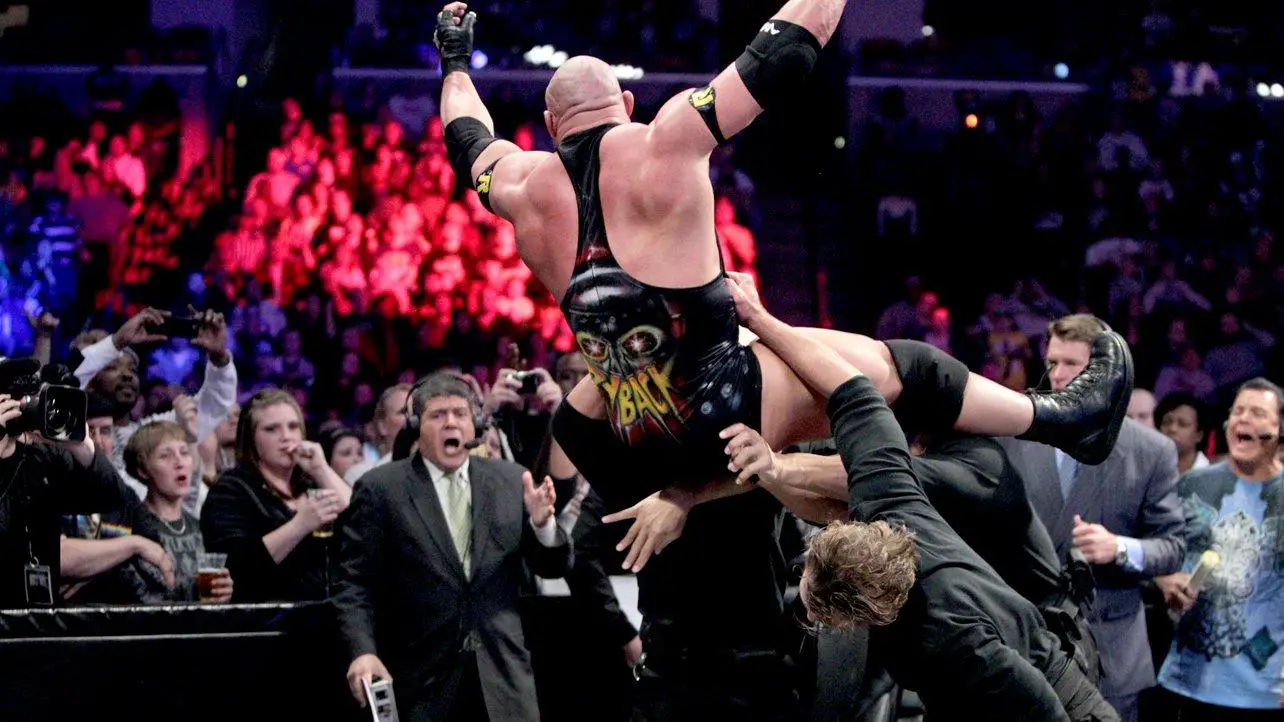 3 men dressed in black stormed the ring and attacked Ryback, they were identified by Michael Cole as being Roman Reigns, Dean Ambrose and Seth Rollins from NXT (those names ring any bells?)… They battered Ryback and eventually led him to the outside and put him through another announce table with a triple powerbomb… and this allowed for CM Punk to crawl over and cover Cena for the 1,2,3… CM Punk's WWE Championship reign would indeed go in to a full year. This match was decent but again the rest of the show let it down. They built it up all show as really all about Punk, so the result wasn't a surprise, the nature of the finish was of course. And would begin a story which would go on for many months and even towards Punk's upcoming defence against The Rock… but maybe one day I'll talk about that in more detail… but for now CM Punk is STILL the WWE Champion.
***1/2
This show was bang average, but will be remembered forever more for the finish of the main event. And as well as the debut of 3 future WWE Champions ANY show that ends with CM Punk raising the WWE Championship up high is fine enough in my books. Michael Cole said on commentary of the three debutants "those three men may have affected the long term history of the WWE here tonight"… I don't think any of us could ever of known just how true that statement would turn out to be.
Josh.