So this is the first post of my latest series. I've cleverly called it 'RANDOM DRAW', as I've put a tonne of random WWE PPVs, NXT TakeOvers, a couple of Raw and SmackDowns and WCW shows too from yesteryear, and each time I want to do a blog I'll pull a show out of a bag and review whichever show I pull out. For the first show I'm not sure I could've pulled out a more memorable show if I tried… and the line up nearly looked VERY different. The provisional plan for this show was as follows: Taker vs Brock (which did happen of course), CM Punk vs Triple H (AGAIN… but Punk walked out night after Rumble 2014), Sheamus vs Daniel Bryan (AGAIN… but then YES-O-MANIA happened and Sheamus ended up in the battle royal and Bryan ended the night holding both belts), and in the main event the plan was a singles with Orton and Batista (who was going to come in as the Hollywood superhero, win the rumble and then the mania main event and the titles… my GOD can you imagine… would've been Goldberg vs Lesnar Mania 20 multiplied by 10 with the crowd booing both guys out the building)… but the card didn't quite end up like that… Not only in terms of a WrestleMania was this a historic show, but one that will be remembered for two of the most historic WWE moments of all time. One of them was the crowning moment of the most unlikely and un-fancied (by the company at least) WWE Champions there has ever been. And the other moment was one that can be summed up with just one image. Two numbers, something which none of us ever thought we'd see. So here is my review of WrestleMania 30 from 2014; the night THE STREAK… was over.
---
We had the usual Mania intro video. It transitioned into focusing on WrestleMania 30 and New Orleans specifically, with a host of WWE stars as part of a Mardi Gras street parade.
After the opening title sequence, ring announcer Justin Roberts welcomed out the host of WrestleMania 30 Hulk Hogan…… Urgh …… He of course got a big pop from the 75167 fans in attendance (just go with it ok), as Michael Cole, JBL and Jerry 'The King' Lawler were on the call doing commentary. It was then a classic (or some would say generic) Hogan promo, but this one was infamous for his "Silverdome' gaffe (WrestleMania 30 of course being in the SUPERdome in New Orleans), a BothchaMania classic. Hogan's mentioning of 'never knowing' when a 'WrestleMania moment' could happen naturally brought out none other than Stone Cold Steve Austin! Another Giant pop, with Austin then taking the mic and mocking Hogan's Silver/Super dome gaffe, and then also hyped up WrestleMania and the crowd and he shows respect to Hogan. Again it was generic stuff but just seeing Stone Cold and Hulk Hogan together at WrestleMania was cool as shit! Then… it got better… THE ROCK came out to possibly the biggest pop of the three. He too made a funny Silver/Super dome joke and then more of the same stuff from him too. The 3 then shared some beers and WrestleMania 30 began with a super (or should I say Silver perhaps) cool moment that was great fun and everyone loved it.
Coming up next, well if that was an all-time opening segment, then next was an all-time classic video package and then opening match…
Daniel Bryan defeated Triple H (w/Stephanie McMahon) to earn a spot in the WWE World Heavyweight Championship match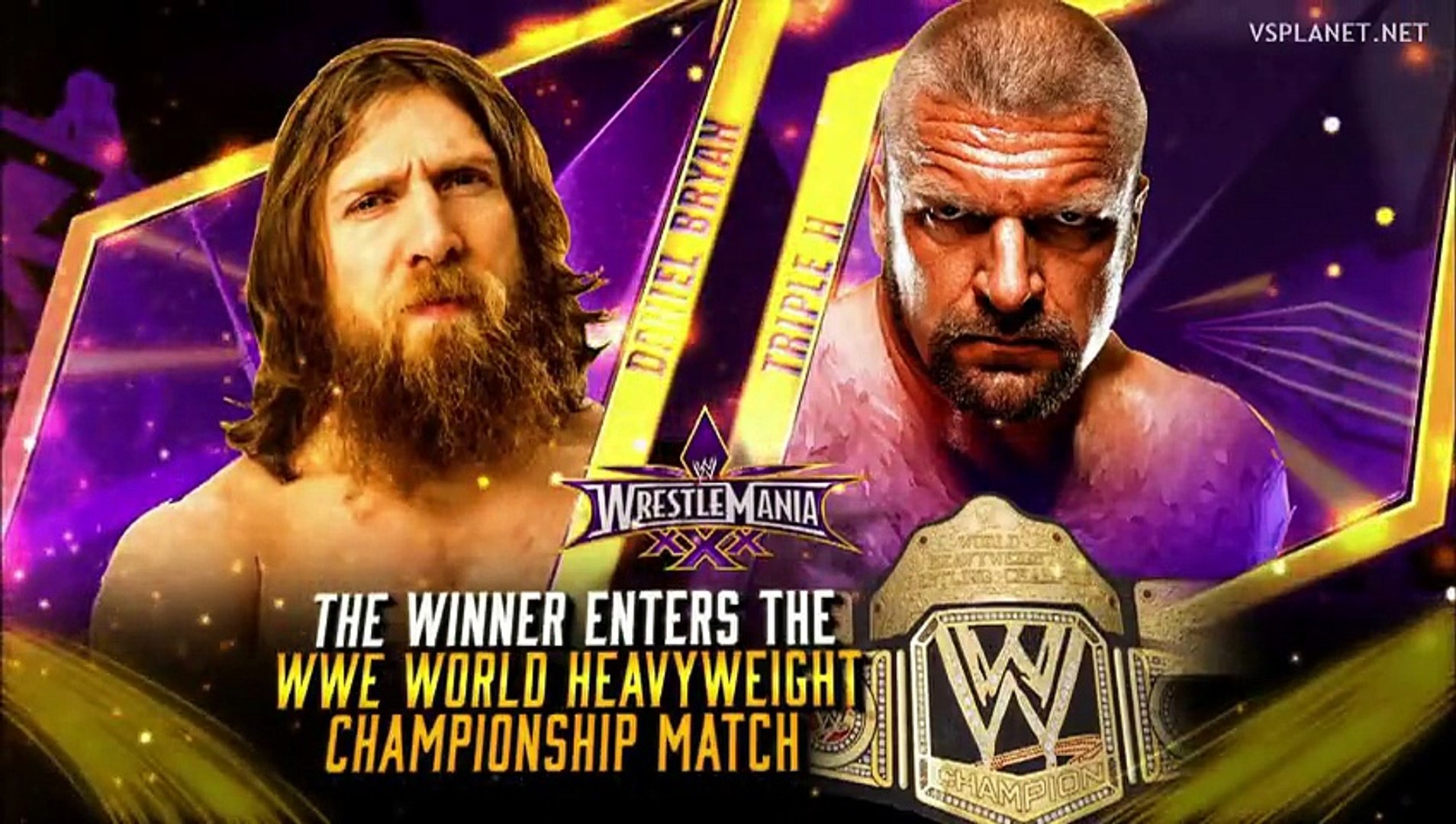 After a brief intro by Stephanie this was the year Triple H did the famous 'Shao Khan' like entrance with… a few familiar names… as his seconds… I thought it was awesome. Bryan got a monster reaction coming out, and it was noted how for weeks he had been beaten down by The Authority. By the way I got Daniel Bryan's book for my birthday some months back and would highly recommend, it largely centers and culminates with this show and then main event. There were lots of 'YES!' crowd signs as Bryan and HHH had a stare down. The commentary team with JBL as the heel and Cole&King as the babyfaces were great in telling the story of this match. Now… I'm going to say it right off the bat… to all you dipshits who claim Triple H 'can't wrestle' or 'sucks' you HAVE to watch this match. In terms of non-gimmick matches and those with no stipulations, this may well of been the best of HHH's career. Yes admittedly he was in there with DANIEL BRYAN but it absolutely takes two to tango in professional wrestling. Triple H was absolutely PERFECT for his role in this match. Bryan (sporting a piece of Brie Bella's ring gear on his kick pads, which was a nice touch) hit a kick and got a nearfall right away, when Triple H offered a handshake to mock him. And then Bryan hit some more kicks before Triple H retreated to his wife Stephanie on the outside, and now Bryan put his hand out to The Game. HHH actually did his part in the matt-wrestling in this match, which was cool to see. After getting hit with a ddt on the apron, HHH returned the favour by giving Bryan a ddt on the announce table and trying for the count out win, but Bryan rolled back in time. And this was where HHH began to get his heat, which was essentially the story for most of the rest of the match. Bryan would get brief moments of a sign of a comeback but would soon be cut off one way or another. The crowd really went for the ride of this match too as when Bryan was getting beat up they were down, but when he got offence in they went crazy, and he was BY A MILE the biggest babyface on this show to the New Orleans crowd. One moment where Bryan was on the attack he hit his running dropkicks to Triple H in the corner, and HHH cameback with a giant clothesline that took Bryan down with a hard thud. After Triple H had a crossface in, Bryan rolled round into the Yes Lock as the crowd exploded, but HHH got out of it. Bryan hit a series of dives and then more kicks on the outside, and then with Triple H back in the ring Bryan hit a top rope missile dropkick, and more kicks for a 2 count… and then… well watch what happened after below (IT WAS AWESOME)…
I thought the ending to this match was so well done. It was set up perfectly to ensure the biggest of pops, and Michael Cole (who may of had a career best performance in this show) called it brilliantly. So Bryan gets the win and he's headed for the main event. After this as Bryan is in the ring in comes Stephanie and she slaps him a few times, and Bryan just laughs at her. And then Triple H comes from behind and beats him down. He absolutely batters him and uses a steel chair to attack his shoulder, so he is injured even more going into the main event. Triple H and Stephanie then left as the crowd were suddenly flat as their hero has been destroyed. This match was absolutely brilliant, and the beatdown after added a great sense of worry going into the main event to further stack the odds against the hero Bryan. And the more things the hero has to overcome the greater it makes their eventual triumph.
****3/4
The Shield (Roman Reigns, Seth Rollins & United States Champion Dean Ambrose) defeated The New Age Outlaws (Road Dogg & Billy Gunn) & Corporate Kane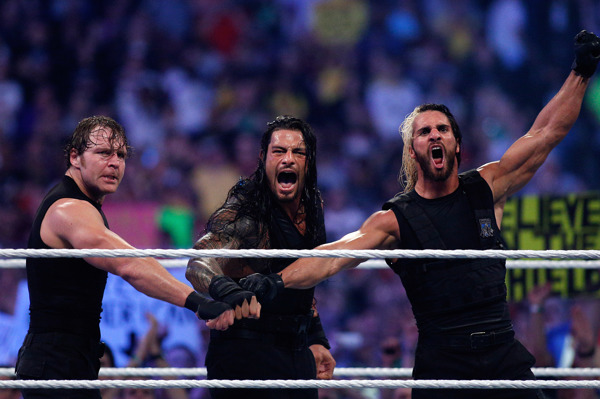 So Ambrose is US champion here, Roman is not long off the record breaking Royal Rumble performance earlier in the year, and Rollins is 12 months away from the biggest moment of his career. So each member of The Shield was really just approaching super stardom at this point. This match had one purpose and one purpose only, and that was the old guys would put over the young guys on the rise. Dean and Kane started, Roman came in, then Gunn then Road Dogg, then Kane again, Roman hit a drive by to both the new age outlaws, Rollins came off the top onto Kane and then hit a dive through the ropes to Kane on the outside, Ambrose did the same dive after to Gunn, Roman hit a superman Punch to Billy Gunn, then all 3 Shield members surrounded Billy Gunn from outside the ring whilst he was stood in it. Rollins and Ambrose took care of Gunn and Road Dogg, Roman hit a spear to Kane, and then a DOUBLE spear to both New Age Outlaws, then there was some quick tags and then they hit the Shield triple powerbomb to both Road Dogg and Gunn, and Rollins got the pin and that was that. A complete squash but it did put over the hottest faction WWE had for YEARS, and three guys who would all become frequent main eventers and world champions for the years that followed so it very much served it's purpose. It went less than 3 minutes, although it had it's time cut a tonne due to the opening segment going long. Job done.
*3/4
There was one of those classic weird backstage segments with a load of legends. It began with Sgt. Slaughter and Hacksaw Jim Duggan playing with some action figures they were promoting, then the Million Dollar Man Ted DiBiase came in and he had purchased the toys and the ring they were using, and Ron Simmons came in and said 'DAMN'…
Cesaro won the inaugural Andre The Giant Memorial Battle Royal
Big Show got an entrance (Lillian Garcia was ring announcer for this one, she split the show with Justin Roberts in that role). Sheamus got an entrance and everyone else in the match was already in the ring. Those other participants were: Cesaro, Yoshi Tatsu, Brad Maddox, Brodus Clay, The Great Khali, Zack Ryder, Darren Young, Drew McIntyre, Jinder Mahal, Heath Slater, Mark Henry, Titus O'Neil, The Miz, Santino Marella, Xavier Woods, Damien Sandow, Justin Gabriel, David Otunga, Big E, Fandango, R-Truth, Sin Cara, Tyson Kidd, Goldust, Cody Rhodes, Rey Mysterio, Kofi Kingston, Dolph Ziggler and Alberto Del Rio. It was a match with THIRTY guys in the ring at the same time so it hardly had a chance of being good, very much a clusterfuck at times. The key bits I picked out was 3MB eliminating The Great Khali, Mark Henry eliminating Drew and Jinder and then tossing Slater on to them, Big Show eliminating Henry soon after, Big E trying to eliminate Xavier Woods pre New Day, Fandango (who the crowd LOVED) getting slapped the shit out of by Sheamus and then pushed out, Big Show LAUNCHING R-Truth out and doing a little dance after, and Cesaro doing the Cesaro Swing on Kofi Kingston for a LONG LONG time in an amazing feat even for that freak athlete. But really this match was all about the finish…
In a throwback to Hogan slamming Andre they had Cesaro (maybe one of the only guys who could pull the spot off) do the same slam here to Big Show to get him out and win this match. The crowd went absolutely wild for this moment, and it was cool they gave it to Cesaro at the start of the fanfare and support that he always seems to have. It says a lot also that commentary said it took 5 officials to bring the match trophy into the ring, and then Superman Cesaro lifted it up all by himself.
**1/4
There was an EXCEPTIONAL video package telling the story leading to our next match…
John Cena defeated Bray Wyatt (w/Luke Harper & Erick Rowan)
I can watch this match back now with much less annoyance, given the story between these two has since come full circle after the FireFly Funhouse match… but still the booking of the result of this match at the time was such a missed opportunity to turn Bray Wyatt into maybe the top heel in the business if he had beaten John Cena here… but it was not to be… I think Bray was yet to be beat on the main roster, but instead of WWE creating the second coming of The Undertaker they fed him to SuperCena instead… anyway… I'll stop moaning now and talk about the match itself. The Wyatt Family were super over with the crowd, and there was a live performance of Bray's theme too. The story of this match was really cool and followed up the story they had told leading up to it, Bray was trying to get Cena to give in to temptations and turn to the dark side, to betray everything that he stood for. Bray even began the match begging Cena to finish him, but Cena said no. Bray beat down Cena and boasted 'This is your hero?'… Harper and Rowan from the outside tried to intimidate Cena as he was on offence, and when Cena started hitting his signature shoulder tackles the crowd booed, but Cena was stopped in his tracks once Bray did his spider pose. Rowan distracted Cena and Bray hit a Urinagi for a 2 count nearfall. The crowd chanted about how Wyatt had 'the whole word in his hands'. Cena hit a second rope ddt for a nearfall, but then came off the top into a Bray powerbomb. Bray later countered a possible AA into a ddt on the apron and he got a 2 count. The crowd were then swaying and chanting 'he's got the whole world in his hands' again. Both guys were on the top rope until Cena pushed Bray down, but he instead then dived to the outside and onto Rowan and Harper. Cena was then sent into the steps by Bray, who then went to use them but Cena blocked and sent him into the post. Cena then picked up the steps, roared, but finally relented and threw them back down. Still Cena wouldn't give in. Back in the ring later Cena moved out the way of a body splash and then hit an AA, but Bray kicked out at 2. Rowan then tried to interfere but Harper hit a driveby on the other side, which then allowed for Wyatt to hit his body splash for a 2 count. Bray sent Cena to the outside, and after Harper looked on Cena then sent Harper though the barricade. Wyatt back in the ring attacked Cena some more, then did his spider walk set up into Sister Abigail, only for Cena to turn that into an STF. Bray though made it to the ropes, and soon after hit Sister Abigail… but Cena kicked out at 2!!! Bray was absolutely flabbergasted… Wyatt then went to the outside and got a steel chair, but instead of using it he offered it to Cena, got on his knees and told Cena to "FINISH ME"… AND AFTER THINKING AND TAKING HIS TIME OVER HIS CHOICE, CENA… HIT… Rowan with the chair, kicked out of a Bray roll up at 2, turned Sister Abigail into an AA. And got the 1,2,3… The match was fine… but this has to go down as one of the biggest missed opportunities for a long time. Lol, Cena wins… Cena must pose… urgh…
***
They did the yearly recap and then parade of that year's class of the WWE Hall Of Fame. The new HOFers that year were: Mr T, Jake Roberts, Carlos Colon, Lita, Scott Hall, Paul Bearer (represented by his sons), and Ultimate Warrior.
Daniel Bryan was seen backstage with the doctor being examined. He was bandaged up and they sold it like he would be going into the main event very much injured.
Well… here we go… lets talk about what came next…
The Undertaker is my hero, and favourite WWE superstar of all time… so wish me luck…
The pre-match hype video for this match, as they tend to be, was tremendous.
Brock Lesnar (w/Paul Heyman) defeated The Undertaker
There was a typically epic WrestleMania entrance for The Undertaker, this one featuring coffins with names on of his previous Mania opponents. As a Taker guy its hard for me to watch this one. Aside from my childhood nightmare coming to life, Undertaker gets legit concussed in this match, so forgive me if its not an in-depth and move-by-move analysis.
It was fairly 50-50 for most the early stages, they both hit their basic moves, but couldn't quite execute their big ones with Taker having a potential Chokeslam turned into an F5 attempt by Lesnar, but Taker then pushed Lesnar into the turnbuckle. Taker went for a big running boot in the corner, but Brock moved and then smashed Undertaker's leg into the ringpost. He soon after dropped Taker on the ring floor pretty hard (could be here when Taker got his concussion, but given Brock's moveset it could've been at any point really). There was then a fairly long period when Brock was on top for, and he eventually hit Taker with a vertical suplex. After some more Brock offence Taker cameback with a ddt. It was at this point… I don't know but was he concussed at this point? He just didn't look the same to me and I was finding the match hard to watch at this point. Taker hit snake eyes, the big boot, leg drop and then a chokeslam, but got a 2 count after a nearfall. He tried a Tombstone but Lesnar turned that into an F5… but Taker kicked out at 2. Taker then locked in the Hell's Gate submission, but twice Lesnar picked Taker up and slammed him down to eventually break the hold. Brock then got a kumura, but Taker managed to reverse it and he somehow got onto the ropes to set up Old School… now I was actually relieved that Lesnar managed to catch him as I was certain Taker would've slipped and not kept his balance, anyway another F5… but again Taker kicked out of the pin. Lesnar hit a german suplex, and some punches but Taker then hit a last ride, but again Brock kicked out. Undertaker looked absolutely spent at this point, but he did manage to hit a Tombstone Piledriver… but Brock kicked out of the pin after… and then it looked really bleak…
and then… well see for yourself…
I can't quite put into words the magnitude of this finish. Hell had frozen over, pigs began to fly, and now The Streak was over. This was THE single most shocking moment in the history of WWE and maybe professional wrestling as a whole.
Skip to about 8:35 in the following clip:
**
The next debate would be why end it? And why Brock? Well… at the time I think it was more Vince felt it was the time, and Brock was just the best placed guy to do it. Did Brock need it? No of course not. Should it of ever ended? Well I think at some point it had to. But for ME… I think this should've been the last time we EVER saw The Undertaker in a WWE ring. Having seen him talk extensively in The Last Ride series recently, I get why he carried on, and of course it's incredibly sad to know that he couldn't really take in that moment as he was seriously concussed. And as many know by now moments after he staggered backstage he collapsed and was taken to the hospital mid-show, and Vince even went with him. Vince McMahon left WrestleMania mid show, think about that. For me I'm a traditionalist, and I think every wrestler should go out with a loss, and although many don't I actually DO agree with The Streak ending in the way it did. But as big a Taker fan I am, I get why everything that happened did so. It's what happened afterwards in Taker's career I'm… I liked some of sure (the rematch with Brock comes to mind right away), but I could've done without it. And the legacy of The Undertaker loses NOTHING if he goes out that night in New Orleans and we never see him again. Now I will NEVER tell The Undertaker what to do and if anyone had earned the right to go on for as long as he wants and go out however he wants it's him, but I also believe in going out on top and on a high, and there was some serious dark moments in the post-Streak ending run of The Undertaker. After this of course Brock destroyed John Cena some moths later to win the WWE world title, and since then has been one of the most dominant and strongly booked guys in the whole company. For me, if I had the booking sheet… The Streak ends here as it did, Lesnar goes on to be the dominant force he went on to be, Taker doesn't wrestle again, and he goes in the Hall of fame 2 years later (as the only inductee that year) and gets his big entrance and curtain call in his home state of Texas in front of 100,000 people at AT&T Stadium.
After that on the show we had an advert promoting the next year's WrestleMania at Levi's Stadium in Santa Clara, California.
AJ Lee (C) defeated Aksana, Alicia Fox, Brie Bella, Cameron, Emma, Eva Marie, Layla, Naomi, Natalya, Nikki Bella, Rosa Mendes, Summer Rae, and Tamina Snuka in the Vickie Guerrero Invitational match to retain the WWE Divas Championship
The toughest of spots to be in, maybe on any show in history, so this was really dead in the water as a match from the get go. People will talk about being in 'the death spot' of a show, but following the ending of The Streak? My goodness. Anyway, so this was a one fall match where Vickie Guerrero had set this up to try and take the Divas title away from AJ Lee. Much like the Andre match earlier it was a lot of filler and a lot of nothing, with the highlight being the brief confrontation between the two Bella twins, but that was about it really. AJ got the win in the end by tapping out Naomi, but only as she moved Naomi's hand to make her tap out without the ref seeing. He saw Naomi tap out, but he didn't see AJ moving her hand to make her do so… AJ's reign as Divas champion now stood at 406 days going into the next night's Raw, but she wouldn't make it to day 407… after she put her title on the line against a certain young lady from Norwich…
*
Mean Gene Okerlund conducted a backstage interview with Hulk Hogan. Soon came into shot both Roddy Piper and Paul Orndorff, and not long after Mr T came in to back up Hogan and we had the four men who made the main event of the first WrestleMania. Pat Patterson made a cameo to comically try and stop the beef reminding them that that was '30 years ago come on'! But soon we got a handshake between the four guys and peace was made.
Ahead of the main event we were shown a series of legends sat ringside; Bruno Sammartino, Harley Race, Bob Backlund, Dusty Rhodes and Bret Hart. This was cool and really made the main event seem even bigger. It's something they do in boxing quite a lot, showing big former fighters who are there to see the big fight of today. A nice touch.
Rev Theory did a live performance of Randy Orton's theme song. Randy looked like a BILLION dollars coming to the ring with both title belts. Batista was booed heavily when he came out. Bryan (who was certainly selling the earlier post-match beatdown from Triple H) was cheered of course, but it seemed the crowd was still a little deflated from the ending of The Streak. They would need their hero to bring them back up, and by the end of it he certainly did just that.
Daniel Bryan defeated Randy Orton (C) & Batista to win the WWE World Heavyweight Championship
All 3 guys went at one another early on, Batista then drives Randy Orton back first on the apron and then smashed his head into the announce table, the barrier, the steps and also tried a Batista Bomb onto the steps but Orton backdropped him onto them. Bryan briefly got involved but Orton took care of him, and then Orton and Batista went at it again. Orton got a nearfall on Batista, then his stomps and attacked his knee too for another two count. Daniel Bryan then came off the top with a double missile dropkick, there were lots of 'YES!' chants and he hit yes kicks to both, but Orton then hit an overhead slam for a 2 that Batista broke up. Batista hit a powerslam to Orton but Bryan broke the pin. Batista kicked Bryan in the corner, but Bryan hit a drop toe hold and then did his running kicks to both Orton and Batista in opposing corners running back and forth. Soon after with Bryan again having been took out we had Batista and Orton on the top, Orton eventually got the advantage and hit a superplex but then Bryan came back and hit a diving headbutt off the top onto Orton. Soon after he put in the Yes Lock and the crowd got really excited… And just as quickly as the fans got excited they began to boo heavily as Stephanie McMahon and Triple H came out and he pulled the ref out of the ring, Batista hit a Spinebuster to Bryan and then Scott Armstrong (who had become The Authority's handpicked referee) came in to take over. Batista then hit a Batista Bomb to Bryan… but Bryan kicked out! The Authority were fuming, and soon after Bryan fired up; kicking Armstrong, and then diving to the outside on to Triple H, Armstrong and Stephanie (which the crowd LOVED). With Triple H fuming he went to his reliable Sledgehammer, but Bryan kicked it and then used the Sledgehammer on Triple H! A roll up pin was then broke up by Orton (Mike Chioda was the ref now by the way), and then Orton and Batista teamed up on the outside to destroy Daniel Bryan once and for all… they battered Bryan and then cleared an announce table… we then got an amazing spot where with all three men on the table, Batista picked up Bryan and Orton slammed him down and we got a really cool Batista Bomb-RKO combo move that sent Bryan crashing through the announce table. Bryan had his protective tape from his shoulder ripped off by this point and Stephanie and HHH were carried away by officials too. Bryan was tended to by medical personnel and officials and he was put in a stretcher and that was it for him… or was it… There was a long period of nothing as all 3 guys were coming to, Orton eventually hit his elevated ddt to Batista to the floor outside. Bryan then came back from the brink and jumped up off the stretcher and the crowd went wild… Bryan crawled into play again but Orton soon sent him into the steps, he then went for an RKO but Bryan got the YES Lock in… Batista broke it up but then got put in a YES Lock himself, but Orton broke that up and took out Bryan. Orton and Batista went at it and Orton hit the RKO but Batista kicked out at 2…
And then (as the video below shows) was one of the best endings to a WrestleMania main event of all time…
This was a GREAT match. Just so much good stuff in terms of storytelling and to get the ultimate happy ending at the end was amazing. After what happened with Undertaker earlier in the show this was the only thing that could've picked this crowd back up.
****3/4
YES! YES! YES! YES! YES! YES! YES! YES! YES! YES! YES! YES! YES! YES! YES! YES! YES! YES! YES! YES! YES! YES! YES! YES! YES! YES! YES! YES! YES! YES!
This was a GREAT WrestleMania.
Josh.