With the company still the aftermath of (one of) the worst received WrestleMania shows in history, THE MIZ as WWE Champion, the man who walked out of that Mania as world champion having to retire and forfeit the title, this was a show that had a hall of fame card, but maybe it was a case of right talent in the wrong time. 2011 was one hell of a year in terms of eventfulness in WWE, and this show had plenty of moments that can certainly be called memorable… some of them career defining, some of them… not so much… I'm not sure I've ever before watched this show in full, but just looking at the card and some of the stuff that goes down tells me I'm certainly not going to be short of things to write about… so just over 10 years to the day of this show coming to you from Tampa, Florida on May 1st 2011, here is my review of that year's Extreme Rules PPV!!!
The opening video began talking about WrestleMania and bigged it up as historic (it certainly was… something… in 2011), before leading into this show. Our commentary team varies throughout the show for reasons that will become very clear (we will try and get through why together I promise), but to start us off we have Josh Mathews, Booker T and Jerry Lawler. Our ring announcers vary between Tony Chimel and Justin Roberts.
Randy Orton defeated CM Punk in a Last Man Standing match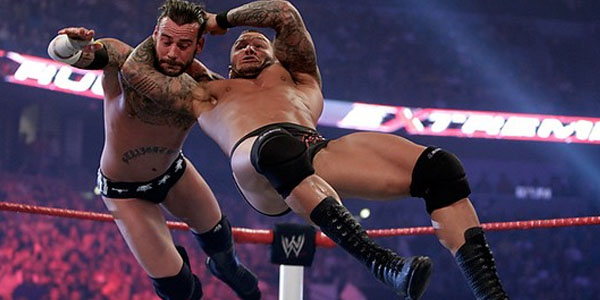 Orton got a good pop coming out. Punk had at this point began to be the leader of the 'new Nexus' and so came down to the ring with Otunga, Curtis Axel and some other guy (I'm not wasting my time finding out who). However the Anonymous Raw GM (Literally one of the worst ideas they ever had, and they had A LOT in this era) banned them from ringside during the match (how that makes sense during a match with No DQs I don't know…).
They began with brawling before each getting a kendo stick and using it on one another (crowd were into it when Orton was hitting Punk). Orton hit his signature backbreaker, and tried for the ddt after but Punk eventually catapulted Orton into the turnbuckle that he had exposed before the match even began, but Orton got up before the 10 count. After they reversed eachothers finisher before Orton sent Punk into a chair that he had set up in the corner. Punk got up at 7. After fighting to the outside Orton hit Punk with a backdrop on the barricade (Punk got up at 6), Orton later tried for an RKO in the ring, but Punk hit the GTS to silence the crowd,,, Orton just got up at 9. Punk was offense for a while after, and he sat a chair up ready for something until he got hit with an RKO… but he got up at 9 and rolled to the outside. Later Punk put a chair around Orton's neck and threw him into the ringpost, Orton getting up at 9. On the announce table it looked like Punk had the better of it, but Orton popped up with another RKO, keeping Punk down for 8. Orton after set for the punt kick, but CM Punk picked Orton up and threw him on the steps as he would of done for a GTS (keeping Orton down for 9)… the finish came after…
Punk went up high after in the ring but Orton attacked him with the kendo stick again, he then hit a great looking RKO off the top rope, and this kept Punk down for the 10. Solid match by two popular guys to kick off the PPV.
***1/2
Jerry Lawler went backstage to prepare for his 'country whipping match' later… christ…
They reminded us that in the recent draft Raw acquired Alberto Del Rio, Rey Mysterio, Kofi Kingston and Big Show. SmackDown got Sheamus, Randy Orton, Sin Cara and The Great Khali.
It was recapped from SmackDown where Kofi was due to have his final match on the show… Until Sheamus attacked him before their match could get underway.
Backstage Teddy Long informed US Champion Sheamus that he would be defending his title against Kofi Kingston, in a Tables match. Sheamus did not like it. He said the part he don't like is he's the champion of the United States of America and he isn't even defending against someone from America. He demanded to see his birth certificate. Long said he shouldn't worry about that and might not even be champion after tonight. I didn't see this as funny to be honest… it felt very silly…
John Morrison was seen preparing for the main event backstage.
Kofi Kingston defeated Sheamus (C) in a Tables match to win the United States Championship
Hearing Kofi come out to his SOS theme in 2021 is wild… Anyway, both guys came out with fast and aggressive offence that carried on all match really. We had a funny spot where as they brawled to the outside Kofi tried to get a table from under the ring, but Sheamus stopped him and then slid the table back under the ring. They brawled mainly on the outside, Sheamus tried to powerbomb Kofi into the table but Kingston brawled out. Later Sheamus was on the outside of the apron, and had to cling on as a table was set up below him… Kofi went to run at him but Sheamus came back into the ring and took him down. With a table set in the corner we had a series of close calls from both (including Sheamus trying to white noise Kofi through the table, and Kofi trying to dropkick a prone Sheamus only for the irishman to move out the way and fire back). The finish shown in the video below was quite the spot…
Kofi eventually got the win after a Boom Drop off the top that sent Sheamus through a table below. Crowd popped for the finish of a fine match, although it felt like it was a little short (it was half as long as the opener).
**3/4
Todd Grisham did an interview with R-Truth backstage. Truth had been beaten on a previous Raw by John Morrison and lost his spot in the WWE title match to Morrison as a result. Truth really wasn't happy and spoke as if there was a conspiracy against him. He was half angry half goofy in this segment, as he wasn't quite a full heel just yet. He said Morrison stole his opportunity to live his dream and he said the one thing he can't stand is a thief.
Michael Cole & Jack Swagger defeated Jerry Lawler & Jim Ross in a tag team Country Whipping match.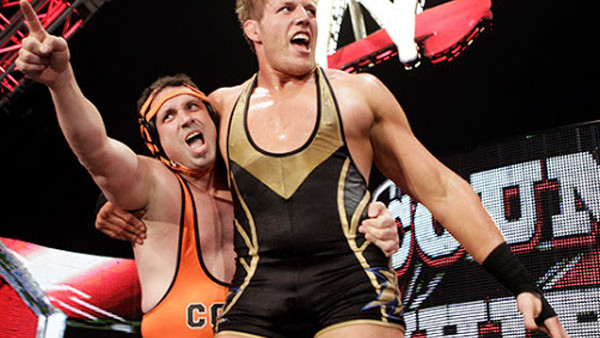 Just an FYI the gimmick was essentially a tag match where the use of leather straps as a weapon was legal. Cole came in wrapped in bubble wrap. It was as stupid as the Michael Cole heel character which was one of THE very worst gimmicks of all time. The Anonymous Raw GM was one thing, heel Michael Cole was another. The WrestleMania match with Jerry Lawler was one thing, this was beyond barbaric in how bad it was. It's not often I would ever feel sorry for Jack Swagger, but I feel so bad for him he had to be a part of this. Cole cut a heel self promo before the match saying he wasn't scared of the match. The best thing about this match was Jim Ross' legendary entrance music. Each man had a strap as the match started.
Swagger got hit with the belt. Cole tagged in and acted all tough with his bubble wrap protecting him. Lawler punched him and ripped off the wrap, Swagger tagged in, the crowd DIED for anything that wasn't Michael Cole getting beat up… but that didn't happen all that much… At one point Jim Ross had an ankle lock on Jack Swagger and he sold it too which the whole idea of is just absurd… Ross hit Cole with the strap a few times, and he managed to get some form of ankle lock on Cole, then hitting a low blow to Swagger who tried to make the save, Cole then rolled up Ross for the win. They announced Cole as 'Sir Michael Cole' and Josh Matthews said on commentary said how Cole was undefeated and how his win streak continues. Booker T said how ridiculous all this was.
FUCK. OFF.
DUD
Todd Grisham was backstage doing another interview, this time with John Cena. Cena spoke about how he hadn't been WWE Champion since June 20th the previous year… He spoke about how he'd been through quite a lot in that time and how that would end tonight, and after 10 long months by the end of the night 'the champ is here'. So… I guess Cena is winning tonight then (We know he does of course but they made it very obvious with this interview that he was winning the title… thanks for that…).
We had a great video before our next match, telling the story of how 'Dashing' Cody Rhodes became a mental mess when Rey Mysterio caused him an injury that led him to wearing the face mask he's sporting at this time. He was so focused on his image before that having that taken from him with the facemask turned him crazy. He blamed Rey for crushing his face and wanted to beat Mytserio so badly that he would be the monster that he now saw in the mirror in himself. Cody also added that Rey wore his mask as he was ashamed of himself. Rey said he wore it with pride. Simple booking but I thought it was fun creative personally.
Rey Mysterio defeated Cody Rhodes in a Falls Count Anywhere match
Cody came out with two 'employees' who handed paper bags to members of the audience. The symbolism is so the WWE Universe can be how Rey Mysterio apparently feels about himself. Cody cut a short promo saying how the fans needed the masks as they were "extremely ugly". Booker T said on commentary "he might be right about some of them Josh, I ain't gonna say no names"… WHAT?!
After the opening exchange they fought to the entrance ramp where Cody got a nearfall after a dropkick and Rey got one after a seated senton of the stage. After they went into the crowd area and then up the stairs, Cody used the stair railing to put Mysterio in a boston crab, and they then fought into the concourse… Cody got a nearfall from a step up knee after Rey tried to ram his head into a glass mirror, Rey got a nearfall from a crossbody. They eventually fought back towards the ringside area where Cody sent Rey head first into the steps for a 2 count, Mysterio though cameback not long after with a springboard crossbody for a nearfall of his own, he later tried for the 619 and exposed his knee brace, but Cody got out the way. Rhodes took charge of the match after and slammed Rey for another nearfall, and he stopped on Rey in the corner as the crowd tried to will Mysterio back into it with '619' chants… then came the finish as you will se below..
For the finish Mysterio spat a type of mist into Cody's face, then hit the 619 and a splash for the win. A fine match that was solid without being spectacular.
***
We cut to backstage where the likes of Rosa Mendes, Natalya, Tamina Snuka, Beth Phoenix, Alicia Fox and others were. Layla then entered and said that as tonight may be her last night here she wanted to apologise to everyone if she had ever done anything to them. They said that none of them liked her but they liked Michelle McCool a hell lot less, and so wished her luck in their match.
Michael Cole joined commentary in his 'Cole Mine', much to the joy of himself and absolutely nobody else…
Layla defeated Michelle McCool in a No DQ, No Countout, Loser leaves WWE match
So basically LayCool imploded and then the two persistent bullies of the division feuded with one another. McCool jumped Layla as she was making her entrance. She then had the best of it early on and got a nearfall not long in, Layla then took her down and hit a number of punches before McCool sent her to the outside. Layla and McCool both used the announce table, with McCool getting the best of it. Back inside the ring McCool missed a kick and Lyla hit a dropkick for a nearfall. McCool tried to reason with Layla, but she wasn't having it and McCool soon got a belly to belly for another nearfall. Layla had the better of it on the outside, with both on the barricade it was McCool who threw Layla off by her hair. McCool talked trash but Layla came back in the ring, Layla countered what looked to be a slam type move for another nearfall. Layla looked very upset, but Michelle hit her with a hard shot for another nearfall (crowd was SO dead)… and McCool tried a move but Layla escaped and got a reverse neckbreaker, but McCool got her foot to the rope to stop the pin. McCool got another nearfall, both women countered one another and McCool hit what look almost like a Styles Clash funny enough given what happens many years later, but it was actually her finisher the Faith Breaker, she didn't go for the pin immediately though and those few seconds meant that Layla could then roll her up with a pin of her own for the win.
After the match Layla seemed upset even as the winner, and as McCool was upset herself in the ring the debuting Kharma (fka Awesome Kong in TNA) attacked McCool. The match went about 5 minutes and was kind of boring even with the added stipulation.
*1/4
Ricardo Rodriguez practised his introduction for Alberto backstage, and Del Rio told him to be better and practise announcing him as the new world heavyweight champion.
So the title was of course vacated by Edge who was forced to retire just after WrestleMania. They played a cool video before the next match telling that story, and now was a chance for his best friend to finally get his moment. To do so he would have to beat the man who had (what was then) Edge's final match. Christian earned the match against Del Rio by winning a 20 man over the top rope battle royal.
Christian defeated Alberto Del Rio in a Ladder match to win the vacant World Heavyweight Championship
(SEE FULL MATCH IN THE VIDEO BELOW)
Christian hit a backdrop to Del Rio onto a ladder. Later in a tribute to Edge, Christian hit a Spear to Del Rio and then went after the title belt… only for Brodus Clay to come out and stop Christian from winning. Christian got payback on Clay, busting him open with a shot with a ladder and then throwing him to the outside of the ring. Del Rio came back in and got the Cross Armbreaker on Christian before climbing a ladder again… this was when Edge appeared in the arena area driving a jeep and he played the car horn. This distracted Del Rio and as a result allowed Christian to knock Del Rio off the ladder and he fell to Clay and Ricardo Rodriguez on the outside. And then in one of the highlights of certainly Christian's career, and one of the genuinely great Booker T commentary calls… Christian climbed the ladder and retrieved the title to win the match. Huge crowd pop for the finish and we got the emotional scenes with the new world champion and recently retired Edge. Your NEW World Heavyweight Champion… CHRISTIAN! This was GREAT shit.
***3/4
Alex Riley was with WWE Champion The Miz in the locker room area. Riley couldn't believe WWE asked Miz to be in this match, and seemed to say things that made it seem obvious that Riley thought he was losing. Miz told Riley never to do that again when he was about to do Miz's catchphrase.
Kane & Big Show (C) defeated The Corre (Intercontinental Champion Wade Barrett & Ezekiel Jackson) in a Lumberjack match to retain the WWE Tag Team Championship
Barrett tagged himself in after Jackson appeared to have Big Show pretty much beat… and then of course Barrett took a chokeslam and the L. I don't even want to discuss this match at all… because everything about The Corre and mainly this time in Wade Barrett's career makes me very sad.
*3/4
John Cena defeated The Miz (C) and John Morrison in a triple threat Steel Cage match to win the WWE Championship
(FULL MATCH IN VIDEO BELOW)
Morrison and John Cena began by teaming up against Miz. Cena later hit a bulldog to Miz as Morrison tried to escape the cage, but Cena stopped him in time. Morrison tried again later only for The Miz stopping him this time. Cena later hit a Five Knuckle Shuffle to Morrison and then The Miz hit the Skull Crushing Finale to Cena right after that. The Miz tried climbing the cage but John Morrison and Cena hit a crazy-looking double suplex off the cage. Morrison then came off the cage but hit Cnea as he tried to hit The Miz. John Morrison hit a crazy standing moonsault sideslam to Cena, but then took a powerbomb into the cage wall by The Miz. Miz then tried to escape via the cage door… only for Cena to get him in an STF… Morrison though then stopped the submission by climbing the cage and shutting the door onto Miz. Cena then pushed Morrison who landed on the door hurting his groin. Miz hit a ddt to Cena followed by a big boot… in maybe the highlight of the match Cena and Miz both tried to stop John Morrison escaping the cage, but he then hit Starship Pain off the top of the cage… He later seemed as if he was about to escape… only for R-Truth to come out and attack him. He then went at Cena and hit a Truth Axe before climbing back over the cage. Cena eventually got the win with a top rope AA to The Miz.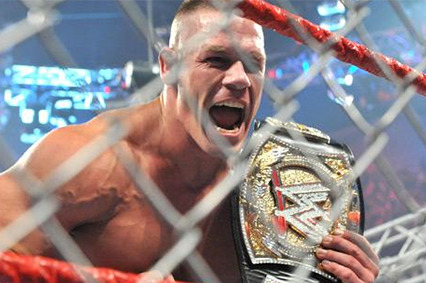 ***3/4
There are some things in life that are more important than wrestling. And despite this being a suprisingly good show, John Cena once again climbing to the top of the mountain and at long last Christian finally doing the same… both of those monumental events were far from the main things on any American's mind that evening… as John Cena himself would reveal some pretty big news after the PPV went off the air…
Josh.