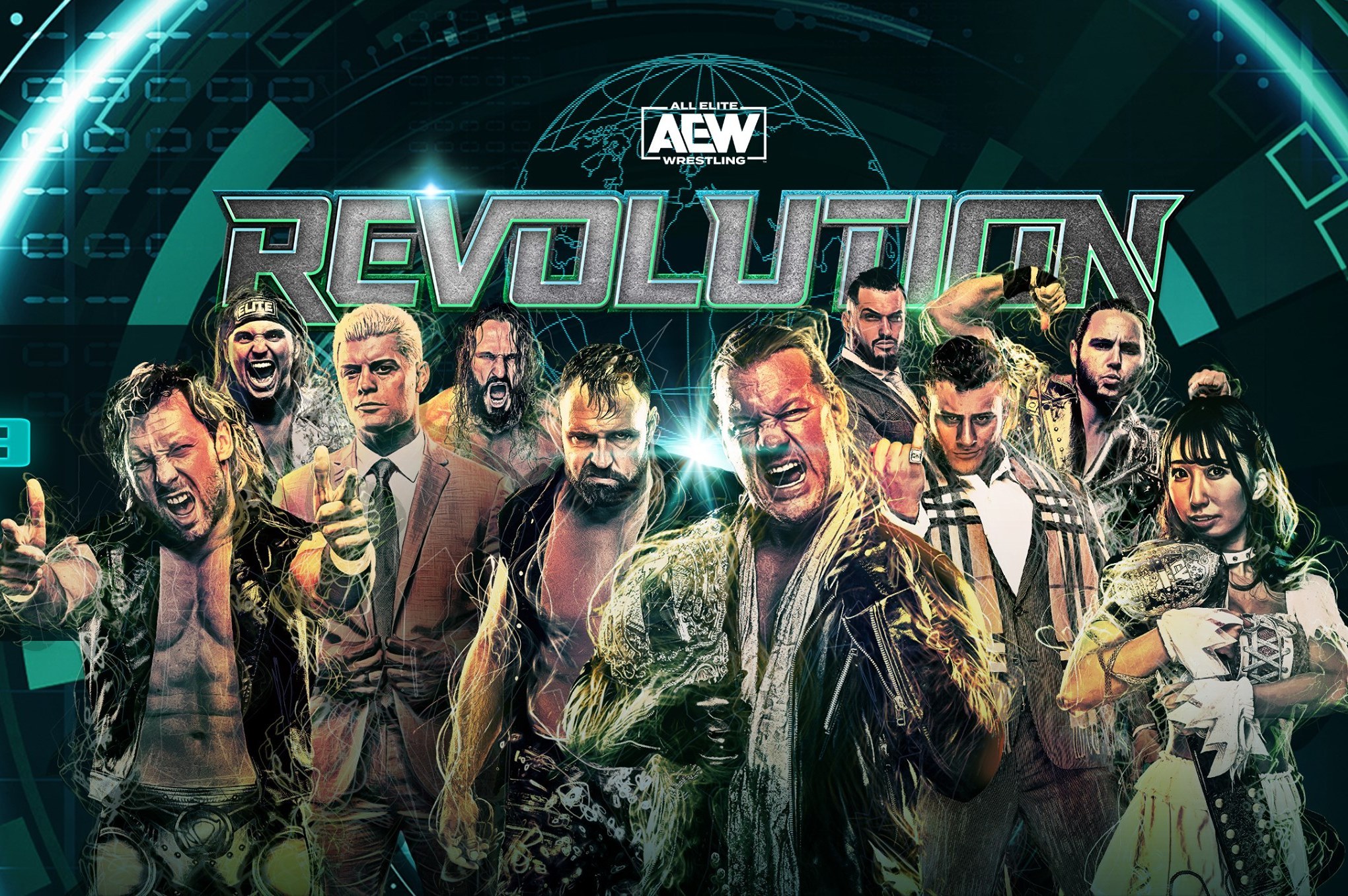 In the last days before the pandemic, it seemed as if pro-wrestling was in an incredible place; WWE were off the back of a phenomenal Royal Rumble and well on the road to a star-studded WrestleMania show in Tampa, NXT the same having just had a great TakeOver show in Portland, and AEW were in their first few months still of existence, and they were thriving. Still now as we approach the back end of this living nightmare, wrestling is still doing OK, but lets rewind a little and talk more about the newest player in the game… How would AEW respond to an incredible standalone show from NXT? Well, they put on what I believe was their best show yet. The Revolution PPV in February of 2020 was STACKED; with blockbuster matches and personal feuds all over the card, and the added elements any great show needs with variety and new stars getting the big spotlight. In the main event we had inaugural World 'Le Champion' Chris Jericho defend his gold against the almost indestructible Jon Moxley (who Jericho and his Inner Circle crew had tried to BLIND in the build up), Cody finally getting his match with former friend turned mortal enemy MJF, and in a dream tag team match we had a real all ELITE affair as The Young Bucks challenged for the AEW Tag Titles against the team of Kenny Omega and 'Hangman' Adam Page. We looked set for a spectacular show. And it was absolutely that. So join me now as I look back at All Elite Wrestling's 'Revolution' Pay Per View from February 2020.
The show came from the Wintrust Arena in Chicago, Illinois (so a great crowd was almost guaranteed), the commentary team were a great trio of Excalibur and the legendary Jim Ross and Tony Schiavone. I think these three mesh so well together and are probably one of the best commentary teams in the game today. Justin Roberts is the AEW ring announcer, and he still is one of the best to do it.
Before the show itself got underway there was a match filmed in the arena for a future episode of AEW's YouTube show Dark. In that we had Britt Baker and Penelope Ford get a win against the babyface Japanese joshi duo of Riho and Yuka Sakazaki in a tag team match.
AEW's version of a kick off show is entitled 'The Buy In', the idea buying you'll watch this preview before the main PPV and then you'll 'buy in' to the show itself… Taz joined Excalibur to commentate for the PPV warm-up. Along with various videos and interviews promoting the main card, we did also have a match to kick us off too. This saw The Dark Order's Evil Uno and Stu Grayson (with Alex Reynolds, John Silver and a few of the "creepers", AKA goons accompanying them) getting a win of SCU's Frankie Kazarian and Scorpio Sky. This was still in the very early days of the Dark Order group when they were pure heels trying to take over and infect all of AEW. The heel team got the win with Grayson pinning Sky by rolling him up and holding on to his tights for the win. The big angle came after the match when Indie wrestling Icon Colt Cabana made his AEW debut trying to help Sky and Kazarian fight off the various Dark Order members. SoCal Uncensored teammate Christopher Daniels came in after and the babyfaces stood tall in the end despite losing the match. Solid match, good angle after, and overall The Buy In was very much a great way to promote AEW to get people to buy the PPV. The Buy In finished off with the main commentary team being introduced alongside Excalibur, with Tony Schiavone and, in what has become one of my favourite parts of the AEW PPV Buy In's, Jim Ross gets his full entrance and the crowd give him a great reception. NOBODY in wrestling deserves a good pop every time he comes out more than JR. Very much the GOAT of what he does.
And after that it was time for the main show. 7 matches on the card (the perfect number in a 3 and a half hour show in my opinion), all of them an attraction for different reasons.
The introductory video for the show was very good in telling the stories of each match on the card. Seeing this great video reminded me how many incredible moments and segments we got in the very first few months of AEW.
The singer Dezirae Schalice sang the American national anthem.
We started off with… well not quite a hot opener but it was a first match in the company for one guy, coming up against a veteran and legend of the business.
Jake Hager defeated Dustin Rhodes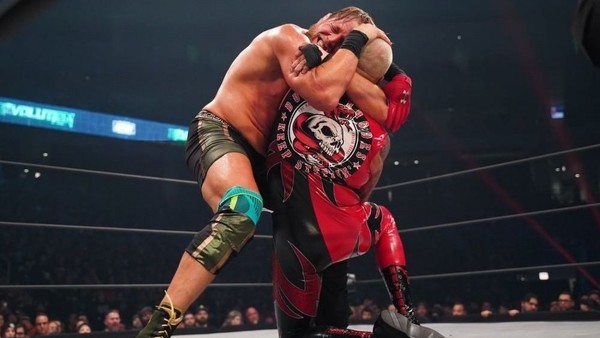 Hager had fractured Rhodes' hand a few months before this, and they'd feuded since. The MMA fighter was making his AEW match debut after first appearing at the end of the inaugural dynamite the previous October. They heavily talked up his 2-0 MMA record on commentary. Hager made out with his wife, who was sat front row, before the match. Hager was booed and Dustin was cheered as they came out. Rhodes wore a shirt before the match that said "I'm here to fight Jericho's bitch", which was later chanted by the crowd during the match.
Given the build it made sense this was more of a brawl… they fought into crowd… and outside of the ring… There was a spot where Dustin snogged Hager's wife after she verbally went at it him, which I didn't think we needed but oh well… Dustin went with a head of steam after Hager had been dominating up to that point… Hager later took a big bump over turnbuckle and 'landed' face first on the steps (his head whiplashed to the floor below too which didn't look fun). Hager later reversed a cross-arm breaker into an ankle lock (which given his wrestling background seemed very logical he could and would do something like that). The crowd got really behind Dustin when he was in the hold, and although he did power to the ropes there was a spot not long after where they were both in the corner, and it manifested where the ref's back was turned. That was when Hager hit a low kick. Not long after he hit a series of hard knees to Rhodes' mid-section, and then he used a sleeper/arm triangle type hold (that commentary informed us he had won Bellator fights with previously, so a very clever finish). QT Marshall came out to see to Dustin after Hager had left with his wife.
**3/4
They showed a video promoting the 'Blood and Guts' (a take on War Games) match scheduled for the March 25th 2020 episode of Dynamite to take place in Newark. Of course it was never to be, but at least in current day we have the match back on in 2021… although the line up is very different from the year prior.
Commentary then ran down the rest of the card.
Darby Allin defeated Sammy Guevara
Guevara had smashed a skateboard into Allin's throat, with Darby returning the show prior to this PPV to confront Sammy. There was a really cool video before Darby's entrance (something that has become a staple of his big matches, where a short video will show how he prepared for his opponent. It's a simple clip usually but it's cool). Allin got a big pop and chants when he came out. He immediately jumped across the ring and did a suicide dive onto Sammy on the outside. He followed up with a shotgun dropkick sending Guevara into the barricade. He tried again after but Sammy moved and smashed Allin into another barricade. In a throwback Guevara tried to smash Allin's throat into the barricade… Randomly Jurrasic Express (Luchasaurus, Jungle Boy and Marko Stunt) were sat in the front row… anyway, Darby got out of trouble and then laid Guevara on the barricade… he then went into the ring and tried for a suicide dive into Sammy, but as he did the dive his foot dangled on the ropes and he didn't get dive fully. Commentary did well with it to be fair and explained that he got his foot caught so he didn't connect with the dive (Darby's head looked like it went into the barricade by the way). Sammy Guevara smashed Darby with his Skateboard. And then Guevara looked under the ring and got a table, he put Allin on the table, then Sammy went to the top rope and did an unbelievable 630 (sending them both through the table) to a huge crowd reaction!
Guevara rolled into the ring, with Allin completely laid out. Darby eventually got himself up and into the ring… and THEN the bell finally rung. We had all that before the match even properly began!
Along with his usual high flying style Darby demonstrated some great 'rasslin ability in this match. A really good match despite it going short (although we did have the stuff before the match officially got underway). Sammy hit a double foot-stomp to Darby on the ring apron, before later hitting a Spanish Fly. Guevara seemed to have the most of the match itself aside form the mat wrestling from Allin. Later Sammy exposed the turnbuckle, but was sent into it himself via a Allin Monkey flip. For the win Darby hit a form of stunner, and then we got a HUGE pop for the Coffin Drop as the finish. It really was a heck of a match. Allin went to use his skateboard with Sammy's name on to smash him with after, but Jake Hager pulled Guevara out the ring to rescue him. Darby Allin came off as an absolute star here.
***1/2
A really great video told the story of how The Elite had somewhat imploded in the build to our next match. The Bucks came in to it almost questioning why they weren't the tag champions yet in AEW, despite being widely viewed as the best tag team in the world. Omega and Page were two singles stars who somehow found their way to becoming a tag team, winning the titles on the Jericho Cruise some months before. The other element, and really the main part of the story going in, was around Adam Page. He had become disillusioned with The Elite in previous weeks, he had started drinking and Omega and everyone else now viewed him as a liability. Tension was teased all the way between The Bucks (mainly Matt Jackson) and Page, as well as between Omega and Hangman also. On The Dynamite before this Kenny Omega won a grueling Iron Man match against PAC, and just was the case during all his big matches in Japan, with both The Bucks at ringside to cheer Kenny on, despite the looming title match. So there were A LOT of personal elements going in to this, and on top of all 4 guys being tremendous pro-wrestlers the expectations for this one were very high indeed.
'Hangman' Adam Page & Kenny Omega (C) defeated The Young Bucks (Matt & Nick Jackson) to retain the AEW World Tag Team Championship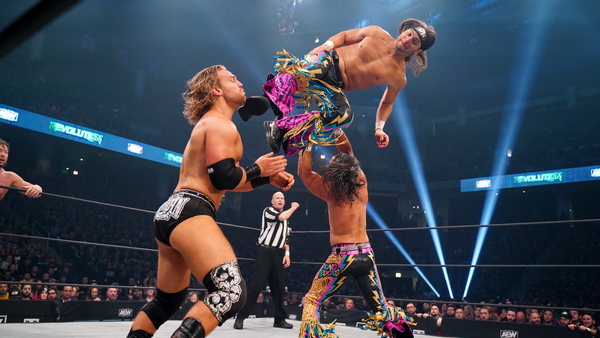 The Young Bucks got a superstar entrance, with the money cannons and everything. Page and Omega (coming out separately to one another) got huge crowd pops, particularly Hangman. Once he came in to the ring Hangman went nose to nose with Matt Jackson, tension was very high. They also had some cool lights interspersed in the crowd that changed colour in line with the music and what was going on during the entrances. It was subtle to some but looked cool. Interestingly also The Bucks were booed a little during their intros. Page and Omega were both cheered. And then it was finally time. We had a real big fight feel. 'Cowboy Shit' chants came from the crowd as the match got underway.
We had fun wrestling exchanges early, but that changed when Matt and Page got in the ring and Page SPAT in Matt's face, before a brawl ensued. Nick and Kenny tried to stop the two from doing serious damage, but as the match went on it seemed the Young Bucks worked more and more like heels. Page even wanted to put Matt Jackson through a table that was set at ringside, but Kenny Omega reasoned with him not to. In terms of a proper move by move analysis of this match I didn't write one to be honest. This match was a proper joy to watch; move for move it was perfect, everything within the match on it's own made sense, and when you add in the huge backstory and build, it made for a classic. And it was just that. The crowd loved every minute of it, and above all else these 4 guys are GREAT professional wrestlers and each performed to their maximum here. Towards the end of the match (that went almost dead on 30 minutes) things went crazy in a good way; Kenny tried for a One Winged Angel off the middle rope (he had done the move against PAC on the previous Dynamite), but Nick Jackson countered into a poisonrana and Omega took a nasty looking bump. Speaking of nast looking bumps… Matt Jackson hit THREE consecutive nothern lights suplexes on Page up the entrance ramp (so imagine they flipped over three consecutive times, and Page took the bump over and over and over). As if that wasn't bad enough for the Hangman, The Bucks then hit him with the Indytaker on the ramp. The crowd really didn't like that one (they were so behind Page during the whole match by the way). After that The Bucks went at Kenny… they hit double knees, but Omega kicked out at ONE!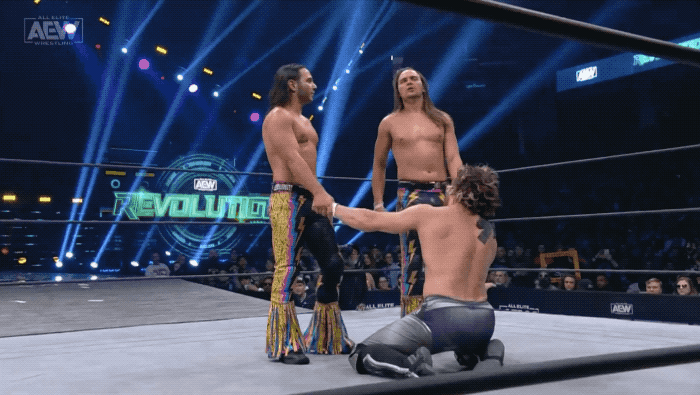 Then they both hit knees again and he kicked at 2…Matt Jackson in frustration tore the protective tape from Omega's shoulder. They then tried for the Meltzer Driver, but Hangman Page came back in to play and put Nick Jackson through the table that was ringside with a powerbomb. Page and Omega hit what became their tag finisher (a Buckshot Lariat/V-Trigger combo) on Matt Jackson, who kicked out at 2. Omega then tried for the One Winged Angel (a move that STILL has never ever been kicked out of) but his shoulder gave way, and this was where Hangman turned into Hulk Hogan peak Hulkamania and it was AWESOME… He tags in, HE hit the One Winged Angel on Matt… but Nick Jackson makes the save during the pin. And then Page with a Buckshot Lariat to Nick Jackson whilst he was on the apron, and then sprung right into the ring and hit the same to Nick. And that got the 1,2,3. This match was awesome but Hangman Adam Page (who still now in 2021 I feel like is set to long term get THE big moment for the title) was the crowd favourite and really the MVP of this incredible match.
After the match it appeared that Omega made peace with Matt and Nick, but Page seemed not willing to do so. We had a super cool tease of Page hitting the Buckshot Lariat to Kenny, as he was stood on the apron looking menacingly towards Kenny, but as Omega turned around Page paused, and then held the ropes open for his tag partner to step through, and the crowd cheered as they left together. Page also got a beer from the crowd as he walked up the ramp. This was a fun tease, and the right call for it NOT to happen as I feel like Chicago would've rioted if their hero turned here.
This was one of the ALL TIME great Tag Team matches, and possibly the best match in the history of AEW.
*****
We had a solid video before the next match, featuring JR, Schiavone, Taz and Nyla Rose herself. It really put over both women well.
Basically Statlander is an alien (yes her character is she's from another galaxy legit). Nyla Rose is named "the native beast" which tells you all you need to know about her gimmick.
Nyla Rose (C) defeated Kris Statlander to retain the AEW Women's World Championship
We got Classic pre match intros which made the title match feel that little more special. The crowd weren't into it too much during the entrances, but did react to both women when Justin Roberts introduced them. Both were cheered in fact. These women were in such a tough spot having to follow the best match in company history, so it was not a shock to me that the crowd seemed somewhat quieter. So Statlander, as much as I love her, did seem to be rushing a little (slipping on an attempted kip up was one), but credit to the crowd they didn't boo or "you fucked up", they cheered and wanted these two women to have a good match. It wasn't great, but it wasn't bad either. Rose put the heat on for a lot of it, but Statlander held her own also with her athletic style. One spot saw Statlander dive through the ropes but Rose moved, and Statlander landed face first on the ramp. Rose also speared Statlander by going through the ropes back into the ring which for a woman of her size was a heck of a spot. She only got a 2 count from the pin though. Statlander hit 2 really good dives one after the other, but soon after she took over again in the ring Rose set her challenger on the ropes before going to the top rope… Statlander though did a handstand to move out the way walking on her hands, then blows Nyla a kiss.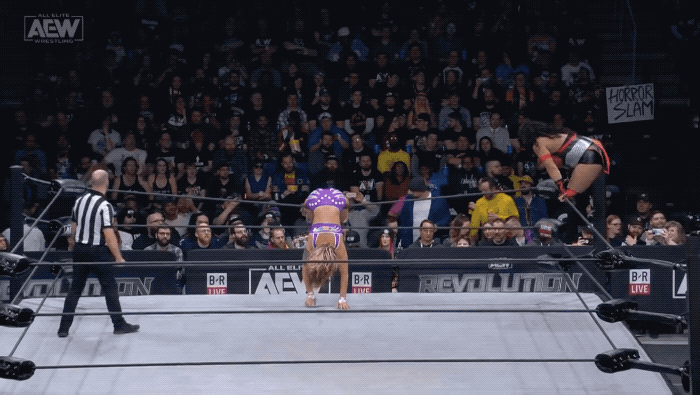 Statlander was on fire after and hit a Roundhouse kick, a big boot then a DDT… but only got a 2 count. Eventually Rose locked in a viscous STF, but as much as Statlander fought Rose then out the hold in again not long after…
Rose went for the big splash but Statlander got he knees up. Statlander hit a single leg dropkick, but then came off the ropes right into a Powerbomb, but kicked out the pin after. Kris Statlander hit an Avalanche brain buster for a 2 count, and started to become frustrated after. That seemed to cost her as not long after Rose hits a big boot, and with both women later on the top it was Statlander that tried a hurricanrana but Rose powered out and hit a big Powerbomb for the 3. The champion retains.
**1/2
They advertised the AEW Unrestricted podcast with Aubrey Edwards and Tony Schiavone hosting.
Next was one of the most anticipated matches in company history. It certainly had the best long term build that any match in AEW has had to this point.
They did a really good job getting over just how personal MJF vs Cody really had become. They also showed the tale of the tape which they did for the tag and women's match before. Again a minor thing but I like it. As I've said I think this was one of the best storyline's AEW have ever put together. The basic road to get us here to this point being; Cody took MJF under his wing, MJF threw in the towel to cost Cody his title match against Jericho (with the added stip that if Cody didn't win that match he'd never challenge for the AEW title again), MJF officially turned on Cody after. Cody sought vengeance but MJF refused, before giving Cody three stipulations in order to be willing to face Cody 1 on 1… Stip 1 was Cody couldn't lay a hand on Maxwell Jacob Friedman before Revolution, 2 was Cody would have to take 10 lashes with a belt to the back (which ended up being quite the incredible TV segment so go out our way to check that one out) and finally Cody would have to beat Wardlow in a cage match… which he did after hitting an amazing moonsault from atop the cage to get the win. Cody had jumped through every hoop MJF put in his way and now it was time for the big showdown. A tremendous video before this match told the story expertly well.
MJF got heavy boos as he came out. I cannot put over how talented this man is. He already is one of them but I'm in no doubt he will be THE number one heel in the business in years to come. Cody got the big entrance as he always does on big AEW shows. He had the backstage walk shot with Brandi and Arn. Downstait then played his theme song live.
MJF (with Wardlow) defeated Cody (with Arn Anderson and Brandi Rhodes)
There were so many key moments in this match with the story they told. It was really enjoyable to watch to be honest… We had MJF throwing a beer over a fan, Cody running from behind the top of the entrance ramp to deliver a big clothesline to MJF in the ring, Brandi throwing a beer on Wardlow with Cody then diving onto Wardlow after Arn had got in the way to protect Brandi, MJF biting at the toe Cody had broken in the aforementioned cage match, Wardlow backing down when Arn threatened him with a chair if he interfered in the match, a great spot where Brandi dived off the apron onto Wardlow but he caught her and as Cody went to rescue his wife he accidentally kicked Arn Anderson down after Wardlow got out the way… after getting a real beat down a very bloody MJF was in tears and hugged Cody as he begged for mercy… and then he spat in his face. I LOVED the finish of the match, I thought it reflected the story very well… So Cody hit two Cross Rhodes in a row to really lay it in on Max, and Brandi at ringside was begging and pleading with him to just cover Max and wrap up the win, but Cody was overcome with rage and hatred for his opponent and it cost him… a distraction allowed for MJF to retrieve the Dynamite ring (he had won it previously by winning a battle royal and then match for it) from his trunks, he whacked Cody in the face with it, flung himself against the ropes and then as he was exhausted he kind of just fell on top of Cody… and MJF go the win! The crowd were absolutely horrified at the result, the unthinkable had happened. Cody looked devastated, Arn and Brandi the same, and the commentary team sold it to so good. he was battered and bloodied, and had to be helped out of the ring and to the back by Wardlow… but your winner here was once again Maxwell Jacob Friedman (remaining undefeated in singles competition in AEW to this point). I liked everything here that I saw. Good stuff.
****1/4
With the crowd somewhat upset given the heel win in that grudge match, they could do with something to cheer them up. They got the perfect pick-me-up next…
How would I describe Orange Cassidy? Well… you really do just have to watch him as it's kind of hard to explain. It's even harder to explain why he gets absolutely monster reactions whenever he appears. But he is OVER and that's all that matters. PAC is just the best and little explanation is needed there. And these two complete opposites came together here, PAC seeing Orange as a complete joke and the idea (built up by his literal 'Best Friends' Trent and Chuck Taylor before the match) is that the 'king of SLOTH style' would in his PPV match against PAC, his AEW singles match debut… he would… TRY!!!
PAC defeated Orange Cassidy (with Chuck Taylor and Trent)
It's hard to describe Orange Cassidy to someone who hasn't seen him wrestle before. You do really just have to watch him. It was a very interesting dynamic here, with two guys basically polar opposites of eachother, but it worked! PAC was tremendous and played his part so well, and Casssidy was his usual self but when he did have to go, boy did he go! This was super entertaining stuff. The pick-me-up match is often looked down upon, but I loved this match. SO much fun and the real lift the crowd needed after the heartbreaking end to the match prior.
Orange got a GIANT pop when he came out (skip to 5.21 of the following video)…
It was such a joy watching this match. PAC played his role to perfection. And Orange Cassidy was Orange Cassidy.
If you watch the two clips I've shared you'll get the basic idea of what the match was like… Orange would joke, PAC would be serious, PAC would be aggressive, Orange would TRY, Orange would be hilarious, PAC would be brutal, Orange would TRY, and then PAC stopped all the nonsense… but it really was so much fun all match…
That finish would come after the Lucha Bros (Penta and Ray Fenix) came to ringside to take out both Trent and Chuck Taylor, and not long after PAC wrenched away at Cassidy before locking in the Brutalizer for the win. He kept it on slightly longer after the bell too, because he's a BASTARD! But seriously watch the two clips I've shared in the blog of the match, this really was superb for what it was and it did it's job to perfection.
***3/4
They again advertised Blood and Guts for the March 25th 2020 show. I'm so happy they're actually doing it this year.
We had the tale of the tape shown and then a cool video ahead of our main event. The story here was with Moxley on a tear, Jericho did everything he could to keep his title and so offered Moxley a chance to join his faction.. which Mox eventually turned on Jericho and said no. From there Jericho eventually tried to blind Mox in one eye by stabbing him with a spike. Mox turned that around by trying to do the same to Santana with a car key.
Jon Moxley defeated Chris Jericho (C) to win the AEW World Championship
Moxley's entrance saw him walk from outside of the arena to the ring. He got a giant pop coming out. And when we thought that was awesome… Jericho pulls out one of the better entrances I've ever seen.
This really had a big fight feel, as commentary also really made a point of explaining how both guys were undefeated in singles competition in AEW. It was really put over how both guys were the two very best in AEW. As it should be fighting for the world championship! Jericho was escorted out by Santana & Ortiz of his Inner Circle group, and he was also sporting a cut above his eye which Jon Moxley had given him during their weigh in the previous Dynamite.
How or why Jericho wasn't counted out or Disqualified during the early part of the match (where he and Mox brawled through the crowd and Jericho used a few items (a stand of some form and a sign) to hit Mox. Aubrey Edwards the ref was certainly being lenient but I digress… Moxley later bit a the stiches on Jericho's head, Jericho not only rang the ring bell and grabbed a mic declaring himself the winner as he was beating on Moxley, but he also loudly called Moxley a piece of shit in the ring. Santana and Ortiz were of course a factor at different points, with Jericho distracting the ref allowing for them to get their shots in. At one point Moxley had Jericho in a boston crab, only for Jake Hager to come out to try and distract, and after Moxley's attention was on Hager, Jericho hit the challenger with the (FKA) Codebreaker. Jericho started to get annoyed at not being able to put the challenger away, and even pushed Edwards which the crowd reacted to in shock. Soon after Hager got a punch in on Mox, at which point Aubrey finally banned the three Inner Circle members form ringside… just as the other, Sammy Guevara, ran into the ring behind her back and hit Jon Moxley with the AEW World title belt, before running back into the crowd. The crowd booed this a lot… but Moxley kicked out of the pin at 2! Moxley was bleeding really bad now from his already injured eye, and things really did look bleak for him… until the big twist…
The finish of the match was excellent.
Jericho gauged away at Mox's good eye, and then hit him with a kick… Moxley staggered to his feet as Jericho set for the Judas Effect (spinning back elbow), but Moxley dodged it, then ducked again and out of nowhere he hit the Paradigm Shift. He then did the big reveal that he was in fact pulling the proverbial wool over our eyes… and he could now see the whole time! The crowd roared in realization, and then right after Moxley then kicked Jericho in the stomach, hit a BIG Paradigm Shift… 1,2,3!!! And to a huge pop we had a NEW All Elite Wrestling World Champion… [In Justin Roberts' voice] "JOOOOOOOOOOOOOOOOOOOON MOXLEEEEEYYYYYY"!!! Mox cut a great promo after (which included the hilarious moment he reacted to his music being played mid-promo to cut him off by saying 'hey what the fuck?'), saying he would be a fighting champion.
****1/4
People questioned if it was the right time for Jericho's reign to come to an end? If Moxley was the right guy to beat him? My answer to both those questions both at the time and now is yes. Moxley had been built up and protected all along as a top star as had Jericho, and Moxley was the guy now to take the ball and run with it. And given the array of great matches with a variety of opponents Jon Moxley had as AEW Champion his entire reign, I think we can look back now over a year on and say this was absolutely the right call.
This was a phenomenal show. One of the best I've seen from any American wrestling company. Some great matches (including one of the best ever), HUGE moments, and all the way through I had so much fun watching it. I would highly recommend going out of your way to watch this show. If AEW's first PPV with a full arena of fans since this one is as good as this was, then we will have another show for the ages.
Josh.