So now in my fantasy RE-booking world of WCW's Invasion of WWF, we are just past the Judgement Day PPV. And now we move on to our next PPV; King Of The Ring. This is a format that has become significantly less significant as the years have gone on, and gone now are the prestige and even occasional future title shot that becoming King promised. So on top of all the various mini storylines and angles that I have going on, my main focus here will be the King Of The Ring tournament, that will culminate at the PPV. And here whoever is crowned King will earn themselves a future WWF Championship match. So… lets get into it…
---
So as there is FIVE weeks of TV between PPVs here, I'm just going to quickly run through the Raws and SmackDowns and then go into more detail on the creative going into the King Of The Ring show… :
Raw 21/5/2001 – (San Jose, California): the nWo announce their intention to take over the WWF, and their first target is Stone Cold and the WWF Championship! Elsewhere a Kurt Angle segment sees Shane and then Vince come out, and we get the set up for the KOTR tournament. Kane and Undertaker win a multi-team tag main event.
SmackDown 24/5/2001 – (Anaheim, California): So here irl they did a multi team TLC tag match, but I want to do this on a PPV stage… so instead here we have Chris Jericho defend the IC title against Test and retain. Also Tajiri debuts on WWF TV alongside Commissioner Regal.
Raw 28/5/2001 – (Calgary, Canada): This show is historic as where the Invasion began. But in my world we have Vince be booed profusely, and Shane (alongside Canada's own Lance Storm act as the babyface). A big main event with Austin defending the title against Storm happens, with Storm coming close to winning event, but this time we have Shane try and pull a Montreal Screwjob shock win but Austin prevails, only to be beat on by Scott Hall after.
SmackDown 31/5/2001 – (Edmonton, Canada): The big main event here sees Chris Jericho defending the IC title against Shane McMahon. With (of all people) Kurt Angle helping his former enemy Jericho retain, this builds the heat between Shane and Kurt…
Raw 4/6/2001 – (Minneapolis, Minnesota): On this show the KOTR tournament begins, we have segments that see Shane and Vince go at it on the mic with Shane tearing into his father, Stone Cold trying to comfort Vince after, and also William Regal turning and joining up with Shane as the new commissioner of WCW.
SmackDown 7/6/2001 (Grand Falls, North Dakota): Here Kurt Angle's KOTR campaign begins, Test joins WCW, Kane and The Undertaker go after Shane and the main event is Stone Cold and Vince McMahon vs Sean O'Haire and Chuck Palumbo for all the tag titles. We can have this end in a huge brawl with nWo, Taker & Kane and a few people coming out.
Raw 11/6/2001 (Richmond, Virginia): On this show we have Mick Foley be announced as the new commissioner (once again) of WWF, and in place of the legendary cage match between Kurt Angle and Chris Benoit we have Christian (who is wanting to prove himself).
SmackDown 14/6/2001 (Baltimore, Maryland): The main event here we have Austin taking on both Hall and Nash in a handicap match (he wins by DQ after hitting a stunner to Nash but being jumped by both men after, Taker and Kane make the save, O'Haire and Palumbo come out also), with Shane having to face The Undertaker in a 'trade agreement' of sorts between Vince and Shane. Kurt Angle ensures no WCW guys help Shane in his match.
Raw 18/6/2001 (Tampa, Florida): We have 3 KOTR quarter finals on this show, including TAJIRI vs Hogan (where Tajiri comes close to winning, despite Regal telling him to 'do the right thing' beforehand). We also have a big 6 man main event with uneasy allies Stone Cold teaming with Kane and Undertaker against O'Haire, Palumbo and Shane. They tease the 3rd man will be one of Hall or Nash but Shane 'gives them the night off'. The finish is Shane pinning Austin (please forgive me) via 'shenanigans'. Kurt Angle sneaks out to Angle Slam Shane to close the show, and Austin gives him a stunner. Kane and Taker brawl with O'Haire and Palumbo to the back, as the nWo jump Austin.
SmackDown 21/6/2001 (Orlando, Florida): The focus of this show is Austin feeling like he let down Vince on Raw, and all show he tries to make it up to him. The main event here is Scott Hall vs Austin, here we do the match they eventually did at WrestleMania 18. This show also features the first confrontation on TV in YEARS between Hollywood Hulk Hogan and Vince McMahon. Hogan basically tells Vince he's going to lead WCW and the nWo and take everything from Vince, starting with the WWF Championship after he becomes King Of The Ring. Vince calls him a SOB, says he will hold MY wwf championship 'over my dead body'.
---
So that's the shows individually gone through, but here's the main storylines going into the KOTR ppv…
As I've said the nWo are set on going after the WWF Championship, and Stone Cold Steve Austin. So with Austin becoming increasingly hating and sad on the idea of WCW coming in and taking over, it is set that Hogan will enter the King Of The Ring tournament, and Austin will defend the title in a triple threat match against Kevin Nash and Scott Hall at the pay per view. This also sees the feud between Shane and Vince continue, as well as the 'love-in' between Austin and Mr McMahon. With Austin he continues to try and do right by Vince, whilst continually being foiled by WCW and somewhat losing his passion.
Vince and Shane agree between them that the KOTR will contain 8 WWF superstars and 8 from WCW.
Kane and The Undertaker begin a feud against Sean O'Haire and Chuck Palumbo, who now hold BOTH the WWF and WCW tag team titles. Many teams from the WWF try and fail over the course of the few weeks to take the titles from O'Haire and Palumbo. As these two teams also intertwine with the nWO/Shane – Austin/Vince storyline.
The WCW Champion Booker T is really braggadocious at this point. He continually speaks about how he is the greatest, and even gets in Vince McMahon's face about how nobody can stop him being the best. So now we start a story where Vince becomes intent on one of his WWF stars taking the WCW title from Booker. Vince's weapon of choice is… Big Show! T counter this we have the same thing with Shane McMahon wanting a WCW star to win the IC title from Chris Jericho. He sends Lance Storm after him and even recruits Test and Christian to join WCW with the main goal getting the belt from Y2J. But ultimately Jericho holds on and remains Intercontinental Champion… for now…
As for the Hardcore Championship, this is currently held by Rhyno. We continue with various names on various shows going after it, both from WWF and WCW… the likes of: Billy Kidman, Mike Awesome, Raven, Chavo Guerrero, The Hardys, The APA, X-Factor and The Dudleys. Shawn Stasiak, Lance Storm and Chris Kanyon can get involved in this as well. RVD too… This is just a filler at the moment, at to give people a spotlight who might otherwise not get it. But even if we have various title changes Rhyno will be champion by the time KOTR comes about. This also ties into the X-Factor (X-Pac, Albert and Justin Credible) vs Rob Van Dam and The Dudleys storyline.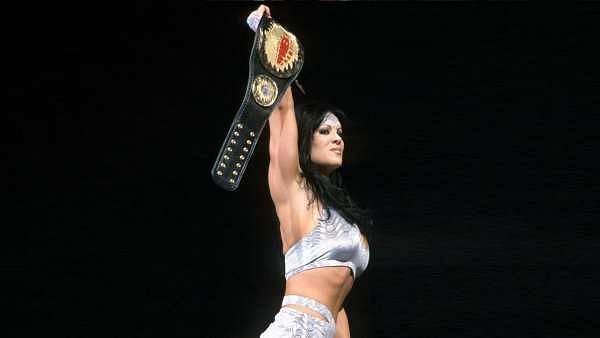 Chyna as WWF Women's Champion becomes more and more a fan of… herself… she gets more and more cocky and arrogant. But starts to feel under appreciated, that even as Women's Champion she doesn't feel like she has reached her full potential. She viscously beats down a number of women on the WWF roster on her way too…
William Regal brings in Tajiri. And he eventually is persuaded by Shane to leave WWF and join WCW as their commissioner instead. Mick Foley also returns as WWF's commissioner. Regal gets tired of being under-appreciated by Vince McMahon and the WWF, and turns fully heel joining up the new WCW. This vaguely follows what he did in real life when he joined The Alliance.
WWF European Champion Scott Steiner (alongside Stacey Keibler) begin a feud with WWF's Eddie Guerrero over the European title. Eddie is wanting to prove himself to Chyna to gain her affections, meanwhile Steiner and Keibler try and talk down about Eddie to her, and also try and talk up the benefits of being on the side of WCW.
Hurricane Helms continues his run as WCW Cruiserweight Champion. Various challengers such as Crash Holly and Spike Dudley, but ultimately he too keeps hold of his title.
And finally… Bill Goldberg. I want to keep Goldberg special, so he will only appear sporadically so as to keep him that way. So far he has attacked Stone Cold on multiple occasions, as well as locking Vince in his office at the ppv. He'll show up more frequently as we head into the summer of 2001, we continually though (via vignettes, promos from Shane and teases of him showing up) are reminded of him. His tagline 'Who's Next?' becomes a big thing. Vince even bans Goldberg from entering the KOTR tournament, as per part of his agreeing to with Shane on the conditions of letting the WCW guys enter the KOTR tournament. Goldberg wont appear himself on tv at all in the time leading up to King Of The Ring, but we will keep being reminded that he COULD show up at any time…
---
So as I've mentioned I really want the King Of The Ring tournament to be put over across the 5 weeks before the PPV as a huge deal. Beginning with the Shane – Vince segment where it's agreed 8 WCW and 8 WWF superstars will make up the KOTR line-up. Vince agrees to this after Shane says he will stop with his plans for WCW should one of his guys fail to win the KOTR tournament. It's agreed also that the winner will gain a shot at the WWF Championship, something which Shane says is crucial for him to be able to achieve what he wants to do with WCW. The tournament itself goes like this…:
Kurt Angle defeats Lance Storm – good match. Shane is desperate for Storm to win and tries his best to help him do so.
Jeff Hardy defeats Matt Hardy – babyface match. All is cool between them after.
Christian defeats Chris Kanyon – Christian is still WWF at this point
Edge defeats Test – it's this loss that makes Test think about joining WCW
Tajiri defeats Billy Kidman – This is Tajiri's WWF debut
Hollywood Hulk Hogan defeats Crash Holly – Shane ensures Hogan gets a 'favorable' draw. We really make this seem like the biggest possible David vs Goliath match.
Quarter Finals
Hollywood Hulk Hogan defeats Tajiri – as I've said Tajiri looks like he's trying to legitimately win, before he lays down and lets Hogan pin him, listening to what Regal (at that stage part of WCW) told him. Again another 'favorable' draw for Hogan.
Edge defeats Christian – they start off as friends, but soon enough Christian gets jealous as turns on Edge. Eventually he joins WCW as well.
Kurt Angle defeats Jeff Hardy – again a babyface match, but after Angle is jumped by Shane with a steel chair. As for Jeff he is beaten up later in the show along with Matt by some WCW guys, as a 'punishment' by Shane who is angry at anyone who doesn't stop Angle winning KOTR.
DDP defeats Rhyno – here we have Rhyno act as if he's all team WWF and the two have a good match. But later backstage we see Shane giving Rhyno some money and saying 'there's more where that came from'… this leads to Rhyno as well revealing he has joined WCW.
Semi Finals
These will take place at the PPV itself. The matches will see Kurt Angle vs DDP and Hollywood Hulk Hogan vs Edge. Edge comes across as a huge babyface and talks about how Hogan was his idle as a kid, but he doesn't recognize who this Hollywood guy is. The other big story is that of Kurt Angle, who continues his personal feud with Shane McMahon through various segments, have it build as similar to their actual build as possible. Really ramp up the intensity as we go, have Kurt be the leading light for the WWF in the tournament, as well as his feud with Shane.
and so we end up with a line-up for the PPV as follows:
Stone Cold Steve Austin (C) vs Kevin Nash vs Scott Hall for the WWF Championship
The King Of The Ring semi finals and final
Kurt Angle vs Shane McMahon in a Street Fight
Booker T (C) vs Big Show for the WCW Championship
Undertaker & Kane vs Sean O'Haire & Chuck Palumbo (C) for the WWF&WCW Tag Team Titles
On a sidenote, The Sunday Night Heat match before the PPV will see Scott Steiner successfully defend the European Championship against Eddie Guerrero. Be it directly or not this is where we do the big angle that sees Chyna join WCW. Yes this will mean a sacrifice of the Chyna – Eddie love storyline which was absolute magic, but I've so much going on with The Invasion I wouldn't want it to get lost in the shuffle. This is something I would like to revisit (should I book to that point) later in 2001 before Chyna subsequently leaves the company at the back end of the year.
---
King of The Ring (June 24 2001) – East Rutherford, New Jersey
Kurt Angle defeats Diamond Dallas Page in a King Of The Ring semi final
Have a really solid match to open the show. Kurt Angle playing babyface against US Champion DDP. Even have it suggested Angle is open to a title shot after this win. We don't have Shane directly get involved, but he is shown backstage furious that Angle has won and promising he wont let Angle win the tournament.
Hollywood Hulk Hogan defeats Edge in a King Of The Ring semi final
Another hot match where Edge has all the crowd support. But ultimately Hogan cheats to win.
The Undertaker & Kane defeats Sean O'Haire & Chuck Palumbo (C) to win the WWF & WCW Tag Team Championships
So here we have the match they actually did on an edition of SmackDown in August of 2001. Obviously slightly different from the real match as this one is for both tag titles, there's no involvement of Taker's then wife Sara, and this match is on this PPV. But the main thing is The Brothers of Destruction end the show here with both sets of Tag Team gold, something that actually came true at SummerSlam of 2001 in real life.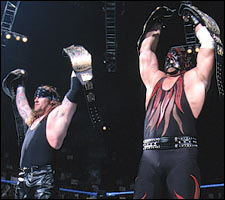 Hollywood Hulk Hogan defeats Kurt Angle to become King Of The Ring
So as happened we have Shane cost Angle the tournament, and gifting Hogan the future WWF title shot. Maybe even have Hall, Nash, Vince and Austin come out and get involved in some form. But the end result is Hogan wins the tournament, and Shane cost Angle.
Booker T (C) defeats Big Show to retain the WCW Championship
Just let these two have as solid as possible a match here. Show as the babyface, and ultimately Booker as the chicken-shit heel.
Kurt Angle defeats Shane McMahon in a Street Fight
Of course this is what happened at the show in real life. This match was so historic and dramatic I would keep it exactly as it was. If you can go out of your way to watch it.
Stone Cold Steve Austin (C) defeats Scott Hall and Kevin Nash in a triple threat match to retain the WWF Championship
So this is where we have Austin go as close to babyface as we can get away with. Hall and Nash work together, but also each try and win the title for themselves. Hogan tries to get involved, but with Shane taken out he doesn't have the back up he usually does. All show we have the nWo and Shane say they have a plan to ensure the evening goes as planned. But of course Shane is on his way to the hospital and Vince gets Kurt Angle to come out and stop Hogan from interfering. Ultimately Austin pins Hall after the Stunner to retain the title. And he stands tall to end the show as the nWo are left licking their wounds, and Vince and Angle look on. I thought about doing what they did, and have WCW Champion Booker T attack Austin mid-match, but I'm not planning on a match between the two so I don't see the point of that. But as they did in real life have commentary sell how Austin is now a vulnerable and beat up WWF Champion… and when will his luck run out… and how will he continue to cope with the nWo and WCW…
---
And that… is King of The Ring in the books. Austin is still WWF Champion, and we have the incredible prospect of a match between him and new King Of The Ring Hollywood Hulk Hogan to come! The WCW invasion is getting stronger and stronger, and with the next PPV being the Invasion PPV it is about to be taken to a whole new level. For me in real life the Invasion PPV is the culmination of the failure of the entire angle as it played out. There is a reason the PPV did a bigger buy rate than any before it, because it had the chance to be where all of our WCW-WWF dreams came true. I will separate the build and the actual PPV into two blogs, one for the build and another for the PPV. And this is where the battle lines will well and truly, be drawn.
Josh.