Everyone remembers their first time right? First kiss, first football match, first date, first… wrestling show… Well despite my fandom beginning in the year 2000, and aside from a few Butlins shows which I couldn't tell you one name on any of those shows, I didn't actually start going to live wrestling shows until 2016. Since then I have been to indie shows, TV tapings and live (to tape) WWE shows… My first show was in the not so glamorous surroundings of the newly opened home of the Leicester Riders basketball team, the Morningside Arena. I'm not sure exactly how many were at this show, but it holds less than two and a half thousand for Basketball. Myself and my friend Stefan (the first friend I made at Uni, who just so happened to be a wrestling fan) started to get in to wrestling outside of WWE around this time, and when we noted that Ring Of Honor (at the time maybe the second biggest American wrestling promotion) were touring the UK, and one of the stops was in my home-city of Leicester, we just had to go. And myself personally it was a disaster of a day… My phone at the time had broken, so I had no phone for the show. Although that meant a very long wait as there was no way for Stefan to tell me that he and his brother would be slightly later than planned, and so I was stood outside waiting for a LONG time… but it also meant that I could take no photos or videos during the show… At the time that was gutting, but in hindsight it did mean I had no choice but to sit back and take in the event… totally free from the 'pressure' of getting a good clip or shot… and you know what? I had an absolute blast! It was also the first time I ever wore contact lenses when going out, so it was a totally new thing for me to be able to enjoy myself without worrying about breaking my glasses.
2016/17 was quite the golden era for independent wrestling. The names me and Stefan saw live in the smallest of venues in the most random of cities in England was absolutely absurd… The names on this card alone are crazy, in 2021 this same show would be an absolute super show! So… let me get on to this show in question… It's quite sad that as I write this we have just seen (maybe) the final PPV as we know it for this same promotion, but back in 2016 Ring Of Honor was still thriving. Before the show began in fact we saw the likes of Adam Cole and Jay Lethal talking with fans and selling their t shirts. We also had a rather funny incident in hindsight were Stefan asked Nigel McGuinness a question about something to do with something in the venue I think (I'm sure Stefan will correct me)… but it was just so cool that Nigel didn't at all act like he was bigger or more important, and he talked just like any normal person despite his role as a big part of the promotion we were about to watch.
I will speak more as I watch this show back shortly (having purchased the DVD) but it goes without saying I had a GREAT time. I in fact recall we before the show were more excited for the NXT TakeOver that was also that night (It was the one were we had the famous DIY vs Revival match), and also the Survivor Series the night after that saw THE Goldberg v Lesnar squash… But this show was great. I knew or had a casual knowledge of some people on the card, but some I didn't have a clue who they were. Lio Rush and Donovan Dijak for example, which as I'll explain was a PHENOMENAL match to see live and up close, I didn't have a clue before this show who either were. Now in 2021, given the internet and my far FAR great knowledge of wrestling all across the world and in different promotions, I'm not sure how or who I could see wrestle or appear for the first time and me not know who they were. But as I said, you never forget your first time right?… SO… Let me get right on with this review. I'm just going to grab a tea, and then I'll put the show on and watch it back for the very first time. Here is my review as I rewatch the first wrestling show I attended; Ring Of Honor's show on their November 2016 'Reach for The Sky' tour in Leicester!
---
The ring announcer was the legendary ROH announcer Bobby Cruise. The commentators for the show are Kevin Kelly (now lead English commentator for New Japan Pro Wrestling) and Steve Corino (now one of the top trainers and producers at NXT). They showed graphics for our main event later in the night, as we went right in to a video entrance for one of our competitors in the main event, the then 'Local Hero' Joe Hendry. It was an odd juxtaposition for us, given the other promotion we would go to shows of at that time (WCPW) had Joe Hendry as their champion, and here he was in the opener. Nonetheless getting a shot with a promotion like ROH was huge for him. He in fact was on the card for Final Battle 2021, so good going for him…
Jay White defeated Joe Hendry
As much as I could talk about what a star Joe Hendry was at that time, these were the VERY embryonic days in the rise of Jay White. A former New Japan 'Young Lion' has since gone on to rise and rise and rise, in terms of absolutely every aspect of his craft, and his unbelievable progression in character work, promos, and now where he is a fucking FANTASTIC professional wrestler had seen him have multiple 5 star matches, be the defacto leader of the Bullet Club, and have a spell as IWGP Champion… so safe to say since I saw him on this show he has done OK… Hendry was really over with the crowd, most like me I presume knew him from the English indie scene. I know it was 5 years ago but I can't get over Jay White's (lack of) physique in this match… The crowd was very quiet early on (I of course didn't know if this was normal or not at the time, but watching it now it comes across as BAD, but given there cant of been more than a few hundred in the building, it makes sense)… The match itself was perfectly fine, very much your classic wrestling moves early on with it going very 50/50, Hendry as the bigger guy took charge after with suplexes getting him the advantage and nearfalls, with his delayed suplex showing off his power. Jay White tried to get the crowd into it after, and he used his speed advantage after to keep Hendry down, including with a Crossbody from the top that got White a nearfall. I will add one thing this match reminds me is the chops they do sound HORRID to take when you're in the building with them, I was at another show once where I got to witness some poor soul get chopped by WALTER for example… ANYWAY… Jay White hit a great dropkick to try and get back into it, and then followed with a tope dive through the ropes to Hendry on the outside. After he got a missile dropkick, and a Urinage for a 2 count. White later came off the top again, but Hendry caught him with a Fallaway slam for another nearfall, they had a striking exchange which ended with Hendry getting a nearfall roll-up, followed by two more nearfalls after. White hit a big suplex, and then his Kiwi Crusher finisher for the win. In 2021 it is so odd to see Jay White wrestle like this, totally unrecognisable from the man who has since gone on to be one of the top names for New Japan. (The internet tells me there were more than 2000 in the building for this show, which I can't say I agree with but whatever…).
Jay Lethal defeated Alex Shelley
Alex Shelley is somewhat of a legend for both ROH and TNA/Impact wrestling, along with Chris Sabin they formed the Motor City Machine Guns tag team. Jay Lethal was one of the names I knew going in to this show, more from his TNA days and his Black Machismo gimmick (as I'll mention later I wasn't the only one…). Lethal was the first wrestler I saw up close and was struck by how enormous he was in real life. His thighs were like tree trunks! Lethal was challenging Adam Cole for the ROH title on the following night of this tour, and he had been champion for well over 400 days previously. The crowd were very welcoming to Lethal when he came out, the most over on the show by a mile up to this point. Duelling chants were the soundtrack as the match got underway, and early on you could very much tell this was two veterans chain wrestling at speed in contrast to our opener. A great exchange followed by a cartwheel into a dropkick by Lethal got the crowd excited some more, Lethal then did the Randy Savage-like punches which led to a nearfall, and we had our first 'oooooooh, yeaaaaah' from the crowd. They exchanged advantage as each tried for a suplex, with Lethal eventually hitting it much to the crowd's delight. They were far more invested in this than the opener… Lethal eventually got a superkick that sent Shelley outside, and went to go after him but Shelley knocked him back with a kick, he then hit a number of kicks and had Lethal slumped in the corner before hitting a kick to the back that sent Lethal to the mat floor. Shelley mockingly did the 'ooh, yeahhhh' which made the crowd laugh, and then and Lethal down in submission using his legs to wrap around Lethal's neck, and soon after he hit a spinebuster that sent Lethal down again. Lethal was soon up and hit a hard strike, more strikes followed, and an enziguiri had Shelley down. Lethal combination got Jay a nearfall not long after, the pace continued to quicken after and Lethal signalled it was time for the big elbow, but he also was ahead as although Shelley raised his foot Lethal was ready, and one 'WOOOOO' later he tried for a figure 4 but Shelley kicked him into the turnbuckle. Shelley sent him again into the turnbuckle, and after another exchange Shelley took Lethal down and went for his finish, but Lethal ducked and hit his own Lethal Injection for the win. Good match between two very good wrestlers who are still killing it today in 2021. Shelley remains a legend and does more of the indies these days, Lethal recently signed with AEW.
NOW… this next match, at the time and still to this day, was one I remember very fondly. On paper in 2021 this would be a banger and in 2016 not knowing either guy I didn't know what to expect, I recall being blown AWAY! I hope so badly it was as good as I remember it being live. I wont take as many notes of this one as I really want to watch it back in full… but…
Donovan Dijak defeated Lio Rush
I can confirm Dijak was a GIANT irl. Which only made Lio seem even smaller, Lio was by far the best high flyer I've had the pleasure of seeing wrestle live too. The success of both these men since this show is no shock to me, I'm so happy to see Lio in AEW these days, and Dijak (Dominik Dijakovic in NXT who had all those bangers with Keith Lee) will hopefully get his chance to shine bright again in the near future…
I totally forgot until now, but the lights went out just before this match started, and so they had to use the spotlights to light the ring… only in Leicester and the joys of a far smaller venue I guess…
Update: This match was FANTASTIC! The size differences made for a great story, and the two phenomenal wrestlers help as well… The crowd was so hot all match, but we also had the… odd stuff with the lighting that went off and on again and off again for most of the early part of this match. Nonetheless Lio sold so well for the giant Dijak, at one point we had Lio try and mount a comeback, only for Dijak to hit a big strike and then try and go for his finish, but Lio reversed and hit a reverserana for a nearfall. Later with both men on the top rope, Lio hit strikes and then went for a superplex, but Dijak choked him and threw him outside… and THEN in a spot that was WILD to see live the giant Dijak hit a moonsault to the outside which got a standing ovation from the crowd. Lio later hit a crazy spanish fly on the apron, which again to see live was amazing. Rush later kicked Dijak and the momentum from his run up sent the giant over and into the fans behind the barricade. He later got back in the ring just before the ref's count would've ended the match, but Rush soon hit a Frog Splash… only for Dijak to again catch him by the throat and hit a Chokebreaker, and then his Feast Your Eyes finisher for the win. As good as I remembered!
reDRagon (Bobby Fish & Kyle O'Reilly) defeated The Briscoes (Jay Briscoe & Mark Briscoe)
To my knowledge, The Briscoes have been ROH until the very end. Not often you see loyalty to one company in this day and age like these two supremely talented wrestlers have shown. Undoubtedly STILL one of the best tag teams in the world, I cannot wait to see what they do next. It was within a year of this show that both Bobby Fish & Kyle O'Reilly would begin an all time great run as a tag team dominating NXT. Fish was let go earlier this year and was snapped up by AEW… There is every chance O'Reilly follows in the new year… I really could watch these two teams wrestle all day, both with very hard offence with some technical mixed in too. Just really solid stuff from both, it was a 50/50 match I'd say with the obvious size advantage of The Briscoes meaning they often took charge, but Fish would comeback with hard kicks and O'Reilly would show his amazing ability to get in a submission from anywhere… This was certainly the hardest hitting match I had seen up close to this point, and I recall one stage early on here where Mark Briscoe hit a chop across the chest of Bobby Fish, and I myself felt the pain it was so loud! The crowd were polite but it wasn't out of lack of interest that they weren't always loud, more they were just enjoying the good 'rasslin I think. I do recall at the time being impressed with the lethal strikes and kicks from O'Reilly (combined with his submission skills), which of course now given I've seen a tonne more of his matches in the years since is no shock, but back then and watching back now he comes across as a killer! He showed his comedy in this match too, as also became a theme of his down the years… One stage he had a submission locked in before the other Briscoe broke it up and he said "what the hell you ass?!"… At one stage during the match we had all 4 guys down… when The Young Bucks made their way out… which allowed for O'Reilly to hit a running knee on Jay Briscoe to take him down, meanwhile as Fish and Mark went at it in the ring Stefan pointed out to me that Matt Jackson got his phone out to film content for their Youtube series 'Being The Elite'… It was only some weeks later I first checked out their weekly vlog series, and amazingly I haven't missed once since and it's now among the highlights of my week, that all came from this moment. Nick got on the apron to try and 'two sweet' Mark, who gave him the bird back and hit his elbow drop, only for Fish to get knees up… And not long after Fish and O'Reilly combined to hit their Chasing The Dragon finisher for 1,2,3. Good solid tag match. The story here was The Briscoes are in the ROH tag title match at the upcoming PPV, hence the run out here by the Young Bucks.
It was at this point that us in the arena got the intermission in the show. I don't think we did much of anything due to lack of funds, although I do recall a lot of chat about the upcoming NXT TakeOver show that night, and hoping to god that DIY would win the tag titles at long last…
Anyway, after the break we got a segment with Stefan's friend Nigel McGuinness. A former legendary wrestler for ROH now acting at this stage as a part time authority type figure and commentator. You will have seen him more recently in WWE working for NXT, I think he does or did recently the co-comms for NXT UK. McGuinness naturally got a great reception from the fans being an Englishman himself… He took the mic here and introduced himself, and said how great it was they were back in England, and also he was once a student at the University of Leicester. He thanked the fans for coming, the boys in the back for proving how good ROH was, and he just put over the company (and rightfully so). It was great stuff, and he then went on to join commentary before we got our next match, which was such a great choice for the post-intermission spot. If you want a FUN match this was the one for you…
The Addiction (Christopher Daniels & Frankie Kazarian) defeated Delirious & Dalton Castle
Daniels and Kazarian both legends of TNA and ROH. Daniels even won the world title a couple years after, I was lucky enough to shake his hand even and say it was a long time coming (for him to be champion), he said thank you very much. Both of whom are currently with AEW. Delirious was a proper wildman wrestler, I had a blast watching him here. I believe he had or has a big role behind the scenes in ROH, and Dalton Castle also went on to win the world title a couple of years after this show, but injuries during his run as champion curtailed his momentum somewhat, a momentum which had him heavily linked at the time with a switch to WWE, but it never came to be. So here we had two extravagant babyfaces against two experienced veterans, it promised to be a lot of fun and it was just that. Delirious was chewing one of the streamers as the crowd were singing the 'Hey Baby' song to Dalton Castle… Kazarian grabbed a mic and said they were searching for a new member of The Addiction and that they wanted that to be Delirious, he even offered him SHOES as a gift to join! Delirious spoke in… Delirious on the mic… Daniels said he spoke perfect Delirious as revealed what he actually said was (a lot of nice things) about Kazarian. After Delirious has declined the invite as Dalton told us what he had actually said, the bell eventually rang and from here Delirious went wild. He did a great job of getting the crowd into the match at different points, and Frankie and CD played their role so well here. There was a really funny spot where Daniels and Kazarian tried to teach Delirious the jump up and leapfrog spot… and as they tried one last time that was when Delirious took advantage instead of doing the spot. We even had the referee Todd Sinclair to a couple of hip tosses, before Dalton insinuated that Sinclair and Kazarian should have a match… after the ref did a back suplex the match went again from there… and it really continued as the fun but solid affair. The Addiction were always going to win of course, as they later did when Kazarian stood on Delirious' bare foot and then he and Daniels hit the Best Meltzer Ever for the win. Very fun stuff here between 4 very fun wrestlers.
Adam Cole defeated Chris Sabin
Sabin, like his tag partner Alex Shelley, is another legend of the game. Adam Cole as ROH Champion here has only continued on his trajectory here to where in 2021 he is one of the best and biggest stars in wrestling. I'm also super privileged I got to see this entrance, with a CLASSIC theme song (seriously Adam Cole's 'I've got Something for You' ROH theme is such a BANGER)! This was the first time live I got to see a man who now in 2021 is one of my absolute favourite wrestlers. As you could expect this was such a banger of a match, Cole played the cocky heel great and Sabin was solid as a rock in his role. And also getting to do the 'ADAM COLE BAY-BAY' in person was a life highlight! We also got a tremendous spot where Sabin got a young lad from the crowd (who earlier Sabin had thrown Cole's shirt to, after Cole faked throwing it out to them), he dragged Cole over to the barricade on that side, called the kid down and to the delight of the crowd the kid gave him a chop (kind of), great stuff! It of course wasn't of the multiple BANGERS I've seen Cole have in the years since this, but it was still pretty good. Cole and Sabin meshed well, Cole being more of a dickhead where Sabin was more high-flying… but there was the moves from Cole which became very familiar to me in the years that followed… and eventually Cole got a low blow behind the ref's back, and hit what then was called the Last Shot, but not the running knee to the back of the head, but this was the one where he drops the guy on to his knee from a suplex position.
Cole got the mic after the match and started to cut a promo on England, but called out Jay Lethal for tonight so he didn't have to spend another night in the country. Lethal came out but Cole soon rolled out the ring after he came out. Classic chicken heel shit. Good stuff. Lethal got a mic and called Cole a 'chicken piece of crap' and said he would be the 2x Ring Of Honor world champion. He said when that would be 'Too Sweet'.
Our main event was by far the match of the night, given who's in it not a shock at all is it really…
The Young Bucks (Matt & Nick Jackson) (C) defeated Will Ospreay and Marty Scurll to retain the ROH Tag Team Championship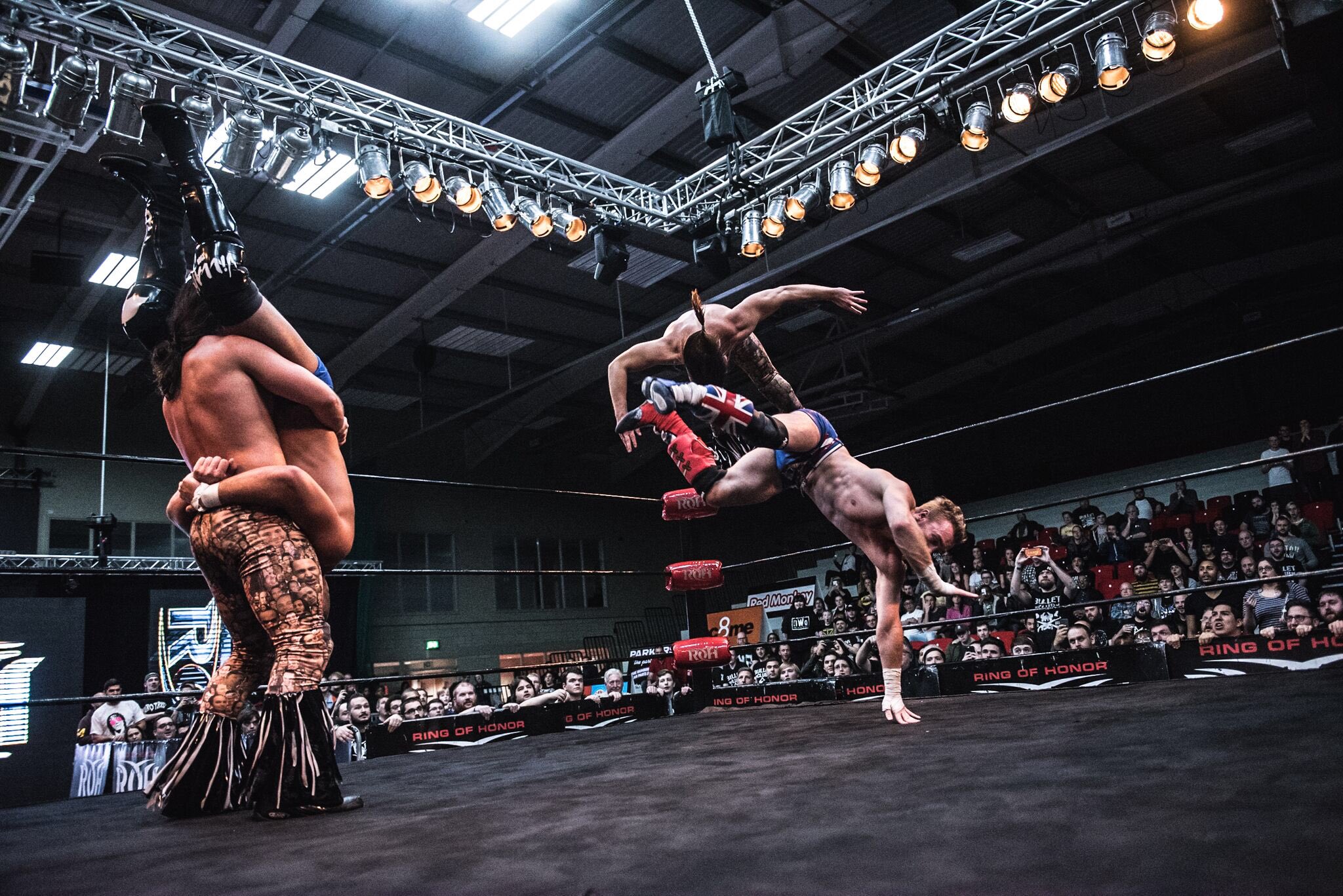 The Young Bucks have gone on to cement themselves as the best tag team in the world and one of the best ever since this time (don't fight me on that, you will lose). Ospreay has only gone up and up too reputation wise since this time when he was one of the hot stars around already. The two challengers were historically big rivals but teamed up here, and as the two Englishmen got huge ovations coming out, particularly Ospreay. The Young Bucks, to this crowd, were possibly the biggest stars on the show. Nick cut a promo before the match talking about both the challengers getting ROH Contracts and Ospreay winning the ROH TV title the prior night, he then suggested they make this for the ROH tag titles (it wasn't beforehand), Nigel McGuinness then made that official. Match itself was excellent, not to my surprise. These 4 guys went at 100 miles an hours, but didn't miss a beat, and The Bucks have always found the tremendous balance between their natural high-flying style, but an excellent ability to combine that with being complete and utter assholes. Ospreay was still moulding himself as maybe THE best high-flyer/acrobatic wrestler in the world, but he was excellent in this match. The odd-couple dynamic between the challengers was fun, and they combined in-ring well also. Nick Jackson was an absolute superstar in this match, and still in 2021 he's one of my favourite wrestlers. I just think the guy is a wrestling genius. The Bucks did the duel Omega-Terminator spot he used to do all the time in Japan as well which was fun, and later on we had a funny spot where Matt pretended to be Ospreay and reached to give a tag, but instead this allowed for Nick to hit a superkick. Ospreay hitting a handspring double Pele kick to both Bucks was insanely good, as was Ospreay hitting a somersault and then a dive over the ropes onto both Bucks on the outside. Matt took a series of superkicks from both challengers for a nearfall, and almost got caught in a submission before The Bucks had a superkick party (Kevin Kelly was hilarious on commentary), before Ospreay went crazy too and hit a series of moves which ended with him flying in to a pair of superkicks (think similar to the famous Ricochet-Adam Cole spot from NXT). Eventually with all 4 men down, Matt got hit with a pair of thrust kicks on the turnbuckle before Ospreay FLEW over him and onto Nick on the outside in another crazy dive spot. Honestly this match on tv is good, seeing it live it was incredible. We almost had a submission before Nick broke it up, and after a striking exchange and people moving all over the place, we had Nick hit a summersault off the top for a nearfall. The Bucks then signalled for the Meltzer Driver, but Ospreay caught Nick in mid-air with a flying forearm, and Opsreay hit a series of moves after for another nearfall that was only broken up by a Swanton by the other Young Buck. We had a spot where The Bucks accidentally took out the ref but then both got hit with low blows… Later on Ospreay got hit with a superkick and then he came back after to stop The Bucks getting the pin after hitting More Bang For Your Buck. Not long after The Bucks went for a Meltzer Driver, but as Nick dove down Ospreay caught him mid-air with a hurricanrana in a CRAZY spot, and accidentally this was enough to give The Bucks the win! Crazy way to end a crazy but very good match. One of the best matches I have ever seen live.
The Briscoes came out after to confront The Bucks after ahead of their tag title match at the upcoming Final Battle PPV.
And that was pretty much it. A very good show as my first, and indeed you always remember your first time, and I will never forget this ROH show in Leicester.
Josh.