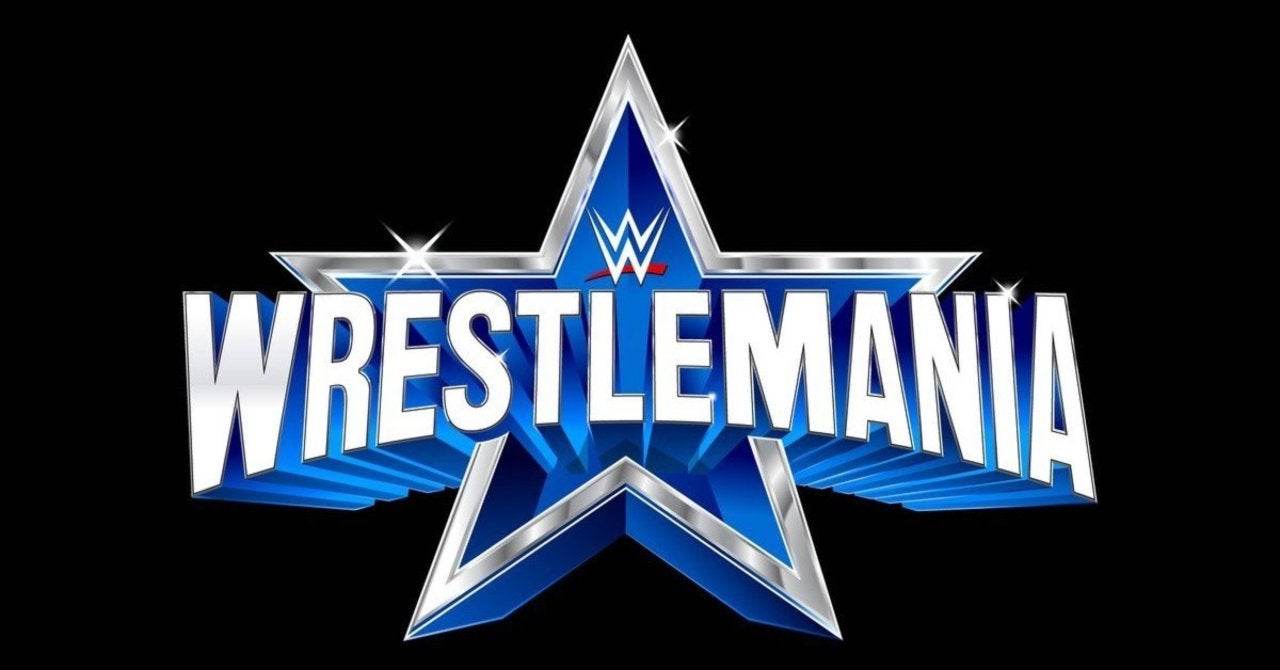 So we are fast approaching WrestleMania 37 this upcoming weekend. Last year we had the least 'normal' WrestleMania we have and will ever see, this year we've got a show, with fans, in a stadium, but still they'll be wearing masks, distancing and there'll be less than 50% of the venue full… NEXT YEAR HOWEVER… WrestleMania returns to AT&T Stadium in Dallas, Texas. In classic WWE fashion it looks as if the first 'normal' WrestleMania after COVID is under control will be in front of 100,000 fans once again, as was the case in 2016 at the same venue. So… if we know anything about Vince McMahon and his mind-set he will want to go BIG at this show… but just how big… well, a full year in advance here's what I would do in 12 months time… here is my fantasy booking for WrestleMania 38!!!
---
So I want to focus on the bigger matches for the biggest WrestleMania of all time that I'm putting together, but just briefly I would do my best to get the other titles and get people on the card, however if a few of these have to be taken out to avoid a mega long mania then so be it. WrestleMania should have a 1 POSSIBLY 2 hour pre show, with a main show going 4 hours tops but as closer to 3 as possible. Doesn't matter how big or good a match is, if fans have been in a venue for 5/6 hours by that point, they ain't going to be as invested as they should be in ANYTHING they see… ANYWAY… lets get in to some of my ideas…
So as I've said, keeping the show overall (including pre show) between 4-6 hours is key and less IF possible, and this year they've gone as far to have a 'WrestleMania edition' of SmackDown that will see a SmackDown tag title match as well as the traditional Andre Battle Royal, there is also no Women's Battle Royal this year… so there are ways to spread matches you'd want on Mania elsewhere to the go home Raw or SmackDown instead. WreslteMania is the 'Showcase of the Immortals' for a reason, not EVERYONE needs to be or should be on the card. WrestleMania is for THE biggest names and matches only. So on the pre show or even go home TVs I'd have both men's and women's battle royals (Billie Kay winning the women's and for the men? Maybe Cesaro or an Apollo Crews maybe?), I like the idea of The New Day vs Street Profits for the Raw tag titles with Profits and Montez Ford in particular going over, Orton vs Mustafa Ali for the US title with Ali going over is something I'd LOVE to see for many reasons, Kevin Owens coming out with the Intercontinental title and continuing or going on a LONG IC title reign as a babyface, Rey and Dominik Mysterio being involved in something for the SmackDown Tag titles (I think there's a chance they win the titles on Friday)… so possibly have the Mysterios losing and Rey having to retire?… I think it'd be great seeing The Bella Twins in a match for the women's tag titles, they'd lose of course and I'm not sure who but just to a team who need it and who deserve it at the time. Finally both Women's Championship's I'd have defended on the show, but as I think the attention on the females on this show will be elsewhere (I'll explain later) then I think the best route is to just have both titles on the line in singles matches featuring the two very best in-ring talents on each brand (by then); so on the Raw side I'd have Asuka vs Charlotte and/or Rhea Ripley, and on SmackDown I'd go Sasha vs Io Shirai (who I think will be main roster bound sometime between next week as I write this and the Royal Rumble of 2022), Banks vs Shirai could be an all-time classic.
Adam Cole vs Daniel Bryan (Bryan's last match)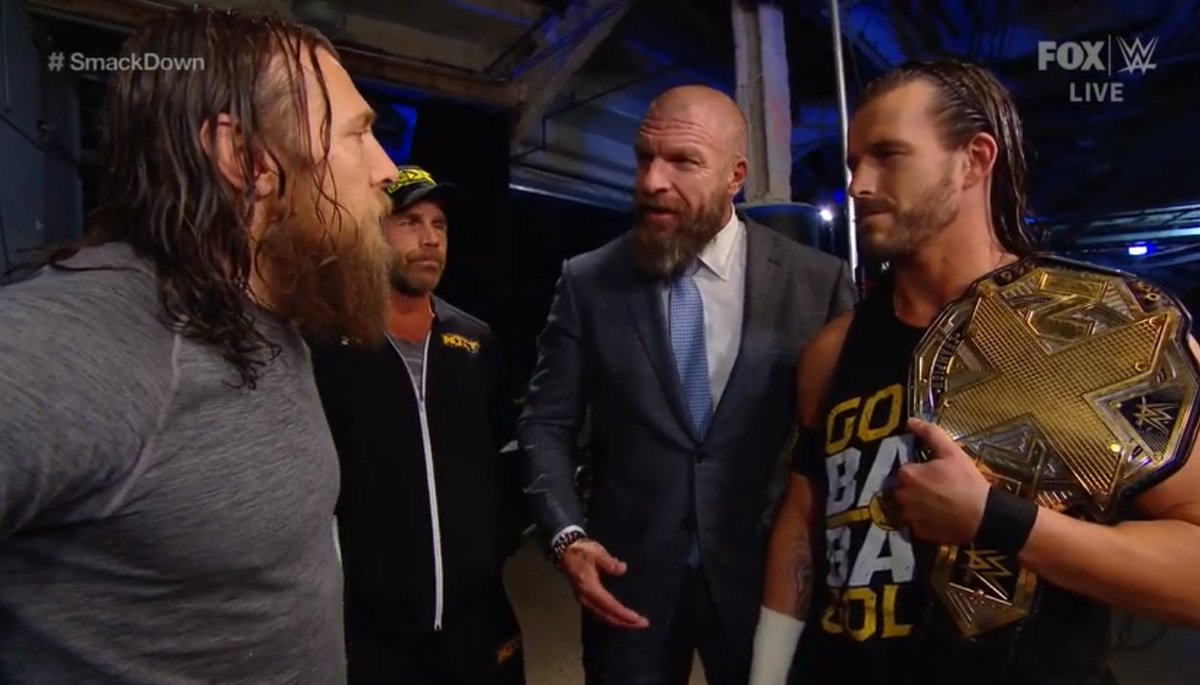 So I've got this kind of theme alongside a few matches, but I think of the ones I've mentioned I think by that time there really is every chance Daniel Bryan decides he's done. And simply if he's going to do the job on the way out, I can't think of anyone better to do that to than a man who could do with a big Mania win over a beloved figure. And I think this match would be exceptional, as their match was on an edition of SmackDown in the later part of 2019, give them maybe 15 minutes or so and even have them open the main card perhaps. I think a hardcore WrestleMania crowd would be right behind these two, and I think the promos and build could be great as well. One for the IWC here, but a certified BANGER incoming if they do it.
AJ Styles vs Edge
Now this serves a few purposes for me; it draws right back to when Edge inadvertently hurt AJ's shoulder in his Royal Rumble return in 2020 after Styles took too big a bump from the Spear, it could serve as a Raw answer to Bryan vs Cole, and as much as the idea of Styles vs Triple H sounds cool I think Edge in that spot would be better. I have a rule of thumb whenever I think of ideas of fantasy booking or even for computer games when it comes to AJ Styles, and that's that he should ONLY be in: Championship matches, absolute bangers or attraction matches. So whoever and whatever it is, given his Mania debut was in this same venue it should be made sure that Styles be in a featured match on this show. I'm not certain but I THINK Edge's deal is up next year… so bare that in mind also…
Drew McIntyre vs Keith Lee vs Damian Priest for the WWE Championship
I think on the SmackDown side it'll be the Roman show, so I think Raw's world title should go another way. Here I've got three bigger guys who can go, who fans like, and who have proven track records of getting big crowd's excited. I think if these three got time they could do some really special stuff. I don't think the dynamic is important and you could do a singles match, or even add T-Bar (or ideally by then he'll be Dominik Dijakovic again) to the fray, but get Raw's biggest and best workers, put the WWE Championship on the line and watch the magic unfold. Drew McIntyre should be Raw's GUY forever more I think, but given we are infront of 100000 people maybe you could give an amazing Mania moment to a Keith Lee perhaps? Can you imagine that pop?…
John Cena vs Karrion Kross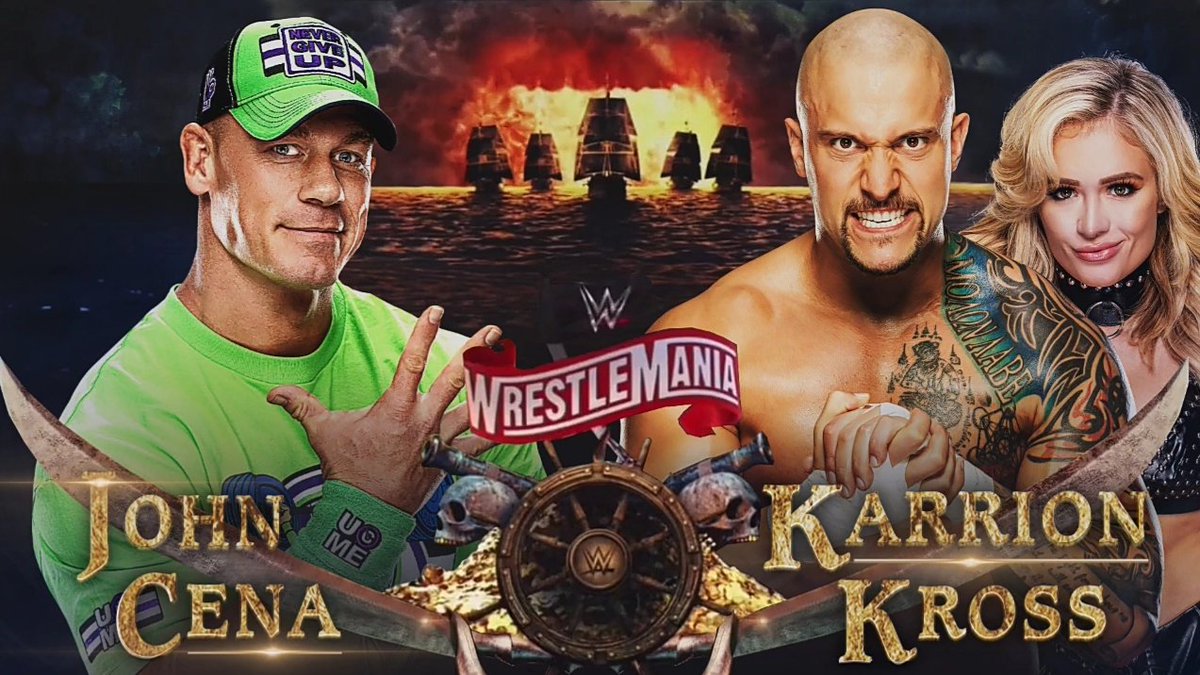 TICK TOCK! Only a matter of time until Karrion Kross and his gorgeous but deadly femme fatal Scarlett make their way from NXT to pastures new, and given the push he's been given since his arrival in WWE, I can't think of a bigger rub than to beat the Hollywood star. Cena HAS to be on this show, especially if he's really not going to be able to make it in Tampa. Of course it would make more sense to have him the year after in Hollywood but why not do both? Karrion Kross getting a big win over Cena would take the seemingly unbeatable Kross to an absolute other level. and to paraphrase a certain Geordie football man I would LOVE IT if Kross beat Cena at WrestleMania, the stuff of dreams, FALL AND PRAY!
Brock Lesnar vs Bobby Lashley in a Steel Cage Match
Pretty much I'd book as close to an MMA fight as possible here. This has been THE match for Lashley even before he came back to WWE in 2018, and infront of 100,000 I think it's the perfect time to do it. Wouldn't have it go too long, have it be brutal and violent, maybe even some blood, maybe even these dangerous Brock elbows that led to those gruesome visuals of Randy Orton and Roman reigns in times gone by… I think everyone would get behind Lashley here, but I think we know Brock is more likely to win this one, as much as It'd be amazing for Lashley to win it… Lesnar would be another like Cena who I think MUST be on this show.
The Fiend vs Goldberg…. no… WAIT… The Fiend vs… TRIPLE H in a FireFly Funhouse Match
A few reasons for me booking this one: firstly I hate Goldberg so my logic is this is a definitive way to FINALLY send him on his way and this way he's on Mania but we don't have to endure an actual Goldberg match, next this is a show full of 'attraction' matches, so with The Fiend to keep him special I think it's better to do something different with him, and another Funhouse match is for me the best way to do that. And as we know with Bray and The Fiend, he NEVER forgets… unless it happened to Oldberg in Saudi Arabia it seems… one of THE worst booking decisions in recent years, and it NEEDS to be corrected. I did think about Fiend and Bliss against Kross and Scarlett, or maybe even Brock vs Fiend, but as you've seen I've found better ways of getting those in huge matches for the show. Other people I have free maybe Rollins or maybe even Triple H… actually… now I think about it… Bliss and Stephanie… Fiend and Triple H… imagine a Funhouse match about TRIPLE H and the amount of material they'd have??? Yeah lets FUCK OLDberg RIGHT off and lets do The Fiend vs Triple H either in a singles, no holds barred or a funhouse match. Yeah MUCH better! The Fiend vs Triple H it is then!
Becky Lynch vs Ronda Rousey
Just a slam dunk this one. Depending on when Becky comes back I wouldn't even be totally against this going last and being for a title, but I really don't think this needs a title. Ad when have we ever been able to day that about a Women's match before? Particularly at a WrestleMania? How cool is that? The story is super easy tot ell, both women would have many motivations to beat the other, could even go career vs career if you needed, but for me this (now that Taker has retired and Sting is in AEW) is now THE dream match that WWE NEED to make. There's one match however that will one day be even bigger…
Roman Reigns (C) with Paul Heyman vs Big E for the Universal Championship
So I've been quite open with how the booking could go to get us to the other matches I've proposed, but this is one I have pretty set in stone in my mind. So… Roman is still the guy we see today, Big E continues his rise and WINS the Royal Rumble, we go to WrestleMania, everyone thinks E is going to get the big babyface win… and then in the same way that Lesnar beat Roman at Mania 34, Roman wins. Clean. and then after Roman celebrates and leaves and Big E, gutted but prideful, gets a standing ovation from the crowd… The Tribal Chief is furious at this, and the thought the final image of WrestleMania will be Big E getting a standing ovation and not of him, the victor… so he comes back and batters Big E. Woods and Kofi come to try and make the save but The Usos cut them off, even Rikishi comes out to beg Roman to stop… and then… just as Roman is about the END Big E… it happens…
IF YA SMELL!!!
Yep… he comes down, he beats up Roman, New Day chase off The Usos, Rock holds up the Universal Title before tossing it back to Roman… and the next SmackDown we make it official… but essentially this is how I would set up THE main event for WrestleMania 39 in Hollywood… The Rock vs Roman Reigns!
You're Welcome.
Josh.