Triple H called him "the constant" and praised his consistency and reliability. Kurt Angle called him "one of the best big guys I've ever worked with". Steve Austin said he was one of the "biggest, baddest, most intimidating human beings I've ever been in the ring with"… Steve also said he was one of the nicest human beings he'd ever met. And those statements just about sum up both the man Glenn Jacobs, Mayor of Knox County, Tennessee… and the man I want to talk about; one of my all-time favourite WWE superstars who, in my opinion, has had one of the most amazing stories of any character in WWE history. And in 2021 he is FINALLY taking his rightful place in the WWE Hall of Fame. So let me take some time now to look back at the absolutely incredible story of the WWE Career of a LEGEND, a former multi-time world, IC and tag champion, a former mr money in the bank, he's competed at many WrestleManias, and holds a couple of big Royal Rumble match records. Ladies and Gentlemen, boys and girls, this is a look back at some of the key moments in the story of the incredible career of the character of Kane (yes I'm going to pretend Dr Isaac Yankem and Fake Diesel NEVER happened).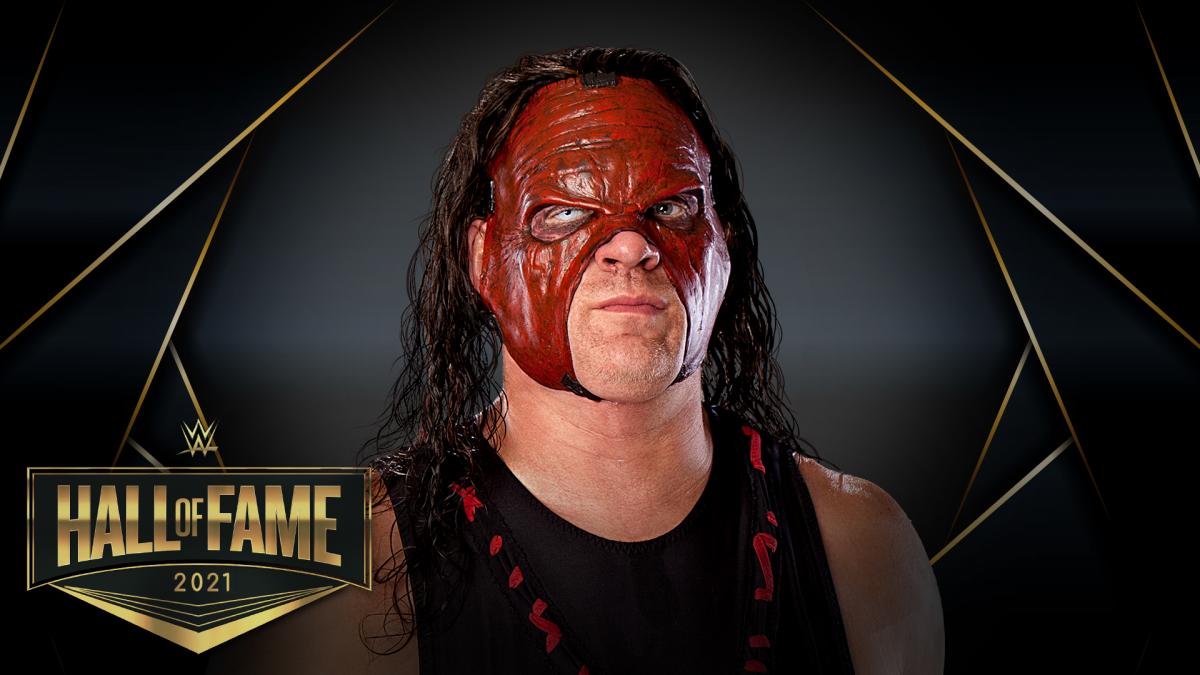 ---
The arrival and pursuit of The Undertaker
So after a couple of false dawns in the WWF, Glenn Jacobs got his big break.
Let me take you back to the autumn of 1997. The Undertaker was trying to get ready for the first ever Hell In A Cell match against Shawn Michaels, but he was also having to batter away his former manager Paul Bearer, who was now on a personal vendetta against The Phenom… Having revealed previously his darkest secret, that The Undertaker as a child had burnt down the funeral home that his family ran, and in the process killing his father, mother and younger brother… Bearer later revealed that Undertaker's brother Kane was in fact alive… and he was coming to the WWF for The Undertaker.
And well, I'm sure you've all seen it time and time again by now, I myself reviewed the show solely for this happening in a previous blog… but towards the end of the aforementioned Hell in a Cell match… Kane arrived in the WWF…
Without a doubt THE best debut of all time (don't @ me Chris Jericho or his fans).
After that Kane went on a real path of distraction and he looked like a KILLER; For weeks and weeks the lights would go out, the music would play, Kane would come out and beat some poor souls up, and Bearer would cut a terrifying promo about how Kane wanted to fight his brother. But for the longest time Undertaker refused, he swore on his dead parents he wouldn't face his own flesh and blood. And at one point it even looked like Kane was siding with his brother and they would be aligned… as it appeared then WWF Champion Shawn Michaels and the rest of DX had out numbered The Undertaker, the deadman received help from the most unlikely of sources…
So Undertaker vs Michaels. WWF title. Royal Rumble '98. Casket Match. This match is remembered for two things; it was the match Shawn hurt his back taking a terrible bump over the ropes and landing on the top of the edge of the casket, causing the back injury that nearly ended his career. And for the finish which saw Kane come out and initially help his brother, before turning on him, locking him in the casket and with the help of Bearer they BURNED THE CASKET WITH UNDERTAKER INSIDE!!!
And that, that was enough for Undertaker. It was on. WrestleMania 14. The forbidden battle would at long last happen.
And this was SUPPOSED to be it for the Kane character. Can you believe it? Many people including long time WWE producer Bruce Prichard have gone on record saying Kane was brought in as an opponent for Undertaker for that WrestleMania and there wasn't originally at other plans for him to be anything. Amazing. So what did happen with Kane after that? Well, he went from strength to strength actually.
From Monster… to Champion???
With Stone Cold Steve Austin now firmly established as the top dog in the WWF after sending Shawn Michaels into semi-retirement at WrestleMania, there were a number of contenders for the Texas Rattlesnake's WWF Championship. And one of those was The Undertaker. Taker, whom had looked to rid himself of both Paul Bearer and Kane after victory over his brother in the first ever Inferno Match, would be given an opportunity to face Austin for the title if he could win a number one contenders match against… KANE…
At long last, in the main event of Raw on June 1st 1998 Kane finally got a win over his brother after a tonne of shenanigans. And Kane vs Austin was set for the upcoming King Of The Ring PPV. With much of the build of Austin vs Kane intertwined with the Mankind vs Undertaker Hell In A Cell match on the same show, the WWF title match was made a FIRST BLOOD match, with the added caveat from Kane himself that if he didn't win the title, HE WOULD SET HIMSELF ON FIRE!!!
Well we all know what happened with Mankind and Undertaker… but what of the match that followed???
After a shocking finish to the match (Undertaker accidentally… or not… hitting Austin with a chair that was meant for Mankind, thus busting him open and giving Kane the win per the first blood stipulation), KANE was the NEW WWF Champion!!!
Sadly, he would lose the title right back to Austin the next night. And from there Taker and Kane would form the most unholy of alliances in their pursuit of Austin and the WWF Championship. This lasted for many months until the return of Paul Bearer (who previously Kane allowed Undertaker to attack once the two brothers had joined forces), and a heel turn from The Undertaker on Kane, with Bearer again by his side, to begin the Ministry of Darkness. Kane now was left somewhat on his own. He was very much a tweener for some time, always getting loud pops and always kicking ass. He was a part of the corporation, then a tag team with X-Pac, before he was turned upon by him, and going into the early 2000s Kane was an upper mid-card guy but always in or around the main event. Always the bridesmaid, never the bride could be best to sum up the position of the character Kane at times.
Royal Rumble record holder
The 2001 Royal rumble match is remembered as a classic. I myself reviewed the showed in a previous blog and I can confirm the rumble itself was great. It was won of course by Stone Cold, but the star of the match was Kane. He finally got his chance to shine, and after entering at number 6 he would last over 50 minutes and eliminate a then record of ELEVEN competitors (Raven, Perry Saturn, The Honky Tonk Man, Tazz, Crash Holly, Albert, Scotty 2 Hotty and The Rock). He was also the final man eliminated from the match by Austin, who needed several chair shots to get the Big Red Machine over the ropes. But although he didn't win it was nice to see Kane be given this spot rather than one of the other possible contenders who always seemed to get those chances to shine more than Kane. Close but no cigar… again…
The unmasking
By the time we got to the summer of 2003 Kane had been a babyface for some time now. Still a Big, Red, Ass kicking machine and still getting big reactions wherever he went, but he seemed to be trapped in that upper mid card once again. Now at this point in time Raw was being dominated by Triple H as world champion, and Stone Cold (now no longer an in-ring competitor) was co Raw GM with Eric Bischoff, so it seemed to be big show after big show with something crazy always going on… on the June 23rd 2003 Raw, Kane got his big chance at the gold. He would face Triple H in a match for the world title, but on the line for Kane would be his mask… and well…
After the unmasking Kane seemed to go on a real path of destruction, as if his mask was the only thing keeping his inner demons at bay. He would attack all sorts of people from his former tag partner RVD, to Tommy Dreamer, to even the likes of Eric Bischoff and LINDA McMahon. When I say Kane went on a rampage after his unmasking, nobody was safe and we haven't seen someone go on a run of destruction like this in WWE maybe ever. They really did all they could to make Kane into a monster. The tombstone delivered by Kane to his mother led to the return of Shane McMahon, and he and Kane had a series of big PPV gimmick matches in the mid-later part of 2003; firstly at Unforgiven a Last Man Standing match (which Kane won after Shane dived off the stage but Kane moved out the way), at Survivor Series Kane would win an ambulance match by hitting a Tombstone to Shane on the floor and then throwing him into the ambulance.
However also at Survivor Series Kane would set his future into motion. As the Buried Alive match between Mr McMahon and The Undertaker was coming to a conclusion… With Undertaker about to get the win, Kane would emerge to beat down his brother and help Mr McMahon BURY HIM ALIVE!!!
From there, after many many months of classic Undertaker mental games, it was set for WrestleMania 20, Madison Square Garden, Kane against The Undertaker once again…
This time though… The Undertaker wouldn't be the same man that Kane helped bury the previous November…
Little brother takes charge
For the years that followed Kane would go back to that place again; upper mid-card, always doing 'something', always flirting with the world title scene but never quite getting to be THE guy… he was babyface for the majority of the years that passed… until everything seemed to change at the Money In The Bank ppv in 2010. Kane would win the ladder match in the first match of the inaugural MITB PPV, and then later that same night after Rey Mysterio had competed for the World title against Jack Swagger, Kane picked his moment and cashed in… and a chokeslam and a tombstone later.. and at LONG last once again, KANE was THE man!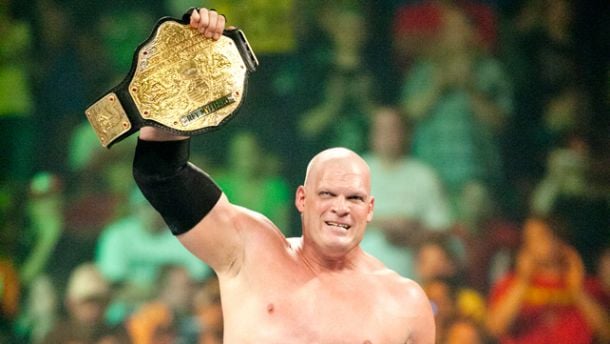 Around this time as well, it emerged that Kane's brother The Undertaker had been seriously attacked and left in a "vegetative state". And a huge search was underway to find out the culprit, and of course (if you had half a brain you'd of known this was coming all along) but turns out the culprit was… KANE!
And so a full 13 years after he debuted and went after his brother, Kane had the chance to topple The Undertaker once again… this time with the WORLD HEAVYWEIGHT CHAMPIONSHIP at stake…
Yes indeed… Kane completed a clean sweep of wins against The Undertaker, in very much a change from whenever they had feuded previously. Sadly Kane would lose the world title not long after, for a brief period at least Kane at long last got his chance to be THE man.
THE odd couple
It could be argued that the brilliance of Kurt Angle wasn't truly realised until they let him be the goofball he often was in the early 00s. Well… KANE isn't exactly the first guy that would've come to mind when you think of a largely comedic babyface tag team is he? But put him with one of the all time greats in Daniel Bryan, and we got possibly the epitome of an ODD couple. After a long term feud led to an out of control Kane being sent to anger management classes by then Raw GM AJ Lee along with Bryan… and what we got was some of the best comedy segments in WWE for YEARS…
Those were only the first and last of the segments, but go out of your way to watch them ALL on Youtube, they were genius.
Eventually the pair became an official tag team, and one that quickly became beloved by the WWE Universe. They even won the tag titles at Night of Champions in 2012, and had matches against the likes of The Shield, and it was the feud against Rollins, Reigns and co. Which cemented this tag team's legacy. There was even a reunion for Kane with his brother as Team Hell No made the save for The Undertaker when The Shield had him surrounded. Eventually Rollins and Reigns would beat Kane and Bryan for the tag titles, ending their more than credible 245 day reign. The team would come to an end towards Summerslam of 2013 when Daniel Bryan went after the WWE Championship, and Kane faced off against the freshly debuted Bray Wyatt.
'Corporate' Kane, and sporadic appearances
Kane would return some months later… but not as we knew him…
*sigh* Corporate Kane became a thing as the appointed "Director of Operations" by The Authority.
For a while after this we were lumbered with Corporate Kane… and besides a brief feud with former partner Bryan for the WWE world title, and then a year or so later against Seth Rollins for the gold, Corporate Kane was a thing for a while. The Rollins feud was notable as he morphed back into DEMON Kane for the world title match, in which his role as Director of Operations was on the line. Kane lost of course and was subsequently fired from his role.
The big red machine as we all knew (and wanted) him would return later that year to even the odds for his brother The Undertaker when up against The Wyatt Family, leading to a match that Survivor Series which was build as a 25th anniversary celebration for the Phenom.
In the later years of his active in-ring career Kane again, you guessed it, was upper mid-card. But at this stage at least it was ok for him to be there. He was a member of the SmackDown Live roster for the majority of 2016, before making a surprise return as a heel in 2017 to attack Roman Reigns. From there we went to feud with Braun Strowman. It was during this time I myself got to see Kane in the flesh, as I attended a Raw taping in Manchester in November of 2017 (I recorded the video below by the way).
Kane was even in a triple threat match with Strowman and champion Brock Lesnar for the universal title at the 2018 Royal Rumble show. Kane was purely there to get pinned by Lesnar of course.
And since then he's made sporadic appearances; facing John Cena on Raw after answering Cena's call out to his brother ahead of an eventual WrestleMania showdown, briefly reuniting Team Hell No against the Bludgeon Brothers until an injury cut that reunion short, and there was THAT tag match in Saudi Arabia which I really want to completely remove from my memory, he was fed to The Fiend on the same Raw Glenn Jacobs (whoever that is) won and lost the 24/7 title, and his last WWE in-ring appearance to date was, fittingly in the Royal Rumble of 2021, where he was eliminated by Damian Priest. It's cool stuff that the classic big man of the 90s/00s did the honours to someone who could well take up that spot in the modern day.
So as Mayor Jacobs looks to enter his second term, and now he has his spot in the Hall of Fame, it seems that Kane's run is coming to an end. And my word what a ride it's been, just like The Undertaker the story of Kane has been one of the best told for any character we've seen. And it's credit to the performer themselves that the character has stood the test of time; face or heel, monster or comedic babyface Kane has shown to be one of the most versatile, reliable and all-round brilliant performers the WWE has ever had. It's been a pleasure to watch Kane for what seems like my entire life, and this one is one that really touches home. The Undertaker is my all time favourite WWE superstar, so it's only natural the character and story of Kane has a special place in my wrestling fan heart. And particularly for the man that Glenn Jacobs comes across as as well, I'm just so incredibly happy that this is happening. I could sit back, as I have done in putting this blog together and will continue to do so in anticipation of his HOF induction, many of Kane's classic moments and matches… there have been so so SO many. All the returns, major moments and matches, and all the sit down interview/documentary type shows the man himself has done he always comes across as so engaging and interesting. But I will finish by saying that it will be one of my more satisfying moments as a fan to see Kane (Glenn Jacobs) take his rightful place in the 2021 Class of the WWE Hall of Fame.
Thank you Kane.
Josh.