OK… So 11 weeks in and I've come to my end of covering and re-booking The Invasion storyline. It's been fun but I'm ready to write about other things now, and so I'm going to quickly run through the No Mercy PPV and what I'd do, and then we will get into Survivor Series and how I'd have the storyline wrap up, and what I'd do after Survivor Series…
So of course we had the big, emotional celebration of the American hero Kurt Angle winning the WWF title at Unforgiven… but as in real life I'm gonna have to have Kurt drop it back to the heel champion not long after… so Hogan is once again the WWF Champion going into our next PPV event No Mercy. But I'm going to try and think long term, and to kill a few birds with one stone to round of No Mercy… I'm gonna (just like the year prior at Armageddon) do a 6 man Hell in a Cell! Lets go through that No Mercy card as I'd do it…
No Mercy – St. Louis, Missouri (21/10/2001)
Chuck Palumbo & Sean O'Haire (C) defeats The Dudley Boys to retain the WCW Tag Team Championship
Rob Van Dam (C) defeats Test to win the WCW United States Championship
Kane & The Undertaker defeats 'Kronik' with Stevie Richards to retain the WWF Tag Team Championship
Triple H with Stephanie McMahon-Helmsley defeats Kevin Nash
Chris Jericho defeats The Rock (C) to win the WCW Championship
Hollywood Hulk Hogan (C) defeats Kurt Angle & Goldberg & Sting & Scott Hall & Stone Cold Steve Austin in a 6 man Hell In A Cell match to retain the WWF Championship
---
So following No Mercy we have Vince McMahon on Raw cut the promo similar to how he did to build to Survivor Series 2001 in real life, where he proposes the match to end it all and decide which company stays in existence. Eric Bischoff and Shane McMahon of WCW accept, and on that first Raw the night and on that week's SmackDown where everywhere truly picks their side, and it's made very clear that after Survivor Series The Invasion will be over one way or the other, and either the WWF or WCW will DIE!
Coming into the October 29th 2001 Raw… the teams and rosters for each company/brand going into Survivor Series and the build to that show would look like this:
Team WWF
Owner: Vince McMahon
CEO: Linda McMahon
Commissioner: Mick Foley
Stone Cold Steve Austin (with Debra)
The Rock
Triple H (with Stephanie McMahon-Helmsley)
WWF Tag Team Champions: The Undertaker & Kane
WCW Champion: Chris Jericho
Kurt Angle
Big Show
WWF Intercontinental Champion: Edge
'Team Xtreme' (The Hardy Boyz, Matt & Jeff, and WWF Women's Champion: Lita)
WCW United States Champion: RVD
The Dudley Boys (Bubba Ray and D-Von)
'APA' (Bradshaw & Faarooq)
Eddie Guerrero
Tazz
Trish Stratus
Tajiri
Spike Dudley
Hardcore Holly & Crash Holly
Scotty 2 Hotty
Billy Gunn
K Kwik
Jacqueline
Team WCW
Co-Owner, CEO & General Manager: Eric Bischoff
Co-Owner: Shane McMahon
Commissioner: William Regal
WWF Champion: Hollywood Hulk Hogan
Goldberg
Sting
Booker T
Kevin Nash (with X-Pac)
DDP
Scott Steiner
WCW Tag Team Champions: Christian & Test
Dustin Rhodes
Rhyno
Mike Awesome
Lance Storm
Sean O'Haire & Chuck Palumbo
WCW Cruiserweight Champion: Hurricane Helms (with Mighty Molly)
Hardcore Champion: Raven
Albert
Chavo Guerrero
Billy Kidman
'Kronik' (Bryan Clark & Brian Adams) (with Stevie Richards)
Chris Kanyon
Torrie Wilson
Ivory
Stacy Keibler
OK… so a few notes here and a few names not included or moved about above, compared to the last roster update… The main headline is no Scott Hall. Timelines don't quite overlap but he did have a number of demons he was fighting around this time, so whilst I would keep Hall under contract I would take him off TV from this point for the time being. Hopefully (health and sobriety permitting) he'd back back in the new year. Both Ric Flair and Rey Mysterio would both be locked into WWE deals by this point, but I'd hold fire for now on both being on TV. At the top of WCW the power has somewhat shifted from Shane McMahon to Eric Bischoff, whom has negotiated and persuaded Shane to sell him half of WCW to ensure Eric can (in Eric's words) "better expand and grow the WCW brand" (basically Eric wants more power and to hammer the WWF to death, and Shane at this stage is more reluctant t destroy his family's company and is beginning to realize if the WWF dies in this war it will largely be his fault. I think this could make for some great segments and emotional storytelling I don't want this primarily to be about just the McMahons but this aspect of the story I feel would be a great addition to the WWF/Vince-WCW/Bischoff fight.). X-Pac has joined WCW to second his Kliq buddy Kevin Nash, and this plays off the Triple H-Nash match at No Mercy and I think you could have some great shoot/work promos and have them speak about Scott Hall and Shawn Michaels as well as Nash jumping ship in the 90s, the curtain call etc… So we have Austin, Rock, Triple h, Taker, Angle etc. all on Team WWF… yet none of them are world champion… enter WCW Champion Chris Jericho who absolutely laps this fact up, proper boastful heel stuff about how he's better than all the Team WWF, and he really flirts with WCW about switching sides leading to many a verbal and physical beating from the top WWF guys, whilst Jericho does get serious when it comes to keeping his WCW title.
---
The road to Survivor Series – THE END IS NEAR…
Before we get into the card for the show itself, let me just point out a couple of other bits that I'd have go on… Vince and Linda are going to appear very much united now. Although Vince is much more forward in wanting to end WCW, whereas Linda (still thinking of their son) wants WCW to work as a part of the WWF. But given Bischoff's power now in WCW she admits their is no other way than to try and beat WCW the old fashioned way… in the ring! .
Shane, as I've mentioned, is a little conflicted during the final days of the Invasion. He is separately spoken to by Vince, Linda, Stephanie, Triple H and Bischoff. All of them pushing their own agendas, but all of them different. Shane is unsure of what to do with regards to the Invasion and the possibility of the WWF being put out of business… the company of his family…
We also have a street fight on the go home Raw show between Vince and Bischoff. This is all the interference and "gaga" you could imagine, but the key thing is Shane having a moment of conflict, where he has a steel chair in his hands and both Bischoff and Vince coming to, and he actually looks like he's going to hit Bischoff, but before he has the chance Bill Goldberg flies in and spears Vince, allowing Bischoff to get the win. Bischoff celebrates with Shane and the other WCW guys like he's just won the mania main event. With Shane still a little conflicted…
And so on top of that this is the build to the matches for n the show itself:
RVD wins the US Title from Test. And is quickly persuaded by Rhyno to join WCW, but RVD then turns back babyface on his former ECW colleague to a huge crowd pop.
Lance storm tries to tell Edge he is throwing his career away by pinning his colours to the WWF mast. He says there's a reason his brother Christian and former friend Test have jumped, and that he will lose everything unless he joins the winning side. After he seemingly considers it, Edge firmly sticks to WWF and starts a big brawl with Storm. Setting up an IC title match.
The Hardcore title (now held by WCW's Raven) becomes dual-branded and not either the WCW or WWF Hardcore title in name. It switches all the time leading up to survivor series. Bischoff even has a run, Big Show winning it off him with a big chokeslam through the announce table. Raven wins it from Show with the help of Hogan and Nash and Shane. This leads to a 4 way match at the PPV with one representative being allowed in the match from both WWF and WCW alongside Show and Raven. This ends up being Mike Awesome for WCW and Tazz for WWF. A late 'creative change' sees Awesome and Tazz have to fight for the other spot in the match, with Awesome winning after help from Raven. The idea being the two WCW guys will team up to keep the Hardcore title from the WWF's Big Show.
The Hardys accuse Test and Christian of turning their back on where they came from. The heels say they'll beat respect into them. This is the basis for a WCW tag title match.
Hurricane gets into it with Tajiri again and also Spike Dudley over the WCW cruiserweight title, just giving them a lot of tv time where we can with some fun segments backstage and fast TV matches.
WCW Champion Chris Jericho gets into a mini feud with Kurt Angle. Only their title match is interrupted by both Kevin Nash and his ally X-Pac, and also Scott Steiner. Both of them say as former WCW Champions they are embarrassed by where the once great title is today, and have agreed to do all they can to bring it back home. So we have some fun singles matches and tag matches leading up to a 4 way at the PPV.
WWF Women's Champion Lita speaks passionately about what the WWF means to her. With many such as Stacy Keibler and Torrie Wilson. But with both of them having lost to Lita they say they've used their contacts to bring in a woman to join the cause of the WCW women to bring the women's championship over to them. And at Survivor Series this "mystery woman" will reveal herself at the show itself.
And finally the big winner takes all 5v5 main event. So we get a big build up to a big one on one promo showdown between Vince and Eric Bischoff. The promo segment people have waited for forever. This comes the week before their street fight, and they bring up absolutely everything they could and it's an all time classic promo segment (meanwhile we have Shane about to watch on a monitor. Bischoff has just left him to go and confront Vince. He is then met by WWF Commissioner Mick Foley, who tries to gently reason with Shane not to go down this path, he says if Eric goes out there and this thing is made official, Shane will regret it forever… During the promo they reveal their teams for survivor series. Team WWF is: Austin, Rock, HHH, Kane and Undertaker. Team WCW is Hogan, Goldberg, Sting, Booker T and DDP. We get all the combinations of matches between these two teams leading up, but the main singles matches are left for… later… we begin to sew the seeds here for future WrestleMania matches… but the build up to the PPV does what they tried to do in real life, and that was convince us that there was a VERY real chance WWF really would be over after Survivor Series…
---
The Sunday Night Heat match before the PPV begins will see another 5v5 but only one fall this time; Team WWF here is The APA, The Dudley Boys and Eddie Guerrero vs a WCW team of WCW Commissioner William Regal, Dustin Rhodes, Sean O'Haire and Chuck Palumbo and finally Chavo Guerrero. The finish here sees the WWF team win after Chavo gets cocky and Eddie takes him out, before The Dudleys get the win with a 3D
Survivor Series – Greensboro, North Carolina (18/11/2001)
Thoughts on these editing skills?…. AHAHAHAHAHAHAHA!!!
anyway…
The video opening package for this PPV was one of the best they ever did. So it would be rude not to…
Our opener would see two former ECW stars fighting on behalf of WWF and WCW… for a WCW belt… on a WWF ppv… because… wrestling…
Rhyno (WCW) defeats RVD (WWF) (C) to win the WCW United States championship
So my idea here is to have RVD come in first, big-time babyface at the time that the crowd adore… and then Rhyno comes in and Gores him in half and beats him immediately. You may think this is trash booking, but I find PPVs like this sometimes are quite formulaic in that you know one side will win, then the next and then they'll just exchange wins until the final match… so I wanted to do something that would shock right away, and put a rocket on Rhyno whilst getting heat for squashing RVD. You could use this long-term too to tell a redemption story for Van Dam… But in seconds your winner and NEW WCW United States Champion…
Backstage we cut to Lance Storm, who is to be interviewed by former WCW personnel 'Mean' Gene Okerlund. As someone who is linked in the history of both companies it only seems appropriate to have him on this show. Storm gets serious (as he always did) and cuts a big heel promo slamming the WWF, whilst saying he will help lead the new WCW as its Intercontinental Champion. He is soon interrupted by Edge, who is far more aggressive than usual and talks passionately about how much WWF means to him, and the history and prestige of the IC title (he namedrops Steamboat, Bret, HBK among a plethora of great former Intercontinental champions). A fired up Edge then marches to the ring…
Edge (WWF) (C) defeats Lance Storm (WCW) to retain the WWF Intercontinental Championship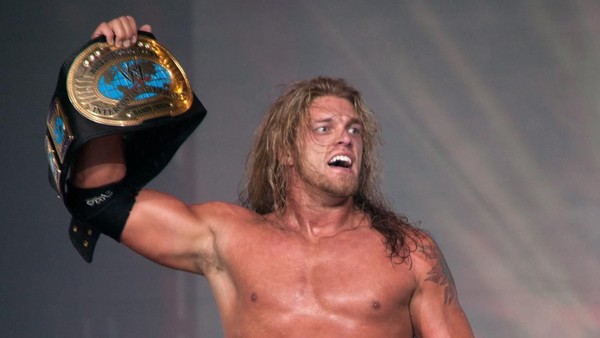 This would hopefully get the crowd back into a good mood. A solid, 7-8 minute match with Storm as asshole heel, and Edge as underdog babyface. Let Edge get all his stuff in and then eventually pin Storm clean for the win.
Big Show (WWF) defeats Raven (WCW) (C) & Mike Awesome (WCW) in a Triple Threat Hardcore Match to win the Hardcore Championship
Whilst it will still be the actual WWF belt the Hardcore Championship will now be defended across both WWF and WCW hence the non-branded name. I'd have this just be a weapons-filled all out brawl, with all sorts of crazy weapon spots. The finish would come after Mike Awesome is taken out by Big Show chokeslamming him from a ladder set outside the ring through an announce table, whilst in the ring Big Show ducks a kendo stick shot, snaps it in half, and then hits a huge Chokeslam on Raven through a table for the win.
After this I'd have Bischoff backstage leading a teamtalk to Team WCW. Shane is also there, but he's somewhat in the background and looks less than happy to say the least… Bischoff tries to convince his team that they were the underdogs to the "evil" WWF, but now they were ready to crush the competition, just like they did for 83 weeks in a row. There's lots of shouting and hollering and they seem a very much united team, even Goldberg and Sting (with some mediating by Bischoff) agree to call a truce with their long-term rival Hollywood Hogan, for the good of WCW.
Christian & Test (WCW) (C) defeats The Hardy Boyz (Matt & Jeff) (WWF) to retain the WCW Tag Team Championship
Just a solid tag team match here with popular babyfaces against asshole heels. Give it ten minutes or so, and just have a solid wrestling match. The WCW team would kind of have to win their own tag titles which I'd think most would expect.
Our next match is a late change. After The Hurricane attacks and takes out both his challengers with a chair, the ring announcer then reveals that he will STILL have to defend his championship…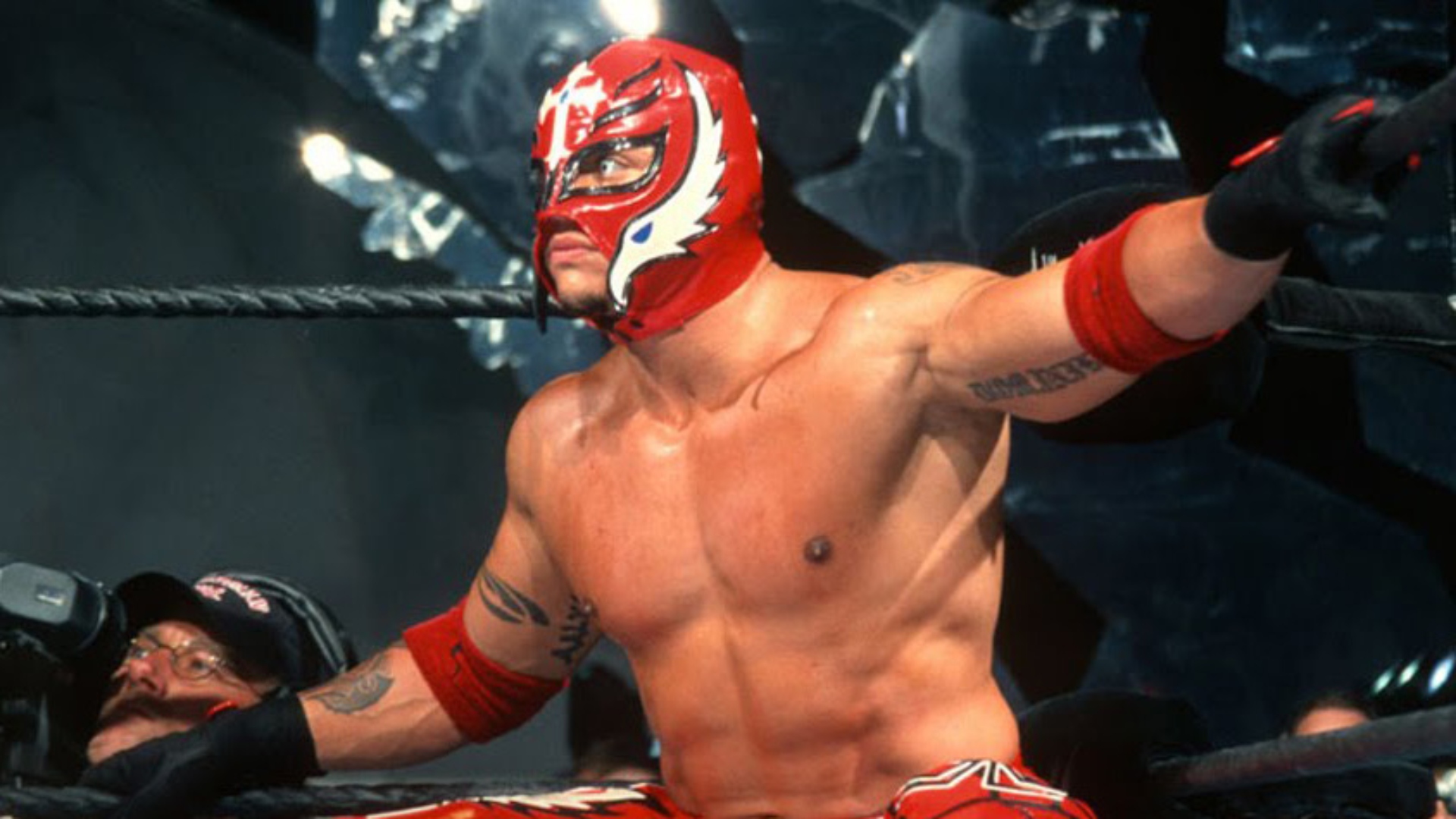 REY MYSTERIO defeats The Hurricane (With Mighty Molly) (WCW) (C) to win the WCW Cruiserweight Championship
So… this wasn't my original plan (naturally) but I looked at this and thought it a great time and chance to introduce Rey Mysterio to the WWF with a bang. This would really be a showcase for the master of the 619. Maybe 5/6 minutes bell to bell, with Mysterio winning the Cruiserweight title with the 619 and then the West Coast Pop to Hurricane to win the title and delight the crowd.
I'd try and make one of the classic epic-style video packages from this era to build towards our next match…
Kevin Nash (with X-Pac) defeats Chris Jericho (C) & Kurt Angle & Scott Steiner in a Fatal 4 Way Match to win the WCW Championship
This would be a big moves only match. Ideally I'd have it go long, but with such a big time main event match to come this is in a tough spot. Maybe go 12 minutes and have all sorts going on, eventually X-Pac helps Nash get the W and brings the WCW title back to WCW. Long term it just makes more sense for me to have Nash be WCW Champion going forward…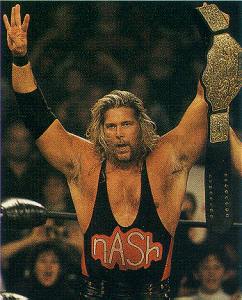 Lita would come out next. A huge ovation for one of the biggest fan favorites in terms of women in the WWF of all-time. She knows she's defending her title tonight, she just doesn't know who against…
Jazz defeats Lita (C) (WWF) to win the WWF Women's Championship
Jazz also debuted at the real Survivor Series in 2001. And I'd have her do so here, but this would be a fairly quick win for her. Right away she makes a huge impact, dominating a valiant Lita, and sending a huge message to the other women with a huge victory here. Your new Women's Champion here is JAZZ!
This is where I'd have Vince McMahon give his speech to team WWF. The one he did in the real show was pretty epic, so I'd have him repeat pretty much that, just of course saying it to a different set of 5 WWF superstars.
(COPY AND PASTE THE FOLLOWING LINK FOR THE ORIGINAL SPEECH)
https://www.wwe.com/videos/mr-mcmahon-gives-a-pep-talk-to-team-wwe-survivor-series-2001
and after another epic video package (see the original below) it is time for the biggest match in the history of WWF and WCW. This time with REAL consequences, and with the sort of names and star power the match really should of had.
TEAM WWF (Stone Cold Steve Austin & The Rock & Triple H & The Undertaker & Kane with Vince McMahon & Mick Foley) vs TEAM WCW (Hollywood Hulk Hogan & Goldberg & Sting & Booker T & Diamond Dallas Page with Eric Bischoff & Shane McMahon) in a traditional Survivor Series Elimination match – WINNER TAKE ALL!!!
I'd have Foley and then Vince enter, and take their place at ringside, before Shane McMahon and finally Eric Bischoff follow. And then in order, out come Booker T, DDP, Sting, Hogan and finally Goldberg. They are followed by Kane, Undertaker, Triple H, The Rock and finally Stone Cold. After team talks of such Bischoff and Shane nominate Goldberg to start for WCW. And after seeing Goldberg step forward Steve Austin comes charging rom the WWF huddle to jump at him, and the match is underway with Austin and Goldberg!
The match that really happened in this spot went just under 45 minutes, so I'll just run you through how I'd book each elimination. Given the talent and star power involved I have no doubt they could put on a pretty fun encounter even in such a long bout. The eliminations would go as follows…:
KANE ELIMINATES DIAMOND DALLAS PAGE (5-4 WWF) – DDP tries a Diamond Cutter but Kane pushes him away and then grabs him by the throat, big Chokeslam, 1-2-3.
GOLDBERG ELIMINATES KANE (4-4) – Goldberg runs into the ring immediately after he gets up from pinning DDP, he hits a huge Spear and gets the pin.
GOLDBERG ELIMINATES THE UNDERTAKER (4-3 WCW) – With everyone else brawling on the outside, Shane McMahon tries to low blow Taker but gets caught out. Hogan (with the ref down) takes out Taker with a steel chair, leading Austin to go after Hogan. Meanwhile Goldberg takes advantage of a downed Undertaker to hit the Jackhammer and the pin after.
STONE COLD STEVE AUSTIN ELIMINATES BOOKER T (3-3) – Surprisingly Booker gets the better of the exchange and hits the Book-End for a nearfall. He then does the Spinarooni and comes off the ropes looking for the Scissor Kick, but walks right into a Stunner.
STING ELIMINATES TRIPLE H (3-2 WCW) – One I've no doubt the fans would love. Naturally you'd probably have to do lots of shenanigans to do a Triple H job in this era… maybe even have Vince accidently hit HHH with a chair aiming for Hogan? This then allows Sting to lock in the Scorpion Deathlock, and Triple H passes out and the ref calls the elimination. Advantage WCW.
GOLDBERG AND THE ROCK ARE BOTH ELIMINATED VIA DOUBLE COUNTOUT (2-1 WCW) – So here is how I'd get Goldberg out without pinning him. Bischoff is seen whispering in Goldberg's ear with Hogan egging him on, and with Rock in the ring ready to face off with Hogan, he tags out to Goldberg. Goldberg immediately takes Rock down and the two brawl to the outside. Goldberg brawls with Rock on the outside and then Spears him through the crowd barricade. The ref calls the 10 count and both are counted out. Goldberg roars after as Bischoff and Hogan laugh, Vince looks devastated with worry. The crowd go wild behind Austin after as he comes back like a house on fire as the last man for his team…
STONE COLD STEVE AUSTIN ELIMINATES STING (1-1) – Again the ref takes a bump when Hogan pulls him out as he was about to call the pin on Sting. Foley then goes after Hogan, and Shane goes at him and they both brawl to the backstage area, leaving just Bischoff and Vince at ringside. Eventually Sting, after punching out Vince gets back into the ring, and Austin hits a Stunner to get the pin. We know have Hogan and Austin only left in the match.
HOLLYWOOD HULK HOGAN ELIMINATES STONE COLD STEVE AUSTIN – Eric and Vince brawl all around the ringside area as Hogan and Austin go at it in the ring, and we get to a situation where Hogan and Austin are both counted out. Everyone is confused… with Vince and Bischoff both arguing that their man has won… Linda McMahon eventually comes out to try and mediate things, and it is agreed that the match will be restarted with Austin and Hogan, but with No countouts and No Disqualifications, AND Bischoff and Vince are banned from ringside. With Earl Hebner now out of action given the bumps he has taken a new referee comes out… WCWs Nick Patrick… as the match is going along we see Patrick go to the front row of the crowd to talk to someone with a Sting mask on. He is seen talking to the ref and also hands Hogan a brass knuckles. Austin takes down Hogan with a Stunner after ducking the brass knuckles, but the masked man at ringside shouts for the ref not to make the count… Austin is furious and punches out the ref, then goes to confront the masked man… who is revealed as former WCW owner TED TURNER! Austin grabs Turner by the neck and tries to get at him… until RIC FLAIR runs in and hits Austin across the back with a chair. He places Austin back in the ring and Hogan crawls over for the cover, a new ref comes out… 1 … 2 … AUSTIN KICKS OUT! The crowd then goes absolutely wild as a man runs through the crowd, he gets in the ring and hits Hogan with a Superkick… IT'S SHAWN MICHAELS! HBK sees Flair and chases him to the back. Austin looks back at Hogan, then goes to ringside and grabs the WWF Championship belt, he goes back into the ring to hit Hogan with it… and then… the lights go out… there's some commotion in the ring and then the lights come back on… and Austin is down and busted open… and now Hogan has the WWF Championship belt in his hand… he smashes Austin over the head with it, throws the belt away… and then goes down for the pin… 1… 2…… 3!!!! HOGAN PINS AUSTIN!
We go off the air with Bischoff running back out and he and Hogan celebrating, and Vince McMahon on his knees in tears. Commentary put over the shock value… and the final shot of the show is Hogan and Bischoff getting a black spray paint can and spraying on the WWF Championship belt "W C W"…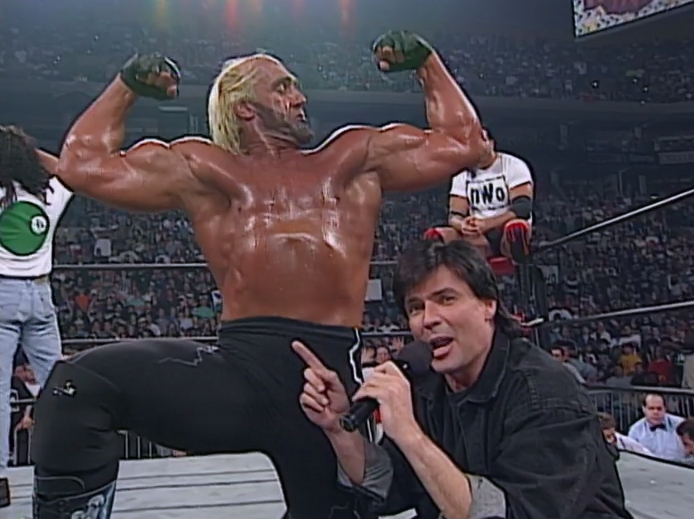 WCW WINS!
WCW WIN THE INVASION!
THE WWF DIES!
And THAT… Is the invasion over. WCW have won. I may pick it up and explain what I'd do next, from this point until WrestleMania 18, at some stage in 2021… but for now WCW have won, and the WWF is DEAD.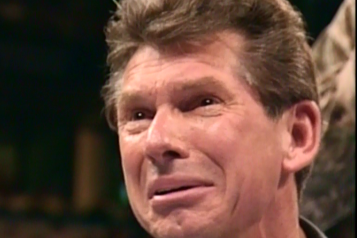 Josh.