One of the biggest shows in the wrestling calendar is often a pivotal point in the WWE world. But in My Invasion re-booking it is looking like a particularly important night for the WWF. After a disastrous night at the Invasion PPV they really need to bounce back, with the majority of titles in possession of WCW… for now… so here is my take on how I would've booked SummerSlam 2001.
---
(On Sunday Night Heat, before the ppv itself got underway, I'd have WWF's Lita, Jacqueline and Trish get a win against a WCW team of the Women's Champion Chyna, Stacy Keibler and Torrie Wilson. They had a 6 womans tag in this spot in reality, and I see no harm in doing something here. Ideally I'd have Trish get the pin here over either Torrie or Stacy).
So in combining a couple of things that happened in real life, I'd kick off the show with an absolute barnbarner
Edge (C) defeats Christian in a Ladder Match to retain the WWF Intercontinental Championship
Edge opened SummerSlam '01 winning the IC title from Lance Storm. And on the No Mercy PPV he won the title again from Christian in a Ladder Match. So I'd pretty much mirror that No Mercy match. Two great talents and I think in a Ladder match they'd do great stuff.
So… next I'd have Kurt Angle cut a backstage interview ahead of his match against Sting. But mid-way through I'd have the nWo come in and absolutely batter him. Commentary really doubt how Angle will be ahead of his match later…
The Hardy Boyz (Matt & Jeff) and Big Show defeats Scott Steiner & Test & DDP
Doesn't need to be too much here. Just a solid 6 man that goes under 10 minutes, have everyone get their stuff in and end it with Big Show pinning DDP for another win for the WWF.
Hurricane Helms (C) defeats Tajiri to retain the WCW Cruiserweight Championship
I'd have this be an absolute sprint. I think go 8 minutes and just let these two go at it. I think it'd be great work. A great spotlight too for a couple of guys who may not get it otherwise, Hurricane retains by cheating but have the match be good.
Sting would come to the ring next. He'd cut a brief promo on Kurt Angle putting him down, and saying he still feels like kicking some WWF ass (essentially laying out an open challenge)… that is answered by Chris Jericho, whom is looking to redeem himself after a run of bad luck recently.
Sting defeats Chris Jericho
I think this would just be unbelievable. Give them 15 minutes or more and just let them go wrestle. Sting would play slightly more heelish than he usually would, and be much more the aggressor. But Jericho would be a great fighting0babyface and the crowd really behind him, but he'd just come up short to the Scorpion Deathlock, despite being in the hold for a long long time. A brave effort by Jericho but Sting gets the win.
Kane and The Undertaker defeats Scott Hall and Kevin Nash (C) (C) in a Steel Cage Match to win the WWF & WCW Tag Team Championships
So as I've said in previous blogs, at SummerSlam 2001 Kane and Taker were in a double-tag title cage match, and they won. I'd really want this to be epic, but with two huge triple threat main events to come I don't want it going too long, so maybe 10 minutes or just under. But big moves only here. I think the crowd would really be behind the brothers of destruction, and I'd build to Kane doing the big babyface comeback spots. I feel like Taker would ore often than not get the pin so I'd like to give this one to Kane… have Taker get smashed up against the cage by Hall and Nash launching him into it, and to mock their opponents Hall & Nash hit a double chokeslam to Taker. And then Kane (down from an earlier attack) does the big sit up spot and the crowd pops. Kane then just runs wild and hits a chokeslam to Nash and then the Tombstone Piledriver to Hall for the win. Kane and Taker double champions.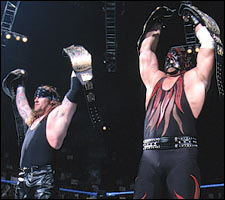 Hollywood Hulk Hogan (C) with Eric Bischoff defeats Stone Cold Steve Austin with Debra and Vince McMahon & Triple H with Stephanie McMahon-Helmsley in a Triple Threat Match to retain the WWF Championship
Now I did think about putting this match on last, and given the star power involved it probably deserves to be the main event , but well… I'll get onto that… this will be shenanigans all over the shop. I imagine the crowd would be going crazy as even though most big matches had loads of interference in this eta, crowds just ate it all up so I guess they would here with who's involved. So many mini-stories I'd have play into this; HHH and Austin teaming up against the WCW guy, but then both wanting to win the title for themselves, Vince trying to help Austin win, but then Stephanie stopping him because she's trying to help Triple H win, and also the tease of HHH joining up with Hogan and WCW, which I'd tease strongly via commentary… and it looks like it's going to happen… until HHH (having put Austin down with a spinebuster, and letting Hogan set up for the leg drop) then runs into Hogan with the big knee and then the Pedigree. Crowd goes wild for the double cross and HHH gets a really close nearfall. Of course the beef between Austin and Eric Bischoff comes into play here too… with Vince being taken out and Stephanie seeing to a wounded Triple H (who Hogan hit with a pipe), Bischoff pulls the ref out the ring when Austin hits Hogan with a Stunner and gets a nearfall. And then FINALLY Austin gets to whip Eric Bischoff's ASS… BUT… it leads him laying for Hogan to sneak behind and get the cheap roll-up win with his feet on the ropes for extra leverage. Hollywood Hogan retains his WWF title… or more he escapes with it…
The Rock defeats Booker T (C) with Shane McMahon and Goldberg in a Triple Threat Match to win the WCW Championship
Lets send the crowd home happy and have this go on last, as did the WCW title win for The Rock in the actual event. This will, as I've previously said, play a lot off the actual Booker vs Rock title match from this show, but with Goldberg added in. Goldberg's involvement will be mostly his big moves and him looking strong, a lot of the match will be Rock fighting off the two WCW guys, and Shane getting in whenever Rock gets the upper hand. But of course, in pursuit of the WCW Championship the tensions between Booker and Goldberg come to fruition as they eventually implode, to the point when Booker and Shane turn on Goldberg and attack him with a steel chair, before putting him through the announce table. The last few minutes of the match are all a match between just Booker T and The Rock. Eventually Booker gains control and does his signature Spinarooni… but turns round right into a giant Spear from Goldberg. Shane comes in, he gets a Spear (crowd going crazy for Goldberg here with the chants). Goldberg then turns his attentions to The Rock but Rock moves and Goldberg goes crashing into the ring post instead… then The Rock turns to the defending champion who is just coming to, hits the Rock Bottom and gets the win. Huge crowd pop, big babyface moment for The Rock, and a big moment of redemption to crown off a MUCH better night for the WWF.
Josh.