As we approach our first PPV in my fantasy world (I'm rebooking the 2001 WCW invasion of WWF), all my various stories are beginning to take shape. For this blog I'll be listing my card for the PPV, and then explaining how in the three weeks before the show how these matches will come to be. I'll also list any other things that I'd have go down, that will factor in to the Invasion going forward. So here is my card, and build to the first PPV, Backlash…
WWF Championship: The Undertaker vs Stone Cold Steve Austin (C)
Raw (April 9 2001; Boston, Massachusetts) = JR enters the arena to open the show, he quickly runs into Vince and tells him "I hope you're happy". Undertaker runs into Vince after and just shakes his head at him, Vince looks shocked and surprised. Vince later asks if JR is ok, JR says he just wants to get on with his job, Vince says he is surprised JR doesn't support his friend Stone Cold, JR tells him to cut the crap and that if he has much more of this then he'll go and work somewhere else like WCW (Vince's jovial expression suddenly changes). Undertaker later sees Vince backstage and tells him that if things keep going the way they are he'll end up losing everybody (he then looks at Stone Cold) and everything (he looks at Austin's title belt). In the main event Kane and Undertaker beat Austin and Big Show (who wants a chance to prove himself) with Taker pinning Big Show for the win.
SmackDown (April 12 2001; Philadelphia) = Austin opens the show with a promo saying that people are complaining that WWF isn't a rosy place anymore, but does he care? "UH, UH"! He says he'll do things his way and lists a number of names saying they don't like the WWF right now, but the one person that does is the only one that matters, Mr McMahon. Shane McMahon comes out and says he is right about everything he just said, apart from his faith in his father. He says WCW is the future and Shane McMahon by the side of Stone Cold Steve Austin is the way forward. Austin goes to reply but is soon interrupted by The Undertaker, Shane introduces Taker as the future of WCW, to which Taker looks disgusted and again states his loyalty to the WWF. Taker says the WWF is everything to him, as is the WWF Championship, and that it makes him sick seeing such a sorry son-bitch be WWE champion. Austin and Taker get into a big brawl, with Shane looking on and shaking his head, again he is on his phone making a call to someone else.
Raw (April 16th 2001; Knoxville, Tennessee) = Austin and Taker have a contract signing for their title match at Backlash. The segment is officiated by Commissioner Regal, who eats a chokeslam from Kane after he had slapped Taker and allowed Austin to hit Taker with a Stunner.
SmackDown (April 19 2001: Nashville, Tennessee) = A vengeful Commissioner Regal opens the show and calls out both The Undertaker and Kane. As 'punishment' for their actions on Raw they are each placed in a match for later in the show. Kane's is right away (Undertaker is banned from ringside, or he will lose his WWF title match for Backlash), he faces Rhyno who beats Kane after interference by Edge and Christian. Undertaker later faces Regal himself, only the match never happens as Austin jumps Taker on his way to the ring.
Raw (April 23 2001; Denver, Colorado) = Undertaker and Kane open with a promo, with Taker saying in all his time in the WWF how he had never known it to be such a mess. With everything right now; with WCW trying to make a name for themselves, with Austin taking orders from McMahon and even Jim Ross not safe from Stone Cold these days, he says something has to be done sooner rather than later starting tonight… elsewhere Kane is found having been attacked. It's expected and presumed that someone from Regal/Austin/Edge/Christian/Rhyno took him out… as a result the main event ends up being a 4on3 match that sees Edge, Christian, Rhyno and Austin beat Taker and The Hardy Boyz.
SmackDown (April 26 2001; Denver, Colorado) = Vince cuts a promo saying how proud he has been of Stone Cold as WWF Champion. he says he's given Austin the night off to rest before Backlash, meanwhile Undertaker is set for a handicap match against Edge and Christian. In that match it ends in a DQ as after Taker dominates suddenly Austin does show up, and eventually Edge and Christian attack Undertaker's arm with a chair. Eventually Kane returns to take out the heels, and the show ends with Undertaker hitting a chokeslam to Austin and posing with the WWF tittle belt as he and Kane look down at a beaten Austin.
WCW Championship: Triple H vs Booker T (C)
Raw (April 9 2001; Boston, Massachusetts) = Stephanie McMahon-Helmsley is trying to console her husband Triple H after he lost the number one contender's match to The Undertaker on SmackDown. Vince comes in and Triple H goes to go at him, furious at him for trying to get involved in the match. Vince tells him to calm down and to take some time off and to come back next week when he'll hopefully have a much clearer mind. He tells Stephanie that she needs to calm down that hot head. Stephanie looks worried…
SmackDown (April 12 2001; Philadelphia) = We see a shot of Stephanie talking to her brother Shane. Stephanie looking upset and Shane trying to console her, the two are seen hugging, looking like they have put their differences aside. We overhear Shane saying "I can help, tell him to give me a call"… Later Shane waves off Stephanie's limo as it leaves the arena, Vince confronts him to ask what the hell was that about?… 'Business' says Shane and then he walks away looking smug.
Raw (April 16th 2001; Knoxville, Tennessee) = We get a shot of a locker room door with a WCW logo on it. From out of the locker room comes Triple H! Stephanie asks him how it went, and Triple H says 'things are gonna be OK'.
SmackDown (April 19 2001: Nashville, Tennessee) = Vince is walking around backstage in a frenzy. He's screaming 'WHERE THE HELL IS THAT DAMN TRIPLE H?!'… Eventually he finds him, but Triple H then says 'do you mind? I've got a match to have'… and then he walks out for his match, with Vince screaming 'somebody better show me some damn respect around here, this is MY company don't forget damn it'! Triple H (accompanied by Stephanie) has a match against… Billy Gunn (not that it matters) and eventually Shane McMahon helps Triple H win.
Raw (April 23 2001; Denver, Colorado) = Triple H cuts a promo where he explains why he has begun a 'business association' with Shane McMahon. He says it's not about WWF or WCW, it's about getting opportunities to better himself, something he feels he can't get in the WWF right now with a tyrant like Vince McMahon running things (Stephanie stood nearby looks less than pleased with that last remark). Shane comes out and says he has managed to arrange a huge first time ever match for Triple H at the upcoming Backlash PPV. Before he can say anymore Vince storms out to the ring saying he has had enough of this sham, this is the WWF, this is MY company dammit… and as he carries on suddenly… WCW CHAMPION BOOKER T enters the ring and attacks Vince form behind. Stephanie goes to try and see to her father as a shocked Triple H looks on, as Booker stands with Shane and Shane announces that Triple H's opponent for Backlash is WCW Champion Booker T. He says Triple H was screwed by Vince out of a title match, but he will have one this Sunday as the 'prestigious' WCW Championship will be on the line.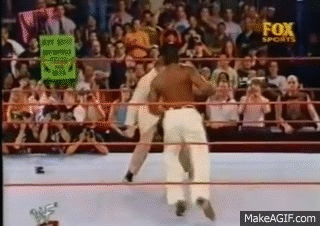 SmackDown (April 26 2001; Denver, Colorado) = Triple H wins a match. No Stephanie with him, as she's apparently seeing to Vince who is recovering from the attack by Booker T on Raw. After Triple h's win Booker T and Shane come out and Booker T cuts a promo.
Intercontinental Championship: Chris Jericho (C) vs William Regal vs Chris Benoit vs Kurt Angle
The build for this one doesn't need to be much special, as I think this match speaks for itself. 4 solid in-ring workers, 4 very different personalities, 2 heels and 2 babyfaces. At this point in time these four aren't key components of the whole Invasion storyline, so the build can be kept similar to as it was IRL… On Raw we have Benoit vs Jericho with Regal guest ref, and Angle comes in and it ends in a big mess, but with the two babyfaces standing tall, SmackDown sees Jericho and Benoit have to team up to face Regal, Angle, Edge and Christian in a handicap match with the heels this time getting the win as the faces can't overcome the odds. On the 16th April Raw Jericho faces Angle, but Angle gets a sneak win as Benoit demolishes Regal making him tap out, with Regal still suffering having taken a chokeslam from Kane earlier in the show. The 19th April SmackDown sees Commissioner Regal put Jericho and Benoit in a tables match against The Dudley Boyz, with Angle getting involved meaning Bubba and D-Von get the win. The final week before the PPV sees a submission tag between the 4 with Benoit and Jericho winning, and then on the SmackDown a 'Duchess of Queensbury Rules' tag match set by Regal allows him to dictate the rules somewhat so the heels can look strong going into the PPV.
Tag Team Championship: The Hardy Boyz (Matt & Jeff) vs Edge & Christian (C)
So the build for this can just be a series of singles matches between these two, and solid promo segments. I don't think you have to do much to allow these teams to shine, especially in that era. Maybe have The Dudleys in there for odd matches or teams like X-Factor or APA or The Radicalz and just allow the tag division to flourish and be known for good matches and promos. As mentioned in the stories above these tow teams intermix with other storylines to give them more exposure higher up the card; Edge and Christian helping Rhyno against Kane on the April 19 SmackDown, the main event of the April 23 Raw being Edge, Christian, Rhyno and Austin beating Taker and The Hardys, and Edge and Christian beating up Undertaker on the final SmackDown.
Hardcore Championship: Mike Awesome (C) vs…?
So as the Hardcore Championship doesn't need to be a serious title, we can use it as a way to give TV time to new WCW people coming in, and to loyal, under-card WWF stars. This will be the start of WCW taking over WWF, by claiming the Hardcore title as theirs. So over the build to Backlash we have various WWF superstars try and take the Hardcore title from Mike Awesome (in any order to be honest it doesn't really matter; The Dudleys, Raven, Big Show, Test, X-Pac, Tazz, the APA, K-kwik, Hardcore Holly, Billy Gunn) will go after Awesome and try and claim back the title for the WWF. As well as that we have various former WCW talents either helping Awesome keep his title, winning it back from WWF guys or then dropping it back to someone from the WWF. It doesn't really matter how many title changes there are to be honest, or when they happen or who at some stage holds the Hardcore belt, the two main things are that the whole Hardcore title scene is an ongoing brawl between WWF and WCW mid-carders, and that going into the Backlash show Awesome is the champion. The WCW talents that will debut as part of the Hardcore title scene will be: Billy Kidman, Chavo Guerrero, Lance Storm, Shawn Stasiak, Buff Bagwell, Hugh Morris and Chris Kanyon. We will also have Shane McMahon occasionally appear looking to orchestrate Awesome and the WCW guys pursuit of the Hardcore title.
European Championship: Eddie Guerrero (C) vs ???
The build for this one as well doesn't really need to be a big deal, as it'll all be to set up an open challenge at the PPV. The story in the build will be more of an infighting between The Radicalz, as Guerrero, Saturn and Malenko of course came over from WCW. Shane McMahon tries to recruit them to join 'his' WCW, saying it will be a much better place than the company they left and that now it'll be everything they wanted it to be. The Radicalz debate between them if they'd be making the right call or not if they were to go back to WCW, and this leads to some discontent between the group. Eventually on the go-home show the group cut a promo saying they are united… for the WWF. To which they confront Shane McMahon, who goads Guerrero into putting his European title on the line at the PPV, against one of his newest members of HIS WCW. Again this plays into Shane's plan to take over the WWF, firstly via taking their title belts.
Big Show vs Kane
OK so with Kane heavily connected to The Undertaker and his chase of Stone Cold and the WWF title, the build to this one mainly centers around Big Show. So as we've seen already Big Show got frustrated on the last SmackDown after being outnumbered, and overcome by The Hardys and Lita. That frustration only continues after on Raw he is pinned in the main event tag match by Undertaker. On SmackDown he is set in a match against Raven, and he just beats the shit out of him to the point where referees and officials have to come out get him to stop a post match beatdown. Raw he has another match, this time against X-Pac where again he beats the shit out of his opponent.. And he's just a really angry man… On the 19th April 2001 SmackDown goes around backstage all show just trashing the place and throwing around extras, he just wants a fight. Vince McMahon sees him and says if he wants to beat someone up, it should be that damn Mike Awesome 'who took OUR Hardcore tittle, so you go get it back for the WWF'… And then all show and the next Raw the story is Big Show running around beating up all the guys going after the Hardcore title whilst trying to win it for himself, but every time coming up short, and he's just getting angrier and angrier, until he just gets to the point where he's upset. He eventually runs into Shane McMahon, who tells Big Show that he knows the two have had their differences in the past, but he has always admired Big Show as a competitor. He reminds Big Show that with 'me by your side, you made it to the MAIN EVENT OF WRESTLEMANIA last year'… Big Show looks away very thoughtfully, and then Shane ushers him into his office. On the go-home SmackDown for Backlash Big Show is interviewed backstage by Kevin Kelly, and Big Show reveals that after talking with Shane he now has a match for the upcoming Backlash PPV. He denies though that he is a member of the new WCW, but that he just wants a chance to show the whole world what he's all about, and at Backlash he will do just that.
On the episode of Sunday Night Heat, that back in the day was the lead in to the PPV shows and was pretty much the 90s version of the Kick-Off shows of today, we have two matches that took place on the actual show, but with different things on the line. Lita faces Molly Holly, with both looking to show what they can do in the ring, and possibly with eyes at challenging Chyna for the women's title. The other match will see Light Heavyweight Champion Crash Holly, who has appeared sporadically over the few weeks prior, but been beaten up basically every time. He also has a point to prove…
Elsewhere on the road to Backlash… The nWo appear each show either cutting classic-style promo videos, or backstage causing damage, with Vince failing each time to catch them and get them thrown out and arrested. They have a few run-ins with big names from the WWF side, such as Triple H and Stone Cold, but nothing ever physical develops, we are just building nWo hype for the future right now.
Having appeared on the Raw after Mania to Spear Steve Austin, we don't see Goldberg appear at all. He is mentioned by various people in promos and stuff, but we don't actually see him, despite the 'GOLDBERG. GOLDBERG. GOLDEBERG, GOLDBERG' chants from the crowds, particularly during Austin segments or matches. We could even have Austin start to be paranoid that Goldberg is around every corner, and is after him. Maybe have Goldberg's music play during an Austin match that he loses… Again we have lots of time and now is not the time to go hard on pushing the big names of WCW…
For WWF Women's Champion Chyna she can have a few matches and promos, and video packages over the three weeks. Against names like Trish Stratus, and Ivory again etc. just to build her up and make her seem special. She's asked about WCW, but bats off the question as if she has no interest in that and doesn't care.
Now… here's maybe the biggest game changer of the Invasion so far. So after teasing on the SmackDown that she would confront her husband, Linda McMahon appears on the April 9th Raw in Boston. On this show a pretty famous segment took place between Vince and Linda, and this will largely stay as it was, but with a couple of additions… So she gets a huge reaction coming out (she really got some big pops around this era it was so weird)… She thanks the crowd, and says she has a few things to say tonight: firstly she is fully recovered from her illness and can now fully resume her role and responsibilities in the company as CEO, she says how proud she is of her son Shane for his actions at WrestleMania and how impressed she has been with his drive and business acumen with his work with WCW so far, and that she believes it is within the interest of good business that from this point forward, she (in her role of CEO) will be working with Shane to make some deals that will allow the WCW talents to appear in the WWF, without any legal or lawful ramifications, and 'quite frankly my Husband can't do a damn thing about it, because even Vince McMahon can't go above the law'! She says finally for her last announcement she needs to talk to Vince face to face… and she says that since Vince likes to do things in such a public fashion, she requests Vince come down to the ring.
An angry Vince storms out, and is absolutely fuming at Linda making a deal with Shane to let the WCW talents appear in the WWF. She tells Vince that she only has the best interest of the company in mind, and simply wants the most top talent to be appearing on WWF TV. She says putting the WWF before her own interests is something Vince would know absolutely NOTHING about. Vince suddenly looks sad, as if he's suddenly realizes what he's been doing recently. He hesitates to talk, and when he does he tries to hug Linda unsuccessfully, he says he wants to apologize for what happened at WrestleMania and hopes they can put that behind them now, but Linda replies very clearly "Vince, SHUT UP. I'm the one to do the talking tonight" and she gets a massive pop from the crowd. The rest of the promo can go as it was with Linda referring to a previous public row where Vince demanded a divorce, how he broke her heart and made her ill, we see Vince's various lewd acts with Trish play on the titantron, and after that video package plays Linda says how a lot of wrongs were righted at WrestleMania and a lot of people would think she's had her revenge, but she has not…
And that would be it for Linda on TV for a bit for me. I really don't want this to be any more about the McMahon family in crisis than it needs to be. The real-life Invasion very quickly became Vince and Linda vs Shane and Stephanie and I want to steer as far away from that as I can. Maybe one or two segments will stay but the McMahon family wont be the driving force of the Invasion in my world that's for sure. And part of that is not having Linda or Stephanie appear on TV for the sake of it. I want the McMahon's to be important, and if you don't have Linda appear all the time, it make sit a bigger deal when she does appear. So Linda doesn't appear on TV after this on the road to Backlash, and as for the divorce it just adds to Vince steadily losing his mind and everything around him not going to plan, as he desperately tires to maintain his order. Its mentioned in segments and promos, but as I've said we don't see Linda on TV for the next few weeks before the PPV at least.
And pretty much that's all you need to know about how I'd build up to the first PPV of the 'Invasion era'… but how does that go down… well… here's how I'd book WWF Backlash 2001!!!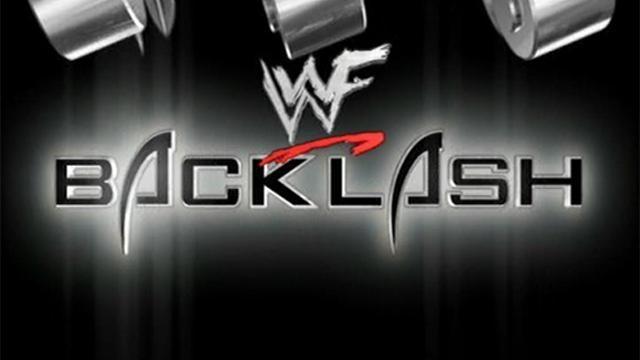 WWF Backlash 2001 (April 29 2001; Rosemont, Illinois)
(As previously mentioned two matches take place on Heat prior to the PPV; Lita beats Molly Holly to set herself up as a likely next challenger to WWF Women's Champion Chyna. And also Light Heavyweight Champion Crash Holly comes out and cuts a promo saying basically that he wants to prove himself as Light Heavyweight Champion, and he issues an open challenge… that is answered by WCW Cruiserweight Champion Shane Helms. And Shane Helms BEATS Crash, and he wins the Light Heavyweight title. So ANOTHER WWF title is held by a WCW guy).
---
The main PPV show opens with…
Rob Van Dam defeats Mike Awesome (C) to win the WWF Hardcore Championship
Awesome's open challenge is answered by the debuting former ECW star. He gets a huge reaction from the crowd, whilst JR and Paul Heyman (who obviously is very happy to see RVD) question if he is a WCW guy or on the side of the WWF?
Edge & Christian (C) (with Rhyno) defeats The Hardy Boyz (Matt & Jeff) (with Lita) to retain the WWF Tag Team Championship
This can just be a typically good tag match between these teams. No need for another title change here, lets keep this one going for a bit longer.
Scott Steiner defeats Eddie Guerrero (C) to win the WWF European Championship
So before his match Eddie cuts a pre-match interview. Either on the Sunday Night Heat before Backlash, or during the PPV the rest of the Radicalz are found having been attacked in their locker room and so can't join Eddie for his match. Guerrero puts himself over and says he isn't worried and will take on anyone who wants a piece of him… and his challenge is answered by Freakzilla himself, BIG POPPA PUMP… Scott Steiner. And as you would think, BIG pop, and basically a squash. Another WWF belt goes to a former WCW star, and Scott Steiner arrives in the WWF!
Chris Jericho (C) defeats William Regal. Kurt Angle and Chris Benoit in a Fatal 4 Way match to retain the WWF Intercontinental Championship
Nothing more to this one other than just a good match. Give them 10-15 minutes and just have them go out there and tear the house down. Jericho retains pinning or submitting Regal.
Big Show vs Kane ends in a No Contest when the nWo come out and attack both men
Typical big man match for a few minutes, before Hogan and Hall and Nash jump the barricade and surround the ring. Initially they focus their attack on Kane, and seem to make friends with their former fellow nWo member Big Show. And then they attack Big Show as well. Basically the whole WWF roster (headed by The Undertaker) come out to try and chase them away, but they escape back through the crowd, and are later seen leaving the arena in their own nWo logo-emblazoned car.
Vince is seen backstage with his head in his hands. He's approached by Michael Cole for his thoughts on what just happened, if he has anything to say about the WWF Championship match tonight or with Scott Steiner winning the European title? He ignores Cole each time, before telling him to get out.
Booker T (C) defeats Triple H (with Stephanie McMahon-Helmsley) to retain the WCW Championship
Lets not talk about the actual match that took place between these two in real life for the big gold belt… This is a solid main-event level match, with Booker T getting the win after Triple H is attacked with chair mid-match after a ref bump… and it's SHANE MCMAHON who is the one to attack Triple H. He later celebrates with Booker T as Triple H furiously looks on, as Stephanie sees to him. After initially helping him get this match and giving him a championship opportunity, WCW's Shane McMahon has betrayed Triple H. So now he has fallen out with WWF's Vince and WCW's Shane has turned against him too…
Stone Cold Steve Austin (C) defeats The Undertaker to retain the WWF Championship
So this is your classic main event title match from this era; loud crowd noise, runs ins a plenty (from Vince, Kane, Shane, Triple H etc. etc.), with the end result being Austin wins cheating. The PPV closes with Austin drinking a beer as Goldberg's music plays… and Austin is ready for him looking towards the entrance ramp… but instead turns around right into a Spear. Crowd goes crazy for all of this, and Goldberg roars at the top of the ramp… this time Shane holds Goldberg's arm in the air, as Vince looks on…). The PPV ends with Goldberg and Shane together at the top or the ramp, Austin down and hurt selling the spear in the ring, and Vince looking lost at ringside.
Josh.