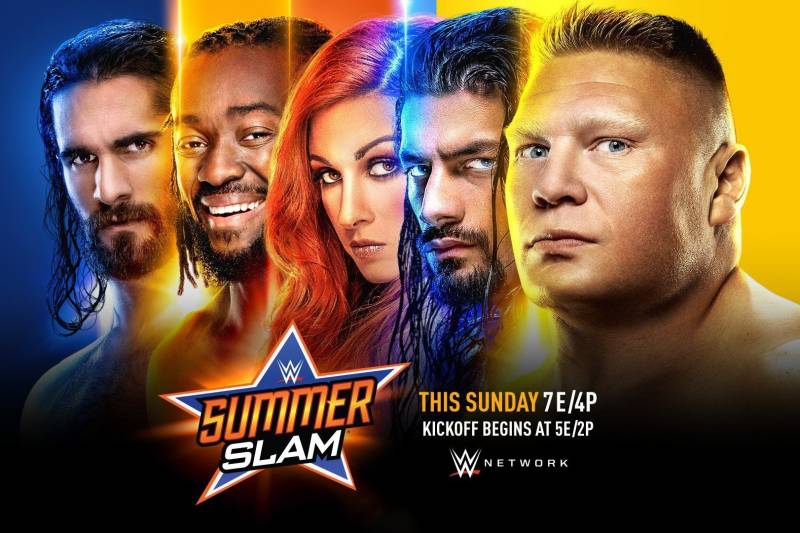 Well… what can I say about this show. Incredible that a whole year has passed since one of the most fun shows I've seen from WWE in a long time. A show I, as was the I guess now former norm for me, watched in Huddersfield with my friends at Warehouse bar. It came 7 days before my birthday and I couldn't have got a better present… So as I don't do it last year, let me make up for that and review for you one of the best two WWE main roster PPVs of the year for 2019. Enjoy!!!
---
So I don't usually touch on the Pre shows much of any 'retro' show I'm talking about, however in this case given what went on (and more what went on since this show) I'll make an exception. As far as matches go it was your standard pre show stuff, albeit a tad more important given it was a Big 4 show. We were treated to…:
Drew Gulak defeated Oney Lorcan to retain the Cruiserweight title. It was too short and ruined by an advert being in the middle of the match. It also seemed like they held a bit back and could've done more if they were allowed (time-wise and spot on the card). For what it was it was OK, but maybe a little underwhelming. **
Buddy Murphy vs Apollo Crews ended in DQ. It was very short, but what they did was good. This was all about getting Rowan over, who interfered for the DQ. There was no real reason for this match to happen otherwise. The story here was Murphy had been accusing Rowan of attacking Roman Reigns on previous editions of SmackDown, hence he beat him down here. *3/4
Elias came out for a performance. We know the story here… he comes out about to sing a song clowning on the city he is in… and then someone comes out to interrupt him… but this time in Toronto we got a pretty special treat, and something we thought (based upon what we knew at the time) we'd never ever see again… little did we know…
Watching this live I SCREAMED so loud!!! A guy I thought was one bad bump away from disaster had done his signature move. I was gobsmacked to say the least… and we didn't have a clue how good it would get for him after that…
Alexa Bliss & Nikki Cross defeated The IIconics (Billie Kay & Peyton Royce) to retain the WWE Women's Tag Team titles. The wrestling wasn't exactly great, but the match was very funny. All 4 played their characters well, and Bliss played her Buzz Lightyear attire into the match at one stage. **1/4


---
Becky Lynch (C) defeated Natalya in a Submission Match to retain the Raw Women's Championship
This was a good match. Both performed some unique submissions and spots well. The crowd was more split than anticipated, possibly more in favour of Lynch. It was the best Natalya match I can remember for some time and the best of Lynch's title reign up to that point. Maybe I'm wrong and maybe this is harsh, but I felt Natalya was only getting this shot because the show as in Toronto… Technically this was phenomenal, both women had great looking offence, it was a real good brawl/technical battle all rolled into one. Becky tried a triangle hold early that Natalya tried and tried again with slams to get out of it, the ropes (no rope breaks in this one) didn't save her. They eventually went to the outside and brawled as Becky tried a guillotine but got launched into the barrier for her troubles. Natalya targeted Becky's legs (weakening her for the sharpshooter) and even suplexed her into the ropes making sure her legs crashed into the ropes. The story of the match saw Nattie target Becky's legs mostly (the sharpshooter around the ropes was particularly impressive), with Becky fighting back with strikes and a few submissions of her own (including the sharpshooter of her own, which Natalya eventually batted back herself later locking in Becky's Diss-Arm-Her). And after a pretty decent fight that the crowd enjoyed, Lynch was stuck in the sharpshooter (the crowd really got behind Natalya at this point), but Lynch crawled out the ring which even though she was pulled back gave her time to wriggle out, and she flipped Natalya over into the Diss-Arm-Her to get the tap out and the win. A really good show opener from these two women.
****1/4
WWE Hall Of Famer and Toronto's own Trish Stratus was interviewed backstage ahead of her match with Charlotte. Naturally she got a huge pop from the crowd watching on. Trish said she felt great and that she thrived on pressure.
Goldberg defeated Dolph Ziggler
As a squash match this was tremendous. Goldberg looked like a monster, and Dolph was a moaning asshole and played that role perfectly. Ziggler's selling of the Spears made it look like he'd been legitimately snapped in half. So story here is Dolph had been mocking a series of legends in the build to SummerSlam, and this lead to Goldberg coming back to shut him up. Ziggler looked as confident as ever coming out, and even got on the mic after he came out and said that he was the best thing that could happen to this show, and WWE, and to pro wrestling. He said legends come and legends go, but old DZ is still here stealing the damn show. He said Goldberg fears Ziggler. LOL. Anyway old Bill did his legendary entrance with loud Goldberg chants accompanying him as always. There was a guy sat front row dressed as Bret Hart who was the only person seemingly not happy to see him, which made me laugh. Match began and after an extended stare-down Ziggler surprised everyone and hit a superkick and got a one count off the nearfall. Then the same exact thing again, and he tried a third but got speared in HALF! Goldberg then hit the Jackhammer for the win. After Goldberg posed and went to go to the back, Dolph crawled to a microphone and called him back. He said any *expletive* can hit one move on me, he said it was like being hit by a little baby and that he didn't have the guts to fight him man to man… So Goldberg walked back to the ring, with Dolph still down, and Goldberg waited for Ziggler to stagger up and he Speared him. Goldberg's music played as Ziggler rolled around in pain. And Goldberg went to the back. THEN… Ziggler wasn't done, he got a mic again and said to Goldberg that anybody can lucky twice, and that he knew he didn't have the balls to face him man to man, he called him a laughing stock in this business and that he was the best. This eventually brought Goldberg back out, and he hit Dolph with yet another big Spear. And that was that, after Taker had his at Extreme Rules this was Goldberg's own Saudi redemption.
**1/2
AJ Styles (C) with Karl Anderson & Luke Gallows defeated Ricochet to retain the United States Championship
The story was all about Ricochet selling his leg and Styles targeting it. It was maybe a step below what you might expect from these two, bit it was still fine. The finish saw AJ catch Ricochet and hit the Styles Clash, it was done excellently. Crowd was pretty flat for this though considering who was in it, maybe more down to it's spot on the card than anything else. Gallows and Anderson helped beat up Ricochet after, which felt like it did Ricochet no favours having lost the match as well… Also during Ricochet's entrance they cut the all the foreign announce teams as always… and one of them was Carmella and R-Truth dressed up hiding from people chasing Truth's 24/7 title, with Drake Maverick making an appearance too looking for them… as you do… Anyway this match was harder for me to enjoy because I expected a classic and it felt just… fine… It was still a pretty decent match though so let me make that clear. It's always felt to me everyone involved here should be way higher up the card, which given a year later none of these guys are on the SummerSlam 2020 card and Gallows and Anderson not even with the company, it's clear those in power at WWE don't share my opinions on these four, which is such a shame.
***3/4
We had a super fun backstage segment; The Street Profits are backstage and they hyped up some of the matches on the SummerSlam card… and then Ric Flair walks in… and he cuts a classic Nature Boy promo and lots of wooing ensued… I've done a terrible job explaining it but the live crowd loved it and so did I watching it back. Simple but really fun stuff.
Bayley (C) defeated Ember Moon to retain the SmackDown Women's Championship
The crowd was DEAD for this. It was a fine match, but it was just… fine… they tried their best but it was just kind of there… Bayley hit a top rope Bayley to Belly, which looked great, for the win. This was still in the early days of Bayley's heel-ish run so she was still finding her feet, in fact she wasn't even proper heel yet she was just a more aggressive version of the Bayley we had always known, and for me Ember Moon is one of the more underrated performers on the roster. But this was pretty boring overall and by far it was the match that felt it had the least riding on it on the whole card.
**1/4
Kevin Owens defeated Shane McMahon with Elias as special enforcer (If Owens lost he would have had to quit WWE)
Owens was a GOD to the Toronto crowd. Shane was bad as always, but Owens did his best to drag him to a fine match. KO showed he was smart enough to get round all the shenanigans that Shane and Elias threw at him. Shane at this time had his gimmick where he would repeatedly get the ring announcer to introduce him as the best in the world and it got OLD very very quickly… At this point in time I was of the mindset they needed to turn KO into the top babyface in the company, I just felt he had the combo of everything needed to be a top WWE star, and crucially he was beloved by the majority of fans. I think he's absolutely a top top star. Shane was very good at being a chicken shit asshole, but his in-ring work is near repulsive. Shane tried to put the sharpshooter in at one stage, with KO soon getting out of it and hitting a pop-up powebomb. Although Elias stopped him from getting the win by distracting the referee. Elias tried to anger KO further by sliding a chair into the ring, but Owens resisted the temptation to use the chair on Shane and risk his WWE career… instead he moved out the way of Shane running at him and let Elias get knocked down instead. Owens then hit Shane with a superkick, a swanton and a frog splash… but Elias yanked the ref out the ring before he could count the pin. Owens took out both officials on the outside with a cannonball off the apron, then he did indeed get the chair and tried to attack Shane (and Elias) with it, much to the delight of the Toronto crowd, but after sending Elias packing the ref got back up in time to catch KO just before he hit McMahon with it… Owens held his hands up and allowed the ref to get rid of the chair… and Owens took this chance to punt Shane in the balls (as the ref had his back turned) and then hit the Stunner for the win. Fun for what it was, but this was indeed The Kevin Owens show here. What a star this guy is.
**3/4
Charlotte Flair defeated Trish Stratus
Having not had a singles match since 2006, Trish was great. Flair carried most of the match as expected but Trish stayed with her for sure. Unsurprisingly the crowd adored Stratus. As a sendoff match could have gone, this was just about a perfect way to end the illustrious career of the WWE Hall of Famer. Trish really took it to Charlotte and had counters to most of The Queen's early offence. Crowd fell off a bit in the heat spots, but it was needed to tell the story of Charlotte being the current day star, Flair even mocked Stratus by pointing to the sky as Trish often does. Charlotte often bragged that the match was easy for her as she beat on Stratus, but after getting caught with a crossbody and a nearfall, Charlotte soon went back to being ultra-aggressive slamming Trish's head to the mat. When Trish took done Charlotte and then followed up with punches on the floor and in the corner the crowd loved it, until Charlotte knocked Trish off the apron with a hard big boot. Flair hit a series of hard knees after Trish beat the count, and the self proclaimed 'Queen of All eras' went to hit a moonsault off the top but Trish moved out the way. She then hit a great facebuster type move to get some breathing space, they exchanged strikes before Trish hit a series of chops. They exchanged strikes again on the top rope, with Trish eventually hitting a top rope hurricanrana for a nearfall that the crowd loved. Trish kicked out of a big boot at two after missing a chick kick of her own. Charlotte targeted the knee of Trish after but Stratus rolled her up for nearfall after getting out of a figure 8 attempt. Trish then got a figure 8 of her own locked in, and Flair sold it great screaming in pain. Charlotte eventually got to the bottom rope, but soon hit the middle turnbuckle looking for a spear, and Stratus hit a Stratusfaction after… but Charlotte kicked out at 2. They exchanged chops and Trish got another nearfall with a jackknife cover, and again after a Chick Kick… and finally Charlotte Flair picked up the win after a big boot and the Figure 8. After Charlotte left the ring Trish took in the adulation of her adoring Toronto crowd. This was good stuff.
***1/2
Bret Hart caught Seth Rollins backstage and wished him luck for his match against Brock Lesnar later in the night.
Kofi Kingston (C) vs Randy Orton for the WWE Championship ended in a double countout
The match was slow and methodical, which would've been fine… but the finish killed it. It went way too long for the type of match it was. It was made vert cleat that the feud wasn't over here. I can't even be bothered to talk about it all that much, I love both these guys but this match was so dull… it was like the Samoa Joe – AJ Styles match the year before, way too long and boring and really underwhelming… but it was part of a longer feud so we had to accept it. Towards the end Randy hit an RKO as Kofi came off the top rope, and that is always a sight to behold and one of the best finishers of all time. Kingston after rolled to the outside out of exhaustion, and Orton followed him but went face to face with Kofi's kids in the front row… and this made Kofi just go nuts hammering away at Orton. But just as this took place the ref must have counted them both out so the bell rung just as Kofi began to fire up, so everyone booed. Kofi battered Orton all around the ringside area, eventually using a kendo stick (as the crowd chanted 'bullshit'). After with both men back in the ring Kingston hit Orton with the Kendo stick some more and then the Trouble in Paradise and then posed with his WWE Championship.
**3/4
The Fiend defeated Finn Balor
The match was what it was, and what it should have been, a glorified squash match designed to make The Fiend come across as exactly what he is intended to come across as, a monster. But it was all about the presentation of The Fiend here. Finn awaited his foe in the ring, and the opening to the Firefly Fun House vignettes played, before the words 'Let Me in' appeared, the lights went dark and then from the shadows emerged… him… a rock/electric guitar sound played before a remixed version of Bray Wyatt's previous theme song played as The Fiend made his way through the darkness. The camera work here was outstanding and really made it come across as something unique. It should also be noted The Fiend came to the ring holding a lantern that was dressed up with what appeared to be a severed head of Bray Wyatt in his previous form. The firefly's from the crowd were out in full force, and as The Fiend stood in the ring he got probably the loudest reaction of the whole show. At this point watching with my Yowie Wowie t shirt on, I was nearly in tears, and the match hadn't even started. Simply the most unbelievable entrance I've ever seen, it blew away all expectations I had. As I've said the match was essentially a squash. Finn showed some signs of life but Bray no-sold most of it and batted him down with ease at others, although at one stage a seemingly conflicted Fiend went for the Sister Abigail, but Finn got out of it and hit multiple slingblades, before a double dropkick sent The Fiend crashing into the corner. Finn then went up top looking for the Coupe de Grace but was caught as he came down by The Fiend with the Mandible Claw. After valiantly fighting Finn was done, and with the hold in The Fiend pinned Finn for the win. After the bell the lights went dark again, as The Fiend stood in the ring posing, they then went dark again as we heard the ominous Bray Wyatt laugh and then the eerie noise that had become signature of The Fiend attacks by this point, as the monster stood at the top of the entrance ramp and looked back at the destruction he had left. Before the lights went out and back on again and The Fiend was gone. As a beaten Finn was just coning round back in the ring, chants of "that was awesome" echoed around the arena. Yes, yes it was awesome indeed.
** (****** for the whole presentation of The Fiend)
Seth Rollins defeated Brock Lesnar (C) with Paul Heyman to win the Universal Championship
I felt at the time Rollins had to win this match. I felt if he didn't, after what he had said in the weeks leading up to this match that his credibility as a top babyface was OVER should he lose this match. And yes I'm well aware it is BROCK LESNAR he is dealing with, but Seth talked the talk before his WrestleMania re-match, and now he HAD to get the job done… again… Rollins was booed coming out but cheered like a hero by the time of the finish. Lesnar was great all-round and Seth was great too… so they had a GREAT match! Having guaranteed a win beforehand, Seth Rollins walked to walk here, so fair play. The crowd was flat when Brock was on offence, but came alive when Seth went on his run towards the end. In an amazing spot, Seth had Brock on the announce table, and hit a huge picture-perfect frog splash from the top rope to put Lesnar through the table, and the crowd popped huge. With just 6 minutes left of the PPV, Heyman looked on very worried for his client, as Rollins got out of an F5 and hit a superkick, followed by the third Curb Stomp of the match… and FINALLY this was enough to put Brock away. Rollins was very very emotional after the match as his held the Universal Championship belt up high. A quite brilliant match that more-than lived up to it's position in the main event of a big 4 show. Bravo to both men, this was fantastic.
****3/4
---
Overall this was a really fun show all round. One of the top two main roster PPVs of 2019 (along with Survivor Series). The Fiend was incredible and the whole presentation of it exceeded all expectations. And the show only went 3 1/2 hours for the main card… PRAISE THE LORD!!!
Josh.