In May of this year, Usain St Leo Bolt and his long-term girlfriend Kasi Bennett became parents to their daughter, as Bennett gave birth to Olympia Lightning Bolt. Many would say it be the highlight of the great former sprinter's entire life. But during his illustrious competitive career as a sprinter he achieved maybe more than anyone before him, and if that is disputable what inst is the manner he did so in. What makes, for me, Usain Bolt not just the greatest athlete we have ever seen, but my sporting hero, was the way he conducted himself both on and off the track. His Jamaican heritage leant to a relatively laid-back and relaxed approach to his profession which he excelled beyond belief at. His natural charm and charisma won over the sporting fans worldwide as he dominated his sport with it.
In my time as a sports fan I've been privileged enough to live in an era where legends are aplenty… Tiger Woods, Roger Federer, Rafael Nadal, Novac Djokovic, Lionel Messi, Cristiano Ronaldo, Floyd Mayweather, Phil Taylor, Michael Phelps, Ronnie O'Sullivan to name a few… I'm 25 next month but so far I've been lucky enough to live in a time where I've got to see true greats at their sport excel on a consistent basis.. but none of them have done so with the swagger, the class and the all-round… just absolute star-power of the fastest man over 100 and 200 metres we have ever seen. Recently I went back and watched 'Usain Bolt – The Movie' , a 2012 behind the scenes look at the great man. In it it charted his rise from Jamaican sprinting prodigy, to the fastest man alive, but also looked back at his infamous false start in the 100 metres final of the 2011 World Championships. The documentary concluded by saying that if Usain could put that behind him and win gold in the Olympics the next year in London, he would go down as one of the all time greats… well, we know how that ended up.
Now three years after the legend called time on his incredible career as a sprinter, I feel it only right I go away from my usual blog topic of Professional wrestling to look back and pay my own tribute to quite simply the greatest athlete that ever lived.
---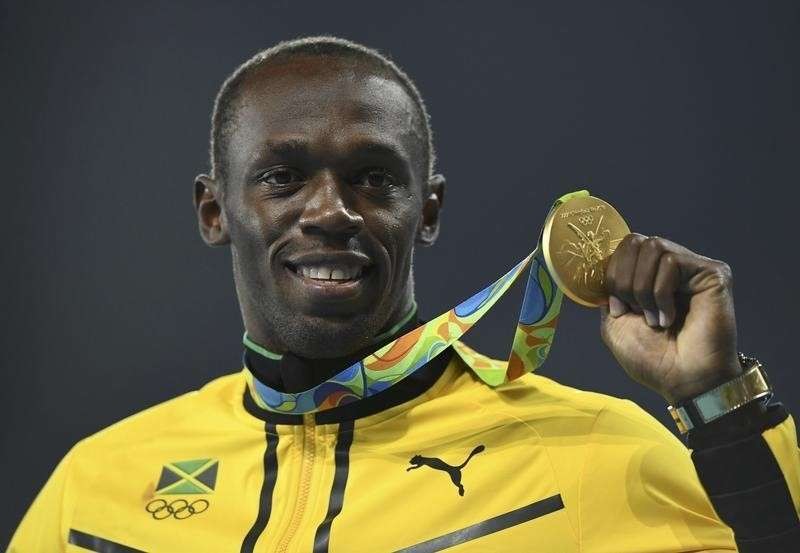 So… where do you even begin when trying to summarize the career of Usain Bolt? I mean, you can go onto the internet and just see his incredible list of accomplishments, so I'll try and make this blog more of a personal tribute with some of my own memories of watching this incredible athlete perform. But… just for fun… here's just some of what he took home when it was all said and done…
100 Metres World Record (9.58 seconds)
200 Metres World Record (19.19 seconds)
4X100 Metres World Record, representing Jamaica alongside Yohan Blake, Michael Frater and Nesta Carter, (36.84 seconds)
8 Olympic Gold Medals (including Gold in the 100 and 200 metres at 3 consecutive games)
11 World Championship Gold Medals (and 2 Silver and 1 Bronze)
And I could go on and on… but for me something else sets him apart from the rest… I found an amazing image… (https://twistedsifter.com/2017/08/fastest-100m-times-with-people-caught-doping-crossed-out/)… Below is a list of the fastest 100 metres sprint times ever recorded. BUT crossed out from the list are times from athletes that have at one point or another in their careers been found out as doping drugs cheats… and THIS is what sets the great man apart…
Simply the best, and CLEAN!
But as I've said, Bolt is naturally a laid-back kind of guy. From watching the movie on him I did (https://www.amazon.co.uk/Usain-Bolt-Movie-DVD/dp/B008LX4018) it is clear to see Bolt very much liked to mix training hard with leisure. He comes across as such a down to earth guy, and yet he is billed as this superhuman. From hearing him talk and seeing the type of man he is, he doesn't come across as the fastest man there ever has been. And if there is a more endearing quality in a sports idol than humility I'm yet to know of it.
And Bolt, despite his superstardom, never seemed to lose track of where he came from. Bolt hails from Sherwood Content, a quiet farming-based community bereft of crime. His childhood friend Nugent Walker was Bolt's personal manager having known him since the two were young, they went to school together. Walker's role was, in his own words, "he wants me to structuralise his business aspects of his life… he wants me to ensure that when he finishes athletics everything is safe". Bolt is seen in the documentary sharing a house with some friends in Kingston, Jamaica. A nice house, but no mansion or anything over-big. His friends even join in some training drills with him in a pool, even when socializing Bolt is still active. And in the evening Bolt and his friends really relax and enjoy themselves… but not with an extravagant party or anything too wild… friends gather… to play dominoes… wild hey?…
A touching part of the documentary comes when Bolt revisits a setting where he would get some of his first successes as a sprinter. As he attends that year's 'The Champs', a sort of mass athletics trial event for Jamaica's top prospects from every school in Jamaica. It was where Bolt himself once got his big break, and here we see him return as a superstar. We also hear the story of how a young Usain had many offers from abroad to help him on his way to beginning his career, but instead chose to stay in Jamaica. Albeit still it was a big leap for a young man from a small village to go to the big city.
Bolt's incredible career as a senior pro didn't exactly get off to a LIGHTNING start. His incredible run as a junior was followed by disappointment at the 2004 Olympics in Athens. An injury-plagued Bolt was eliminated in the heats of the 200 metres. Had this incredible prospect failed at the big stage? No. As would become a theme of his rise to legendary status he would comeback from disappointment in amazing fashion. And it was shortly after that that Bolt made a decision which would change his career…
Usain hired Jamaican coach Glen Mills, who together they moved Bolt's focus to the 100 metres primarily. Through a combination of compromise and hard work between the pair Bolt continued to flourish. He recorded a 100 metres time of 10.30 and in 2007 broke the Jamaican record, that had stood for over 30 years, for the 200 metres with a time of 19.75 seconds. Mills helped perfect Bolt's technique, balance and helped him employ a more efficient stride frequency. Going into the 2008 Olympics Coach Mills worked on Bolt's 100 metres speed as well as the required stamina when it comes to running the 200… and well… 2 events, 2 gold medals, 2 world record times. A great was born. Not just a great, but by some distance the very best of his or any generation.
And yet still his coach kept the now double-Olympic champion and world record holder grounded, feeling that still improvements could be made to Bolt's strides and technique. Something that makes top level sports stars what they are and to keep on winning is that constant strive to improve and for perfection. Usain Bolt was no different. It was at this point aged 12 that he first caught my attention. He was like a superhero, a real-life superman. There's just something magical about the fastest man in the world dominating everyone in his path. I was in awe.
An article summing up the defining images of 2008 by The Independent summed up the relaxed nature of the man…
"The day after his triumph, Usain Bolt sat eating chicken McNuggets and laughing at the stir he had caused. He said that running was only part of the enjoyment of his life. He wasn't going to spoil any of it by taking drugs. He wasn't going to tarnish that moment made of gold or the miracle of trust it still represents."
(https://www.independent.co.uk/sport/olympics/moments-that-made-2008-usain-bolt-1216264.html)
By this point Usain Bolt had become the star of the athletic world. The next year he went one better… During the 2009 World Championships in Berlin the Men's 100 metres event took place over the 15th and 16th of August. With me turning 14 on the 18th and it being during the school holidays all I had was watching sports. And so I tuned in to watch the meetings premier event. I can't quite recall why but something happened and it meant I missed the actual 100 metres race, and by the time I tuned back in all I saw was the BBC broadcast team talking about this unbelievable race they had just seen…
Indeed unbelievable was exactly what it was…
9.58. Over a tenth of a second taken off his own world record set only a year prior. And they say lightning doesn't strike twice… well this Bolt does… A few days later in the 200 metres he did this…
19.19. The runner up in this race was 0.62 behind him. In terms of sprinting, although it may not sound like a lot let me tell you, Usain Bolt absolutely dominated and annihilated the competition in this race. For me this performance was the greatest in athletics history. He won, and by an absolutely landslide against the very best competition. I can tell you for sure one 14 year old watched on gobsmacked. I'll never ever forget watching that race as long as I live.
In another part of the great documentary I watched we get more insight into Bolt's lifestyle. And are also introduced to his trusted agent Ricky Simms, who managed his best interests contract wise since 2003.
By this point in time Usain was unquestionably the world's top sprinter. Simply an unbeatable, unstoppable force. For me as a sports fan it was hard not to be engrossed by him as an athlete to admire, here is the nicest guy, clean living and yet can still have a good time. It was hard not to be a fan of Usain Bolt, especially as he just kept on winning…
The summer of 2011 brought around another World Championships. A chance for the double world record holder, Olympic and World Champion to stay on top of his sport. He had many contenders to think about (Tyson Gay, Asafa Powell and even his training teammate Yohan Blake), but Bolt was still heavy favourite. First up for him was the 100 metres, he sailed into the final, business as usual… or so we thought…
In possibly the biggest disaster of his incredible career, Usain committed a false start coming out of the blocks, and given a controversial rule change passed it meant disqualification from the race. The absolutely unthinkable, unfathomable outcome had somehow happened. He wasn't beaten in the race, he didn't even start it. For me as a fan this was up there with England losing to Iceland. Total disaster. In his absence his friend Blake became the new 100 metres world champion, but Bolt and his unthinkable disaster took all the headlines. With the next Olympics a year away, was Usain Bolt's seemingly untouchable place at the top of the sprinting world under threat. As a fan, I was worried but still my faith remained. It was a freak occurrence I thought, and Bolt would regain himself. The cream will rise again. I remained loyal to my guy. And after all, he put his 100 metres failure behind him and did retain his world 200 metres title as well as helping Jamaica to Gold in the 4×100 relay. All was not lost yet…
The Olympic Games is one of the biggest sporting events there is, with maybe only the Fifa World Cup as a serious competitor. So for me as a young sports fan to have the games in my country was a dream. It couldn't get any bigger for me. And so what a stage and a place for Usain Bolt to silence his doubters and remind the world just how great he is. It got to the point I became to get annoyed by those doubting him. Everyone suddenly became enamoured by Yohan Blake. Yes true the world champion, but he did it in a race Bolt wasn't even active in. So he wasn't the real number one for me. The BBC pundits backed Blake. Not me. Bolt would show the world the real champion…
With a quite unbelievable performance Bolt surpassed his then world record time from the Games 4 years prior to retain his Olympic Gold. With the eyes of the world on his again he shone. And this was followed by Gold again in the 200 metres, and also in the 4×100 metres where he helped Jamaica to a world record time that still stand today. 3/3. Bolt had come to London and left the dominant king once again. I must say as a sports fan, when your team or the person you are behind wins and proves all doubters wrong it's a heck of a feeling.
After this was when Bolt really went to another level in terms of his dominance in his sport. The next year came the next World Championships, where Usain would have to put behind him the ghosts of Daegu to become the world champion again… and guess what… yep; 100 metres, 200 metres, 4×100 metres WORLD CHAMPION once again. In winning the 200 metres title again Bolt became the first man to ever retain that crown 3 times in a row. And he did so the day before my birthday, which was a pretty cool gift.
Going into the next Worlds in 2015, Bolt returned to Beijing. And this time he had a real battle on his hands. Somewhat of a good vs evil battle that both circumstances created, but certainly the world's fans and media alike talked and hyped up. On side we had the quote 'hero' character, played by fun-loving, very much likeable guy Usain Bolt. The 'Villain' was American Justin Gatlin, who simply put is a drugs cheat. But had served his time and now was back competing. And his form leading to the event showed Bolt, for the first and maybe most serious time in his career, had a credible threat to his status as the World's best…
Usain Bolt won the 100 metres world final in 2015 in 9.79. Gatlin in 2nd recorded a time of 9.80. Remarkable stuff. And what a line on commentary from Steve Cramm there 'He saved his title, he saves his reputation, he may have even saved his sport'. Those words couldn't have been more true. The 200 metres went the same way with Bolt getting the better of the American Gatlin. and Jamaica took the men's relay race too. Bolt was on top of the world. STILL.
By the time the next Olympics in Rio, Brazil in 2016 came about it was now somewhat of a formality. People were as much tuning in to the 100 metres (traditionally the premier event) as much as they were to see it's star Usain Bolt perform. And AGAIN perform he did. In the 100 metres with both Gatlin and Blake up against him he took the Gold, came back on my birthday to do the same in the 200 metres, and AGAIN helped Jamaica to relay glory. By this point Bolt had become the only sprinter ever to win the 100 and 200 metres at THREE consecutive Olympics. and he would've had a 'treble-treble' of sorts had his part in Jamaica's 2008 relay win not been tainted by drugs cheats. But still I'd say 8 Gold medals across three games is a quite incredible accomplishment. An he did it all CLEAN, and he did it all with a smile.
Going in to the 2017 World Championships in London, Bolt had made it known that he would be ending his career as a sprinter at the conclusion of the event's 100 metres. I paid my own tribute at the time on Instagram ( www.instagram.com/p/BXZ4kh9Bx9nOIaCKK_4ZgZr9nelP-SpzLNcP8I0/ ) … sadly Bolt wouldn't be able to end his career as a winner as he went home with a bronze medal.
And in a poignant scene that said everything about the man and the respect he had from his peers, during his leg of the men's 100 metres relay for Jamaica, Bolt pulled up with a hamstring injury… and yet he refused the assistance of a wheelchair and isntead he did indeed cross the finish line one final time, with his teammates Yohan Blake, Julian Forte and Omar McLeod helping him. Father Time beats everyone, even Bolt, but even then he was still not be beaten. A competitor until the very end. But his legacy was already secured. Simply put the greatest athlete that ever lived. An absolute pleasure to be able to grow up watching him become the best ever. The fastest man alive. The greatest of all time. Usain St Leo Bolt. Simply THE best.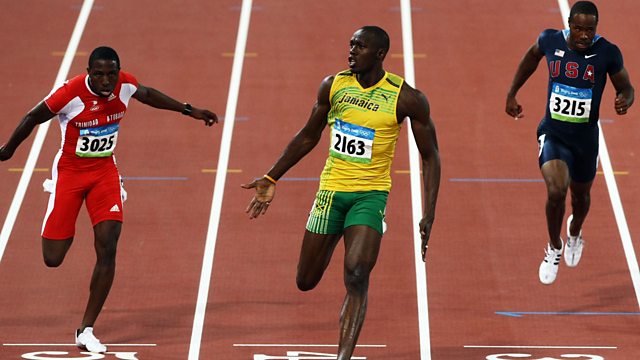 Josh.