SOOOOOOOOOO you may or may not know… BUT IT'S MY BIRTHDAY!!!!!! OBVIOUSLY my day will be FULL of wrestling related stuff; I'm heading to a Ring of Honor show and to probably meet the Young Bucks beforehand, and later I'll be watching NXT Takeover; Brooklyn 4 which looks set to be one of the best shows of the year. So in 2018 the 18th August is set to be a another historic day in Wrestling! So I was racking my brain thinking of what type of blog I could do to mark the occasion, so I thought I'd take a look at some of the things that took place on this day in history in the wacky world of WWE and pro wrestling. And to my surprise it was in fact one hell of a day down the years; the good, the bad and the very… VERY ugly! So in this blog I will run down some of the goings on on my birthday in WWE (and one notable WCW occurrence), and as I said looking back it was certainly an eventful day…
1993 (I was -2 years old): WCW Clash of the Champions XXIV – The debut of The Shockmaster
Oh boy. It had to be this one didn't it? Given this past April's rather unfortunate entrance from Titus O'Neil this in-famous entrance has come to surface once again. And at least Titus was an established talent… this was The Shockmaster's DEBUT! Clash of Champions 1993 was a pretty big show, it had to be to compete with WWE's Summerslam that year that took place 2 weeks later and was to be headlined by man of the moment Lex Luger challenging for the title… that went really well… Lex Luger in 1993 was Roman Reigns in modern day put it that way… WCW had Vader defend the WCW title against Davey Boy Smith and Sting teaming up with Ric Flair in a tag match. But it will be remembered for the most anti-climatic and outright disastrous debut in wrestling history. WCW had recently signed Fred Ottman, who had previously competed for the WWF as Tugboat and formed one half of The Natural Disasters with Earthquake. He was due to be a part of the upcoming War Games match alongside Sting, Dustin Rhodes and Davey Boy Smith against Sid Vicious, Big Van Vader, Kane (NOT that Kane) and Kole at the upcoming Fall Brawl ppv. And so during Clash of Champions and a Ric Flair hosted interview segment called "A Flair for the Gold" Sting & Davey Boy Smith were opposed by Sid and Harlem Heat demanding to know the identity of their 'mystery partner'. Sting then said "All I have to say is, our partner is going to shock the world, because he is none other than… THE SHOCKMASTER!"
So, the camera pans to a part of the set, two large torches begin an explosion in-front of a wall, and a man with a full-on Star Wars Stormtrooper helmet that was covered in silver glitter, jeans and a large black vest, and this guy comes crashing through the wall… but not exactly… he trips over part of the set as he makes his 'dramatic' entrance (oh boy was it dramatic), he falls forward through the wall, the helmet goes flying off exposing his face as he immediately scrambles to put it back on as quickly as possible. And as much as the WCW talent and announcers attempted not to acknowledge the goof, we had just witnessed the worst debut in wrestling history, and going forward as much as WCW attempted to salvage the character in different forms the career of THE SHOCKMASTER was OVER as soon as it had started. Look below to see this goof at his finest.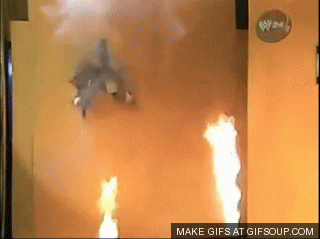 1996 (I was 1 year old): Summerslam – 'The Boiler Room Brawl'
Fortunately my first birthday on the planet coincided with a very famous day in the career of my favourite of all time… and sorry Mankind I don't mean you. Summerslam 1996 was pre attitude era (just) but immediately after one of the worst years in WWE history business and creative wise. But this intervening time was still a fairly good one and the card for Summerslam that year showed that; Steve Austin beat Yokozuna in under 2 minutes, Goldust beat Marc Mero, Jerry Lawler beat Jake Roberts and the main event saw Vader beat Shawn Michaels twice by Count out and DQ but still end up losing by pin and failing to claim the Championship. The show would be most remembered historically though for the 'Boiler Room Brawl' match between The Undertaker and the recently debuted dark, mysterious and frankly unhinged character of Mankind (his theme song was entitled 'schizophrenic' so that says it all). As the name 'Boiler Room Brawl' may suggest it saw 2 men… in a Boiler Room… having a Brawl… duh! No it wasn't as simple as that; the rules of the match saw Mankind begin hidden and lurking somewhere in a boiler room in the inner parts of the Arena, waiting for The Undertaker to come in and find him, meanwhile Undertaker's manager Paul Bearer was in the middle of the ring in arena holding Taker's signature Urn, and the match would be won by the first person to make their way to the ring and retrieve the Urn. But obviously they would have to fight each-other from the boiler room along the way, and as you can imagine the match itself wasn't a technical classic but it was unique in that back then this sort of thing wasn't so common in WWF and although in the following years both men would famously take the extremities in their matches to ungodly levels, this for what it was and when it took place was a big deal.
The match itself consisted of a load of weapon shots from both men, as they used their varying surroundings as they made their way through the inner part of the backstage part of the arena before eventually making it towards the ring. With both men on the apron The Undertaker pulled on the ring ropes making Mankind fall backwards onto the floor below, as the crowd cheered as Taker made his way into the ring to collect his elusive Urn from his trusted manager Paul Bearer… Bearer turned his back to his charge, Taker looked on confused before Mankind came from behind at locked in his Mandible Claw finisher as Paul Bearer proceeded to laugh "PAUL BEARER'S LAUGHING, PAUL BEARER'S LAUGHING" said a confused Jim Ross on commentary, as Mankind knelt at Bearer's feet who then presented him with the Urn and the win "Oh say it aint so" Ross called, but sadly it was just that as Bearer then hit a dazed Taker on the head with the Urn. On my first birthday the man that turned out to be my favourite WWE superstar of all time was turned on by his long term manager… for the first time… it would not be the last but it was perhaps the beginning of the main part of the Bearer-Taker story, given a certain Big Red Monster Bearer would bring out to the world a little over a year later.
1997 (I was 2 years old): Raw – Mankind & The Undertaker vs Shawn Michaels & Triple H (teaming up for the very first time) featuring the very worst blade job EVER
Oh boy… never will you hear me slag off my guy The Undertaker, my favourite WWE superstar of all time, but I'm struggling here. But before all that let me explain what's happening; so for context this was 1997 and just a couple of weeks after HBK cost Taker the WWF title at Summerslam when serving as guest ref in Taker's match with Bret Hart he would swing a steel chair aiming for Bret only to hit Taker. A match Hart eventually won of course. But whilst Bret would be the key part of 1997 WWF this night in particular is famous for 2 reasons… the first is the fact that Shawn Michaels was in a tag team match with a guy who was in a feud with Mankind at the time, and as such interfered in previous matches involving HBK and Mankind whilst insisting his partnership with Michaels was just one of convenience… they would officially unite weeks later. Yes indeed, August 18th 1997 was the very first time Shawn Michaels was in a tag team match alongside some guy called Hunter Hearst Helmsley! Whatever happened to him eh??? Of course this would all lead to the formation of D-Generation X (with Chyna and Rick Rude alongside the duo), the first Hell in a Cell later that year between Taker and Shawn, and then something involving Bret Hart and something about a 'screwjob' at Survivor Series that year…
Now… sadly I can't talk about this match without talking about this. Those of you who saw the John Cena vs Undertaker Wrestlemania match will have seen the clear lack of contact when Undertaker 'hit' the big boot on Cena. That wasn't great for sure, but it wasn't this. So in 1997 for some reason steel chair shots to the head in WWE were not yet outlawed (and wouldn't be for another decade or so), and to conclude this match Michaels hit Taker with a chair (he meant to this time)… and afterwards Taker appeared busted open. Normal wrestling stuff right? Well yes, but in pro wrestling how did people used to (and still do at times) bleed? They blade. And here as was commonly done in 1997 Taker bladed. But usually as is part of the game wrestlers pick times when they're not the focus of the action or are under some form of cover to blade away from cameras. Not here. Not Taker. Shawn hits him with the chair. Taker appears to 'wipe his forehead' (because when you've been smashed in the head the first thing you do is wipe sweat off). Taker is on the floor in a heap, and he's bleeding. Shawn even put the blade in his pocket later in the match. Just watch the GIF below. It's pretty incredible stuff.
2007 (I was 12 years old): Saturday Night's Main Event XXXV was broadcast – Matt Hardy in a BOXING match v EVANDER HOLYFIELD (No REALLY you read that right)
Saturday Night's Main Event is one of those Vince McMahon creations from years and years ago right? A show you'd see Hogan headline. Well yes primarily, but in the mid to late noughties it returned for a few years and was usually a co-branded show that featured some weird gimmick stuff that played into ongoing storylines around that time. Main talking points from the show's mini-return from 2006-2008 saw John Cena and Triple H beating Kurt Angle, Rey Mysterio and Randy Orton in a match of Wrestlemania world title match vs Wrestlemania world title match less than a month before Wrestlemania 22 in the same city, The Great Khali beat John Cena in just over 5 minutes in 2007 on the June 2nd broadcast the night before their WWE title Last Man Standing Match, Sabu beating Stevie Richards in an extreme rules match in 2006… in a match that went 2 minutes… in 2008 though it was much better… with The Great Khali beating an awesome challenger… in Jimmy Wang Yang… and he beat him… in 90 seconds…. oh and I forgot the classic match of 2007 when Finlay and Hornswoggle defeated The Boogeyman and Little Boogeyman or even Kane, Doink the Clown and Eugene beating Kevin Thorn, Viscera and Umaga… yeah the modern version of Saturday Night's Main Event was… different… and none more so than in the 2007 show that was broadcast on the day of my 12th birthday.
Emanating from Madison Square Garden no less, the show began with Batista and Kane beating Finlay and The Great Khali (with Ranjin Singh) in a tag match just over a week before Khali defended the world title against Batista and Kane faced Finlay at that years Summerslam, and in the next match John Cena tapped out Carlito. Although afterwards it too was a set up for the upcoming Summerslam match as Randy Orton (Cena's challenger for the WWE Championship at Summerslam) came out to jump him with an RKO onto a chair. And then the show after opening with 2 matches that were part of the ongoing world title feuds we had Matt Hardy as the babyface in a BOXING MATCH against MVP… although the heel didn't actually take part and instead his substitute would be announced leading up to the event as former undisputed Heavyweight Champion of the world Evander Holyfield! And then after a 2 minute first round of the boxer making Hardy look silly we had, at the start of round 2, MVP (in Holyfield's corner) demanding he finish Hardy off, but gets a little too pushy, and Holyfield knocks him out – the referee ruling the fight a no contest. We had Michael Buffer announce the match beforehand, ring girls holding up round cards at the conclusion of the 1st (and yes I kid you not Holyfield was checking them out,… such was his level of investment in this payday). This was about as pro-wrestling a segment as you could get. It was fun, but good? I wouldn't go that far. The show ended with a match again as a set up for Summerslam; as ECW Champion John Morrison teamed with the over 400 pound monster Big Daddy V (with the grotesquely annoying Matt Striker alongside him) against CM Punk and The Boogeyman. It lasted less than 7 minutes. Punk rolled up Morrison for the win. It sucked. and was every reason as to why ECW WWE failed. You give them the close of a big show like this, and give them 7 minutes, and half the match is Big Daddy V and the FUCKING BOOGEYMAN… DPMO. Oh and I almost forgot, the entire show featured brief segments and reminders of the ongoing search by Vince McMahon to find the identity of his illegitimate son. Another tremendously inconsequential WWE angle… urgh…
2013 (I was 18 years old): Summerslam – Daniel Bryan finally wins the big one
I'm sure you've all heard people talk about '1 match shows'. Well this was a 2 match show if ever there was one, because the rest of the show for different reasons SUCKED; RVD (flanked by Big Show and Mark Henry) faced US Champion Dean Ambrose (with his Shield brothers at his side) for the title and it ended in a DQ so no title change… this SUCKED, The Wyatt Family made their first appearance on a WWE PPV as Bray faced Kane in a 'Ring of Fire' (Inferno) Match which SUCKED, Cody Rhodes beat Damien Sandow but it only lasted less than 7 minutes and as a result it SUCKED, Alberto Del Rio retained the world title over Christian which for obvious reasons SUCKED, There was a 5 minute match involving the women (Natalya w/ Naomi and Cameron vs Brie Bella w/ EVA MARIE & Nikki Bella)… it was 5 minutes long so it SUCKED, and sandwiched in between the 2 big matches was a mixed tag match pitting Ziggler & Kaitlyn against Big E & AJ Lee which…… SUCKED! So yes this wasn't the best Summerslam there's been, but it did have 2 exceptional matches. The first saw CM Punk take on the new charge of his former manager Paul Heyman in BROCK LESNAR in a No DQ match billed as 'The Best vs The Beast'. It went 25 minutes, it was absolute carnage and as close to a legit fight as you'll see in a worked, professional wrestling match, which given their ventures outside WWE is ironic. It looked like these two were made to face each-other and they had a **** 3/4 match. Brock won of course, and given the ridiculously contrasting 2014s these 2 had in WWE we'd never see them face off again.
And the main event of this show… wow. Mark this one up in the ever-growing list of '***** matches John Cena has had with 'indie darlings'… despite the fact he 'can't wrestle'… I'm not sure you could get more contrasting pathways to a WWE Championship match than the careers of these 2, and the story leading into it linked to their paths was fascinating. The match itself was equally exquisite, another 25 odd minute classic that saw a unique clash of styles, and Cena particularly to use moves at that point he had never even gone close to exhibiting before. Eventually to the delight of the LA crowd it was Daniel Bryan who would get the win, and be able to call himself WWE Champion for the very first time… but as is per in WWE if something appears too good to be true, it often is. And as Bryan was celebrating his title win and being congratulated by guest referee Triple H, then Mr Money in the Bank holder Randy Orton came down with his briefcase in hand, and after initially appearing to just send a visual warning to the new champion suddenly the plot began to unravel. Triple H turned Bryan around, gave him a Pedrigree, Orton cashed in, Triple H demanded the bell be rung, he counted the pin and Orton won the title. Which given what this eventually led to (and as we know it wasn't the plan all along) with Bryan winning the world titles at Wrestlemania 30 in the main event but at the time… this finish to the show… SUCKED!
2014 (I was 19 years old): Raw – Brock Lesnar is presented with the new WWE World Heavyweight Championship belt
Just 24 hours after the most shockingly one sided WWE Championship match of all time, the new champion Brock Lesnar was given the new and current incarnation of the company's top prize. It's a really nice belt. That's all. Elsewhere on this episode of Raw that was the night after Summerslam 2014 (which unlike the previous year's edition, was an awesome show); new Divas Champion Paige was distracted by former champ AJ Lee causing her to lose to Natalya, Miz retained the IC Title by count out as former champion Dolph Ziggler succumbed to his knee injury from the night before, Cesaro beat Jack Swagger, Roman Reigns, Sheamus & Rob Van Dam defeated Randy Orton & RybAxel (Curtis Axel & Ryback), Stardust & Goldust beat The Usos, Nikki Bella slapped her sister Brie 24 hours after turning on her to aide Stephanie McMahon, Mark Henry and Rusev had a cool confrontation of old monster vs new, and in the main event of the show Seth Rollins (with a strong amount of help from the rest of The Authority) beat his own Summerslam opponent from 24 hours previous Dean Ambrose in a brutal falls count anywhere match. The main spot of which saw Director of Operations Kane, who had been observing at ringside, helping Rollins. Not only did he help Seth Curb Stomp Ambrose on the announce table, he also exposed a hidden pile of cinder blocks (that just so happened to be at ringside…) through which The Architect drove The Lunatic Fringe's head through the blocks with a 2nd Curb Stomp that caused the match to be stopped. This was a fairly un-eventful show, other than a stellar main event and the literal crowning of THE BEAST.
And THAT was my birthday in WWE history. And now it's my birthday in 2018 which too will surely feature historic WWE goings on; NXT Takeover: Brooklyn 4 tonight promises to be one of the all time great shows so hopefully it'll be another birthday for me in WWE to remember. Hopefully…
Josh.